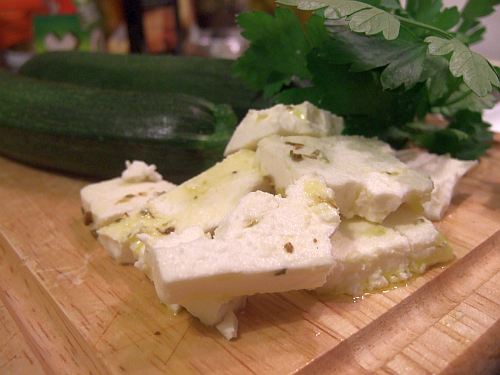 I whipped this up last night before heading out to see Annie Mac DJing in The Twisted Pepper in Dublin.  She played a KILLER set, everyone was going mental and now my head and feet are sore today.  Twas great.
This is from BBC Good Food as well.  I had a serious craving for a light salad after all the carbs last week.  Couscous is beautiful and I got some lovely oregano flavoured soft feta cheese from M&S.  This took about thirteen minutes to get ready.  That's how I likes it.
What you need for BBC Good Food's Tangy Couscous Salad for four
300g couscous
Around 1/2 litre of veg stock
2 courgettes, sliced into grillable strips
100g crumbly feta
20g parsley chopped
Juice of 1 Lemon
Salt n Peppa
Pour the veg stock over the couscous in a big bowl and let it sit there and soak for around ten minutes.  Make sure you give it a fluff with the fork so it doesn't go all lumpy.
Heat up a griddle pan and cook your corgettes for a few minutes on both sides til they're done.  You can do this under the grill as well of course.