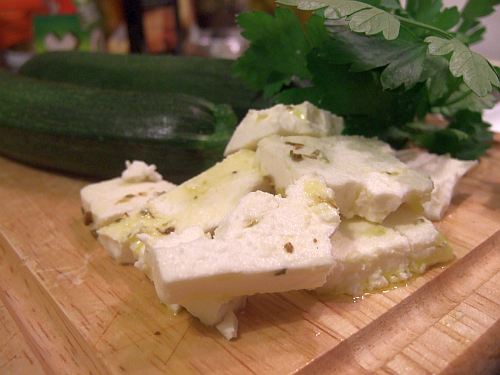 I whipped this up last night before heading out to see Annie Mac DJing in The Twisted Pepper in Dublin.  She played a KILLER set, everyone was going mental and now my head and feet are sore today.  Twas great.
This is from BBC Good Food as well.  I had a serious craving for a light salad after all the carbs last week.  Couscous is beautiful and I got some lovely oregano flavoured soft feta cheese from M&S.  This took about thirteen minutes to get ready.  That's how I likes it.
What you need for BBC Good Food's Tangy Couscous Salad for four
300g couscous
Around 1/2 litre of veg stock
2 courgettes, sliced into grillable strips
100g crumbly feta
20g parsley chopped
Juice of 1 Lemon
Salt n Peppa
Pour the veg stock over the couscous in a big bowl and let it sit there and soak for around ten minutes.  Make sure you give it a fluff with the fork so it doesn't go all lumpy.
Heat up a griddle pan and cook your corgettes for a few minutes on both sides til they're done.  You can do this under the grill as well of course.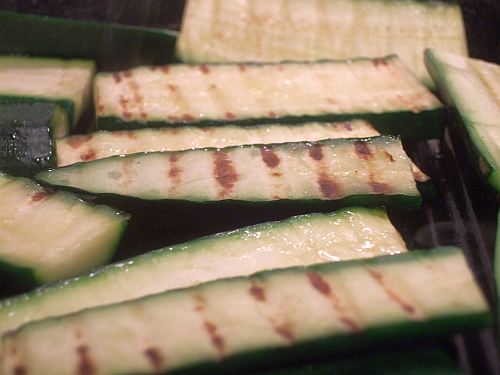 Once your couscous is ready, mix in your crumbled feta, parsley, corgettes and squeeze in the lemon juice.  Season with salt and pepper to your hearts desire.
It was very nice and light, although it was slightly bland.  Probably could have done with a bit more lemon juice to make it more tangy.  But it gave me an instant energy boost, for real.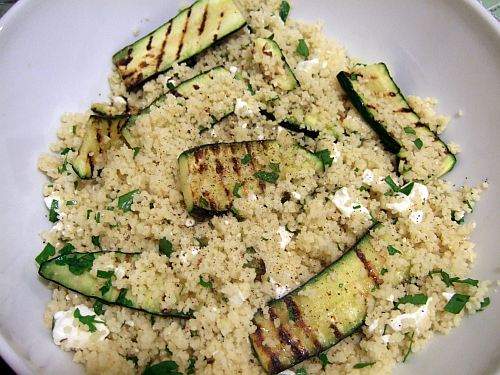 MP3
As I was cooking, I was listening to Super Extra Bonus Party's new album, which they're releasing on the 15th May with a gig in Andrew's Lane Theatre in Dublin and a few more around the country.
Niall does some design for the lads and he does live visuals too, and as they are his old flatmates before he moved in with a girl (moi), we're obviously great friends with the lads.  So I love their music and it has a special meaning for me as I've heard the tracks as they have been written over the last year or so.  In saying that, I loved their music before I met Niall – in a way the band sort of introduced me and Niall.  But that's a story for another day.
Anyway, I'm really proud of the lads with this second album.  I loved their first album for its crazy, eclectic, schizophrenic genre hopping tracks.  This album, called Night Horses, continues in the vein of being quite hard to pin down, but it's an altogether more cohesive piece of work that shows a great progression in such a short time since the last release.  I'm really excited about what people are going to say about the album when they hear it.  I think people will love it.
Below is the mp3 for Radar featuring Canadian MC Cadence Weapon, which was recorded in the lads' kitchen late-ish in the evening sometime last year.  Myself and Niall were in the kitchen at the time and it's great to hear how it's come together in the end.  It sounds bleedin' brilliant. IMO.
Check their website out for tour dates and all other info.
Super Extra Bonus Party – Radar featuring Cadence Weapon – (Night Horses)
Categories: Dinner Tags: Super Extra Bonus Party