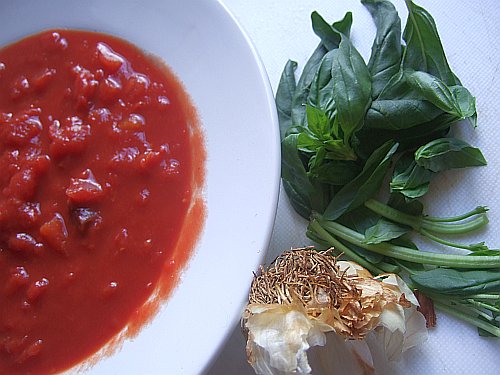 I mean, honestly…you can't go wrong with basil, garlic and tomatoes can you?
It was back to Jamie Oliver's Jamie At Home this evening after a week that was definitively highlighted by my self-diagnosed tinnitus.  Ah now.  I should probably mention that, though I'm not exactly a full blown hyprochondriac, when I have a sore shin I very swiftly meander down imagination lane and end up at Shingles Street.  Like, when I have a headache I'm all 'That's it. It's a tumour'.  Which is an awful personality trait, and one which I am trying to train myself out of.
Anywhoo…I had a dull pain/headache that felt connected to my ears since last Sunday.   I was SURE that, after many years of gig-going and putting off buying ear protecting plugs for the heavier gigs, I had finally pooped up my ear drums.  Thankfully, the diagnosis by an actual professional (they're called doctors and they study medicine and stuff instead of self-diagnosing, it's very progressive really) was that I had over-excited ear drums.  *Nods to Annie Mac and ASIWYFA.* Completely over-excited and totally worth it.
In the end, it was a wake up call that led me to acquiring ear plugs which I wore to Glasgow band Camera Obscura's gig in Andrew's lane Theatre in Dublin last night. In fairness, I didn't need the earplugs as the sound was fairly patchy.  And not in a nice quilt your Nan made. In a bad way. Very happy music though and the band were lovely.  Still love their latest album My Maudlin Career, check it out.
This lengthy introduction into the wellbeing of my eardrums does have a point to this food blog.  I was too poorly to cook properly this week.  Niall looked after me very well and made this lovely soup (with our home-made chicken stock swit-swooo!) which kept us going through til yesterday.  And still feeling a bit frazzled from it all today, although definitely better, I needed a simple but yum recipe.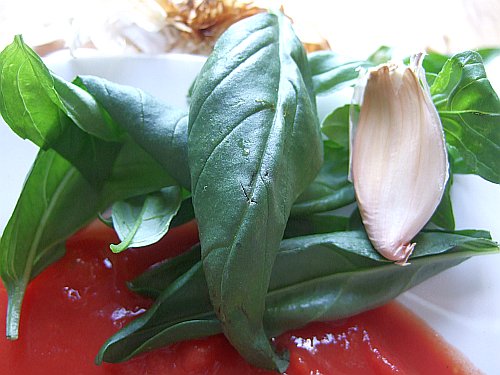 You're very lovely. Just sayin'.
Jamie Oliver's Quick Sausage Meatballs with tomato and basil sauce, spaghetti and sweet raw peas for four lovely people
Honestly, if you haven't bought Jamie At Home, get thee to your nearest book merchant and buy it.  Since being given the book less than two months ago by Niall's lovely Mum, I've tried six recipes from the book and all of them have been wonderful.  Maybe because I like the same kind of food as Jamie, maybe because they're all quite simple and easy, or maybe because Jamie is the saint of prospective foodies.  Seriously, buy it.  It's just wonderful.
8 really good pork sausages (you can't scrimp here. No recession sausies, thanks. They have to be the yummiest that you can find. We got little british pork chipolatas from M&S.)
300g fresh peas, in their pods*
500g spaghetti (I used linguine instead simply because it's much more delicious)
Parmesan Cheese, to grate over the final dish

a few sprigs of fresh marjoram, thyme or rosemary, leaves picked and chopped if you like
For the tomato sauce
olive oil
2 cloves of garlic, peeled and sliced
small bunch of fresh basil, leaves whole and stalks chopped
2 x 400g tins of chopped tomatoes
salt n peppa
a shlug of good balsamic vinegar
*Ok, so I didn't use fresh peas in their pods.  I would have done if I'd planned to make this quick meatball dish after a visit to tomorrow's Temple Bar Food Market.  So…I used a handful of frozen peas instead.  Frozen peas are the only, I stress, the ONLY frozen veg I would ever use.  Could it be it's because that I haven't tasted fresh peas since I was about 7 years old and my aunt was growing some in her garden?  I imagine if I tasted fresh peas now there would be no return…hmmmm….to be continued…!
I divided all of this up to make a very quick, easy, delicious meal for two.  Making meatballs from sausages is CHEATING.  And we all know that cheating (when it's not really that serious, obviously) is just brilliant.  I genuinely enjoy separating the sausies so that the skin is a bit broken at the ends and then squeezing the sausage meat out of the skins.  It's like being a kid in a science class when you were allowed to do really gross things that were in someway educational.  Squeezing the sausage meat out of the sausages makes you think – in the name of Chuck, just where did all this squishy meat come from and for the love of Farah Fawcett, what the hell is this skin made of?!?!
So, get a bowl and squeeze all the sausage meat into it.  Mould them into little meatballs, whatever size you like, big or small or whatever.  Jamie and I prefer small meatballs (*schoolgirl giggle* Jamie and I lol).  Heat some olive oil in a pan and start frying the meatballs.  I kept them at a low heat so they'd cook evenly.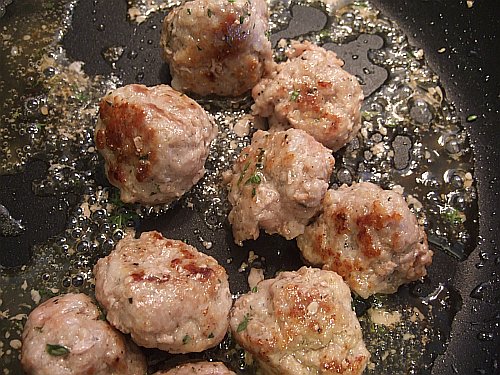 Oh yeah…fry fry FRY!
Get a pot of water boiling because you're going to be cooking pasta soon, my friend.
Meanwhile, heat up a bit of olive oil in a good saucepan and add your garlic and lovely basil stalks.  Fry them up for about two or three minutes.  Add your chopped tomatoes and bring it to a simmer.  Put in a few torn basil leaves at this point, but leave a good few fresh leaves to be put in at the last minute.
Ok, I think you'll probably be ready for the pasta now.  You'll know yourself.  Are the meatballs looking on the road to being cooked?  Is the tomato sauce simmering and on its way to glossy?  Use the pasta force.
When the tomato sauce is simmering, add a glug of balsamic vinegar.  Jamie said "It's lovely for adding sweetness to the sauce, bish bash bosh."   Okay, he didn't say bish, bash, bosh in the book but the rest of it is all true.
I threw in my frozen peas into the cooking linguine about two minutes before done time.
When your pasta is nearly done and the peas are in, throw the marjoram/thyme/rosemary leaves into the frying pan with the meatballs.  I had thyme and rosemary to hand so I threw a good few generous pinches of both into the pan for about 30 seconds.
When your meatballs are good and done to your liking, and the sauce is looking good, and, most importantly, your pasta is ready, drain your pasta and plate up.  Don't forget you have some nice fresh basil leaves pre-prepared – chuck them on the top of the spaghetti and meatball tomato loveliness.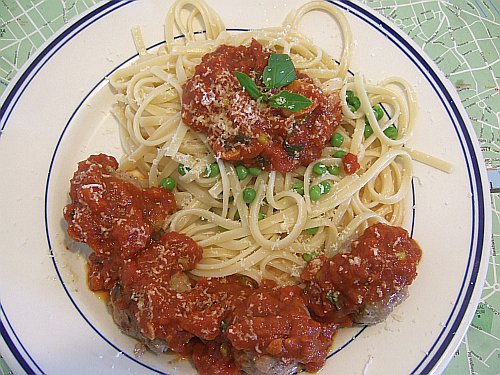 If you are using fresh peas from the pod, Jamie suggests that you serve them in their pods in a bowl in the middle of the table so people can just help themselves if they want to.  After all, it's a universal truth that 7 out of 10 people detests peas.
Easy peasy, lovely jovely.  Hope my rendition of Jamie's recipe made sense!
MP3
Yeah…haven't been listening to a whole lot of iPod music since my ears were giving me clues that they needed a wee break.  I thought of the below video when I took a picture of the basil, tomatoes and garlic for the post.  A few of my favourite things=Sound of Music=flash mob dance in Belgian train station.  Lovely.
Categories: Dinner Tags: Basil, Meatballs, Tomato Sauce, Yum