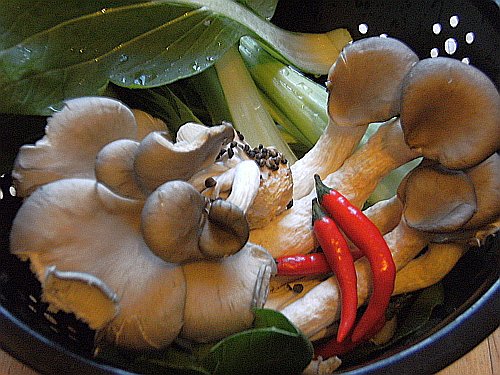 Oyster mushrooms.  Bleedin' weird looking yokes.
So…this meal was a little bit better than Part 1.  I would recommend using this recipe as a leftover dish when you've made your own roast chicken on a Sunday because it was really very good.  It was totally easy to make and, provided you have the pre-cooked shredded chicken ready, it only took around 20 minutes, chopping and stuff included.  Perfect for a Monday night after a Sunday Roast, in fact.
As I said in my previous post, I had bought the pre-roasted free range chicken from M&S to give it a go.  It turned out to be very dry but passable.  This recipe was a lot better at hiding the dryness, seeing as it was served swimming in a load of chiken stock, noodles and veg!
I was inspired by this recipe over here but my variation of it is as below.