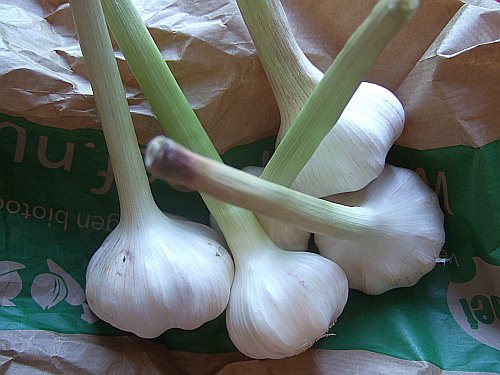 New garlic.  Smelly, smelly stuff.  I was watching The River Cottage Springtime with my friend Hugh Fathoughbly-Whottingfigs and I saw him make this soup.  It looked so simple that I figured what they hey, we'll give it a go.
All you need for Hugh Feathably-Witheringstock's New Garlic Soup from memory by Aoife Mc
Four or five bulbs (I suppose you could call them that) of new garlic
Around two pints/1 litre of chicken stock
A generous knob of butter
Chopped chives and grated parmesan to serve
Salt n peppa for seasong
I bought some of the lovely new garlic from Denis Healy's Organic Delights in Temple Bar and I had some chicken stock from my first roast chicken in the freezer.  I defrosted the stock and popped it in my pan and brought to a slow slimmer.
I gave the new garlic a good thorough wash but I didn't remove the skins.  This could have been a mistake but I seem to remember that Hugh didn't do anything but wash the new garlic.  So I just plopped the five pieces of new garlic into the simmering stock and just left them there.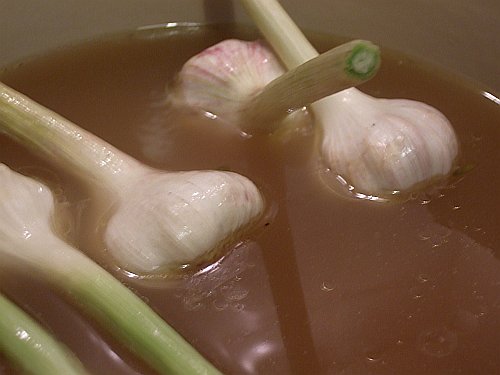 I'm under no illusions that this looks it any way edible. YUK!
After about twenty or twenty five minutes of simmering I took them off the heat.  I would've whizzed them up at this point but in fact we were going out to see ASIWYFA in Whelan's.  I did an interview for the next nialler9 podcast with the Belfast band in their van (very rock and roll I thought) and I wasn't sure if garlic soup was the right thing to eat before going out to socialise.  That's only partly true really, we didn't have time for the soup in the end!
The reason I'm mentioning all this is that it meant that the new garlic had a lot more time in the chicken stock so perhaps this led to a stronger flavour of the garlic soup.  I don't really think it would have had too much effect on the flavour of it though.  In the end you whizz up all the garlic anyway so I'd say if you whizzed it up straight after the twenty/twenty-five minutes of simmering, I'm sure the result would be the same.
So….this may seem strange but when we got home from the gig (which was brilliant) I whizzed up the garlic soup.  I only have a hand-held whizzer so the soup was a little bit stringy.  A food processor would have been better here.  I added a generous knob of butter, seasoned with salt n peppa, and then reheated the soup in a pan.  I served it with chopped chives and grated parmesan.  It was gorgeous.  Really, really yum.  And not just because it was late in the night and we were a bit squiffy.  We had it again for lunch the next day.  Delish!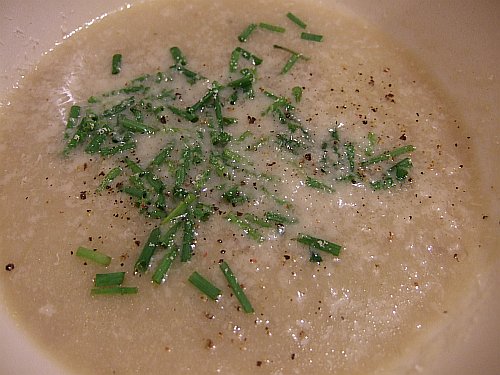 MP3
On Sunday morning/afternoon, we had a very pleasant reading-of-the-papers while listening to the gorgeous Lambchop.  Rather an appropriate band to talk about on a food blog.  Lambchop, the driving force of who is a guy called Kurt Wagner (who sounds like the love-child of Bill Callahan and Kris Kristofferson) are based in Nashville, Tennessee and have been on the go for quite some time now.  The below track is taken from the latest album from Lambchop entitled OH (ohio), which was released a few months ago and is a real treat.  Perfect, perfect Sunday morning music.  Buy it here.
Lambchop - I'm Thinking of a Number (between 1 and 2) – OH (ohio)