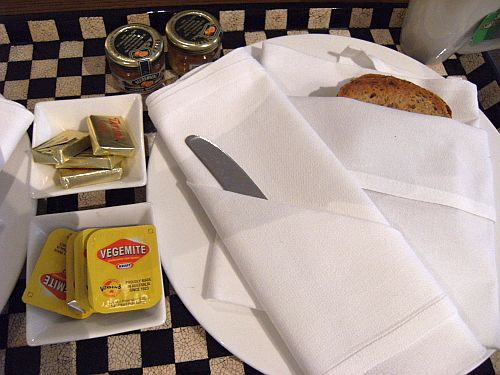 First breakfast in our Melbourne hotel.  It had to be toast and vegemite didn't it? Yum.  The toast looks as sleepy as we did.  Sweet.
Dear Mum, Dad, siblings and friends:
I'm afraid that you might have to become used to long-haul travelling as, after my first day in Melbourne, I feel like I have found my spiritual home.  Sometime in the future, I think I might just have to come and live here for a while.
Bonus on that though, folks, is you'll have an excuse to come and visit too!  Let me tell you, you'll love it.
Love, Aoife Mc x
After a not at all unpleasant 24 hour journey (with, it has to be said, very decent airplane food on Qantas) from our flat in Dublin to the beautiful Hotel Lindrum on Flinders Street in Melbourne, we had a wonderful first day.