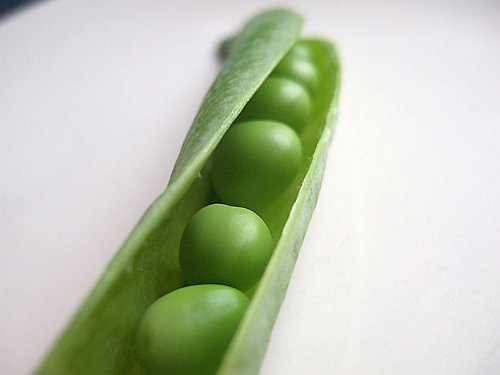 Remember I was saying about frozen peas?  They're ok but I wanted to refresh my memory as to what fresh peas from the pods actually taste like.  I picked up a few at Denis Healy's Organic Delights market in Temple Bar on Saturday and whipped up this pasta in about 15 minutes.
What you need for Easy Peasy Pasta for two
Around about eight or ten peas in their pods (there's about eight little peas in each pod so…you'll know yourself how much you want!)
Two tablespoons of creme fraiche (cream would be undoubtedly yummier here but has approximately 5,894 1/2 more calories so….creme fraiche it is!)
A good amount of grated parmesan cheese
Juice of half a lemon (I actually forgot all about the lemon and the final sauce suffered because of it!)

Chopped chives if you have them

Linguine for two
Salt n peppa
Put your pasta on the boil as recommended on the packet.  After about five minutes cooking time you can start with your creme fraiche sauce.  Creme fraiche is really nice – not as sweet as real cream but it has half the fat I'm sure so is the healthier option.
For the sauce, mix together your creme fraiche and grated parmesan with the lemon juice.  Under a low-ish heat, simply heat up the creme fraiche mixture slowly, making sure it doesn't start boiling or anything as I imagine that would tarnish the flavour.  I added black pepper to the sauce at this point and didn't add salt which was a mistake easily remedied by generous amounts of salt to the finished pasta plate.  So I'd recommend adding salt at this point.
Once the pasta has about two or three minutes to go, add the peas into the boiling water.  Once the time is up, drain the pasta and peas and transfer them into a large mixing bowl.  Add the hot creme fraiche sauce and mix everything around so the pasta is evenly coated.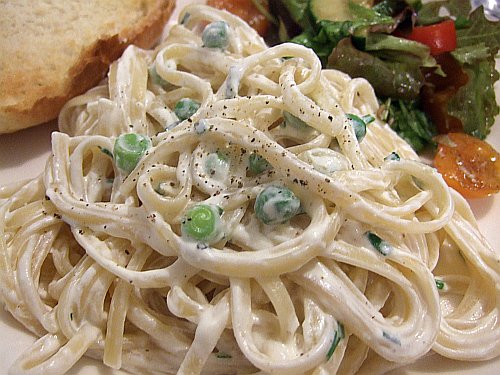 MP3
As I was cooking up the pasta, we were listening to Cambridge, Massachusetts band Passion Pit's debut album Manners which will be released in and around the 15 of May on this side of the pond.  Their EP Chunk of Change (buy it here) has been eaten up by music critics and regular old music fans as well.  We went to their gig in Whelan's a few months back and were surprised to see the place completely jammed.  Fairly impressive turn out on the back of just one EP release.
As far as I can remember, only one of the songs from the EP reappear on the album, and the good news is that it's many people's favourite, Sleepyhead.  In truth, his voice is grating on me slightly at this point, making the album fall short for me.  No doubt the album will be massive in Ireland this summer.  2009′s MGMT for sure.
Passion Pit – Sleepyhead – (Cut Change EP/Manners LP)

Categories: Dinner Tags: pasta, peas in the pod