Visiting Dublin?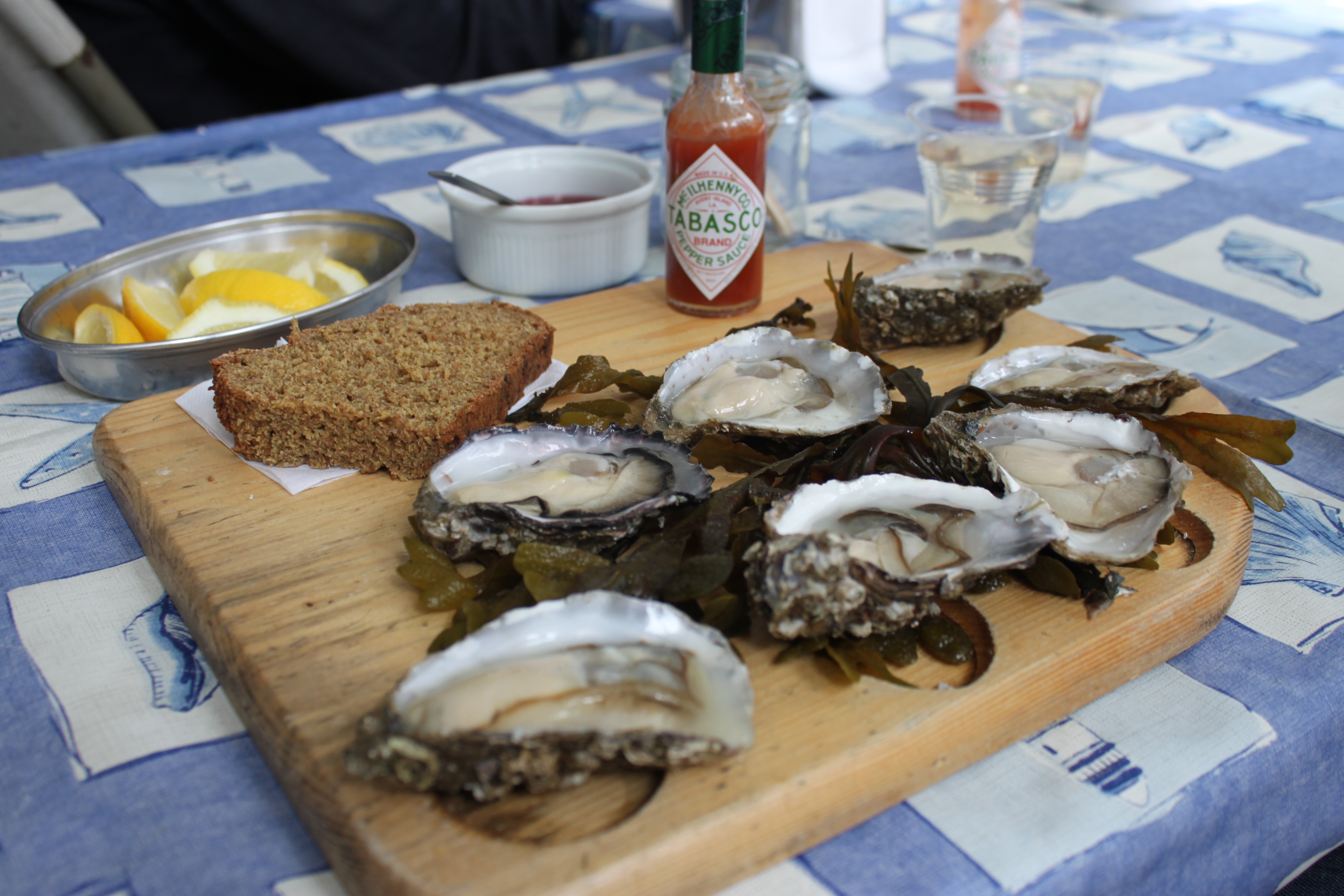 Forget a fry-up. For a real hangover cure, try the oysters at the Temple Bar Market's Oyster Bar on a Saturday 
If you're visiting Dublin and are feeling peckish, here are a list of some of my favourite Dublin spots in and around the city centre.
Dublin Eateries
Food shops and markets and things to do
Sheridan's Cheesemonger, South Anne Street, D2 - this amazing shop is just off Grafton Street and houses some of the best cheeses being produced in Ireland and beyond. They also stock amazing cured meats, as well as Ed Hick's famous Bacon Jam and Jack McCarthy of Kanturk's ah-mazing black pudding. So amazing it was served to Queen Liz herself for dinner during her recent visit to Dublin a few months back
Liston's Food Store, Camden Street, D2 – a source of delicious goods, Irish and international, Liston's is a trove of treasure and has a delicious deli to boot.
Temple Bar Food Market, Cow's Lane, D2 - this little part of Temple Bar is home to our Farmers' Market as well as a few Irish designers and specialist butchers stalls etc on Saturdays. Definitely sit down for a few dozen oysters and a glass or two of complimentary wine at The Temple Bar Oyster Bar. Amazing hangover cure!
Honest2Goodness Market – held a little outside the city centre on the Northside, this market in Glasnevin speicalises in local and seasonal goods. It's also quite close to The National Botanic Gardens and the Glasnevin Cemetery so as a tourist you can totally justify a visit if you squeeze in these two sightseeing spots as well.
Dublin Food Co-op, Newmarket Square, D8 – home to my own neighbourhood organic and vegetarian market, this building also host the monthly Dublin Flea Market on the first Sunday of every month. This Food Co-op opens every Thursday and Saturday and you'll find organic fruit and vegetable stalls alongside their dry goods stores and a selection of delectable food stalls such as (one of my faves) Caryna's Cakes.
Fabulous Food Trails - This is a really good tour for people who love food. It's a walking tour of food spots around the south of the city and the guide Eveleen is super lovely. There's lots of tastings along the way as well as tidbits of Dublin history. Good fun.
News of the Curd supper club – a supper club held in the Temple Bar home of Irish food enthusiast Kevin Powell every Wednesday evening, you'll be guaranteed to find out something new about Irish food while sitting at this table.
Living Dinners - run by Katie Sanderson, arguably Ireland's most exciting young chef, these raw, vegan and vegetarian supper clubs are held in exciting spaces and leave you feeling wonderful. They sell out pretty  much instantly so keep an eye out for dates on www.livingdinners.com.
The Open Door Supper Club – a supper club hosted by actress Aoife Coughlan, join her for themed evenings of great food and hospitality.
The Parlour Games – a supper club with cooking enthusiast Ian Marconi at the helm, this one has been getting rave reviews from folks looking for something out of the ordinary.
Coffee
3FE, Pearse Street, near Grand Canal Dock – the original coffee shop in the new wave of coffee loving in Dublin. 3fe started out with a small stall in Twisted Pepper before taking over the first floor and eventually moving to purpose built premises near Grand Canal Dock.
Brother Hubbard, Capel Street, Dublin 1 – a wonderful place for breakfast and lunch, the coffee here could probably wake the dead.
Vice Coffee, Middle Abbey Street, D1 – the building (and some staff) that housed the original
Oxmantown, 16 Mary's Abbey, off Capel Street, D1 – great cup of Joe made by a friendly Australian.
Fallon & Byrne, Exchequer Street, D2 - a posh food emporium, they do a lovely coffee to go.
The Fumbally, D8 – seriously good brews happening in there.
Kaph, Drury Street, D2 – serving seriously dedicated coffee and delectable sweet treats. They have also used their upstairs space as exhibition areas for Irish artists in the past so keep an eye on their website for future happenings of the sort.
Roasted Brown, upstairs at Filmbase, Temple Bar, D2 – a wonderful place to go for a serene cup of coffee. The food is also supplied by Gruel Guerrilla aka News of the Curd and is no doubt very good too.
Brunch 
Forest Avenue, 8 Sussex Terrace, Dublin 4 - opened in late 2013, Forest Avenue is run by couple John and Sandy Wyer. They do lunch, a tasting course dinner and a five-course tasting brunch menu. It's my favourite restaurant in Dublin. Booking is usually needed two weeks in advance as the brunch is very popular.
Bibi's, 14b Emorville Avenue, Dublin 8 - a hidden spot run by Maisha Lenehan in one of the loveliest neighbourhoods in the city centre, this spot has the best brunch I've ever tasted in Dublin. They only have four tables and don't take reservations, so you might have to pop in and put your name down on a list, but the brunch is worth the wait. Plus, the adjoining business next door is Doll's Boutique, run by Maisha's sister Petria, a wonderful clothes shop and a danger to all credit cards.
The Fumbally, Fumbally Lane, off Clanbrassil Street, Dublin 8 – my neighbourhood cafe, this is a wonderful space reclaimed from the wasteland of the Celtic Tiger. Easily the best falafel in town, it's also (small, well-behaved) dog friendly and a wonderful spot to while away your time. Open Mondays through Saturdays from 8am to 6pm. Just around the corner from the Dublin Co-op mentioned above.
Herb Street, Grand Canal Dock, D2 - a good walk out of the city centre and closer to the financial district, this is definitely one of the best brunches operating at the moment, to my knowledge.
Coppinger Row, Coppinger Row off South William Street, D2 - lovely food and very central. Their service in the past had made me less of a regular that I would have liked but I have noticed a marked improvement in the last year. Their Bloody Mary is one of the best in town and you'll find great food for breakfast, lunch and dinner.
Whitefriar Grill, Aungier Street, D2 – home to the foie gras waffle experience, this is a great spot to hit for brunch, lunch and dinner. Smart, affordable food in a relaxed atmosphere. See more below.
Odessa, Dame Court, D2 - Odessa is a beautiful room but in my experience the brunch can be a little hit and miss. When it's a hit it's great. And their breakfast cocktails are always lovely.
Lunch
The Fumbally, Fumbally Lane, off Clanbrassil Street, Dublin 8 – see above!
Oxmantown, 16 Mary's Abbey, off Capel Street, D1 – this small neighbourhood cafe started serving their outstanding sandwiches, soups and salad in the summer of 2013 and have developed a loyal fanbase ever since. My favourite sandwich is probably the pulled pork served on a blaa but the ham hock and cheese is really spectacular too.
Brother Hubbard, Capel Street, Dublin 1 – absolutely mad busy for lunch during the week, an obvious indication of how yummy their food is. Think Ottolenghi with an Irish twist. And don't leave without tasting their Cinnamon scrolls!
The Cake Cafe, Pleasants, Place, behind Wexford Street, D2 - pretty much the most adorable café in Dublin, try to make a trip here for a coffee and a cake or even lunch or brekkie. Lovely spot!
The Pepper Pot Cafe, Powerscourt Townhouse Centre, D2 – beautiful little place serving lovely teas, coffees and cakes, with balcony seats at the Powerscourt Townhouse. A lovely place to stop for a rest. Thanks to Aoife Daily Spud for the reminder!
Upstairs at Avoca, Suffolk Street, D2 - a lovely cafe at the very top of Avoca on Suffolk Street. Somewhere between cheap and expensive, it's a lovely place for lunch. If you want a cheaper option, try the deli counter area on the very bottom floor of the Avoca building.
Lunch and Dinner
Forest Avenue - opened in late 2013, this laid-back spot along the canal serves friendly, neighbourhood fine-dining. Did I already tell you it's my favourite restaurant in Dublin? Booking essential.
Etto, Merrion Row, Dublin 2 – Chef Barry Fitzgerald brings Italian inspired small plates to Dublin – and I ain't talking patatas bravas. Really good food, well-priced and in a buzzy room. Booking essential.
Whitefriar Grill - opened in late 2011, this spot offers brunch, lunch and dinner. Think reasonably priced, deliciously seasonal food in a laid-back interior with Fever Ray on the stereo. Expect great cocktails too.
Terra Madre - amazing little spot on Bachelor's Walk run by laid-back Italians serving authentic cuisine with beaming pride. Like eating in a friend's living room somewhere in Puglia.
Crackbird, Dame Street, D2 - very groovy fried chicken place opened by Joe, it only serves fried chicken. Be aware that the chicken is Irish but not free-range but everything else about the place is ace. Great vibe and reasonable prices, and right in the city centre. Find them on Twitter @crackbirddublin
Jo'Burger, Rathmines, D6 - the original of Joe Macken's trio of restaurants, Jo'Burger serves burgers and that's it! Great place. But don't make plans after dinner, you'll be too stuffed to move.
Bear, South William Street, D2 – Joe Macken's third spot, a great spot for a meat heavy (particular beef) dinner with clever sides and delicious drinks.
Damson Diner, South William Street, D2 – opening at the end of 2012, this is a new venture from the brothers behind Coppinger Row and Oisin Davis formerly of The Sugar Club. It's Asian-American cuisine with a focus on fabulous flavours and an enviable cocktail menu put together by Oisin, whose official job title is Partner and Potions Master. Neat.
KimChi at The Hop House, Parnell Street, D1 - this has long been in my top 3 restaurants in Dublin. It's a Korean restaurant very close to O'Connell Street. I love it because the food is good and the service is wonderful, making the food taste even better. Eating here is like getting a comforting hug from an old friend.
Musashi, Capel Street, D1 – excellent and supremely well priced sushi and noodle spot. Is very popular so don't forget to book!
L Mulligan's Grocer, Stoneybatter, D7 - another favourite spot of mine, Mulligan's is about a 20 minute walk outside of the city centre but it's worth it. Opened by a young couple and their friend, they're whiskey, food and beer enthusiasts and it shows in their bar. They don't sell Guinness or any of the other major brands or distributors so you'll find beer here that you won't find anywhere else. The food menu is small but local and seasonal. Plus they do Scotch Eggs which are INCREDIBLE.
Green 19, Wexford Street, D2 - a great spot serving Irish-influenced food where all main courses are €10. You need to reserve a seat in this place, it's ALWAYS busy. They do a very good brunch here too actually.
Cornucopia, Wicklow Street, D2 - delicious vegetarian and vegan restaurant. Great for lunch and dinner, especially if you've had a couple of days on the Guinness and are in need of a culinary detox.
Murphy's Ice-Cream, Wicklow Street, D2 – who says you can't have ice-cream for lunch? Amazing Irish ice-cream from a company which originated in Kerry. Try their brown bread ice-cream on for size.
A bit posh/very posh
A Not-Temple-Bar Pub Crawl
Not that there's anything wrong with Temple Bar, you understand, it's just…well, these spots are better.
Grogan's, South William Street, D2 - best spot in Dublin for a pint of Guinness. You MUST try a pint of Guinness with a toasted ham and cheese sandwich here. It's a bit of a thing.
The Palace Bar, Fleet Street, Temple Bar, D2 - ok, ok, so this is in Temple Bar, but it's not touristy at all. A great, great pub with a lovely pint of Guinness on tap. And apparently, years ago, the boy band 5ive had a scrap with some locals when it was announced that they weren't as good as Westlife. If you do want to go to another Temple Bar pub, I would recommend The Temple Bar Bar, Farrington's and perhaps The Porterhouse. The rest of them are pretty much…meh.
The Long Hall, George's Street, D2 Amazing pub with a mix of dark red, odd paintings, chandeliers and musty carpets. You're lucky if you get a seat in this spot.
The Stag's Head, Dame Court, D2 Beautiful old pub with a giant stuffed moose head over the bar. Order the Guinness and sit in the lounge with the stuffed foxes.
The Exchequer, Exchequer Street, D2 – in my experience, the best cocktails in town. Get their Teapot of Hendrick's Gin and Cucumber cocktail for two, served in delicate china. Sophis!
Anseo, Wexford Street, D2 - great little spot with funky tunes on the stereo. Comedy nights and gigs upstairs sometimes too.
The Workman's Club, 10 Wellington Quay, D2 – relatively new two-story space which has a decent sized venue, a couple of different bar rooms and a bad ass smoking garden. It's the best place in the city do get a late night drink during the week, without a doubt. And one of the best on the weekend too.
The Bernard Shaw, South Richmond Street, D6 - definitely worth a visit, this is a great bar, most especially for its amazing beer garden which houses a massive double decker blue bus that sells delicious pizza. It's about a 20 minute walk from town and it's worth it, even if just to check out what Dublin's hipsters are up to.
Whelan's, Wexford Street, D2 - indie venue and pub, bit of a mixed crowd (read: young and squiffy mixing with old and cynical) sometimes but a good place to see some music.