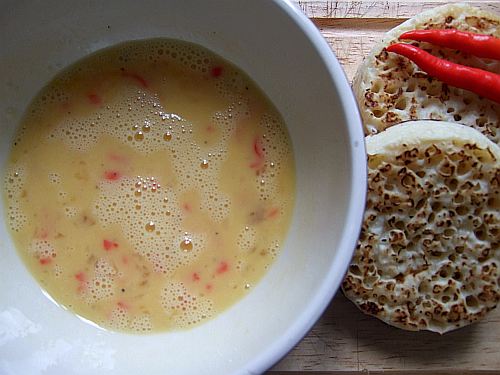 I'm not very good at cleaning.  There was absolutely no reason for me to think that Niall would want a tidy house when he came home but I'd got it into my head that it would be a good idea to scrub up the place nice and proper for when he came home from SXSW in Texas.
In the end, I developed a bit of a 'flu'.  In truth, it was a scarily long lasting hangover from Saturday night's exploits, which was unaided by Monday night pints with previously featured lovely friends who are heading off to London for EVER next week.  Egad, it's so far away, I may never see them again, so YES let's have pints.  Heh heh.
So I got home from work yesterday feeling far away from good, and I found myself nestling a berocca (they have new ones with guarana in them, amazing stuff) and then somehow wound up in bed with a few creme eggs and America's next top model.  Well, when nialler got home at around 9 this morning, needless to say the flat was still in a bit of a mess.
But…I had planned an awesome breakfast.