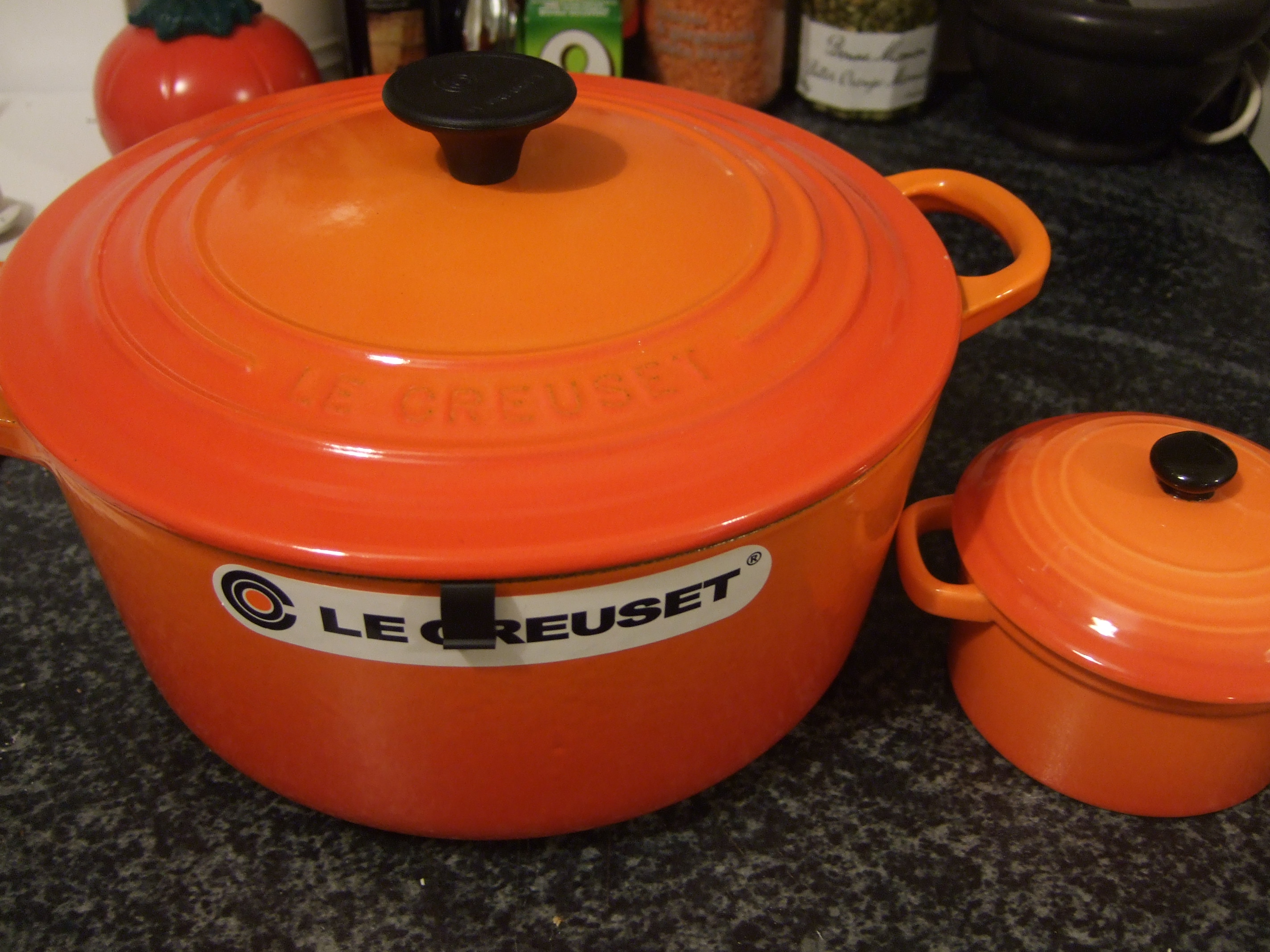 You….are…..so….beautiful….to…..meeee! My first Le Creuset pot sitting next to my little butter dish (which is a fairly handy copy that I got for a fiver in All Rooms on Liffey Street.  Rock it!)
I don't mean to gloat but I'm too excited about the above pot that I had to share it.  Of all people, I know the foodies will appreciate the pot.  Along the same lines of what English Mum said here, this is my version of the designer handbag.
I turned 27 last weekend, and lo and behold, that is still young enough to receive birthday cards from your granny and your auntie with a few quid in it.  Surely I should let them know that I have a job now and am no longer a skinny starving student living on pasta and pesto.  Perhaps I'll leave off discouraging them until I'm at least 32.
So anyway, I got a few quid for my birthday and I decided that this year I would put it towards investing in something that I really would have forever.  True, I have the semi-clear memories of drunken birthday nights out but those memories will fade, whereas the beauty of this, my first Le Creuset pot, never will.
The thought crossed my mind that a beginner cook like me purchasing such a kick ass bit of kit was kind of like someone who has just started learning the guitar buying a Les Paul.  On reflection though, I think my passion for cooking might just outshine my passion for playing guitar, and while my two guitars stare forlornly and lonelily (it is SO a word) on, I reckon my Le Creuset is soon going to covered in the glorious stains of a very healthy cooking life.
I used the pot for the first time last night and made this recipe.  I'll be posting up details and a few pictures in a bit.
Beautiful day, isn't it?
MP3
This is the perfect soundtrack to a sunny day, and indeed any day.  I'm having a listen to it as I type.  Jamie Lidell is this young dude from England who I've had the pleasure of seeing live twice.  He started out a few years back making obscure electronic music until one day he opened his mouth and a whole lotta soul came out.  His 2008 album Jim is full of feel-good soul tunes that will definitely make your wedding party playlist.
Go buy Jim here and keep an eye when he's back in Ireland (he played in ALT in Dublin last week!) and try to catch his live show, whether it's his solo show in all its beatboxing looping glory or with his kick-ass six piece band.  Both promise to be memorable occasions.
Jamie Lidell – Another Day (Jim)