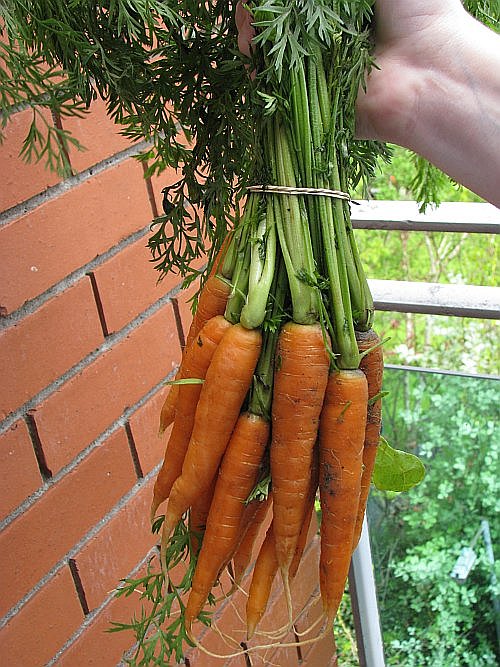 Seriously.  Imagine being 27 and never having made a roast chicken?  I'm not sure how that even happened.
Since moving into our new flat and having a telly for the first time in four years, I've already settled into a very comfortable and enjoyable Sunday TV routine.  It starts with about three hours of Come Dine With Me, then goes on to Jamie At Home, then to The River Cottage with Hugh Farningly-Wetherall, and then I can flick between Gordon Ramsay's Kitchen Nightmare USA (quite poor really compared to the UK series) and Hell's Kitchen with the monsterously terrifying Marco Pierre-White.
Hugh Featherby-Woothington is my favourite of all the cheffy men, with Jamie in a very, very close second.  I like Hugh because he's so passionate about the welfare of animals, he's really nice to everybody and The River Cottage is a great example of how to make steps, small and large, towards being greener and healthier in the way one consumes one's food
For those of you who are unaware, Hugh has been fighting against the supermarket chains in the UK for the last two or three years or so to get chicken welfare back on the menu.  Obviously, he's not the only campaigner doing this, but he has raised a remarkable amount of awareness of the issues surrounding chicken welfare and most certainly has affected me in so much as I am more conscious about where my eggs and chicken come from.
So for my first roast chicken, I popped down the Temple Bar Food Market and got a free-range whole chicken from Paddy Jack's farm stall for €10.  Seeing as I was planning on getting two meals and some soup stock out of the chicken, I think €10 is all right, don't you?  On a side note – I also bought a goose egg from Paddy Jack which I had for brekkie OMG the SIZE of it, it was BEAUTIFUL.
I also picked up some of the most scrumptious carrots I've ever tasted from Denis Healy's Organic Farm stall.  That's them in the pic at the top of the post and there's me trying to connect to them before I put them in me belly.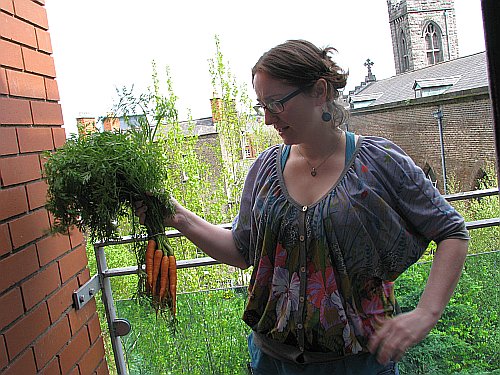 Heyyyy…how'd you get up on the fourth floor??
We munched half of them raw with some yummy houmous and kept the other half to have with our roast chicken.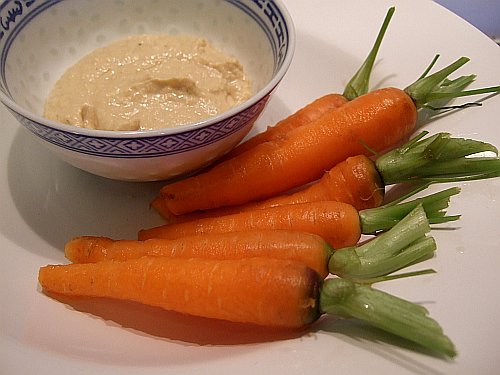 I used a BBC Good Food Recipe for this one and it worked perfectly.  It did exactly what it said on the tin, you might say.
What you need for BBC Good Food's Rosemary & Balsamic Chicken with Roast Onions for four
1 free-range chicken
Good big bunch of rosemary
4 red onions, peeled with ends chopped off but left whole
3 tbsp of balsamic vinegar
1 tbsp of honey
Olive Oil
Pre-heat your oven to 170 C/gas mark 5.  The roast chicken will need 1 hour and 20 minutes altogether, plus 20 minutes resting time.With a sharp knife, separate the skin of the chicken with the meaty part.  It should come apart quite easily but just be careful not to rip the skin.  You're separating the skin to stuff rosemary sprigs in there so make sure you create a deep enough pocket.  You can put your fingers under the skin and go 'Ewwwwww gross, raw chicken skin' too if you want to.  I know I did.
After you've put one or two good thick sprigs of rosemary in the pockets you've created, put the rest of the rosemary in the cavity part of the chicken.  I put around four nice thick sprigs in there.
Season the whole chicken with salt and pepper, put in a roasting tin and pop the four onions in each corner of the tin.  Glug loads of olive oil over the chicken and the onions.  Pop it all in the oven for 40 minutes. for the first roasting phase.
Meanwhile, get your balsamic vinegar and honey drizzle mixture ready.  Just mix it altogether in a bowl until the honey dissolves into the vinegar.  I thought that it wouldn't be enough mixture but it was loads.  You can also get your spuds or whatever sides you're planning on having ready at this point.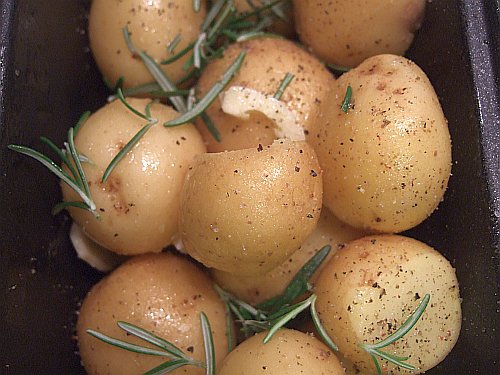 Rosemary and garlic baby potatoes (roast with chicken for about 40 minutes)
After the first 40 minutes is up, take out the chicken and pour the balsamic vinegar and honey mixture all over the chicken and the onions.  Pop it all back in the oven for another 40 minutes.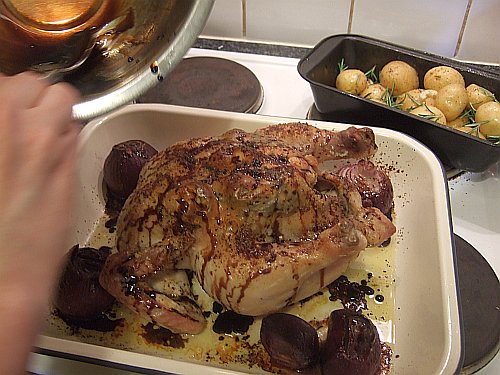 About 20 minutes into the second roasting phase, I popped in the spuds.  Remember that the chicken needs at least 20 minutes resting time so if you get the spuds in at this point, they'll have a good forty minutes which will get them to the point of nice crispy skin and perfectly soft insides.  Also, at this heat and sharing it with the chicken, the garlic goes all crunchy but doesn't burn.  Yum, those crunchy garlic bits are gooooood!
Once the chicken had been in again for 40 minutes (1 hour and 20 minutes altogether), take it out of the oven, removing the onions from the roasting tin and leaving them to roast for another 20 minutes.  Let the chicken rest for at least 20 minutes.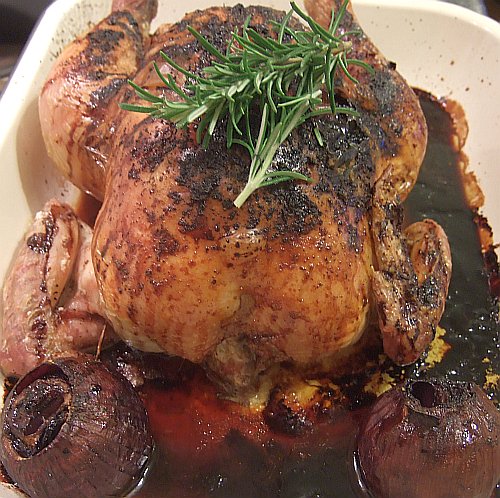 I steamed the carrots for about 6 minutes right before serving the whole lot.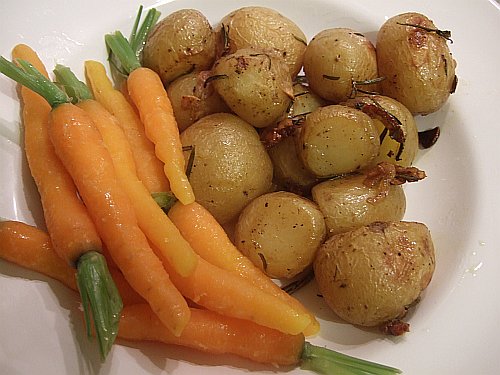 Beautiful carrots and look at those gorgeous crunchy garlicky bits on the spuds, deeeelish!
Slice up your chicken however you like it and pour the juices from the roasting tin – it should be lovely and sticky with lots of juicy bits too – all over the chicken as a sauce.  It was yum.  Really yum.  I tossed the carrots in a bit of butter and the spuds were ready to go.  The combination of the lovely sweet balsamic sauce with the amazingly sweet roast red onions and the quite tender and not-dry-at-all roast chicken…ahhh, sure, twas lovely.  Really simple home-cooked old-fashioned food upped from my boarding-school-days-standard by using really good ingredients from the Temple Bar Food Market.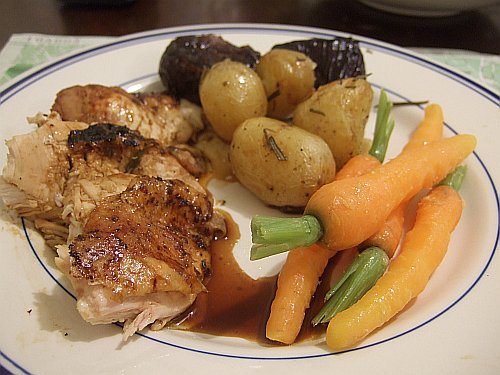 It was all extremely stress-free and easy and best of all, there were only three pots to wash up!
I made this on Saturday, so on Sunday we had some yummy roast chicken and pesto sambos, scrumptious.  Then I made some stock from the bones and all the veg that I had in my fridge.  So hopefully that will make the yummy base for some delicious soup, as well as making my friend Hugh Fastidock-Wratheringstock proud.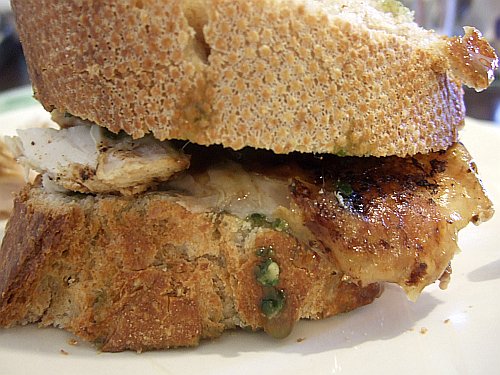 Rocking roast chicken and pesto sambo for Sunday lunch.  That's what I'm talking about!
MP3
We stayed in on Saturday to eat this roast dinner after a very fun night out on Friday at the State.ie vs AU night in Dun Laoghaire's lovely Purty Kitchen.  We saw Villagers (amaaaaazing), Alphastates and the BLINDING And So I Watch You From Afar.  ASIWYFA, as they're known to their fans, are from Belfast and I have not been able to get their Set Guitars to Kill track from their debut album out of my head since Friday.  And listen, it's kind of weird to have an instrumental song stuck on repeat in your head.  It's the main riff at the beginning of the track when it starts to really build up that has been following me around for the weekend.
The rest of their debut album is great as well, with some extremely heavy rock mixed in with splatters of prog rock and loads of other stuff.  They're one of the best live bands I've seen in the last year.  They were so full of energy and obviously in love with what they were doing.  It was great, really great.
Niall put up the mp3 of the track over on his blog, so I'll just send you over there.  Be prepared for an ear assault.  No wait, that sounds like a negative thing.  An eargasm is probably a better way of putting it.
And So I Watch You From Afar – Set Guitars to Kill – (And So I Watch You From Afar)
Categories: Dinner Tags: Roast free-range chicken