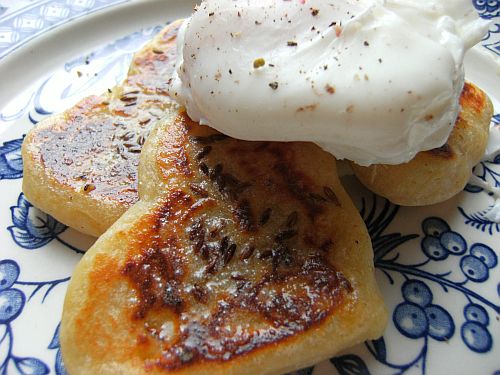 The Daily Spud's Cumin and Cayenne Pepper Potato Farl with poached egg as eaten by I Can Has Cook?
Moving back up the Food & Drink (sponsored by Bord Bia) longlist for the Irish Blog Awards we find ourselves in The Daily Spud territory.
The Daily Spud is one of the blogs I look at the most often, as Aoife Daily Spud's love for the humble spud is truly infectious.  She's a fantastic writer, a wonderful food photographer and a lovely lady to boot.  And she gave me some surplus produce from her very own vegetable garden.  They made such delicious food.
She's also been a great source of advice for me personally.  As a nervous beginner cook, it really is great to have someone like Aoife on the other end of Twitter to question about flour types, pastry fails and how to achieve the perfect mashed potatoes.
It's been a year now that I've been eating vicariously through her Daily Spud pictures, after we met at last year's Blog Awards wherein she won Best Irish Food Blog.  But in all that time, although I've promised myself many times, I've never actually gotten round to cooking anything from her blog.  Well, that all changed this morning for Sunday brunch.
Obviously, I had to go for a potato based recipe, and what is better on a Sunday than Potato cakes, or And So I Watch You From a Farl as Niall has dubbed them.