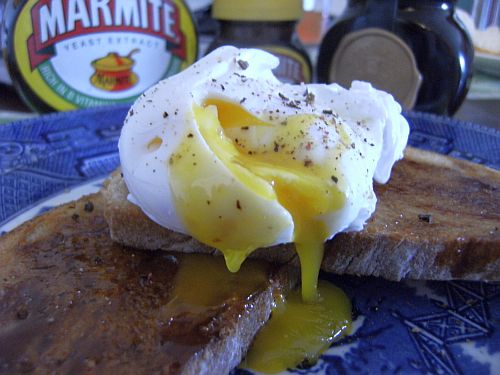 Apologies for those of you with Egg Fear – this pic is pretty graphic!
As my regular readers will know, my relationship with Marmite has exceeded the expectations of how a person should feel about a condiment.  I'm not saying that I want to marry Marmite but I do feel that I'd be anxiety-riddled should I ever be parted from a pot of the yeasty elixir for too long.
Tomorrow I am travelling to Austin, Texas to shoot a documentary about the South By Southwest Music, Film and Interactive Festival.  It's going to be one of the most awesome, crazy and incredible experiences ever and I am giddy with the excitement of it all.
This means that I won't be able to go through any more Irish Food Blogs from The Irish Blog Awards longlist, as I will not be cooking for the next 9 days, but instead living on a diet of Breakfast Burritos and Tex Mex Tacos *droools*  I will, of course, do my best to document on this here blog.
Alas, I have one major reservation about this trip to Texas – will I be able to bring a pot of Marmite through US Customs?
Last weekend I had the pleasure of sharing my love of Marmite with 15 lovely people in my humble abode.  Unbeknownst to them, this was their Initiation into the Realm of The Marmarati.  That's  right, the secret society who have sworn to uphold the majesty of Marmite for the rest of eternity.
Being a secret society, it would be unfair to disclose who attended the event.  Let's just say there were loads of lovely, fabulous, awesome, gifted, fantastic, beautiful, deadly folks there, and a few more without websites.
Have a look after the jump for the recipes and pics of our Marmite feast…