No, I didn't make these!
We're very happy in our new flat for a number of reasons, but one major pro is its proximity to the Chinese and Asian markets that are scattered around Capel Street and Parnell Street in Dublin's city centre.  I love going in to have a look at the unusual veg that I wouldn't have a clue what to do with and picking up dirt cheap spices and beans and things like that.
After a few nice bevvies with an old college friend of Niall's last night, we were making our way home and had a hankering for a snack.  Really what we needed was a late dinner as we'd neglected to feed ourselves properly earlier in the evening.  We were dangerously close to Zaytoons on Parliament Street and – not that I don't love Zaytoons because I do – I just didn't want a kebab and chips.  It was around 1am so I suggested we take our chances and walk down Parnell Street and see if any of the restaurants were open.
Suffice to say, all the restaurants were closed.  Niall was starting to turn into a grumpy hungry slightly squiffy bear and I was worried we'd have to bail out and go to some wretched chipper on Bolton Street.  But then, there it was in the distance, the bright lights of the Golden Beach 24 hour supermarket on Parnell Street.  If you haven't been in, check it out.  It's rather awesome.
We loaded up with cheap Ice Tea and the most enormous pots of dried noodles (I know, I know, about as healthy as going on a bender with Shane McGowan, but still…they could be yum) and I got a sticky pudding sesame seed cake thing to eat on the way home.  Not sure if I liked it or not.  Kind of gloopy.
Anyway, we got some dim sum, and going back to the theme of looking at unfamiliar vegetables, the trouble with being a newcomer to dim sum is you're never exactly sure what you're getting.  Most of the packages do have English translations but still, it's like potluck because some of them taste amazing and some of them taste yik.  Honestly, though, that's part of the fun of it.  For me, anyway.
So we got my favourite banana leaf wrapped glutinous rice, little pork and prawn balls, and the Sweet Lotus dumplings.
I thought the Sweet in Sweet Lotus was like, sweet and sour, but no, soon after chomping into the beautifully puffy little dumpling which had been steamed for ten minutes, it was quite clear that this little dumpling was in fact a dessert.  And I'd gone and dipped it into soya sauce, which was essentially like eating ice-cream and chips together.  What a food faux pas!  I'm so ashamed.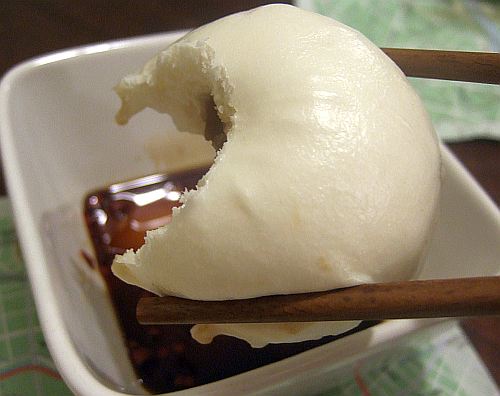 Ohhhh it's a dessert! Wooops!!
I love the banana leaf glutinous rice thingys.  They're dead easy to 'make' – you buy them frozen and you steam them for 35 to 45 minutes.  Most Asian shops have two sizes of these, and these below are the smaller ones, and they're really filling.  Invariably they're stuffed with the sticky glutinous rice and a variation of meat and mushrooms and a few odds and ends.  These ones that we had from The Golden Beach were the nicest I've tasted so far, and they're pretty good value at around €4 for two.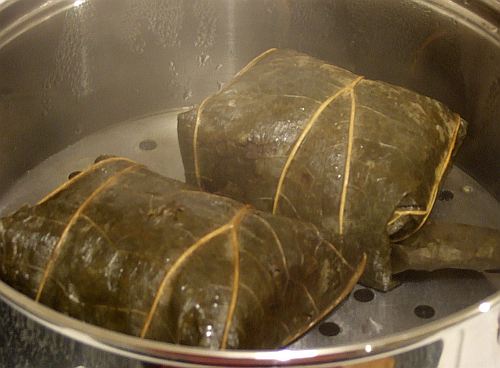 Steamy.  But not in a Cloris Leachman way.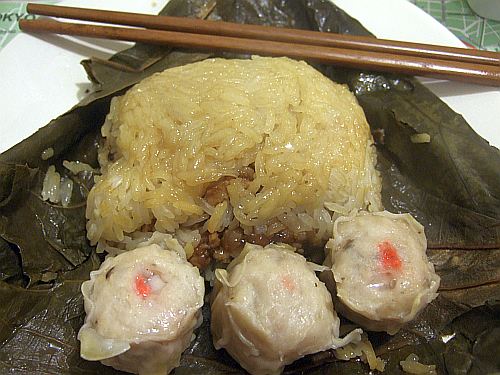 I love eating out of a banana leaf.  When I was a kid, my nickname was Mowgli because I insisted on running around in my knickers until I was about 6 years old.  So perhaps it's the Mowgli in me that likes the banana leaf.  It's more likely that I just like the aesthetic of the clever packaging.
We steamed up the little pork and prawn balls for about twelve minutes.  They were yum, although the pics don't do them justice.
All the Asian shops I've been into have their freezers stuffed full of frozen dimsum.  It's a fun way to eat because sometimes if the packaging doesn't have English translations, you don't know what you're buying which is a bit of an adventure!  They're probably not the healthiest of things at all.  I feel sort of guilty that my last two posts have been good bad food if you know what I mean.  Maybe sometime in the future I'll attempt at making my own dimsum.  I'll probably try baking a cake first though.  Start slow.
I'd definitely recommend The Golden Beach – which is 24 hours don't forget – up on Parnell Street, as well as the Asian Market on Drury Street behind Georges' Street and the Asian market at Jervis Street Luas Stop is brilliant, so check them out.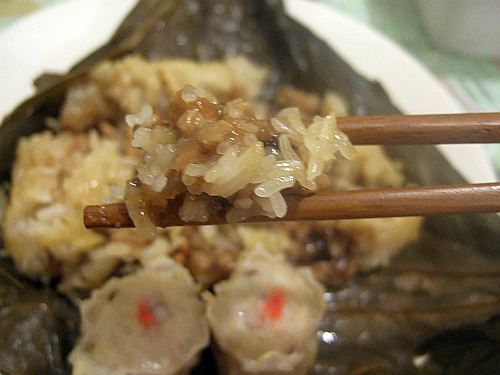 MP3
When we got home last night, instead of listening to music, we watched Charlie Brooker's Newswipe while we munched our late dinner.  He's a flipping genius.  He's cynical and grumpy, but not to the point where it discounts his ability to very succinctly express everything that annoys one about modern media.  In the latest installment, he talks about the hysteria of news journalism and Jade Goody.  It's really rather good.
Here's a little taster of what Charlie's about.  This is his thoughts on the brain-reducingly innane Super Sweet 16.  Go on, Charlie.
Categories: Dessert, Dinner Tags: That's steaming not cooking!