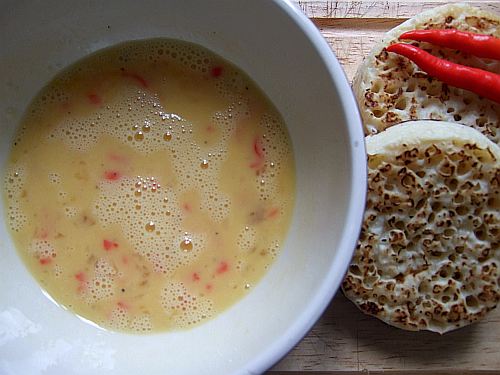 I'm not very good at cleaning.  There was absolutely no reason for me to think that Niall would want a tidy house when he came home but I'd got it into my head that it would be a good idea to scrub up the place nice and proper for when he came home from SXSW in Texas.
In the end, I developed a bit of a 'flu'.  In truth, it was a scarily long lasting hangover from Saturday night's exploits, which was unaided by Monday night pints with previously featured lovely friends who are heading off to London for EVER next week.  Egad, it's so far away, I may never see them again, so YES let's have pints.  Heh heh.
So I got home from work yesterday feeling far away from good, and I found myself nestling a berocca (they have new ones with guarana in them, amazing stuff) and then somehow wound up in bed with a few creme eggs and America's next top model.  Well, when nialler got home at around 9 this morning, needless to say the flat was still in a bit of a mess.
But…I had planned an awesome breakfast.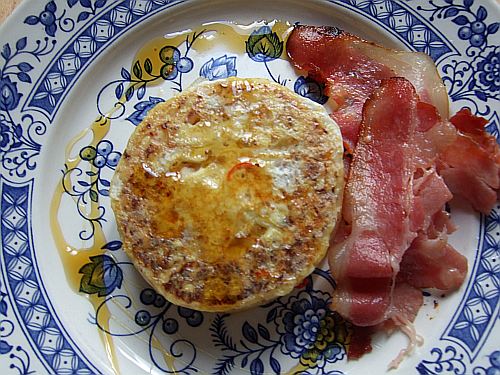 Jamie's Oliver's Eggy Breakfast Crumpets from Jamie At Home
2 large organic eggs
1 red chilli, really really finely chopped
6 rashers of good, gooooood smoked bacon

4 crumpets
HP brown sauce (forget about chef sauce – sorry Dad, but HP is the where it's at) or Maple Syrup

I used three medium free range eggs, three crumpets and four slices of bacon.  That was plenty for the two of us.  Especially since nialler was like a jet-lagged junky and I knew once the breakfast was over and I went to work he was getting straight back into bed.  Deservedly so.  He's had a hard week of seeing loads of amazing bands under the hot Texan sun.  Check out his State updates as well as his nialler9 updates for an insight into the amazing festival he's just been to.  I'm so there next year.
I got some very delicious Canadian Maple Rashers from Tesco [sorry to give the big shops publicity but there you are] and I fried those babies up.  Jamie said to crispen them on both sides and then put to one side of the pan so you can fry the crumpets in the bacon fat.  Ghhhhuuuuughhhyum.  Already!  The yumminess starts early.
So while the bacon was frying I finely chopped a nice red chilli, which I whisked into three medium free range eggs and finally plopped the crumpets into them – carefully mind – pushing the crumpets down in the bowl so they'd soak up all the eggy yumminess.  It's cool with crumpets because they've loads of airy holes in them so when you push the crumpet down you can see the egg coming through the top.  Oh, the excitement of being a foodie!  Look!  Look at the egg coming through the crumpet!  Beautiful!
*ahem*
So I had three perfectly soaked eggy crumpets and I added them to my bacon-fat filled frying pan to cook.  It took a minute or two on each side and they were done.  When I cook this again, which I will because it was amaaaaazing, I might leave the crumpets soaking in egg for a bit longer and fry them on a lower heat.  Although they tasted scrumptious, it may have been better to have more egg soaked inside the crumpet and less of an easy cook on the outside, if you know what I mean.
Still, it was a perfect breakfast.  All day long at work I kept getting the smell of maple syrup so I think that's a good sign.  Incidentally, I used Lyle's Golden Syrup Maple Flavour which really does taste quite a lot like Maple Syrup.  It's hard to find Maple Syrup in Ireland under eight euro and Lyle's tastes very close to the good stuff for less than 3 euro.  Rock it.
Bonus of Niall being in the States – he brought back loads of American candy!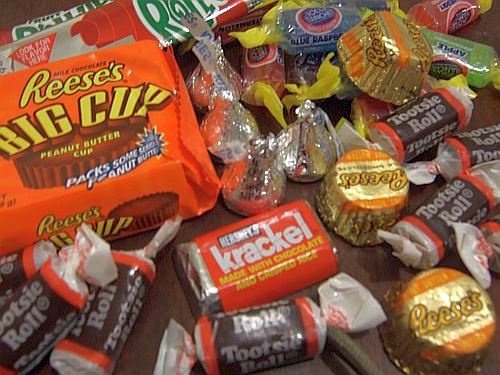 There is a lot more where that came from.  Alas, we'll just have to eat it all.
MP3
One of the bands I was listening to when Niall was away that really made me miss him was Glaswegian Camera Obscura.  Ok, so, their latest album is called My Maudlin Career but that doesn't mean that their music is melancholy.  Oh, eh, no, wait…it's a beautifully melancholy album sandwiched in between three really upbeat songs.  The first two songs are like 'Whoop, yeah, good country, horns, beautiful voice!' and the last track of the album is like that too.  The in between tracks are absolutely gorgeous and are so…sad.  Dealing with suicide, break-ups, being in a band, being in a relationship, life, the works.  It's really, really good.
Here's one of the happier songs to get you into the album – go buy it.
Camera Obscura – The Sweetest Thing – (My Maudlin Career)
Categories: Breakfast Tags: There's nothing like a yummy breakfast