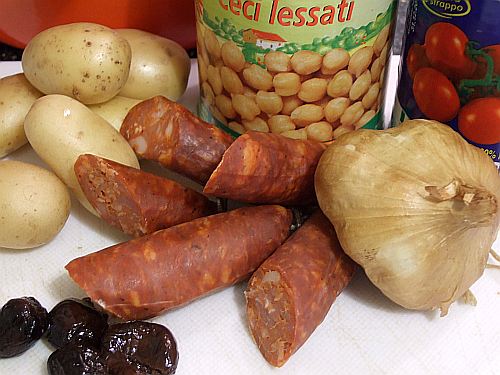 Corrr look at that smoked garlic, it ain't half gorgeous!
Catherine over at backpedalbrakes gave me an internet heads up on this yummy stew, originally taken from The Bible.  I've made variations of this type of stew before but I was happy to finally use tinned cherry tomatoes.  The Chicken Cacciatore (the one that looked like barf) specified tins of cherry tomatoes but I wasn't able to find them at the time.  Should have gone to Fallon & Byrne.  They have some there and they are very yummy indeed.
What you need for Catherine's Chorizo & Chickpea Stew
100g good daycent chorizo
2 tinnies of cherry tomatoes (pomorodini they say on the tin)
1 tin of chickpeas (give them a good rinse)
100g pitted black olives, sliced
100g baby potatoes, boiled and sliced into quarters or slices, however you're feeling yourself
A few sun dried tomatoes, 3 or 4, finely chopped
1 big garlic clove, chopped (I got some lovely smoked garlic from Fallon & Byrne, bleedin' lovely stuff)
I had a few leftover chipolata sausages so I threw them in as well.  Coz I'm a maverick.
Boil your baby potatoes until cooked and leave aside to cool.
Chop up the chorizo into nice chunks and fry them off in a bit of oil on a medium heat in a deep saucepan/pot.  You don't need to use a lot of oil here because the chorizo should release its own red oil once it gets going.  This oil will make  all of the other stuff that you put in the pot taste scrumptious.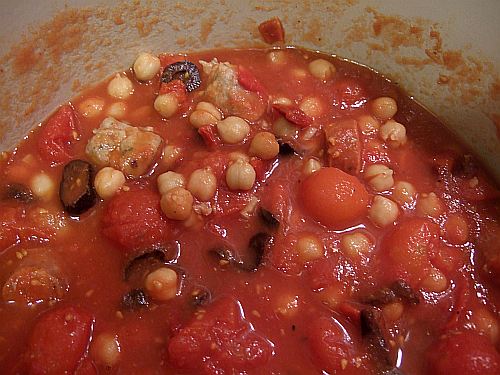 Once the chorizo has been on the go for 3 or 4 minutes, add the sun dried tomatoes and garlic and fry for a further 2 minutes.  Then you can add cherry tomatoes, olives, and chickpeas, and give them all a good big stir.  Let everything sit together and get to know each other in the pot for at least ten minutes or so while you fry up the potatoes.  I cut mine into little slices and fried them up until they were nice and golden and a bit crispy.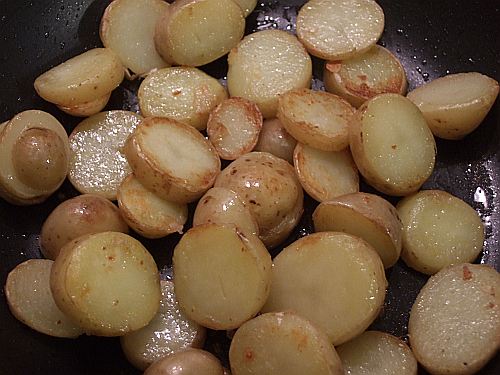 The I popped the potatoes into the stew and let it rest for another few minutes, adding a bit of salt and pepper.  I served it up with some nice chunky bread and a cold glass of beer – so simple and totally lush.  I have loads leftover and no doubt it will taste even better tomorrow reheated.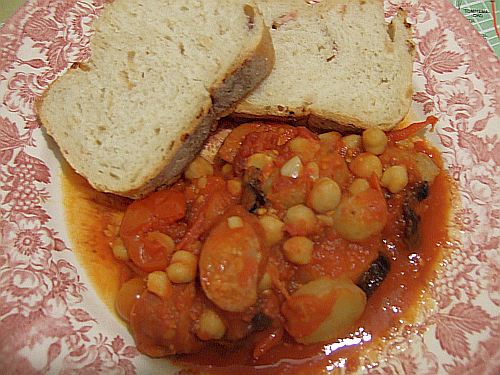 Yeah…still not quite there with the pics.  Getting there though!
MP3
While I was cooking, myself and Niall were listening to the new Super Furry Animal's album Dark Days/Light Years.  Unfortunately – mae'n ddrwg da fi i, Gruff! – it's a bit shite so I won't be putting up one of those tracks.  It just sounds like a half hearted album of thrown together Lite songs that Gruff must have said to Huw and Guto in his delightfully roguish Welsh tones 'Well, my sons, we may as well put it out, dach chi eisiau dawsio hefo fi?'
'Galw'r heddlu!' says I.  The music police.  It's fairly poor.  But it's fine, I won't be holding it against them.  I've seen them live twice and they're out there on their own. a totally amazing band.  Here's something from a better album, 2007′s Hey Venus!, which you can buy here.  You can buy Dark Days/Light Years here and judge for yourselves.
This is The Gift That Keeps Giving which isn't the best Super Furry's song ever but it's really, really sweet.  G'wan Gruff!  Mae fy hofrenfad yn llawn o lyswennod!
Super Furry Animals – The Gift That Keeps Giving – (Hey Venus!)
* Welsh translations (for those of you readers who aren't familiar with the language)
Mwynhewch eich bwyd – Bon appetit!

Mae'n ddrwg da fi i – Sorry.
Dach chi eisiau dawsio hefo fi? – Would you like to dance with me?
Galw'r heddlu! - Call the Police!
Mae fy hofrenfad yn llawn o lyswennod – My hovercraft is full of eels.
Categories: Dinner Tags: Mwynhewch eich bwyd