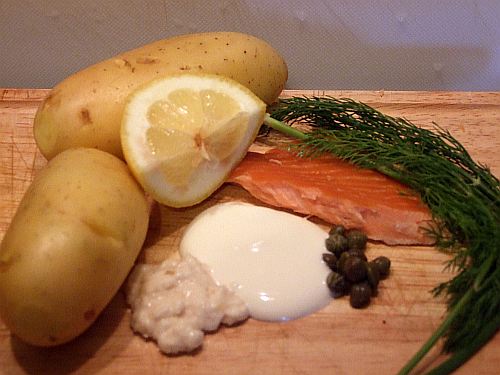 Once again, Aoife Mc's attempts at food photography fail fairly miserably.  Help Loreana!!
I was pottering around the flat this afternoon, listening to music and reading blogs, when I began to feel a bit peckish.  Might have had something to do with the fact that I was perusing this beautiful blog.  Thanks to Catherine for the heads up on that!
I had some creme fraiche in the fridge that needed using, two wee spuds, some nice dill, and some leftover smoked trout from this very nice salad I made yesterday.  So I decided to throw it all together slightly following Jamie Oliver's Potato Salad with  Smoked Salmon and Horseradish Creme Fraiche from Jamie At Home.
What you need for Aoife Mc's take on Jamie Oliver's Potato Salad with Smoked Salmon and Horseradish Creme Fraiche
A few nice new potatoes
Smoked salmon/smoked trout (enough for how many  folk you're having over for lunch)

1-2 tablespoon horseradish sauce (depending on how spicy you like it, innit)
3 tablespoons creme fraiche
juice of half a lemon or thereabouts

olive oil
red wine vinegar

a few wee capers
some fresh dill
Obviously this can be really easily adapted for however many you're feeding.  Just make sure you have enough potatoes, salmon/trout and make enough dressing and sauce by doubling up if you need to!
Boil up the potatoes for fifteen minutes or so. While they're cooking, make the dressing for the potatoes by mixing the lemon juice with the same amount of red wine vinegar, plus three times the amount of olive oil, finally adding a teaspoon or two of capers.  Jamie says you should put the dressing on while the potatoes are still warm as they'll absorb the flavours more.  And by gum, he was right.
While your potatoes are drinking up the dressing in the bowl, you can make up the cream.  Mix the creme fraiche, horseradish sauce and a few chopped up sprigs of dill.  It's easy peasy.  Get your cooled, dressing soaked potatoes and toss them in a bowl with the dill.
Arrange your smoked salmon/smoked trout on your plate, put the potatoes in the middle and dollop some of your nice creme fraiche/horseradish sauce over the lot.  You can even throw a few more dill leaves over the place.
I had mine with some toasted ciabatta, and I thought the trout worked well.  I'll make it with salmon the next time and follow the recipe more closely and let you know how I get on.
I totally would have had a glass of cheeky afternoon white wine too only I drank the last of it last night!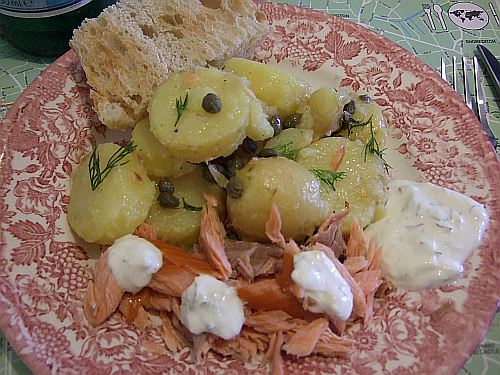 MP3
I was listening to British dance punkster's Friendly Fires self titled debut album which was released last September.  It's v good.  I've posted a remix of one of the tracks from the album called Skeleton Boy.  The remix is by a Swedish duo called Air France.  I'd say that name has caused at least two annoying incidences in the band's history.
Incidentally, this track featured on the last Nialler9 podcast, of which I am the mouthpiece.  Myself and Niall do a podcast once a month where he picks the tracks and I do the talky bits.  It's really fun because we get to do it together and even though sometimes I'm a bit of a grumpy diva, most of the time we have a laugh doing it.  It also helps us to remember how long we've been together as we started it after we'd been going out for about a month.  You can download the March Nialler9 Podcast by right-clicking here.
Friendly Fires – Skeleton Boy (Air France remix)
Categories: Lunch Tags: Easy Peasy