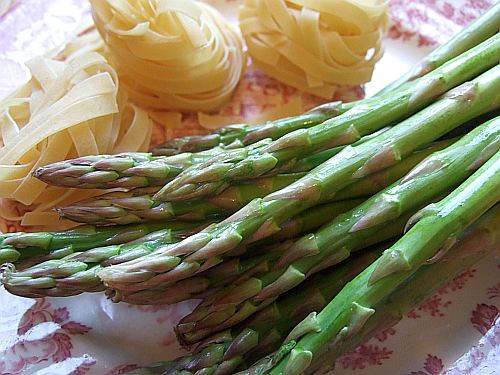 Coorrrrr….you're gorgeous, you are.
Yes, it was a difficult decision.  I joined twitter today – which is…still a bit confusing to me but no doubt I'll get there – and there was a lot of summer related tweets going around the place.  At about half 2 I sent out the thought of beers in the Pav.  For international readers, 1) it was really sunny today in Dublin and 2) The Pav is The Pavillion, the cricket pitch in Trinity College, Dublin.  Or more specifically, the pub on the cricket pitch of Trinity College.  On the three days a year that we have sun here in Dublin, the Pav is a great spot for a few beers, as they sell a reasonable pint at a reasonable price and the grass is lovely and green and it gets busy with revellers who are soaking up the sun.  So today had that kind of Pav feeling.  Reckless late afternoon boozing in the sun.  *Sigh*
Anyway, I think my call to arms for the Pav today was slightly premature.  Let's hope that this lovely sunny day isn't the last for the rest of the year and there will be other opportunities for the Pav or indeed a nice beer garden in 2009.
Instead, I went for the infinitely more sensible dinner at home with Niall and our friend Rodrigo.  I was watching my new friend Hugh Fethering-Willingstock's TV programme last Sunday – I love it so – and he was banging on about asparagus.  Also, English Mum made a yum looking asparagus and chiken risotto a while back.  So I went for this recipe this evening.
What you need for BBC Good Food's Asparagus Cream Pasta
A bunch of lovely asparagus
142ml tub of double cream (go on, you know you want to)
2 garlic cloves, peeled but left whole
50 g parmesan, grated
250g tagliatelle pasta
I was making this for three people so I put in a bit more cream – about 200ml in the end – and a bit more parmesan, but left all the other measurements as they were.
Tagliatelle is a yummy pasta.  I always have a problem with rice and pasta in that I am forever making too much for whoever I'm feeding.  Then you have to throw it away and it goes to waste, which is a damn shame.  Tagliatelle is great because it comes in the little balls and you just pop in three balls of pasta for each person.  And it's a deliciously ribbony pasta that you can twirl around on your fork very easily indeed.
Start off by washing the asparagus and chopping off the woody bits at the end.  Then chop off the spears at the top and put them aside.  You can chop them as short or longish as you like – basically they're going to be in the pasta whole later so do what you feel is right in your asparagus loving heart.
With the stalks of the asparagus, pop them into boiling water for about five minutes, until tender.  In the meantime, put the cream into a small saucepan with the two cloves of whole garlic, and bring that to a boil, stirring it along the way.  Once it's just about to boil, take it off the heat and put to one side.
The asparagus stalks should be tender at this time so get them out of the pan and drain them off.  Now it's time to blitz.  I only have a hand held blender which is very handy for soups and that kind of thing but a nightmare if you have anything liquidy because it goes all over the place!  In the BBC recipe, it says to add the tips to the cream and throw in the parmesan cheese, and then blitz it all.  I tried that and I got a load of cream in my eye.
So, if you're using a hand held blitzer as opposed to a fancy-pants food processor, I would suggest putting the asparagus stalks into a bowl with a tiny bit of the cream for moisture, and whizz it up til it's good and creamy.  Then you can mix the stalks with the cream, garlic, and parmesan cheese.  Put it aside to cool.  At this stage, although it looks completely revolting, the sauce already tastes amazing.  Word.
Cook your pasta as the packet instructions tell you to do so.  While your pasta is cooking, re-heat the asparagus cream sauce gently on a very low heat.
Now it's time for the asparagus tips.  Pop them into the pot with the boiling pasta for the last two minutes of the pasta cooking.  They'll be perfectly cooked when you drain the pasta.  Put the cooked pasta and asparagus tips into a nice big bowl and pour in the asparagus cream sauce and mix it all about until all the pasta is drenched with the deliciously indulgent sauce.
You could put some parmesan shavings on the top, but the sauce is pretty cheesy already so all you gots to do is dish it up and eat.  And sure, have a glass of white wine in the early evening sunshine.  Why not?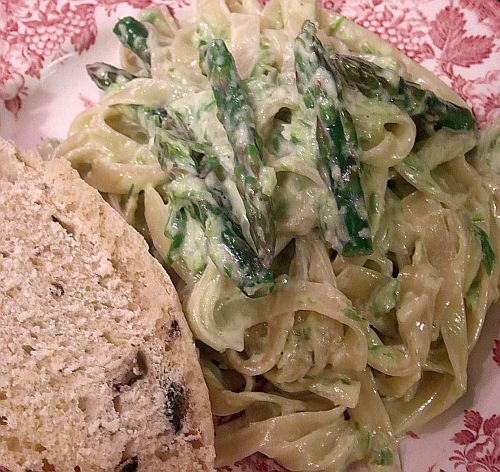 Much better than pints.
MP3
While I was cooking I was listening to this mix by XXXChange which Niall put up on his site today.  It's totally rad.  XXXChange is a New York based producer/DJ.  Anything he touches turns into remix gold.  Legend.  This mixtape is packed full of goodies from times past.  It's got The Stones and Isaac Hayes mixed up with Daniel Johnston and that track from Bellville Rendezvous!  It's about half an hour long, so put it on while you're cooking and enjoy!
XXXChange We Make it Good Mix Vol #4 – XXXChange (borrowed from nialler9 who heard about it via a cubikmusic tweet who may have found the mix here.  Share the love people!  That's what it's all about.)

Categories: Dinner Tags: No to Pav, Yes to Pasta