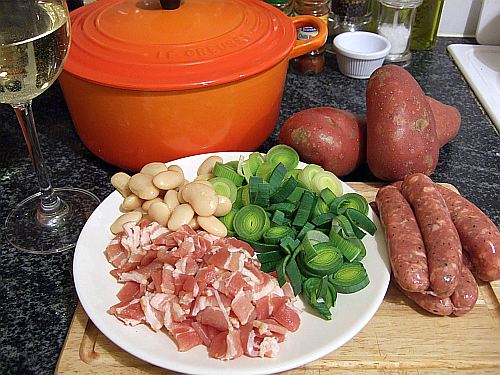 For the inaugral outing of the new pot it seemed only right to do a French kind of dish.  Granted, perhaps the only thing French about the Toulouse sausage and butter bean casserole I made is that it has the name of a place in France in the title.  I couldn't find any Toulouse sausages and just got some chipolata sausies instead…so…it's still a bit French ain't it?  I mean, it's a casserole, right?
What you need for BBC Good Food Toulouse Sausage & Butter Bean Casserole for four lucky people

Six or so nice spicy sausages
6 slices of streaky bacon, chopped
1 luscious  leek
2 tins of butter beans, drained and washed
1 clove of garlic sliced
1 glass of white wine (any auld plonk)
chicken stock
a small bit of parsley, roughly chopped
pinch of chilli flakes
olive oil
The organic leeks I bought were gorgeous – they're in season at the moment – in both colour and smell.  All the recipe involved really was a bit of chopping and then putting everything together in a big pot.
First up you have to brown the sausages (seriously, I still don't know what this means and would really like if someone could clarify it for me.  Should I put them on a high heat for a while so they go really brown, like cooked brown on the outside and then add them to casserole to cook on the inside?  Please advise!).  Once they're 'browned' you set them aside and chop them up when they've cooled a bit.
In the meantime, you get the bacon going in the same pot, and when it's beginning to cook you add the leeks and garlic too until they've softened a bit.  Now it's time to add the chicken stock, white wine, pinch of chilli, butter beans, and pop the sausages back in.  Then you should simmer it for about fifteen minutes.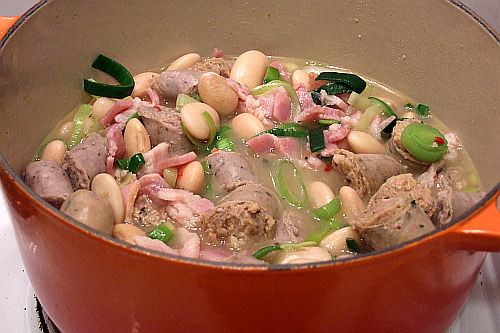 Ooooh look at the new pot go.  Bless it, it's totally slumming it in my kitchen.
As per usual, I overcooked it, which meant the leeks lost a lot of their colour and the sausies were a bit on the rubbery side.  I'm very bad at timing things to be ready at the same time, and as I was making these yum creamy mash potatoes, I got a bit distracted and left the casserole on too long.  Which is why it eventually ended up looking like this gloopy mess: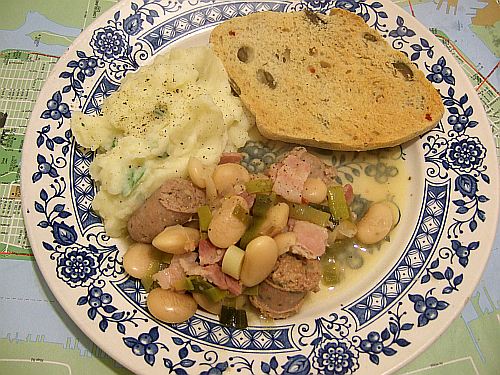 Honestly though, it tasted really good, I have to say.  I'm delighted to report that my dinner guest and I had to go back for seconds.  It was great with the mash and the M&S olive bread toasted was perfect for mopping up the lovely juice from the casserole.  I'm going to try and make it again, maybe when Niall gets home, and hopefully I'll get the timing right and the gorgeous leeks won't lose their lovely colour.
MP3 – Amadou & Miriam
As I was preparing this casserole, I was having a listen to Amadou & Miriam's 2008 album Welcome to Mali.  Damn, was it hard to pick my favourite track to post up here.  I went for this one because you can't help yourself but have a bit of a dance.  And sure why not?
Amadou & Miriam are sometimes known as The Blind Couple from Mali, as they met in Mali's Institute for the Blind.  They seem like an awesome couple and their music is great.  Check out their back catalogue as well as getting your paws on Welcome To Mali.
Amadou & Miriam – Masiteladi (Welcome To Mali)
Categories: Dinner Tags: rock the pot