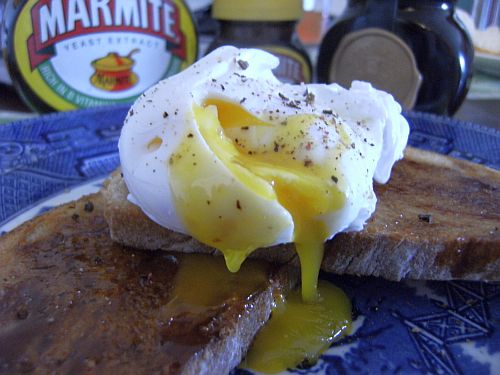 Apologies for those of you with Egg Fear – this pic is pretty graphic!
As my regular readers will know, my relationship with Marmite has exceeded the expectations of how a person should feel about a condiment.  I'm not saying that I want to marry Marmite but I do feel that I'd be anxiety-riddled should I ever be parted from a pot of the yeasty elixir for too long.
Tomorrow I am travelling to Austin, Texas to shoot a documentary about the South By Southwest Music, Film and Interactive Festival.  It's going to be one of the most awesome, crazy and incredible experiences ever and I am giddy with the excitement of it all.
This means that I won't be able to go through any more Irish Food Blogs from The Irish Blog Awards longlist, as I will not be cooking for the next 9 days, but instead living on a diet of Breakfast Burritos and Tex Mex Tacos *droools*  I will, of course, do my best to document on this here blog.
Alas, I have one major reservation about this trip to Texas – will I be able to bring a pot of Marmite through US Customs?
Last weekend I had the pleasure of sharing my love of Marmite with 15 lovely people in my humble abode.  Unbeknownst to them, this was their Initiation into the Realm of The Marmarati.  That's  right, the secret society who have sworn to uphold the majesty of Marmite for the rest of eternity.
Being a secret society, it would be unfair to disclose who attended the event.  Let's just say there were loads of lovely, fabulous, awesome, gifted, fantastic, beautiful, deadly folks there, and a few more without websites.
Have a look after the jump for the recipes and pics of our Marmite feast…
Pics didn't come out great but let me tell you….this shit was BANANAS.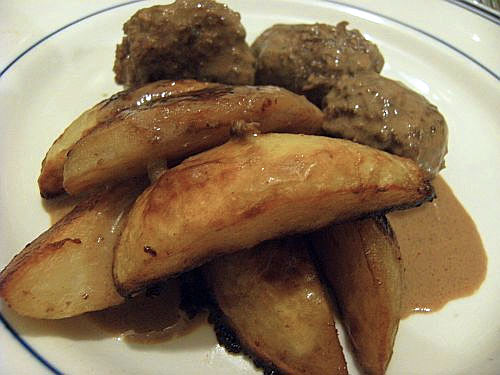 Our first course for the evening was a slice of toast with the Original Marmite.  We then wrapped our palates around a second slice of toast with Marmite XO smothered on top.  Everyone gave it a thumbs up.  In fact, one Marmite virgin went so far as to say "It's like a Black Comedy – you know you shouldn't like it but you really, really do."
We went on to our main course – Venison Meatballs with Marmite Gravy, served with Marmite Roasties.
I adapted the recipe from the wonderful Signe Skaimsgard Johansen's Three Course Marmite Extravaganza Menu found in The (amazing) Bumper Book Of Marmite, which I received as a gift from The Marmarati way back in November.
Signe's menu for a Marmite Three Course Feast is as follows:
Starter: Beetroot, Pancetta & Poached Egg Salad with Marmite Walnut Vinaigrette and Marmite Cheddar & Fennel Seed  Spelt Buns
Main Course: Venison Meatballs with a Marmite, Cacao & Creme Fraiche Gravy, with Lingonberry Red Cabbage and Marmite Roasties.
Dessert: Marmite-Salted Butter Profiteroles with Cardamon, Vanilla and Popping Candy Cream Filling for Dessert.
Yeah, I know.  Totally amazing right??
As I was cooking for a large gang, I grabbed a few bits from her Main Course and cheated a little bit with the meatballs, so I wasn't a total stress-head cooking, which would have rendered me unable to concentrate on the job at hand – ingratiating Marmite to the non-believers at our Marminight.
For Signe's Marmite Roast Spuds for 4

800-1kg King Edward Spuds (I used the auld Roosters and they were grand)
4 tablespoons of oil
1-2 teaspoons of Marmite (I used Marmite XO because it's amazing)

Peel and quarter the potatoes, or indeed chop them up into chunky chip sizes.  Put into a large saucepan, cover with salted cold water and bring to the boil.  Parboil potatoes for 10 minutes.
Meanwhile, preheat your oven to 200 degrees C.  Put your oil into a baking tray and pop into the oven, so the oil gets nice and hot.
Once potatoes are almost cooked through, drain them and put them back in the pan and on the heat, to dry them out a bit.  Don't forget to shake the potatoes in the pot as they'll burn otherwise.
Now add your delicious Marmite to your hot oil – mind yourself as it could sizzle a bit here.  Mix it around the oil so you get nice swirls and it's all evenly mixed around.  Now pop your spuds into the oil – again, mind yourself because that oil is HOT.  Mix about with a spoon so they're evenly coated, and put into the oven for 45 minutes.
Venison Meatballs for 4

About 10 Venison Sausages from M&S or elsewhere
As I was cooking for 15, I kept it simple by cheating.  Obviously.  Instead of making the venison meatballs from scratch – which you will have to buy The Bumper Book of Marmite to find out – I bought some delicious Venison sausages from M&S and just squeezed the meat out of the sausage skin and rolled them into little balls.
I popped these into a lightly oiled frying pan and at a mid-low heat fried them for about 10-15 minutes, until quite cooked through.
And now for that amaaaaaaazing Marmite sauce….
For Signe's Creme Fraiche Gravy/Marmite Gravy
FYI: This gravy was INSANE.  In a good way, clearly.  It would work well with all red meats and game, I'd say.  Verrrry rich and thoroughly flavoursome.  Especially with a whack of Marmite XO in there, wowza!
300ml beef or veal stock
4 tablespoons brandy
1 tablespoon Marmite (Marmite XO or regular or your favourite Marmite, whatever you're into)

150ml pot of full-fat creme fraiche
1 tablespoon grated cacao – I found grated Cacao in The Temple Bar Food Market at Natasha's Living Food stall, it was 4 euro for a bag of the grated stuff and it can be used as a healthier hot chocolate mix!  Check out Natasha's website to find all the outlets around Ireland which stock her beautiful Raw Food goods.

Bring the beef or veal stock to a boil, reduce by half and add the brandy.  Cook this until you can't smell the booze any more, about a minute.  Then add the Marmite, creme fraiche and grated cacao.  Stir it all around so it dissolves properly for you – the creme fraiche might clump slightly but don't worry, it's got a good bit of cooking to go so it will eventually dissolve.
Now you can pour your Marmite Gravy sauce into the same pan that the Venison Meatballs are frying away in.  The juice from the meat will absorb into the sauce, yummmmm.  Simmer for 20 minutes while the potatoes are finishing off.  You can keep reducing the gravy until it's as thick as you like.
I made a veggie version of this by using Quorn Swedish Meatballs (I didn't actually taste them but my veggie guests said they were good, but they could have just been being polite) and substituting the Beef stock for Veg Stock.  The sauce, which I tasted, was just as good, and as Marmite is totally Vegetarian Friendly, we were all winners.
Thanks again to everyone who made it down to the night, and a HUGE thanks to The Marmarati for giving me the inspiration to host such a fun evening.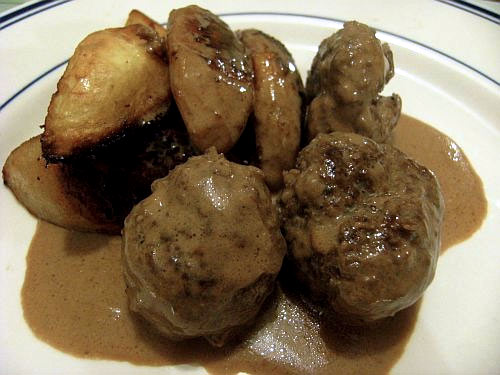 Categories: Blog Trips Tags: The Marmarati