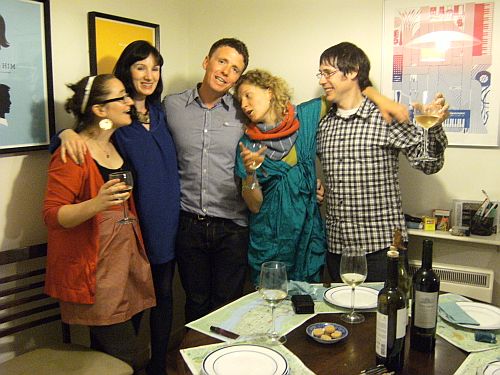 The CDWM Crew – me, Colette, Alan, Jocelyn and John with Niall taking the pic.
So, remember, like waaaay back last August (LAST AUGUST?!?) myself and Niall hosted the first Come Dine With Me? Well, we had the second Come Dine With Alan & Colette in late September, followed by John and Jocelyn's night in November.
Well, let me tell you.  It is super hard to get six people plus a neutral judge and his other half together for a Winner's Announcement meal.  We had hoped to go out together to The Hop House on Parnell Street for one last meal and a divulging of scores.  In the end, we were all together last night for Colette's birthday, and our brilliant neutral judge @fensterdj texted us the results, bit by bit!
We had marked each other's nights out of ten for five separate categories: Starter, Main Course, Dessert, Presentation and Ambience.  Here's how we got on…
Winner of Best Starter: Aoife & Niall with The Strawberry Salad with 36/40!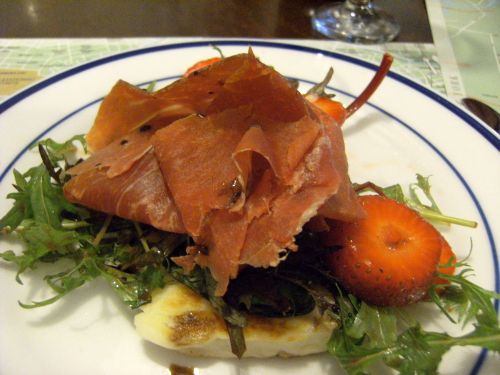 Winner of Best Main Course: Alan & Colette with their Fragrant Lamb Curry served with Raita and Chutney with 28.5/40!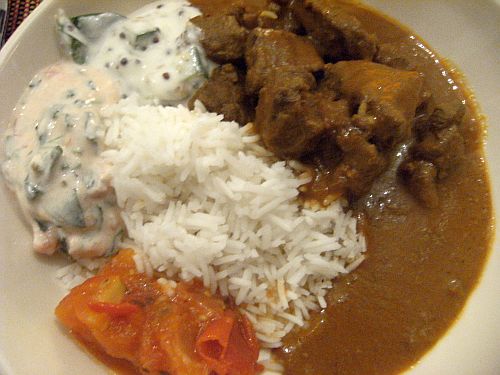 Winner  of Best Dessert: John & Jocelyn with that amazing Cheesecake with 36/40!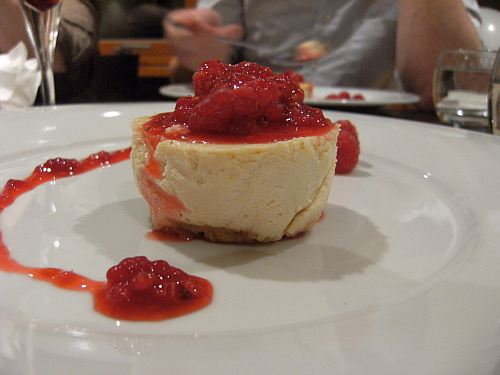 Winner of Best Presentation: Alan & Colette with 33.5/40!
Winner of Best Ambience: Alan & Colette with 33/40!
And so, that meant THE OVERALL WINNERS OF COME DINE WITH ME DUBLIN 2009 are….ALAN & COLETTE!!!
Whooop!
The final scores were:
1st: Alan & Colette with 164/200
2nd: Aoife & Niall with 160/200
3rd: John & Jocelyn with 150/200
FYI: John & Jocelyn lost most of their points for having the first Ireland vs France (not the handball one) on in the background during dinner.  Take note!
That was soooo much fun.  So, who's going to take up the baton and start CDWM Dublin 2010?
Take a hop skip after the jump to find the recipes for each winning course!
Strawberry & Halloumi Salad from Jamie at Home
What you need for Jamie's Strawberry Salad for 4
300g strawberries, hulled and cut into 0.5 cm slices
Good balsamic vinegar
juice of 1/2 lemon
olive oil
salt and pepper
a few sprigs of fresh basil, leaves picked
250g halloumi cheese, cut into 8 thin slices
a few sprigs of fresh mint, leaves picked
a handful of mixed salad leaves, washed and spun dry
8 slices of speck (I couldn't find speck but got the lovely Parma Ham in Fallon & Byrne so it was grand)
Drizzle the sliced strawberries with a good splash of balsamic vinegar, lemon juice and some extra virgin olive oil in a big bowl.  Season with salt and pepper as this draws out the flavour of the strawberries.
Preheat a large frying pan to medium heat and add a bit of olive oil.  Press a basil leaf on to each slice of halloumi.  It should stick pretty good as the halloumi is quite moist.  Put the slices, leaf side down, in the frying pan and for for a minute or two.  Turn over carefully, so at not to misplace the basil leaf, and fry for another good while on the other side, until halloumi is lovely and golden and crisp.
Get plates and place a couple of pieces of the crispy halloumi on each.  Put the mint, basil leaves and the salad leaves into  the big bowl of strawberries and toss it all together.
Pile some of the strawberry mixture in the middle of each plate and drape the speck/parma ham over the top.  Finish with more salad leaves.  Drizzle some balsamic vinegar and olive oil over the top and serve it up!
I made this for 6 and it didn't take too much difficult mathematics, even for a numerically dyslexic cook like myself.  I was really happy with this dish.  Everyone seemed to really love it and I have to admit that it tasted quite lovely.  It's a beautiful fresh salad, and totally perfect for this time of year as the strawberries are at their most juicy and tasty and lush.  Yay!
Winning Main: Fragrant Lamb Curry with Raita and Chutneys by Alan & Colette

*Actually I only have the raita and chutney recipes – will put up the curry recipe asap!*
Fresh Tomatoe Chutney
1 tbs of ghee (I use vegetable oil, ghee being clarified butter and me liking my arteries in a free flowing state kind of clash).
6 fresh curry leaves
1/4 tsp of mustard seeds
1/2 tsp of dried chilli flakes
5 tomatoes (I use plum, sweeter)
1/4 tsp of ground tumeric
1 cinnamon quil
1 tbs of caster sugar
2 tbs of sultans (I didn't have any, did we really miss them? I think not)
1 tsp gresh grated ginger
So, in a wide pan gently fry the curry leaves, mustard seeds and chilli flakes for a minute or so, or until the seeds start popping. Then add the remaining ingrediants and stew. I added the sugar sparingly as the plum tomoatoes are sweet but I ended up adding it all, its helps set the whole thing.
Cucumber and Curry Leaf Raita
1 tbs of vegetable oil
1 tsp og mustard seeds
1 tsp of sesame seeds
10 fresh curry leaves
3/4 cup of thick natural yoghut (200 mls)
1 diced cucumber
Again, wide pan, fry up the mustard seeds, sesame seeds and curry leaves until the pop. Turn off Gchat, I burned the first batch, easily distracted. Then add to yoghurt & cumcumber. The original recipe used beetroot (its an aussie mag). I couldn't find any jarred beetroot that wasn't pickled and I wasn't going boiling and peeling beetroot for a condiment but I think it could be interesting.
Tomatoe, Yoghurt & Mint Raita
1 large tomatoe
1 clove of garlic (grated)
2 tbsp of natural yoghurt (forget that, 200 mls)
Loads of chopped mint
Salt, peppar & sugar
More or less just mixed them all together.
Winning Dessert: Cheesecake by John & Jocelyn
so recipes off the top of my head i only really have the cheesecake so we'll start there as i'm still in bed and don;t really wanna move just yet.
this is adapted from about 3 or 4 recipes so i don't know if it quailifies as mine? (*yep Joc, that sure does!!)
for the cheesecake
(this will make 12 mini or one big cheesecake)
500g ricotta
150g cream cheese
1/2 cup of sugar ( i just gauged this myself as i didn't want it too sweet)
2 large eggs
orange zest
juice of a manderine ( i used it's zest in place of the orange)
a drop or 2 of vannilla essence
and a tablespoon of honey
for the base
200g of amaretti biscuits ( i got nice squishy ones in M&S)
1 mayb 2 tbls of melted butter
for the sauce
2 punnets of raspberries
1/2 an orange's juice
1tbls of honey
lime zest
a small shake of sugar
I beat the ricotta with a fork to start adding the sugar and egg gradually
threw in the orange juice, zest, honey and cream cheese and beat them in with the fork also.
at this stage i then took my soup gun thingy and blitzed it for under a minute just to be sure of no lumps. I've heard that over beating cheesecake mix is responcible for the dreaded CRACKs and i don't have a proper mixer thingy anyway so i did as much by hand before attacking with kitchen appliances.
the base is easy peasy just crushing the biscuits and adding as much butter as you need for it to loosely cling together. I think amaretti are pretty greasy so i didn't use very much butter, obviously with other biscuits you'll have to adjust…most recipes say cook the base for 5 minutes in a hot oven to set, I didn't bother seemed pretty unnecessary but perhaps that just with these biscuits.
so you use a teaspoon or 2 of the base mix for a mini, pushing it down into the bottom of the case as firmly as you can, with a big cheese cake just pour it all in there and spread evenly.
I lined my muffin tray with strips of baking paper so i could pull them out without major mishap, there are really fancy trays out there that have push up bases, oh how amazing!
so then it's just dishing the cheese mix out, don't fill the small ones too full as they may spill over in the oven  same goes for a big one though you're less likely to have too much in that case.
cook the small ones at 170 for 25-35 minutes they wanna still have a bit of wiggly in the middle but have coloured some. For a big cake turn your oven down to 150 and cook for an hour and a half minimum, again looking for wobbly in the middle.
The trick to a perfect cheesecake is to cool it as slowly as possible so when you're convinced it's cooked enough leave it in the oven(off) with the door open for 45 -60 mins, then on a kitchen counter, then in your fridge for an over night stay minimum. This is supposed to deter the dreaded CRACKS i mentioned earlier. oh another trick to deter the CRACK is to stick a bowl of water in your oven as well, some recipes say to double wrap your cake dish in tinfoil and then stick it in a basin of water and then put it in the oven but i say MESSY and possibly very hazardous, so i just stick a bowl of water on the bottom tray if i remember.
the sauce i just used one punnet of raspberries and used the other for decoration, so mash em, squeeze the orange over, add the zest, honey and a dash and a half of sugar and mix it up!
I could also eat these indefinitely,  i'm glad they're a bit of an ordeal to make or i would be in trouble!
Categories: Blog Trips Tags: Come Dine With Me Dublin