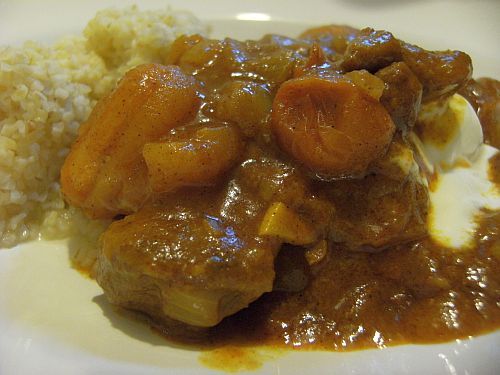 Lola-Lu's Lamb Tagine with Apricots, Cherry Tomatoes and spices as eaten by I Can Has Cook?  God damn it's hard to get stews and tagines to come out nice in a pic. Zut alors!
The ladies over at LoLa-Lu's Kitchen blog provided me with our delicious Tuesday night supper.
Lola-Lu's Kitchen is run by two friends Lucy and Rayne, who are not only fabulous cooks but accomplished musicians and great gals to boot.  They really are exceedingly lovely.  Their blog is about good comfort food aimed at pleasing the cook and the eaters!
Head over here for their lovely Lamb Tagine recipe – I did everything exactly as the girls said but I divided everything in half and only cooked the lamb tagine for 2 hours, instead of 2 1/2 – 3 hours.  It was deliciously sweet and super comforting.
We plopped a dollop of natural yoghurt on top and had some bulgar wheat on the side.  It were yum!
Click here for the full delicious and super easy recipe on Lola-Lu's Kichen!
TUNE/VID
This one goes out to the Lola-Lu massive, it's a special track that I think they'll love.  And you'll love it, too.
Categories: Dinner Tags: Lola-Lu's Kitchen