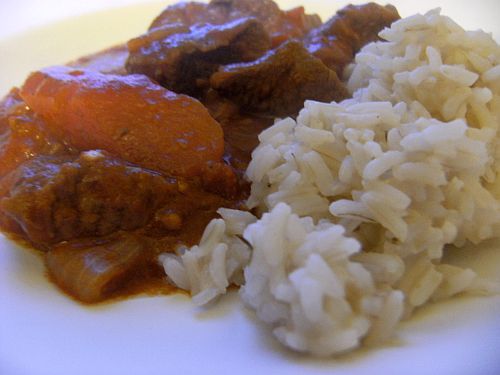 Donal's Hungarian Goulash and Brown Rice as eaten by I Can Has Cook?
One of the best things about The Irish Blog Awards, in my opinion, is how it helps all of us bloggers/blog readers to unearth new blogs that we may have been unaware of.  It's a chance to discover new favourites and a way of seeing how active the Irish blogosphere really is.
Instead of relying on my small library of cook books and the BBC Good Food guide, for the next few weeks I'm going to try to work my way slowly but surely through the longlist of the nominated Food & Drink Blogs. There are quite a few that I look at regularly, but I realised I've only ever drooled over the photos, without actually making proper use of them.  And so, let's keep it local from here on in!
I can't promise that I'll be able to work through the Drink blogs – the fact that I'm taking a break from booze for the time being may hinder me in that respect – but I'm going to start on my little journey through some of our Irish foodie blogs withThe Good Mood Food Blog.
The Good Mood Food Blog is run by Donal Skehan.  Donal, secretly Jamie Oliver's long-lost son, is an inspiration to us all as a case-study of pro-activity.  Not only has he released his own cook book, he's had number 1 singles with his band Industry, he ran against Dustin for a chance at The Eurovision, and even played Peter Pan in a Panto.  And he was born in, like, 1995 or something.  Well, ok, maybe he's not that young.  But still, he makes me feel like an unproductive old betty.  In a good way, of course, heh heh
I was in the mood (sorry) for something warming this Friday night as it's been chilly here the last few days, but I also wanted something super simple after a busy week.  In the end, I went for Donal's Hungarian Goulash.
The recipe was very simply laid out, easy to follow, requiring minimum effort from the cook and with a delicious end result.  My favourite type of dinner.
I followed his recipe almost exactly, but I added in a few carrots as they needed using.  If, nay, when I make this again, I might try it out with a red pepper, sliced and fried along with the onions, before popping into the oven.  Although the peppers would probably disintegrate into the sauce, I think it would be add a lovely complimentary flavour paired with the paprika.
I would also add a chopped red chilli to give it a bit of an extra bite.  But maybe then it wouldn't be a goulash anymore!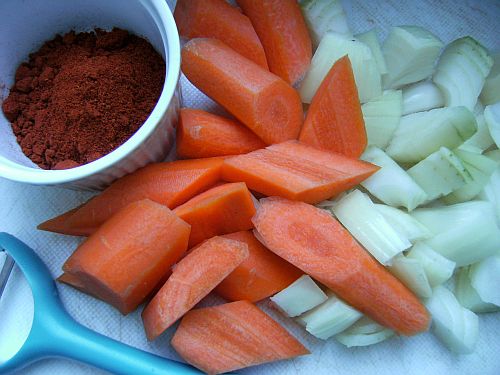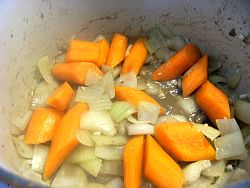 Getting the goulash ready for the oven…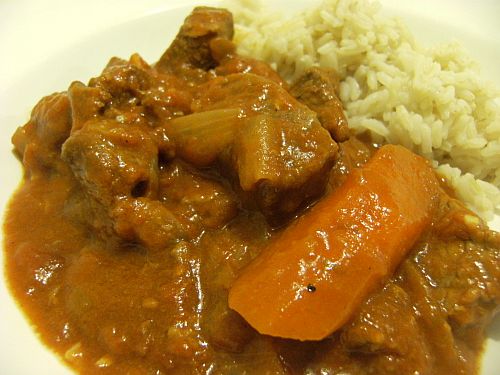 Hungarian Goulash after a 2 hour low-heat cook in the oven.  Yumzers!
Head over to Donal's lovely blog for the full recipe and his infinitely more beautiful pics.
TUNE
I've fallen in love with a new band this week – they're called The Morning Benders, and please, don't be put off by their name.  They're from San Francisco and they're just totally amazing.  Follow the link below to their tune Excuses on The Hype Machine.
Excuses – The Morning Benders on The Hype Machine
Also, my RTE 2xm show Right Click Radio is now available for streaming on SoundC loud.  You can have a listen to it below.  Hope you like!
Categories: Dinner Tags: The Good Mood Food Blog