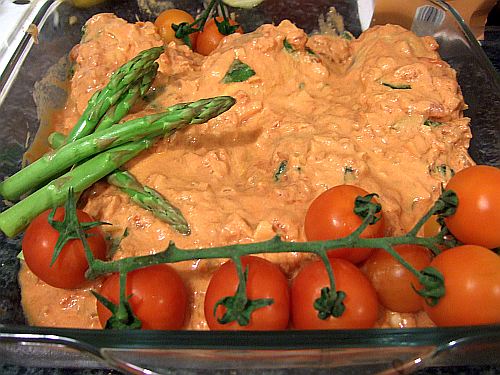 Are you eating?  No?  Okay, good.
Now.  I'll be the first to admit that the above sauce looks alarmingly like something the streets of Dublin may well be covered with by this time tomorrow night.  It looks like vomit.
No, no, it's okay, you don't have to say otherwise.  It does look like vomit.  But, you know what – the above dish actually tasted a bit beautiful.
I guess I'm feeling a bit insecure about my ability to cook and to take photos of food after having a look around the irish food blogs.  I mean, check this guy out!  And look at the picture of the brioche and fougasse from this girl!  The bagels!  The cakes!  Can I get a WOO WOO for this yumminess?
*swoon!*
Food blogging is so fun.
So, I know the chicken cacciatore above doesn't look that nice, but it is such a simple dish to make when you're having mates over.  Because I'm still getting used to cooking again after my three years of not being arsed, it still slightly stresses me out when people come over.  Now, this has not stopped me from having at least two dinner dates a week, because I love having people over and feeding them.  But I'm just saying that I still have to pace myself and keep it simple, until I get a hang of things again.  If you know what I mean.
This version of chicken cacciatore is from the incredible BBC Good Food website.  Since I started the food blog, it's been all Jamie this, Jamie that, bish bash bosh.  But in fact, I have been a zealous BBC Good Food fanatic since just before last Christmas.  I've made approximately twenty dishes from the website since then, and only one of them didn't go to plan but it still tasted pretty good.  A lot of this food blog will most definitely be in reference to the BBC site.  Get on it if you haven't used it yet.
I made the above version last week – it was the third time I had made this dish and it was for my lovely sister and one of my lovely brothers.  Said brother is heading to Florida for two years today to train to be a pilot.  Thank goodness I'll finally have a rich relative to cadge off.  Just kidding.  I'm really excited for him as he's wanted to be a pilot since before he could speak, although I'm going to miss him a lot when he's gone.  Good news is he's a twin so I still get to keep the other one, who is equally fabulous.  So basically, I wanted to cook something really simple but yummy for my siblings, so I could chill out with them between cooking times.
What you need for the BBC Good Food Chicken Cacciatore:
Serves six – if you're only having four people make the same amount of sauce and just put less chicken in.  (I can has maths! Whoop whoop!)
1 onion finely chopped
2 clove of garlic, crushed
olive oil
2 tins of tomatos (it says tinned cherry tomatos but the normal ones do the job)
4 tbsp of 'mazin mascarpone
bit of basil
6 chicken breasts, skin on (you can throw in a few chicken legs and whatever bits you like I'm sure)
This is soooooo simple and stress free to make.  In our apartment we have one of those open plan kitchen/living room spaces, which I love because you can chat away while you're cooking and stuff.  But that's why I need to keep it simple with the dinner party recipes because I don't want my guests to feel completely stressed because I'm trying to make a ban maray or whatever it's called out of a bit of tin foil and a fork, while burning my fingers on various utensils and pans, screeching 'WHERE THE FOK IS THE TRUFFLE OIL?!?!?'.  It's not cool to freak out in front of your guests.  Am I right?
So anyway, this is great because you just fry the onion and garlic together in a nice deep saucepan until they're a wee bit cooked.  Like three minutes.  Then  you pop in the two tins of tomatoes, give it a bit of a stir, and literally leave it there for about 15 or 20 minutes to thicken up while you sit down and take on the role of the most together hostess ever.  Martini anyone?  Awesome.
Depending on your oven, you can pre-heat it for around 170 – 190 C.  I always say depending on your oven because mine is an evil f*cker.  Seriously.  Not only is it a bit old and has the inevitable irremovable crust of the previous tenants on the hobs, but it keeps randomly turning off and it's driving me mad.  Because we're renting, it's not like we can demand a new oven on the premise that I've just started a new food blog and I want to bake some bread.  *sigh*
Back to the cacciatore.  So, you preheat the oven and meanwhile brown the chicken a bit.  When I read that on the BBC site, I was like…brown the chicken, you say?  Like…how brown?  What does this mean?  The first time I made the cacciatore, I browned the chicken to the point of it being cooked, and then after the following roasting required, it was like yucky school canteen chicken that tasted like a rubber shoe.  The last time I made it, I just whitened the chicken.  Literally two minutes on each side of the breast.
As it's whitening/browning, you can take the nice thickened tomato sauce off the heat, and mix in the 4 tbsp of mascarpone which makes it go the lovely creamy colour.  Throw in a few torn basil leaves as well for that extra yumminess.
Then you can put the whitened/browned chicken into a roasting dish and pour the tomato sauce over the top so everything is nice and covered.  I threw in a few cherry tomatoes as well as some left over asparagus spears.  Then you put it in the oven for about twenty or twenty-five minutes depending on how you like your chicken.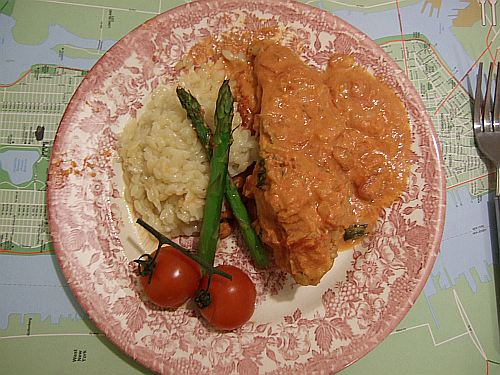 I served this with the very yummy orzo pasta which takes less then ten minutes to boil.  Incidentally, I bought some rather neat place mats last weekend in Avoca.  A complete impulse buy but 100% worth it.  There are 50 place mats in one packet and basically you have a choice of four – you can either eat in Manhattan, Tokyo, London or Paris.  Because the place mats are maps of those cities.  I'm such a sucker for shit like that!  I love them.
MP3
My sister has quite shocking taste in music and maintains an incredible talent for mixing up band names.  She once asked me if the song playing on the radio was that band 'the Arcade Monkeys' – she either meant Arcade Fire or The Arctic Monkeys, I'm still not sure which.  She always calls Super Extra Bonus Party Super Furry Bloc Party.  Which is a good name.  I'm not doubting her talents.
I'm going to post this mp3 for my little brother Peter who will be a trained pilot in a few years.  He's also a really talented bass player and I hope he won't give that up entirely.  I remember one time, nearly ten years ago, when I was at the family home in Saudi Arabia (long story) for the summer.  I was in University in London at the time and was around 18 and had just discovered loads of old amazing music.  I was playing The Specials when Peter came home from rollerblading or something and he was like 'Whhhaaa???  Who's that??'  I always felt really pleased that I had turned him on to such a great band.
So Peter, this song is for you.  I couldn't find an mp3 of this track and I lost my Best Of The Specials album about four moves ago so this 'video' will have to do.  Sorry it ends so abruptly.  Such a great song.  I'm going to Road this week to buy some Specials on vinyl.  It seems like the right thing to do.