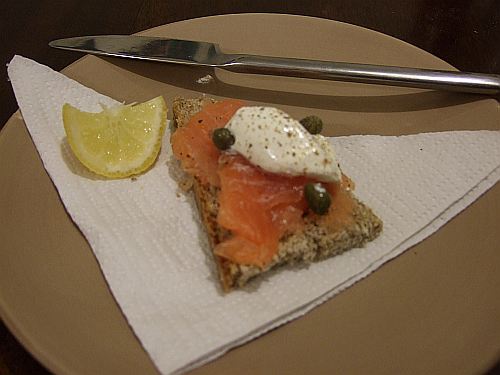 …courtesy of M&S
My old flatmate Ben, whom I mentioned in an earlier post, is a severe foodie. It makes sense seeing that his mother is Italian-American and his dad is full on Greek. When we shared a flat together, he always amazed me by creating the most fantastic dishes on a shoestring budget. Not one to look at recipe books much, he's a wonderfully instinctive cook. Everytime I see an artichoke, I think of him.  To most people  that would seem bizarre, insulting even, but I know Ben will be quite pleased with that.
Anyway, something Ben said to me a few years ago really stuck with me. As an American living in Dublin, he thought it was so wonderful that you could go to any random crappy chain corner shop and you could come out with beautiful Irish cheese. Irish food in general has such a bad reputation – but we do have some lovely stuff. Cashel Blue, gorgeous cheddar, and our salmon which truly is spectacular.
I saw Clodagh McKenna's TV programme Fresh From the Farmers Market for the first time this morning when I was recovering from a birthday induced hangover – how lovely is she?? She's all like 'oh goodness, the smells, that's wonderful, there's nothing better than caramelised apples'. I love cooks like that who are just excited by the smells of food, and excited about using local produce to get the best out of what is very readily available to us. I'll be tuning in again for sure.
So, last week, M&S had a sale on some really delicious Irish smoked salmon. For five euro, I got enough to stuff a party of twenty full of canapes.  Not that I had a party of twenty – I shared it with my sister and brothers and niall.
I put a slice of it on soda bread, scrunched a bit of lemon over it, lolloped some creme fraiche on the top, and added a few capers which were both delicious and decorative. Nothing new but it was yum.
MP3
The link from my salmon to my track for this post is slightly tenuous. I can't remember what I was listening to when I got this little snack together was but I could very well have been listening to Dan Deacon's new album Bromst which is amaaazing. Dan Deacon is my top top all time favourite favourite live act. You can check out my reaction to this first time I saw him play here. The connection between Dan Deacon and this post is that the first time I saw him play he started his set off with Under The Sea from Little Mermaid. See what I did there??? Sea? Salmon? Yeah?
Anyway, Dan Deacon is playing in Dublin again in the wonderful Andrew's Lane Theatre on the 3rd of June. Only three months to go!!
Dan Deacon – Wham City (Spiderman of the Rings)