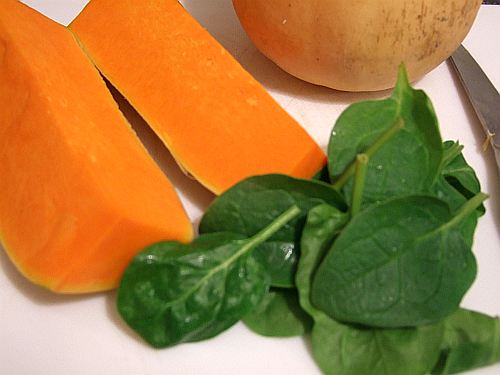 Look at that.  Green, white and gold.  My Paddy's Day plans are as follows: on Monday night I'm going to see the hilariously offensive piss-take Limerick hip-hoppers Rubber Bandits in Eamon Doran's of Dublin.  After that, I'm getting the hell out of dodge.  I don't like Paddy's Day that much.  Although I've had loads of fun ones involving drinking early in the day at friends' houses, I dunno…I think I'm kind of over it.  I don't like walking around town in the afternoon and feeling like I'm in Shawn of The Dead.
I hate to sound hypocritical because I've definitely been a zombified drunk more than twice in my 27 years.  One Paddy's Day, for reasons I can't remember now, I had a net bag of grapefruits with me at the start of the day.  By 8pm, when I was blethered and singing some patchily vaguely oirishy song while hanging on to my bar stool for dear life, I realised that I only had one grapefruit left in the bag.  I often wondered after that – could I have retraced my steps or found my way home after a day of Paddy's Debauchery by following a trail of sad, squashed grapefruits?  What had become of the grapefruits?  Years later, it remains a mystery.
This year, I'd like to avoid putting grapefruits into the realm of harm and I'm just going to chill at home.  Our flat is in the city centre so I might be able to hear the distant mumbling of the parade which would suit me fine.
Anyway – this salad is a combination of my friend Satu's butternut squash recipe put together with some kind of salad that I must have had at Cornucopia or some such yummy eatery.  I made it for the first time about two years ago so I can't remember the exact origins.
Butternut squash is a delight.  A few years ago, I discovered the sweet potato and really thought it was 'the shit'.  But, fickle as I am, once I had been introduced to the butternut squash, my love of the sweet potato faded in an instant while I became acquainted with my new friend.  Poor sweet potato!
You need:
1 small butternut squash, deseeded and chopped into nice chunks
1 clove garlic
cumin seeds
balsamic vinegar
splendid spinach leaves
1 red  and 1 yellow pepper
1 red onion
like, a handful of puy lentils
pumpkin seeds
My friend Satu – a vegetarian who has a better diet than most carnivores I know -gave me this lovely tip for roasting butternut squash.  You chop up the butternut squash into manageable chunks, leaving the skin on.  This goes so yummy and crunchy through roasting.  Slice the garlic and scatter it around the roasting tin with the butternut squash.  Sprinkle a generous amount of cumin seeds over the squash and add a dollop of balsamic vinegar, around a tablespoon amount.  Mix that all so everything is nice and coated.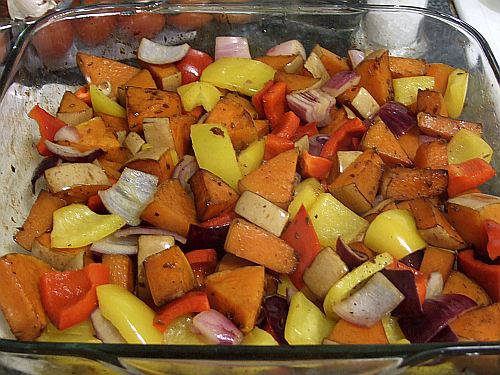 Pop that in your oven at the usual veg roasting temperature.  The squash needs at least 40 minutes to cook through, so what you can do as that starts to sizzle is chop up the peppers and red onion.  I'd add them to the butternut squash after about 20 minutes.
Once you've got the veg in, you can start boiling the puy lentils.
Oh…lentils…how I love thee.  I love all pulses in fact, but lentils are so brilliant because they don't take, like, eight days to cook like the contrary (but thoroughly delicious) chickpea.  Puy lentils just need about twenty minutes boiling time and they're good to go.
So, the veg should be all nice and cooked now.  It's up to yourself how crispy or crunchy or soft you like them.  Mix in the cooked lentils with the veg.  It would be delicious if you spent a few minutes toasting the pumpkin seeds in a dry frying pan over a low heat, in anticipation of sprinkling them over the top of your beautiful salad.  I actually forgot to do that this time around and the pumpkin seeds were still very nice untoasted.
You can now arrange a few spinach leaves on your plate and spoon on a big heap of your butternut squash, pepper, red onion, lentil and pumpkin seed mixture over the top.  It's really nice with a bit of bread too.  Yum scrum.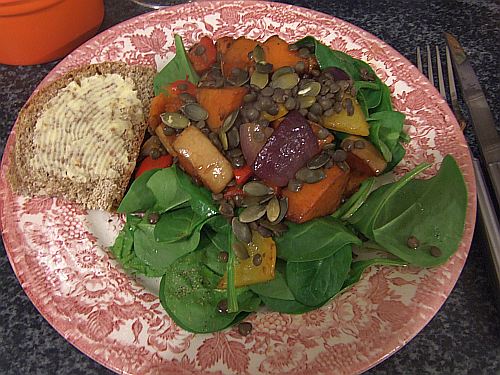 MP3
I made this salad last week when our friend Co came over to get Niall to fix his laptop.  Niall gets that a lot.  Here's an mp3 from Co's band Super Extra Bonus Party, taken from their remix album Appetite for Reconstruction which was released as a free download last year as a follow up to their deadly debut album Super Extra Bonus Party, which won, like, some prize or something.  Their new album is scheduled for release in May of this year so keep an ear out.
Mushie Shake is my favourite track from the debut and this is a remixed version of that track by one of my other favourite Irish artists The Vinny Club, also known as the bass player of the mighty Adebisi Shank.  Yes!  I mentioned three of my favourite Irish bands in one sentence.  By Jove, I was born to be a DJ.
Super Extra Bonus Party – Mushie Shake via The Vinny Club (Appetite for Reconstruction)
Categories: Dinner, Lunch Tags: Lunch or dinner