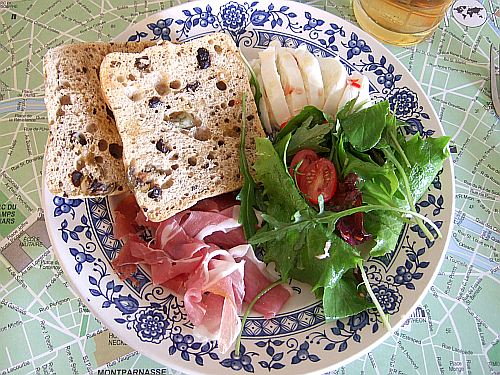 I know this blog is called I Can Has Cook and not I Can Has Arrange Things From M&S Nicely On A Plate but I enjoyed preparing and anticipating my lunch so much I took a picture of it. I wanted to send it to Niall who is in Austin, Texas at the moment for the SXSW music festival.  There are around 2,000 bands playing over the next week.  I'm so jealous!
Anyway, I thought the picture turned out ok, and even though I posted an almost identical snack a few days ago, I thought you'd appreciate my new plate of which I purchased two for 2 euro in a Capel Street charity shop.  And I think the picture does my Paris Place Mat Map justice too.  I made the Jamie Oliver oil, red wine vinegar, grated garlic and chopped chili dressing again, twas lush.  That bread is the green and black olive ciabatta from M&S.  It kicks ass.
At any rate, it's a good excuse to talk about Animal Collective.  I've been listening to the Baltimore collective's ninth album Merriweather Post Pavillion on repeat for most of 2009.  It's amaaaazing.  (By the way, I don't have a great ammunition of adjectives when it comes to music I'm afraid.  It's either amazing or absolutely brilliant.  Or rubbish, of course.  Hope that's ok.)
The best song on this album (in my opinion anyway) is My Girls, which was written by one of the lads about his wife and his young daughter.  Some choice lyrics are:
I don't mean to seem like I care about material things like a social status / I just want four walls and adobe slabs for my girls.
Adobe slabs are those nice terracotta roof plates you get in Spain and Portugal, I think.  How sweet is that?  I love it.
If I wrote my own version of that line it'd be:
I don't mean to seem like I care about material things like a social status / I just want four walls and a giant big kitchen that gets masses of sunlight all day long with an Aga like my granny's and a HOIGE kitchen table full of hungry friends and an island for chopping herbs and a full set of Le Creuset pots for me and my boy.
You should go buy the album, which boasts a psychedelic magic eye cover which turns into a pyramid type object if you cross your eyes when you look at it.  They're playing a sold out show in Dublin's Tripod at the end of March, can't wait.
As regards Paddy's Day, I've been having a lovely time spring-cleaning, which should be an oxymoron but it's been nice.  I went down to Henry Street at around 2pm earlier – it was mad.  Mad.  I scuttled home as soon as I had the mozzarella and Parma ham for my salad.  What a wimp!  I did have a glass of beer with my lunch though, so…pfff.
Enjoy Animal Collective.
MP3
Animal Collective – My Girls (Merriweather Post Pavillion)
Categories: Dinner, Lunch Tags: Ehhh...that's the same snack as the last one...