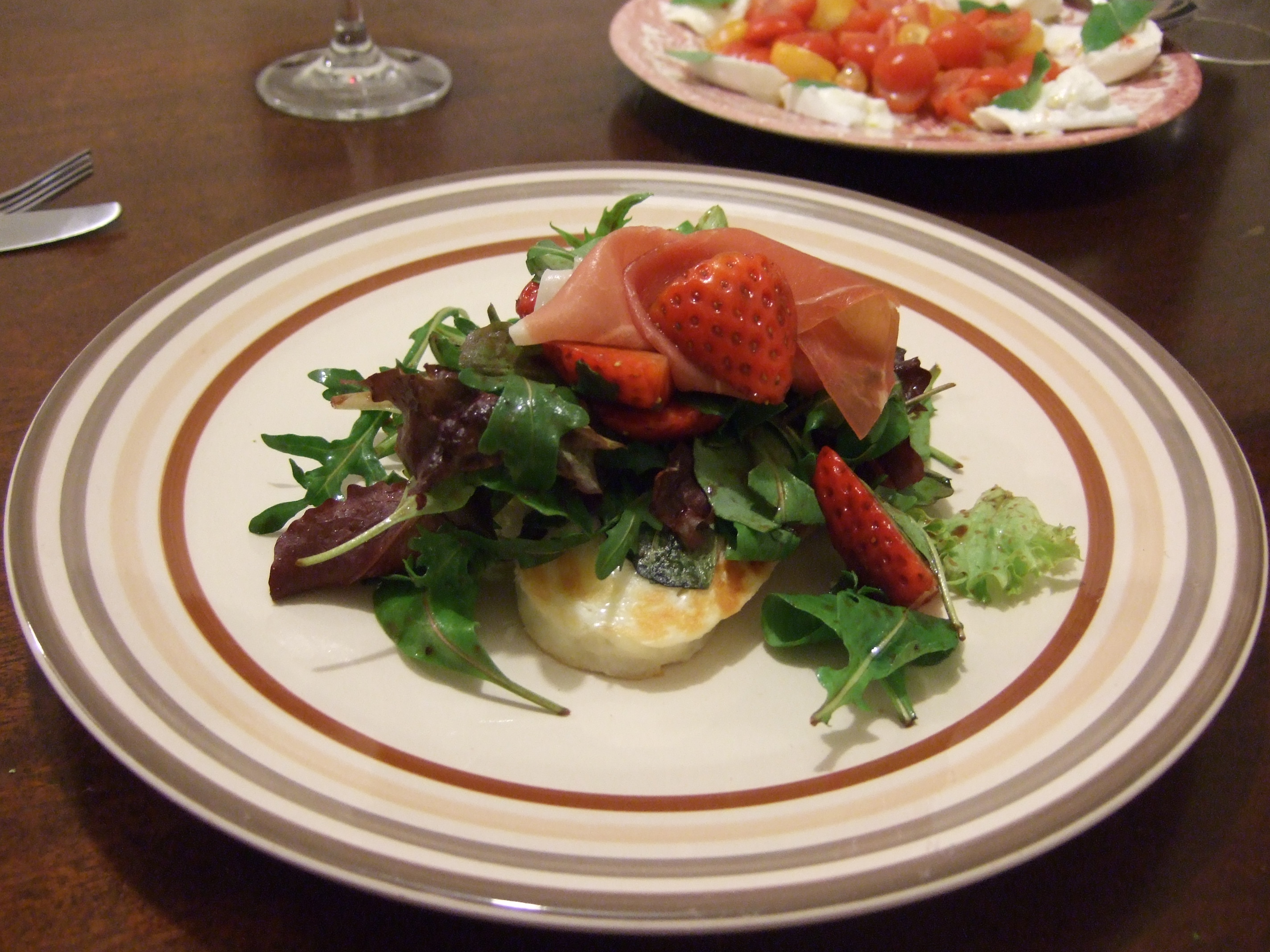 So, for this recipe, you have to let the strawberries sit in a bit of lemon juice, balsamic vinegar and SALT and PEPPER. My granny lives on the border of Northern Ireland and is an immense cook. She'd have a fit if I put salt and pepper on the fabulous strawberries that grow wild in her hedge. But seriously – what happens after 15 minutes is quite spectacular. As Jamie had promised, the salt and the acidic lemon juice and vinegar brought out a more strawberry flavour in the previously rather lifeless strawberries.
Halloumi cheese is an old friend of mine. Be sure, if you haven't tasted it, to grill it/fry it before eating it. It won't hurt you if you eat it raw, but it will taste like an old shoelace and might perhaps put you off eating in, thus denying your tastebuds of an incredible cheese! Halloumi completely rocks when you get it nice and crispy on the outside – thrown into a bowl of good pasta, toasted pine nuts and pesto. It's a deceptively versatile cheese and it totally proved itself in this recipe.
Paired with the strawberries, the halloumi is in an element of its own. I'm the kind of eater who likes to put a little bit of everything on my fork so I get the full combination of flavours in one mouthful. This was a fun salad to eat. I had strawberry, halloumi, nice shop bought salad and Parma Ham to really finish it off. Because the strawberries had been brought back to life by the power of Jamie's lemon and balsamic vinegar combo, there was little need for dressing except for a bit of good olive oil over the salad leaves.
The recipe in Jamie At Home does say to use Speck. I'm not quite sure what Speck is or how it's different to Parma ham. I couldn't find Speck in the shop so I went for the Parma ham – I'm pretty sure it was in the same ballpark of appropriate flavours.
Now. This is my first post as a food blogger and I'm wondering do the same rules apply to food blogs as they do to music blogs? I'm not sure if I'm allowed to write out the ingredients of the strawberry salad with speck and halloumi as it's published in the Jamie At Home cook book…I'm going to leave that up to my fellow foodie and music blogger Darragh to decide. What are the ethics here, Darragh? Is it ok to post mp3s AND recipes from published books and sites??
MP3
School of Seven Bells – Connjur
For now, I'm going to stick with what I know and post an mp3 of a song that I listened to while I was making this salad. It's from a band called School of Seven Bells who are made up of twin sisters and one of their fellas. They're from New York, and even though they lacked a bit of stage presence in their recent gig in Whelan's of Dublin, they are most positively my favourite band of the moment. I have no qualms with sharing their song Conjurr with you. It's amazing.
Categories: Dinner