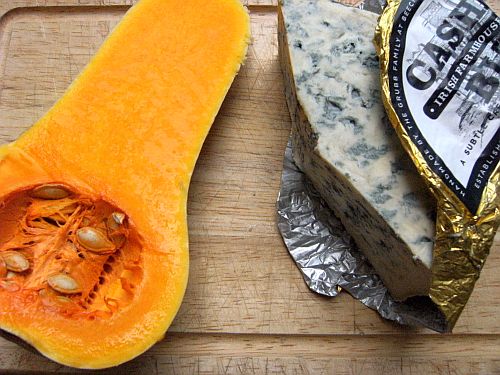 When Squash met Cashel.
So.  I did it!  I faced my pastry demons and came through victorious, like some sort of baking Joan of Arc, battling the murky, tempestuous world of flour, butter and water.
Maybe that's going slightly too far.
I managed to make a fairly kicking savoury tart the other night, and yes, I've been followed around by a vague sense of warm achievement ever since.  It's a curious thing.  In fact, this video is fairly close to how I felt at the end of the evening sitting down to eat my very own home-made pastry.
The tart itself took me over three hours to make.  By the time it was ready, I was exhausted.  It made me think of my granny, who always had time to make a rhubarb tart – no doubt daily – while still looking after the kids and her husband.  And gardening and cleaning and growing veg and dusting and peeling spuds.  Unbelievable.
Now that I can just go to the shops and buy some ready to roll pastry, is it worth all the fuss?  It took an awful lot of energy and time.  Is it worth it?  I think it is.  For special occassions.  Simply because of the feeling of achievement that I've been left with.  And it must get easier, right?  In fairness, my granny has probably around 80 years of experience in pastry making, so she can just whip it up without any fuss.  I imagine it will get easier every time.  And Jen the Pastry Chef said it gets easier.  She would know.
It was a personal quest of mine to make this pastry, and I really want to thank all of the foodies who gave me such good advice after my first disasterous attempt.  This time round, I was armed with information and pastry-proof tips from Jocelyn, The Daily Spud, Jenna, The On-Line Pastry Chef, and I felt comforted by the back-up support from Diva, Darrah, English Mum, Lottie, Lola-Lu and all my other lovely commenters.
I think my main weapons were that I put the butter in the freezer for about 15 minutes so it was reaalllly cold.  I also put a glass of water in the fridge so it too was really cold.  I also used a food processor this time, so that my grubby hands didn't even get a look in at the pastry.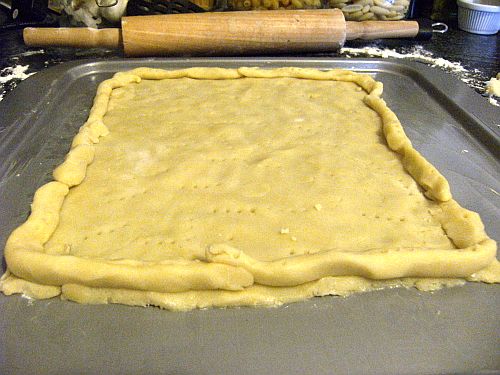 In your FACE, pastry demons!

I found this recipe in last weekend's Guardian on Saturday weekend.  It's by Jane Baxter, a chef at Riverford Field Kitchen, Buckfastleigh (BUCKFASTleigh?!?! WOW.)  in Devon.
I was a little unsure about using the recipe as I feel sometimes magazine recipes can be a bit hit and miss, and often aren't well tested, leading to incorrect measurements, dodgy instructions, stress etc.
The recipe as it was written was slightly confusing, and I felt that it could have been laid out better to make the best use of time, so I adapted it slightly.  Reorganised it if you will.
Pastry aside, there was nothing difficult about this tart.  It was just really time-consuming!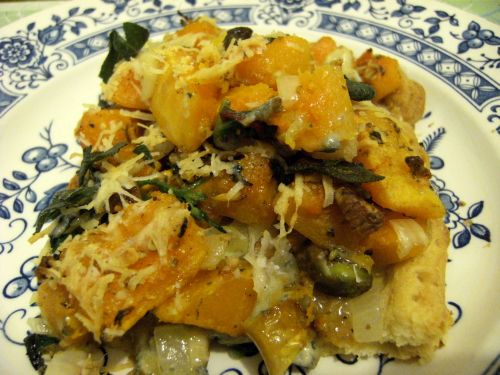 What you need for Jane Baxter's Swiss Chard, Squash & Blue Cheese Tart for 4
For the pastry
175g plain flour
1 tsp caster sugar
pinch of salt
125g cold unsalted butter, diced
3 tbsp of very cold water

For the tart topping
75g pecan nuts
1 pinch of cayenne
a dash of tabasco sauce
1/2 tsp salt
1 butterut squash
Olive oil
2 garlic cloves, finely chopped
2 small onions, sliced
300g Swiss Chard (or spinach)
200g of blue cheese (I used lovely Cashel Blue yum yum)
50g grated parmesan
20 sage leaves
1 tbsp butter
About that swiss chard…I couldn't find any but then I forgot to get spinach.  I only realised this towards the very end of the cooking process!  Oops!  I scoured the fridge and found a bag of red chard and rocket salad.  I looked at the salad, looked at the tart recipe, looked at the salad, looked at the tart recipe…and said, feck it, it'll have to do.  And it totally worked out!  More on that later.
Make your pastry by processing the flour, sugar and salt.  Add the butter – I added it a bit at a time as I was nervous – and pulse until it looks like fine breadcrumbs.  Tip into a big bowl and add the very cold water.  The recipe says 3 tablespoons of water and I added some a little at a time.  I accidentally threw in a bit too much I think, and was a bit worried as the pastry ball seemed very moist.  Ah crap, I thought.  I didn't even have a fall-back quiche in the fridge!
I wrapped the pastry ball up in clingfilm and I popped it in the fridge for 30 minutes.
Meanwhile, I got my butternut squash ready.  I peeled it, deseeded it and chopped it into 2cm chunks.  I popped them into a large roasting tray and set them aside for later.
After half an hour in the fridge, I took out the pastry.  It looked ok.  I put it on a floured surface and started to roll it out.  It looked like it was going to start crumbling so instead of resorting to panic, I calmly flattened it out with my hands.  I used the roller to flatten it out some more and cut the tart into a big square.  With the leftover pastry bits, I made a border for the pastry.
I delicately transferred my pastry rectangle to a greased baking sheet.  It didn't fall apart.  Hurrah! I pricked it with a fork all over the gaffe and put it back in the fridge for 15 minutes.
I pre-heated the oven to 200 degrees Celsius (400 F/Gas Mark 6) and once the pastry had been chilled again, I popped it into the oven for almost 15 minutes.  The recipe stated to let it bake for 10 to 15 minutes until it is golden brown.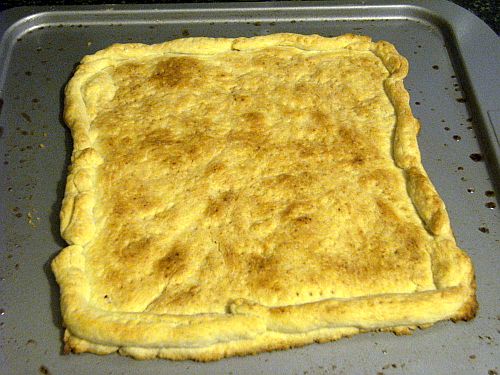 I set the pastry aside while I prepared the filling.  First up was the butternut squash.  I poured oil over them and seasoned them quite well.  I put them in the oven at 200 degrees C for 30 minutes, until they were lovely and soft.  Damn, I love butternut squash.  The colour of it is so magnificent and the taste is even better.  Yum yum yum.
I chopped my onions and let them sweat over a lowish heat for 20 minutes, until they were nice and soft but not browned.
I mixed the pecan nuts (in fact, I used pecans, pistachios and cashews, all bashed up in a pestle and mortar) with the cayenne pepper, the Tabasco sauce and the 1/2 teaspoon of salt.  I put them in a little roasting tin and baked them for 5 minutes, until slightly toasted.  Jaysus, they smelled something lovely.
This was the moment when I realised I'd forgotten the bleedin' spinach.  I took a chance with my little red chard.  I used exactly the same method as the recipe outlined for the spinach.  I boiled up some salted water and dropped in the leaves for 1 minute.  Then I drained them and refreshed them in cold water.  I squeezed the excess water out of the leaves.
I mixed the leaves in with the sweated onions.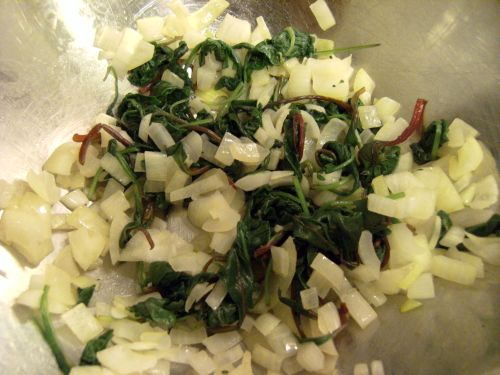 Then I folded in the cooked butternut squash, pecan mixture, onions and blue cheese.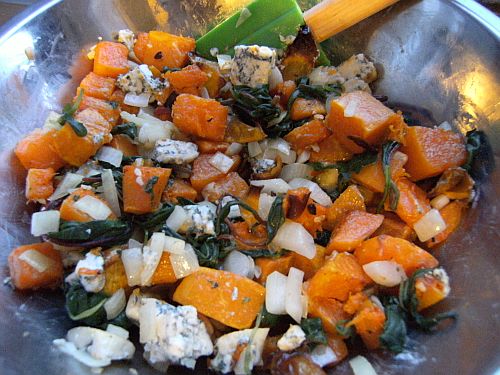 This tart was starting to get exciting.  I spread this mixture over the tart, covering the pastry base.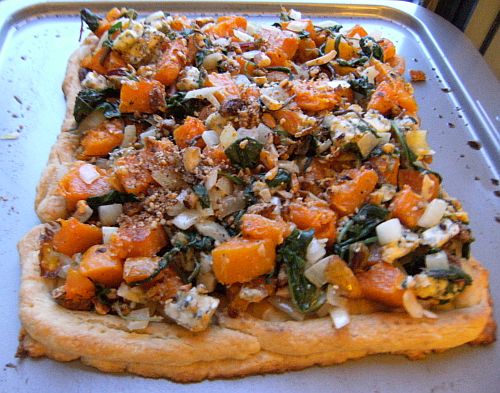 I sprinkled parmesan on top and baked the whole lot for 10 minutes.
While the tart was heating up, I fried the sage leaves in butter.  OMG.  So flippin' delicious.  So so so so so deliciously fabtabulously scrumptious.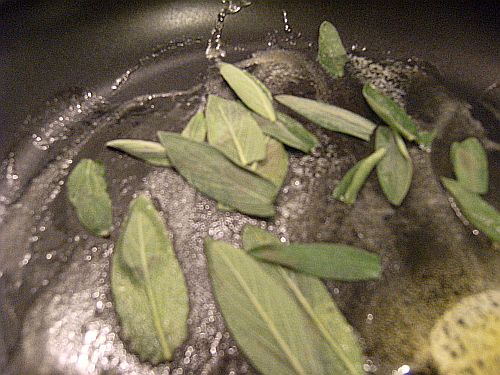 I drained them on a bit of kitchen towel to drain off excess fat and grease.  When the tart was ready, I took it out of the oven and sprinkled the sage leaves on top.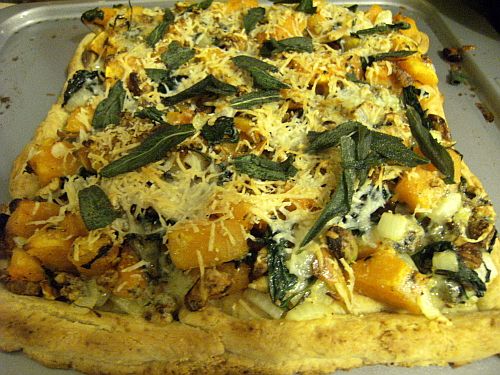 Because I had used the salad as a spinach substitute, I didn't have any to have on the side, whooops!  The salad would have helped as, although the tart filling was nice and moist, the pastry was quite dry and a nice salad with a bit of tomato or something would have added a bit of juice.
I was very pleased with how the tart turned out. The filling was really delicious.  And although it was time-consuming, it wasn't stressful.
The pastry was verrrrrry crumbly but it was satisfying and very tasty.  Success!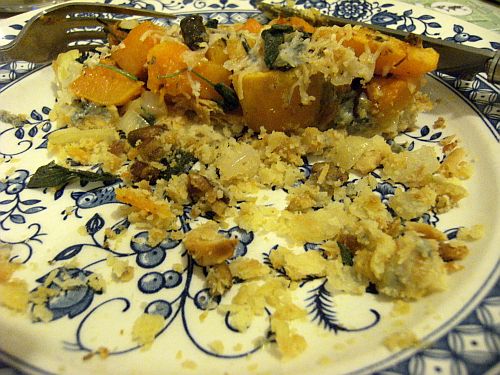 Categories: Dinner, Lunch Tags: Home-made pastry, I Can Has Pastry?