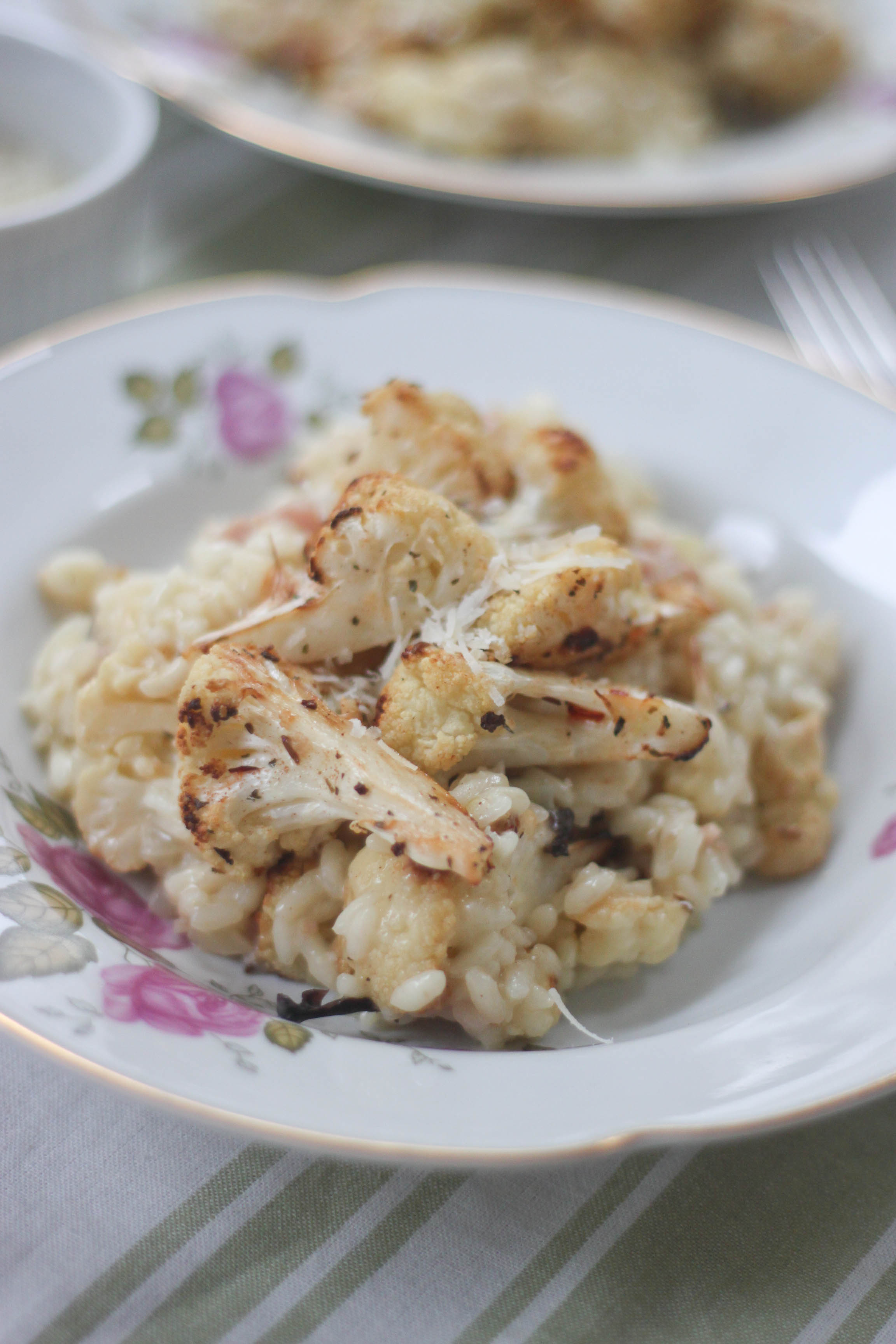 Yes! I know I'm in danger of seeming evangelical about roasted cauliflower at this stage but this little risotto recipe is not the work of a caulifundamentalist, I promise you.
Our weather in Dublin has been (surprise!) rather changeable of late and I always think a good risotto is a great dish for transitional seasons. It can be ultra comforting yet it's easily brightened up with the use of spring and summer vegetables.
I happen to find stirring risotto quite therapeutic, as there really isn't much to do but stand over it and stir for 20 minutes or so. Some people find this tedious while others have The Fear about risotto. As with everything, it's a practice makes perfect kind of thing. But there's definitely no need to mystify it either. My own risotto might not impress an Italian Mamma but it always goes a long way to cheering me up when I've had an bleurghsome day.
And, let's be honest, with all of the cheese and butter that's added at the last minute, you can't really go wrong.
I was inspired by this recipe and used the spice mix from this recipe. It might sound bananas to put roasted cauliflower into risotto but this is honestly one of the yummier risottos I've made in awhile. I'd love if you gave it a go and let me know what you thought!
What you need for Roasted Cauliflower Risotto for 2 (easily doubled)
Don't be put off by the long list of ingredients, they're mainly spices. If you don't have all of the spices for the cauliflower, use a mixture of cumin seeds and chilli flakes, salt and olive oil and you'll be grand.
For the roasted cauliflower
1/2 a large head of cauliflower
1/2 teaspoon dried mint
1/2 teaspoon cumin seeds
1/4 teaspoon red chile pepper flakes
1/4 teaspoon cinnamon
1/4 teaspoon of ground ginger
1 pinch of sea salt
Olive Oil
1/2 a fresh lemon
For the risotto
Knob of butter
2 rashers of streaky bacon
1 small onion (or half a large onion)
1 clove of garlic
175g of arborio rice
50ml of dry white wine
750ml of hot vegetable stock (you can use chicken stock as well but I find it can be a little overpowering and prefer to use vegetable stock)
Parmesan Cheese
Start by pre-heating your oven to 200C/180C fan/Gas Mark 6.
Prepare your cauliflower by washing the half head and cutting it into bite-sized florets. Lay out in a roasting dish and sprinkle over the mint, chilli, cumin, cinnamon, ginger and salt. Give the lemon half a squeeze over the cauliflower.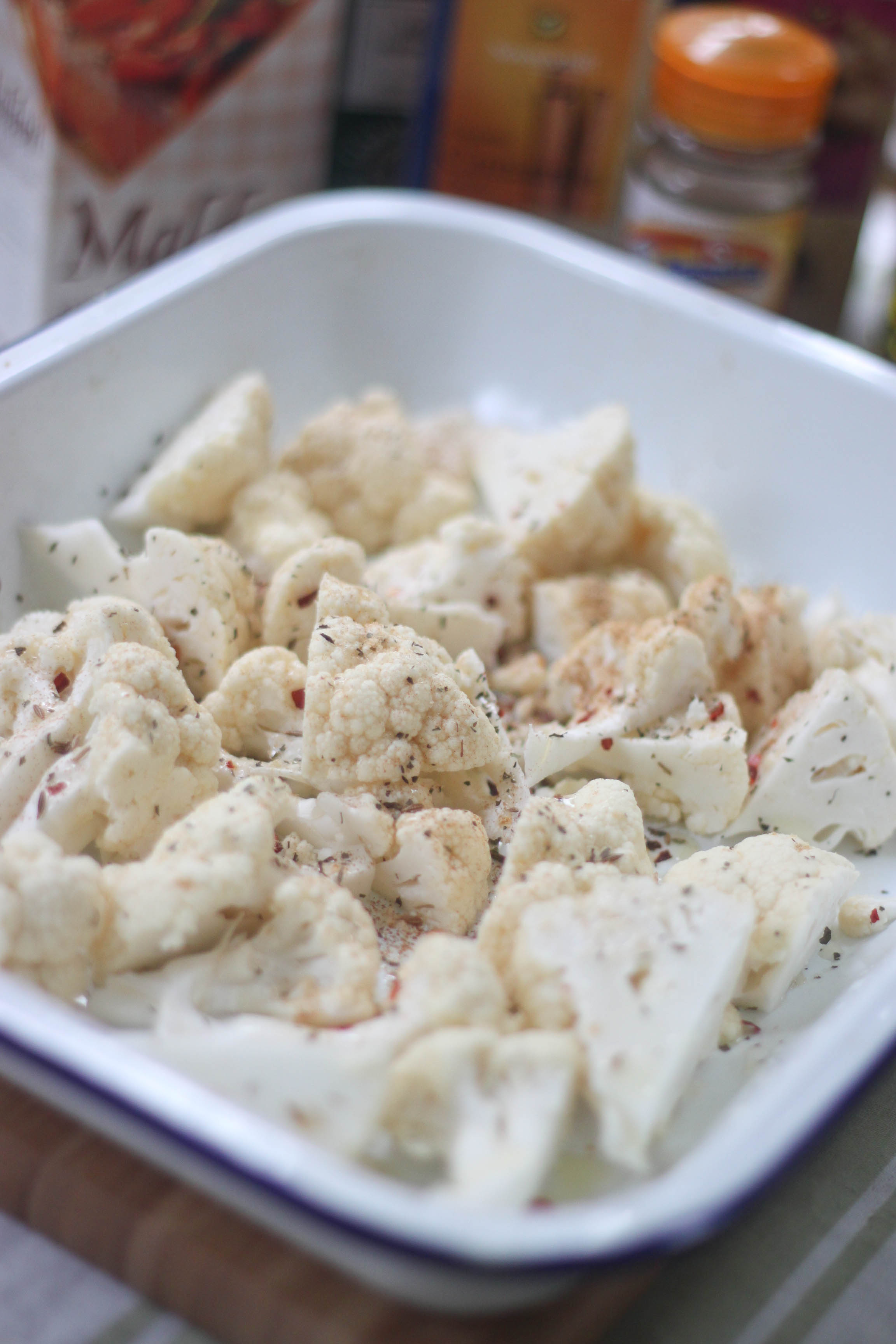 Drizzle with a good bit of olive oil (two tablespoons or so) and mix everything well so the spices are evenly coating the florets. Pop into the oven for 20 to 25 minutes, until the cauliflower has gone a beautifully golden colour.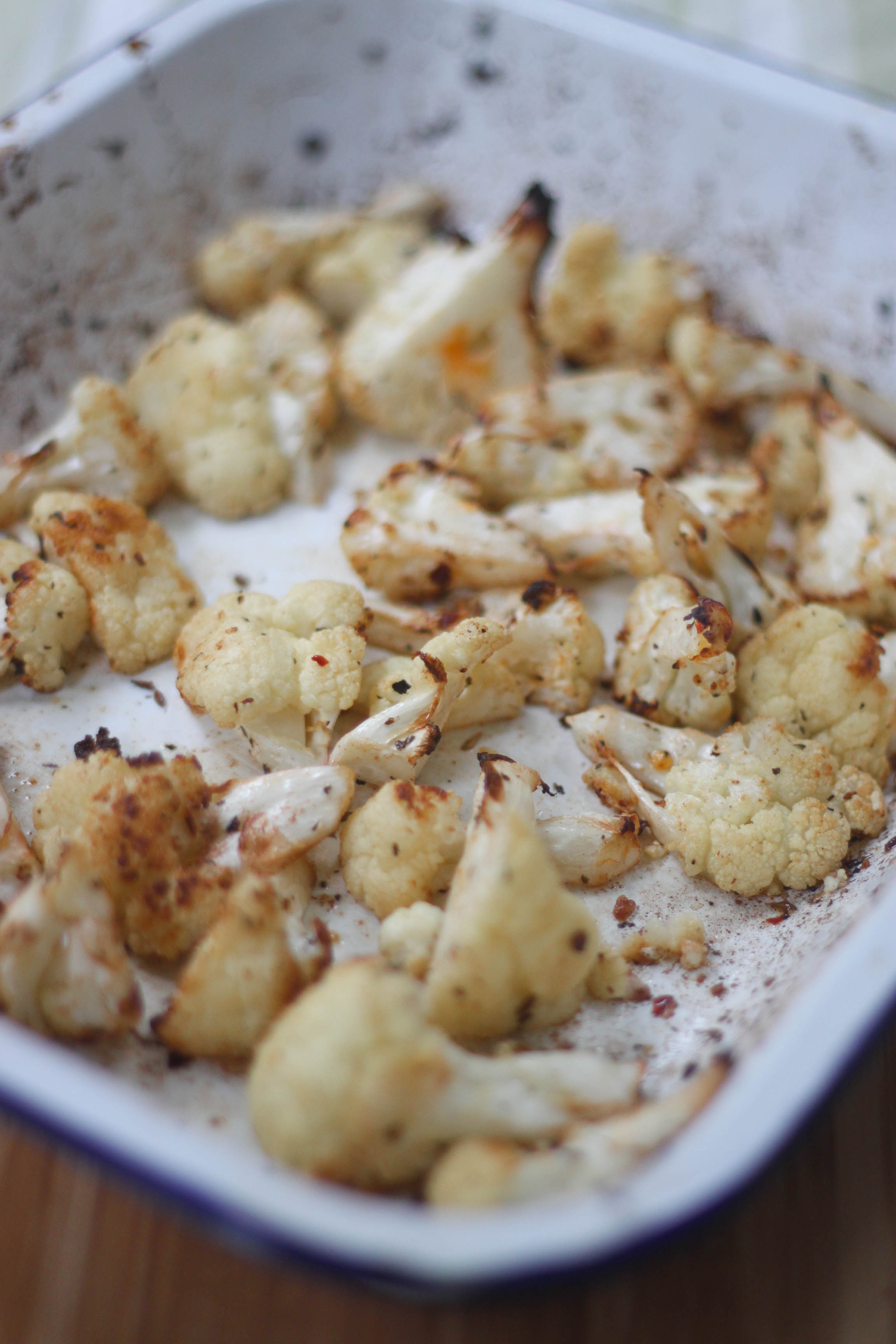 Meanwhile, prepare you risotto. Heat about a tablespoon of butter in a large frying pan over a medium to high heat. Chop the bacon into cubes and finely dice the onion and garlic clove. Fry them in the melted butter for five minutes, stirring, until the bacon has browned and the onion has softened. 
Meanwhile, put your hot vegetable stock in a saucepan next to the frying pan and bring it to a gentle simmer.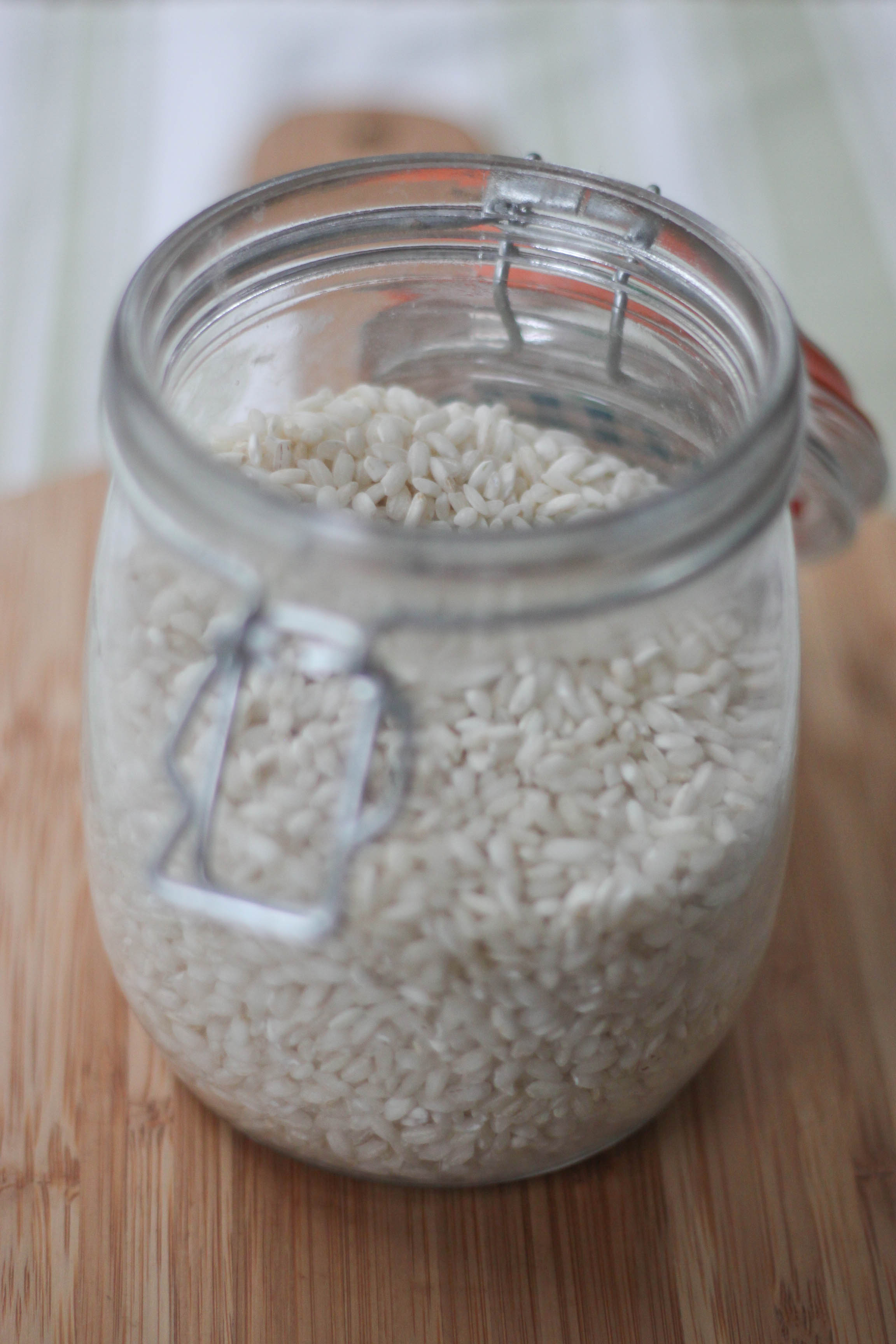 Add the risotto rice to the frying pan and mix well. Now add a ladelful of hot vegetable stock into the rice. Stir until the ladelful of stock has completely dissolved. Repeat until your stock is finished or the rice has become oozy and has a bit of bite when you taste it. (Here's Jamie Oliver's basic risotto recipe if you want more information.)
When the rice has reached its optimum texture, mix in a good handful of finely grated Parmesan cheese and a teaspoon of butter.
Your cauliflower should be ready at the same time. Mix two thirds of the cauliflower into the risotto and serve it in bowls with the leftover roasted cauliflower florets piled on top. Oh, and sprinkle with a little more grated Parmesan just for good luck.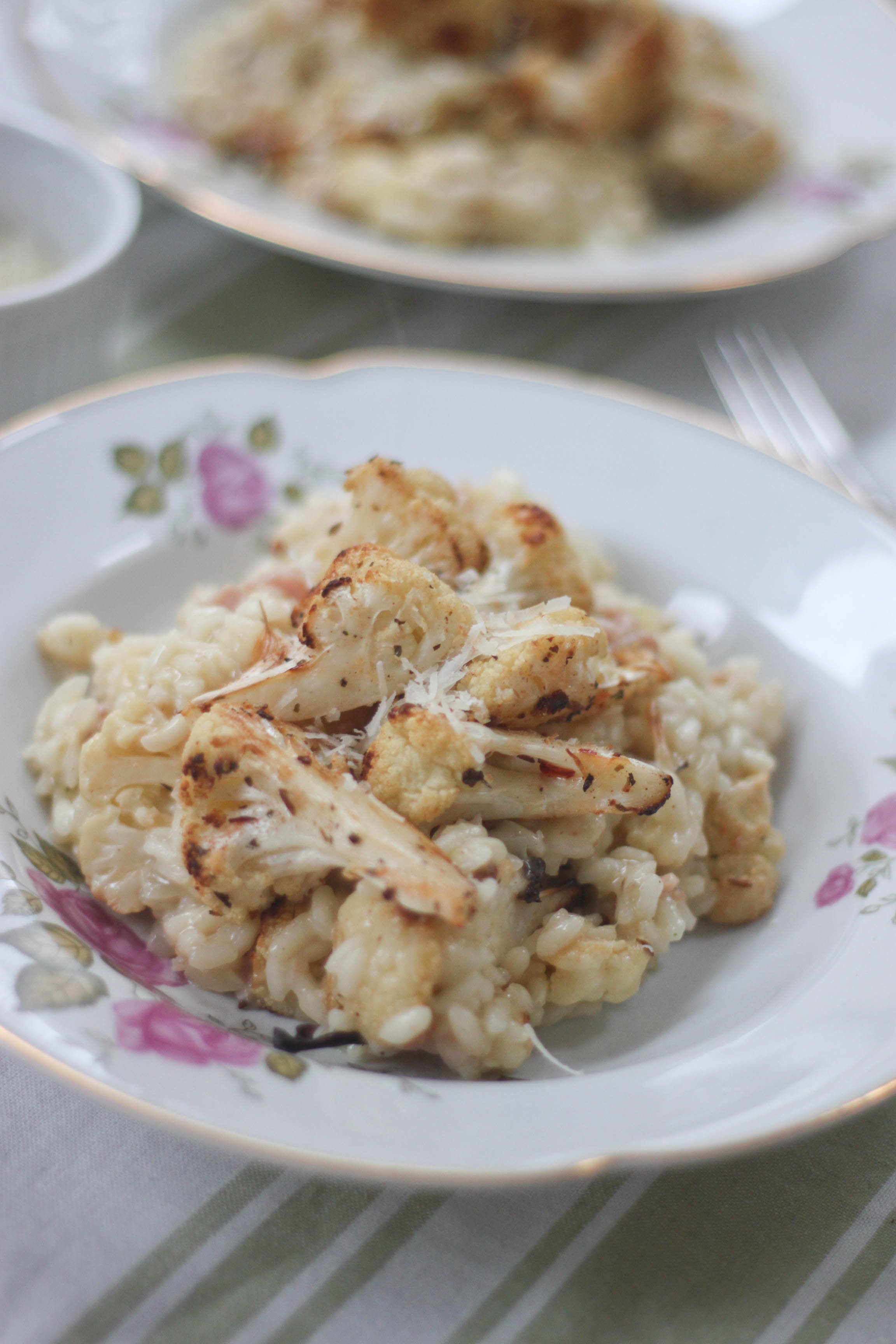 KITCHEN TUNE
My buddy Alan put up this amazing collaboration between Ólafur Arnalds and Nils Frahm on his blog Bitzl R earlier this week. It's called a2 and I hope you like it as much as I do.
Categories: Dinner, Lunch Tags: Roasted cauliflower