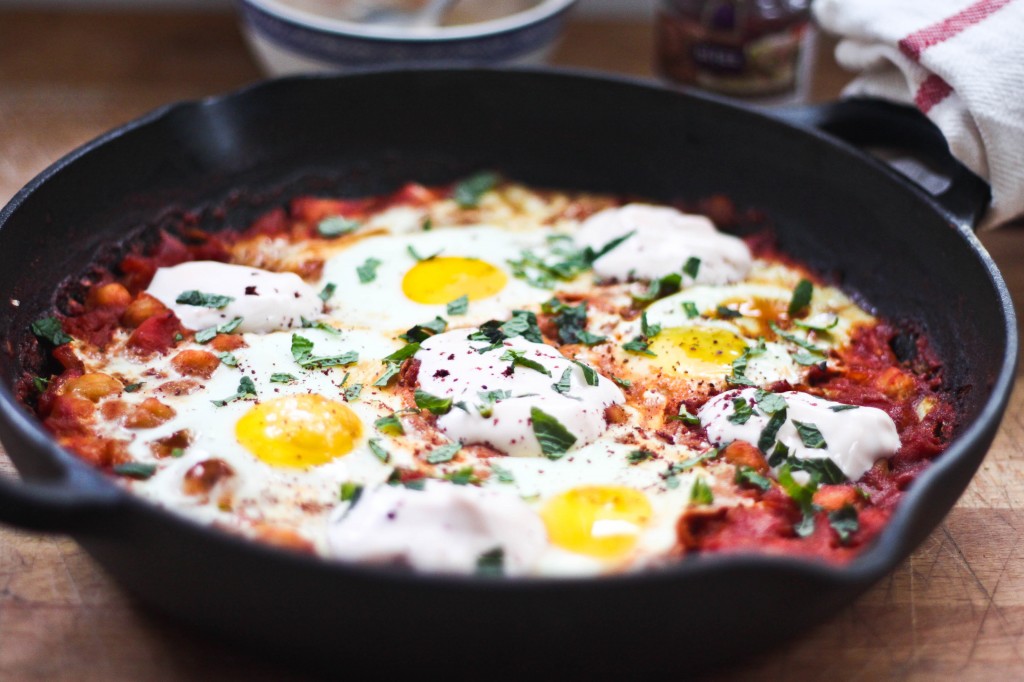 Like many other food lovers before me, I fell in love with Jerusalem last year. Thanks to the evocative writing and mouth-watering recipes in Yotam Ottolenghi and Sami Tamimi's book dedicated to the food of their home town, I am able to transport my kitchen to this endlessly fascinating part of the world with their cookbook as a culinary tour guide.
Niall had left Jerusalem under our Christmas tree for me and it wasn't long before we were knee-deep in hummus and za'atar, starting the new year off with a distinctively Middle Eastern flavour.
A lot of the aromas and flavours coming out of my kitchen through Jerusalem bring me back to my own childhood spent in Jeddah, Saudia Arabia. When I popped off the lid of the za'atar spice mix and inhaled its herby scent, it awoke a distant memory of evenings spent in the souk surrounded by freshly baked manakeesh. Likewise, a tahini sauce made with tahini paste thinned with water and flavoured with garlic and lemon juice brought my tastebuds on a journey back to the street shawarma stall we went to for weekend treats. What amazing memory our taste buds hold!
Always on the look out for new ways to bake eggs for a lazy brunch, I was inspired by the flavours of Jerusalem to make a batch of baked eggs that were both sweet and spicy with a hint of Middle Eastern influence to add to the enjoyment of the dish.
Not a million miles away from my other fave way with baked egg, this recipe is vegetarian but also boasts more layers what with the chickpeas, Middle Eastern spices and dollops of cooling yoghurt served on top.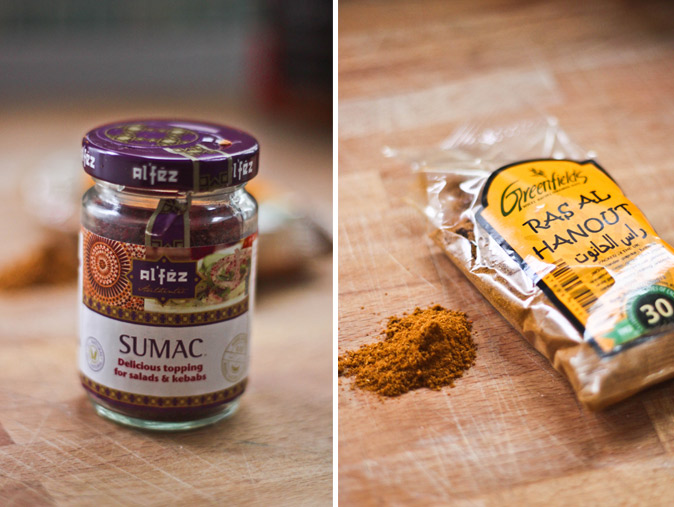 What you need for Ottolenghi Inspired Eggs for 2 (or 4 if you're feeling generous)
For the tomato sauce
1 onion
2 cloves of garlic
1 red chilli
1 tablespoon of Ras El Hanout spice mix (available in Middle Eastern shops and most large supermarkets)
1 x 400g tin of chopped tomatoes
1 tablespoon of harissa paste
Salt 
Pepper
1 x 400g tin of chickpeas
4 free-range eggs
To serve
About 3 generous tablespoons of natural yoghurt 
1/2 teaspoon of harissa paste
Handful of fresh mint
1/2 teaspoon of sumac (a lovely spice made from ground berries)
Start by heating a drizzle of olive oil in a large, oven-proof skillet. (If you don't have a skillet, make the sauce in a regular frying pan and then transfer it to a roasting dish before cracking in the eggs and cooking in the oven.)
Finely chop the onion, garlic and chilli. Fry the onion in the hot pan for 3 minutes until starting to take on a golden colour.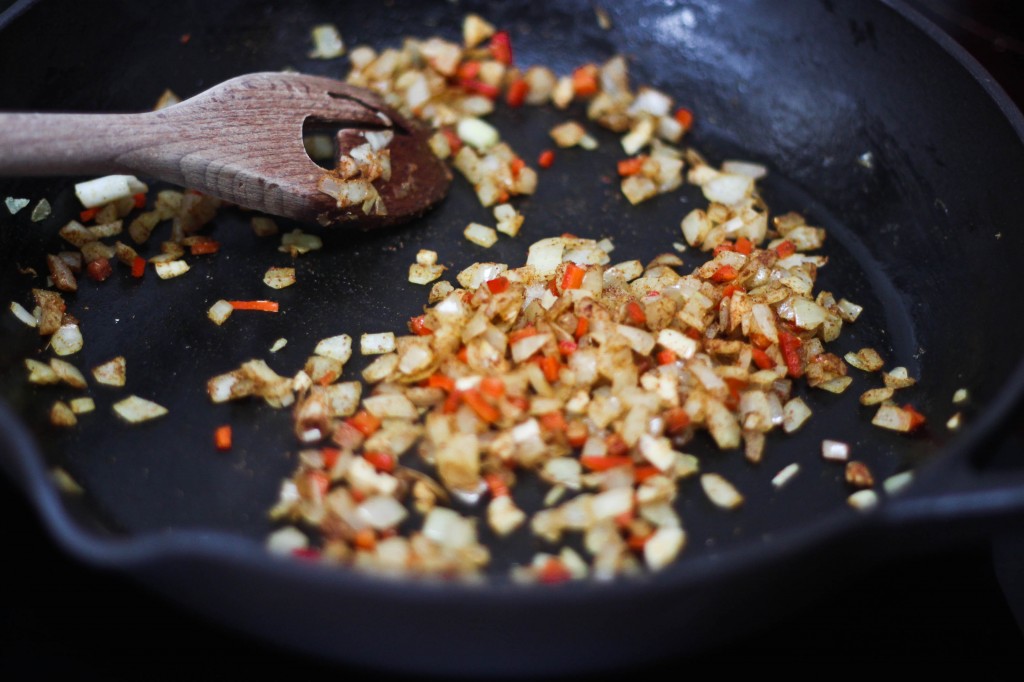 Add the garlic and chilli and cook for a further minute, stirring well. Add the Ras El Hanout and stir well, cooking for less than a minute. Add the tin of chopped tomatoes. Fill the empty tomato tin halfway with hot water and add the sauce. Finally, mix in the harissa and leave this sauce to simmer for about 15 minutes, until thickened and glossy.
Season with salt and pepper to taste. Drain the chickpeas and add them to the sauce, allowing them another 5 minutes or so to bubble and heat through.
Heat your oven to 200C/180C fan/Gas Mark 6 and make sure it's good and hot when the eggs go in.
When you're happy with your sauce, make four spaces in the sauce and crack the eggs into them. Now put the lot into the hot oven and cook for about 15 minutes, until the egg has set but is still a little runny – easier said than done! My oven usually gets the eggs there after around 12 minutes so you may have to experiment with your timings according to your own oven.
Meanwhile, mix the natural yoghurt and harissa. Finely chop the fresh mint.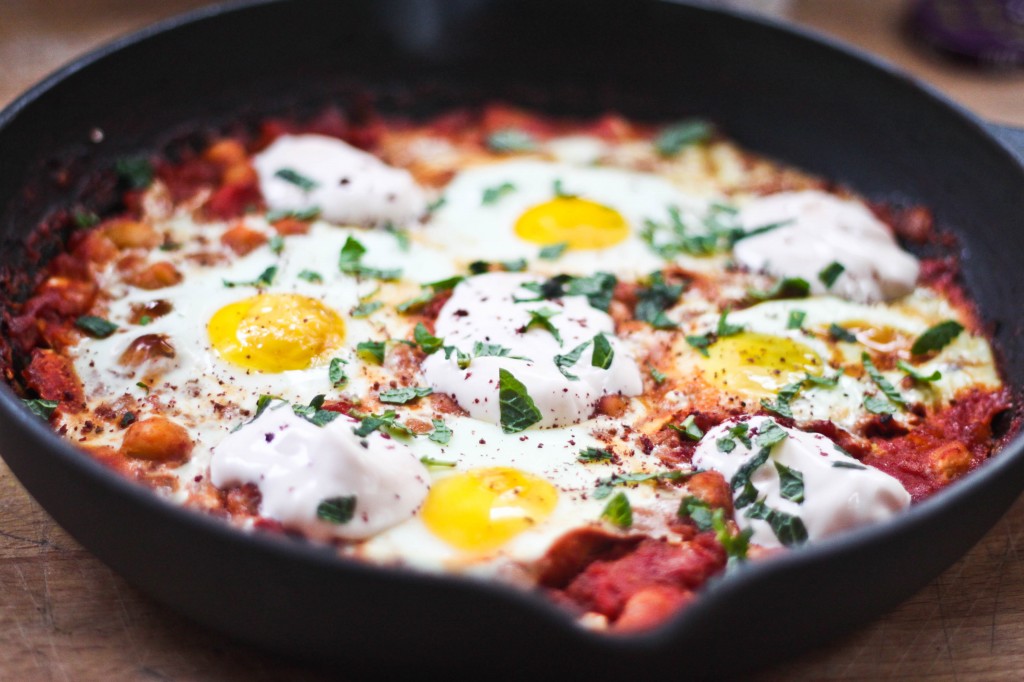 When the eggs are done, remove from the oven and serve with dollops of the harissa yoghurt, scatterings of the freshly chopped mint and a sprinkle of the sumac. Yum yum!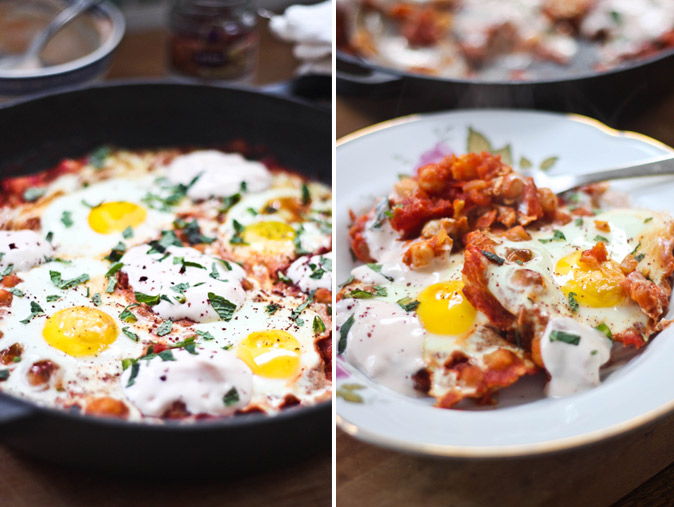 Categories: Breakfast