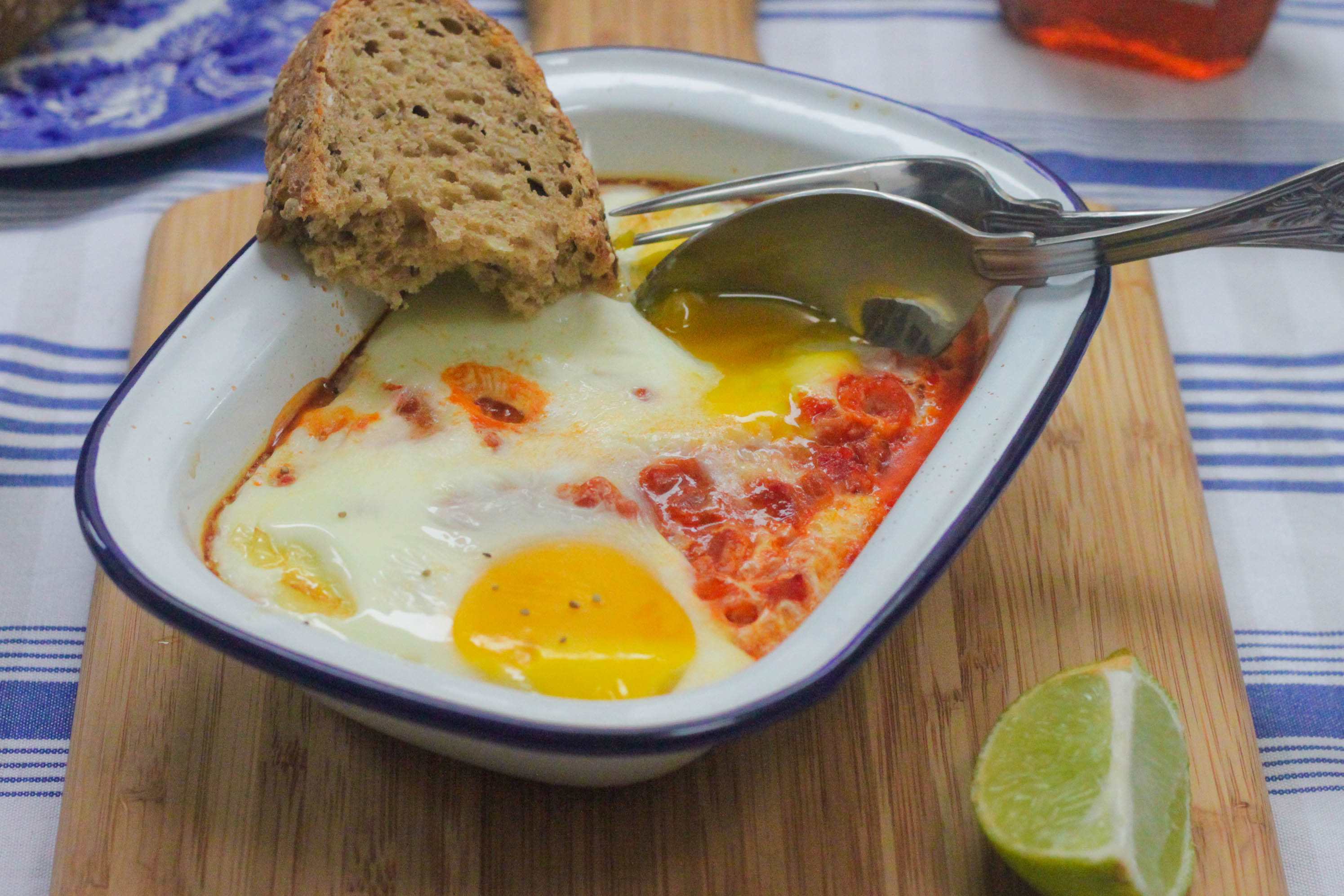 The holiday season is a surprisingly brilliant time to move house. It's the second time myself and Niall have done so, and we couldn't help but grant ourselves a few smug pats on the back for being so clever.
I mean, first of all, people don't usually look for houses in the lead up to Christmas. Which means you have the pick of the lot. When it comes to actually moving, not only do you have a few days off work to get the heinous task of shifting your accumulated stuff from one abode to the next, but your friends and family are often free too. Which means loans of cars (thank you so much, Pauline), siblings hepling out with the move (thanks Lorcan and Peter) and Dads with van-like cars (that's you, Eugene) at the ready to help. Which makes the process a helluva lot less painful.
But then of course, you have the psychological perks of starting a New Year in a new house. You've decluttered through the move. Well, you've certainly made an attempt at it anyway and have probably gotten rid of even a little bit of unnecessary junk. You're in a new house in a new neighbourhood and everything is lovely and, well, new. It certainly brings a bit of oomph to the start of the year.
So not only have we moved, but we have been lucky enough to move from a lovely apartment to a stunning house. Of course, one of our main reasons for moving was to find a bigger and better kitchen. And by gum, have we lucked out.
I am a different cook in this new kitchen. Although I am very fond of my old kitchen because I learned how to cook in it, the difference in space between it and the new one is almost overwhelmingly amazing. It makes for an entirely less stressful kitchen experience. Which, as you may know, has always been the top aspiration for my kitchen life. Well, that and being able to make tasty food for friends, of course.
On New Year's Day, we had one last brunch in our old flat. Niall made us some amazing baked eggs and I knew I wanted it to be the first recipe I posted from the new kitchen. So, it's a dish that was perfected in our old place, but one that we've brought with us to the new place. Have a look after the jump for Niall's recipe, as well as a few pics of our kitchens, old and new.
Here's how our old kitchen looked through the instagram lens: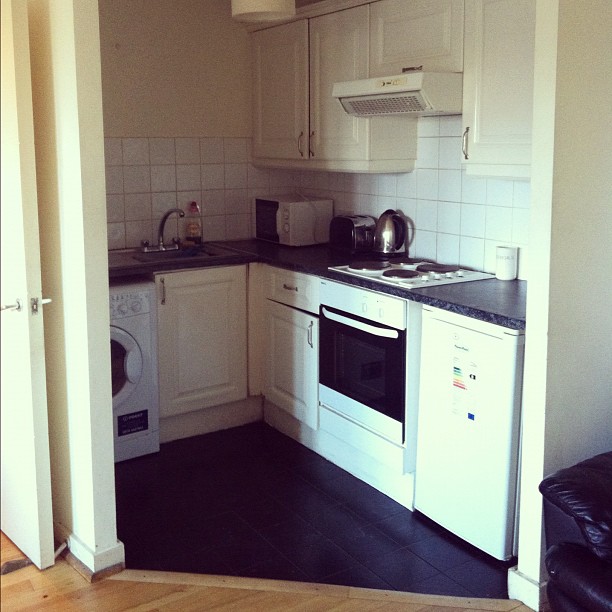 And here is our new kitchen, through the same lens. And yes, that is a double oven. *squeals with delight*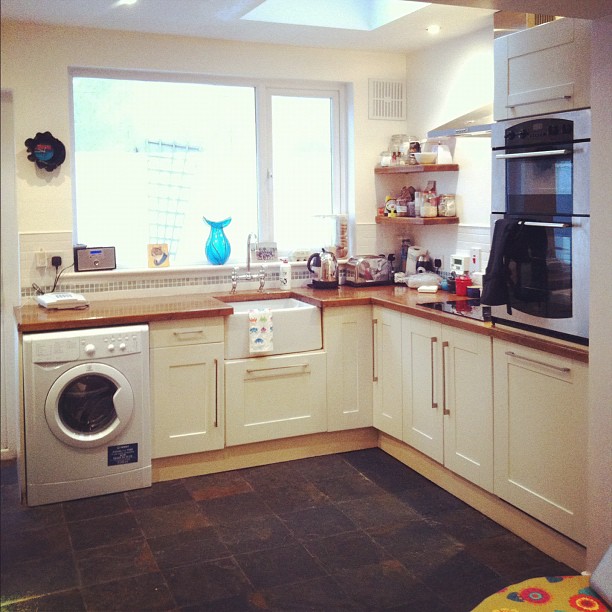 So you can see that I have a lot more space within which to tinker about with my favourite ingredients. I'm pretty sure I'll be spending most of my time in this lovely room, and I'll be archiving my advances and mishaps in it on this here blog.
Anyway, back to the baked eggs. This is Niall's recipe and it is arguably the best brunch in the world. It's cheap, easily vegetarianised (just leave out the bacon), and it has a bit of a spicy kick to it, which is great for those of us who may have overindulged the night before.
What you need for Niall's Baked Eggs for 2 lucky people
Olive Oil
80g or so of pancetta lardons, or 2 or 3 bacon rashers chopped into cubes
1 medium white onion
2 cloves of garlic 
1 red chilli 
1 x 400g tin of chopped tomatoes
Honey (I used Skinflint's Firebee honey which has a chilli kick to it – amaze)
Smoked paprika
Salt and Pepper
1 lime
4 large free-range eggs
Start by heating a drizzle of oil in a large frying pan over a medium to high heat. Once hot, add the pancetta/bacon lardons and fry for about 5 minutes, until golden brown.
Meanwhile, finely chop the onion and the garlic cloves. Deseed and finely chop the red chilli.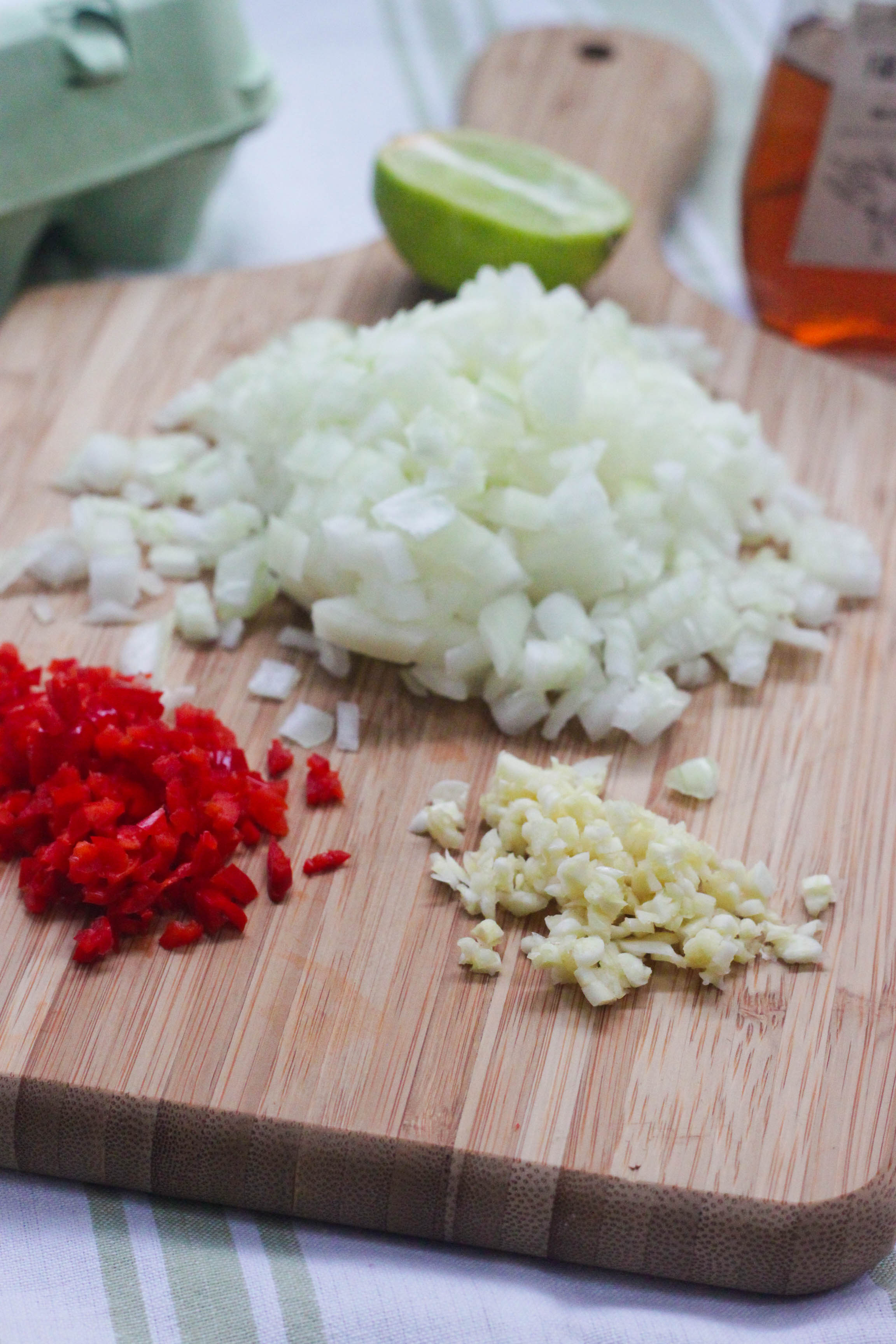 After 5 minutes, remove the bacon from the pan with a slotted spoon and set aside on some kitchen towel to get rid of a bit of that fat. Now fry the onion, garlic and chilli in the same frying pan for 3 minutes, until the onions are starting to soften.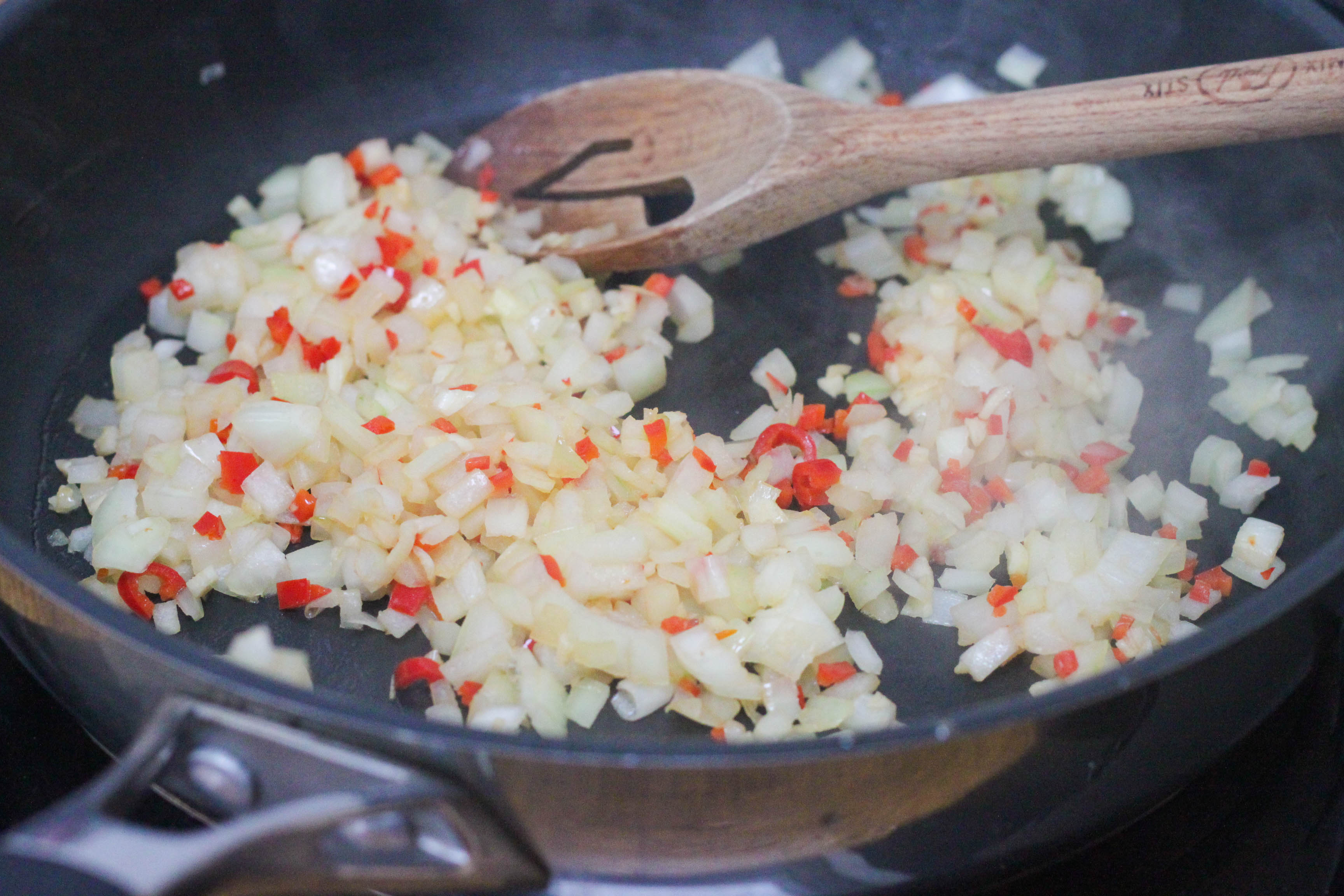 Put the bacon back into the pan and add the tin of tomatoes. Pour some boiling water into the empty tin until it's about half full. Add this hot water to the frying pan. Use oven gloves because the tin gets hot!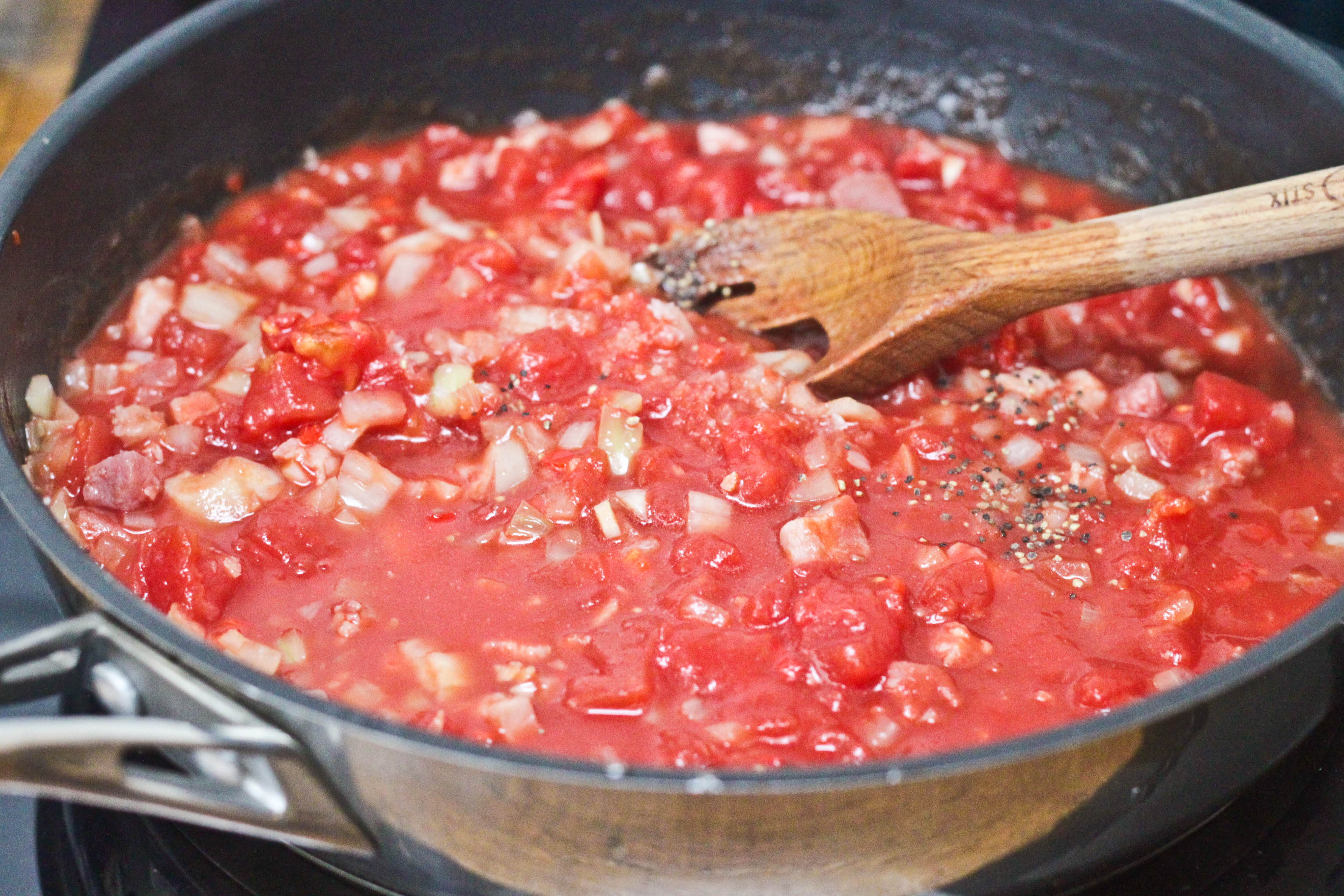 Add one generous tablespoon of honey and about a teaspoon of smoked paprika to the frying pan. Squeeze in the juice of half of the lime. Season with salt and pepper and stir everything well. Give it a taste and adjust the seasoning if you think it needs it. Allow to simmer for about 20 minutes, until the sauce has thickened.
If your frying pan is oven-proof, you can make little spaces in the sauce and crack your eggs into the spaces, then bake the lot in the oven for 12 to 15 minutes. I used little individual tins and you could even use individual pie dishes, ramekins, or any large casserole dish.
For my method, I pre-heated the oven to 200C/fan 180C/Gas Mark 6. Then I divided the thickened tomato sauce into two pie dishes.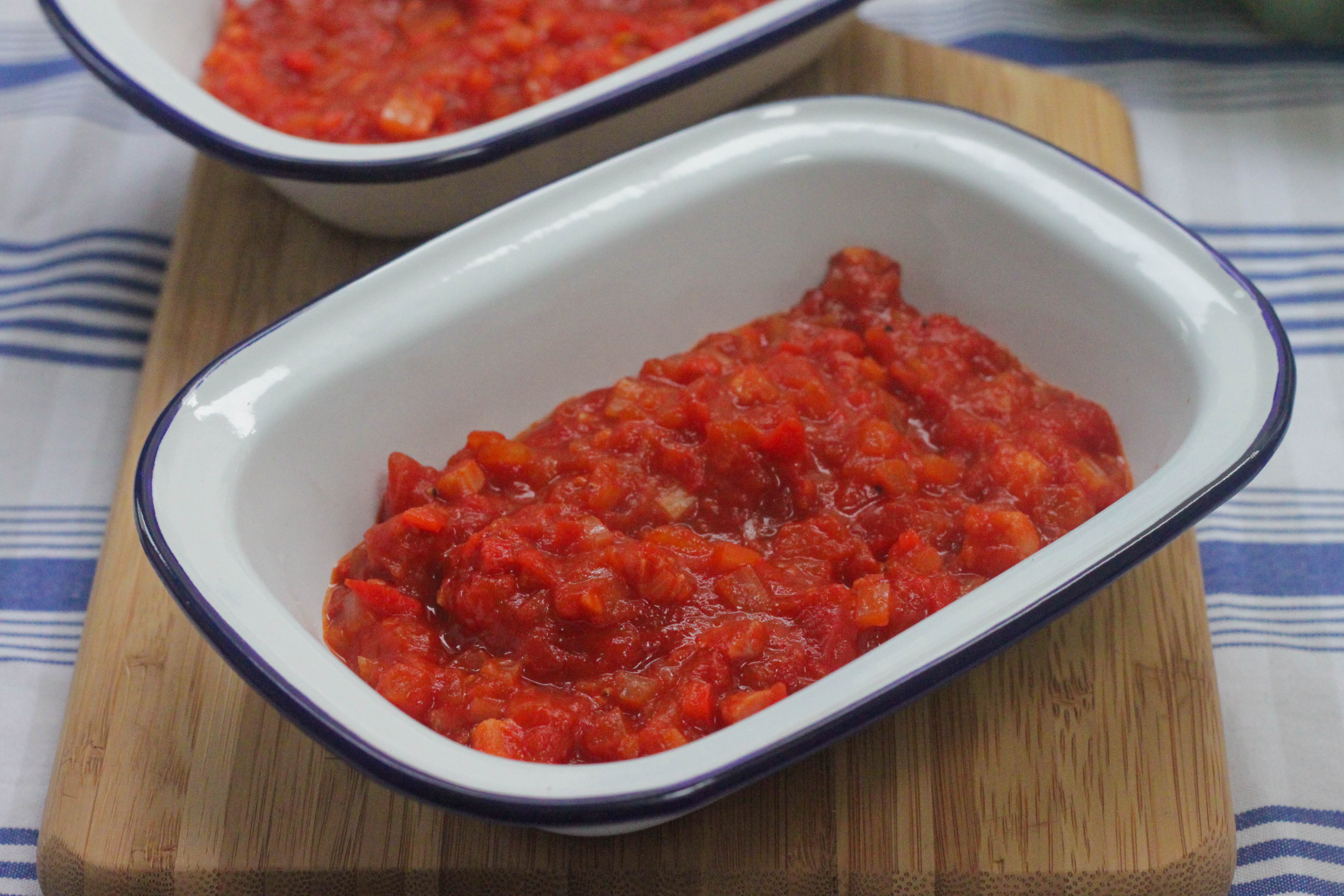 I cracked two eggs into each of the pie dishes.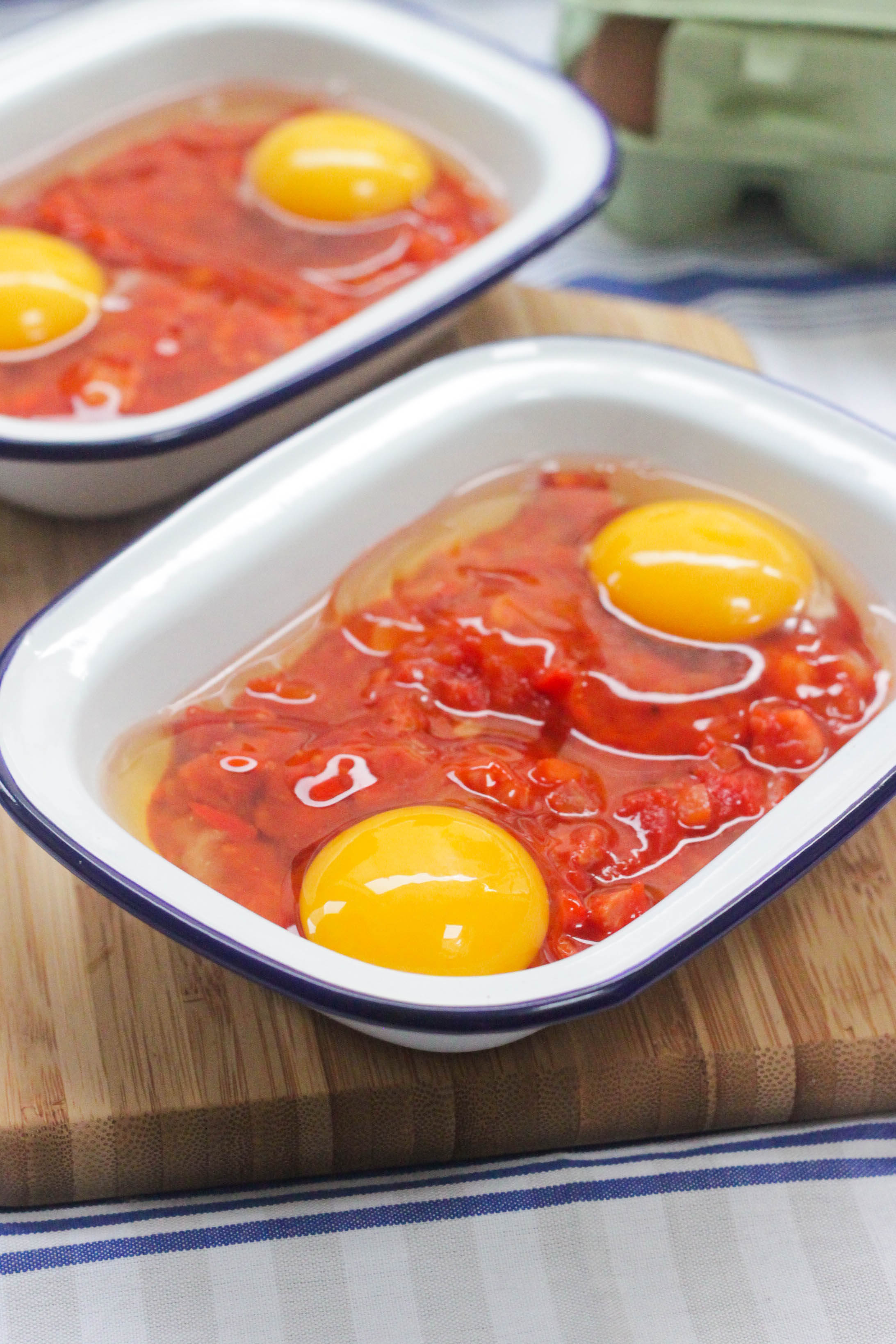 Then I baked in the oven for 12 minutes, until the egg whites had cooked but the yolks were still lovely and runny.
Serve this up with some crusty bread and a large mug of tea for maximum enjoyment.
KITCHEN TUNE
The new house has seen the radio permanently dialled to RTÉ Lyric FM, which runs a consistent stream of fabulous music to cook to throughout the day. Here's one of their favourite tracks, Rachmaninov's Rhapsody On A Theme of Paganini No 18.
Categories: Breakfast