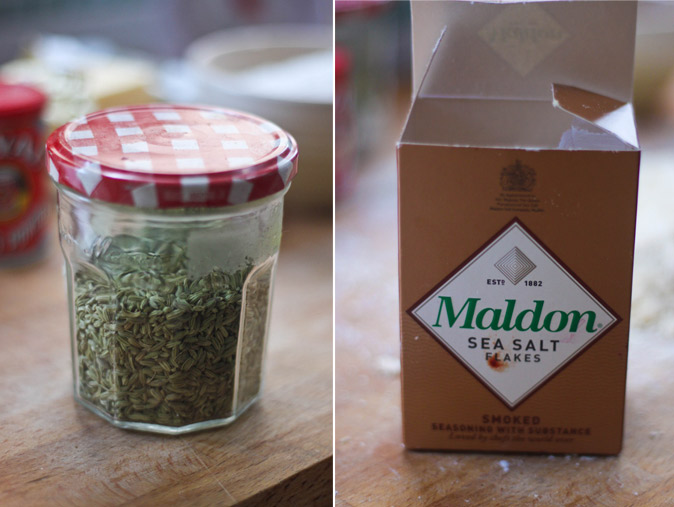 A few weeks back, I challenged my friends Lucy and Ferdia to a Come Dine With Me 2013. Very 2011, I know, but we had been talking ALL year about cooking for each other last year and it never happened. I thought putting a competitive spin on it might get us all together long enough to cook a meal for each other.
Seeing as they're both better cooks than I – Ferdia makes his own ginger beer and jams while Lucy can cook full meals in camper vans – I thought I'd push the boat out a bit with my own menu, seeing as I was first to host.
I went a bit over the top. We had gin cocktails and quail scotch eggs as canapés before delving into teacups of beetroot soup with horseradish creme fraiche and cubed salmon. Then we had Barney Desmazery's country terrine followed by his oxtail stew, complete with basil dumplings and served with some honey roasted root vegetables. Dessert was a rhubarb and custard tart using Jamie Oliver's lovely sweet shortcrust pastry recipe, but I used orange zest instead of lemon zest.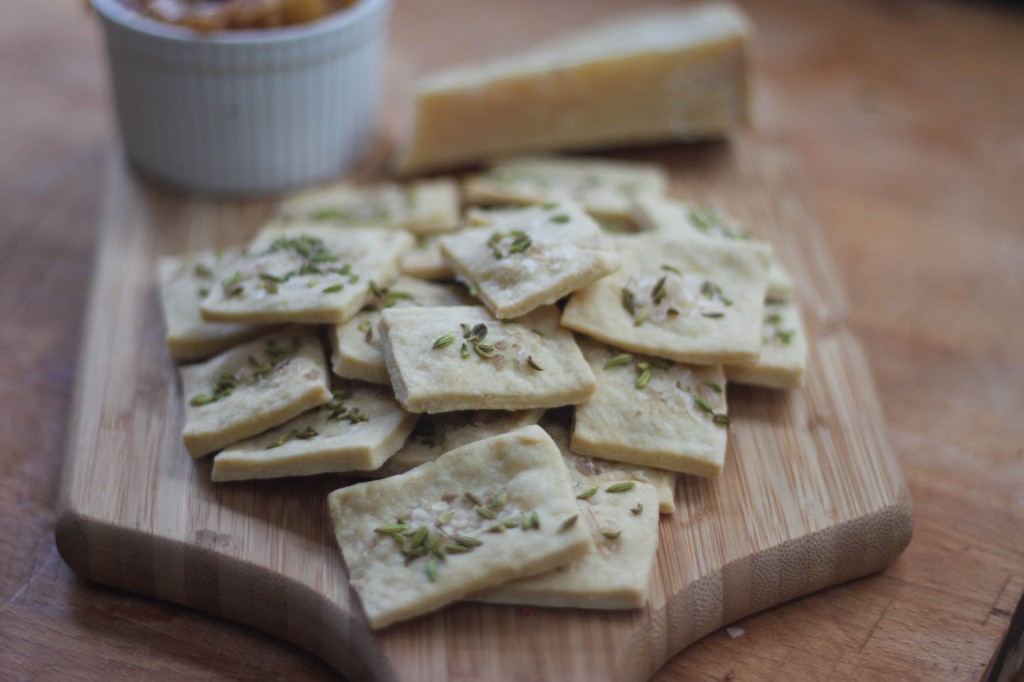 I had planned the menu quite well in that everything was ready before the guests got there. Including the very final course of cheese (Glebe Brethan and Ardrahan) which I served with my own apple chutney and my very own homemade crackers. Which kind of blew my mind.
It turns out that making your own crackers is stupendously simple. Of course, shop-bought ones are fabulous but if you have an extra 20 minutes in the kitchen why not give this little recipe a whirl? I personally got a real kick out of making my own little batch of imperfect crackers.
I followed this basic recipe but added my own fennel twist to things. You could add chilli flakes, rosemary needles, dried basil or other dried herbs to personalise your own crackers.
What you need for a batch of Fennel Sea Salt Crackers (makes about 20 crackers)
200g plain flour
1 teaspoon of baking powder
50g of cold butter
Flaky sea salt
Fennel seeds
Heat your oven to 180c/160c fan/Gas Mark 4. Line a large baking sheet with parchment.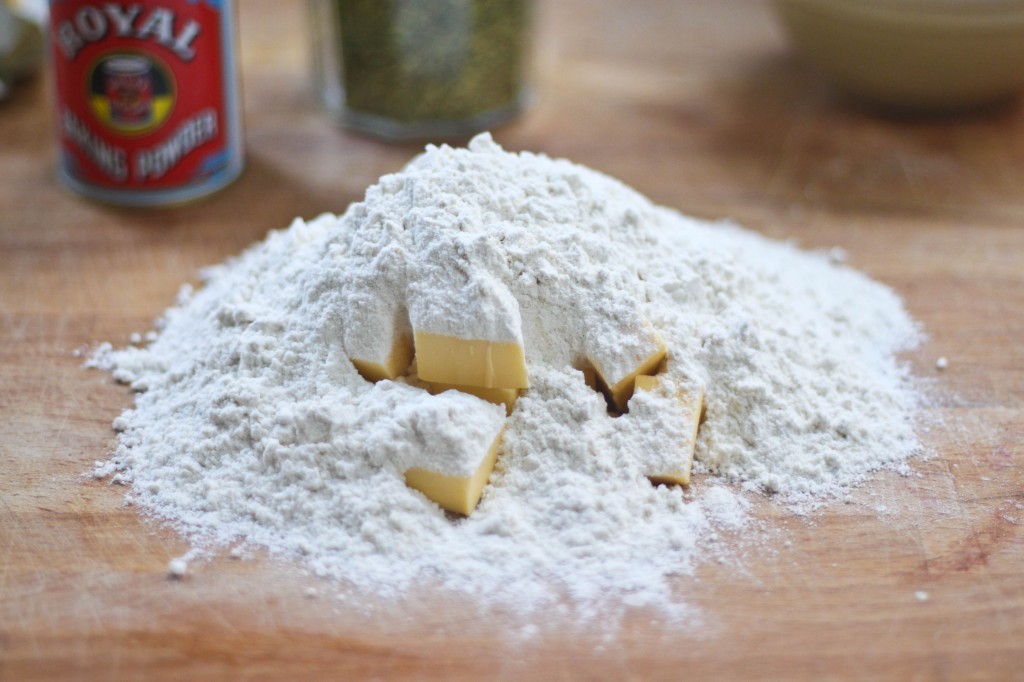 Put the flour, baking powder, butter and 1/2 teaspoon of sea salt in a large bowl or on a clean surface. Use your hands to rub the flour and butter together until you have a breadcrumb-like texture.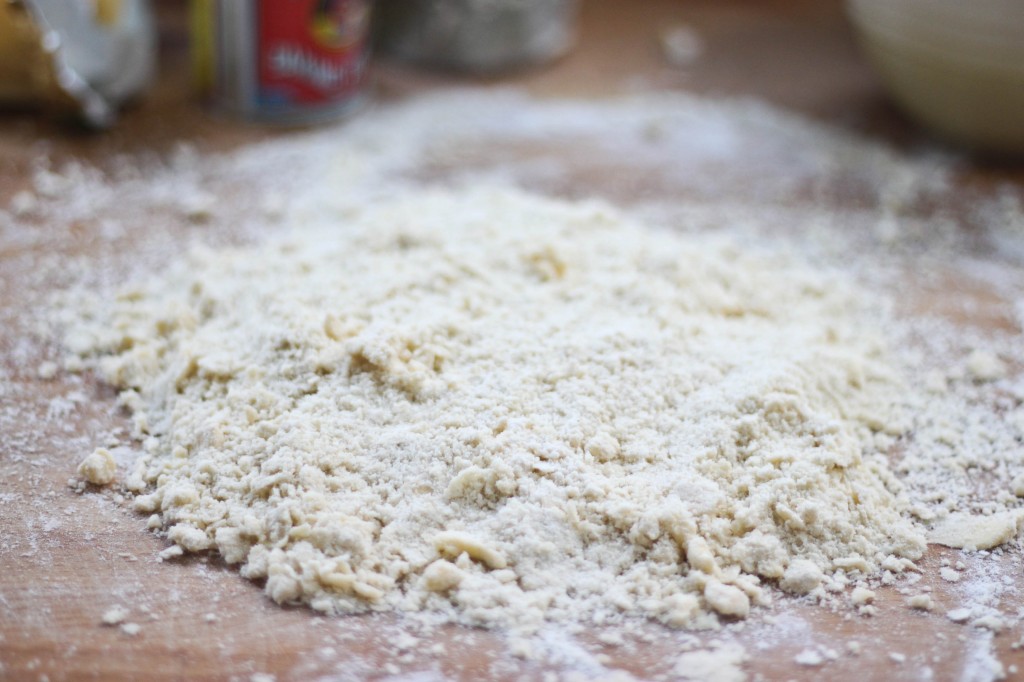 Not very well rubbed together but feck it, it'll do!
Add 4 tablespoons of cold water and work the dough gently until it comes together.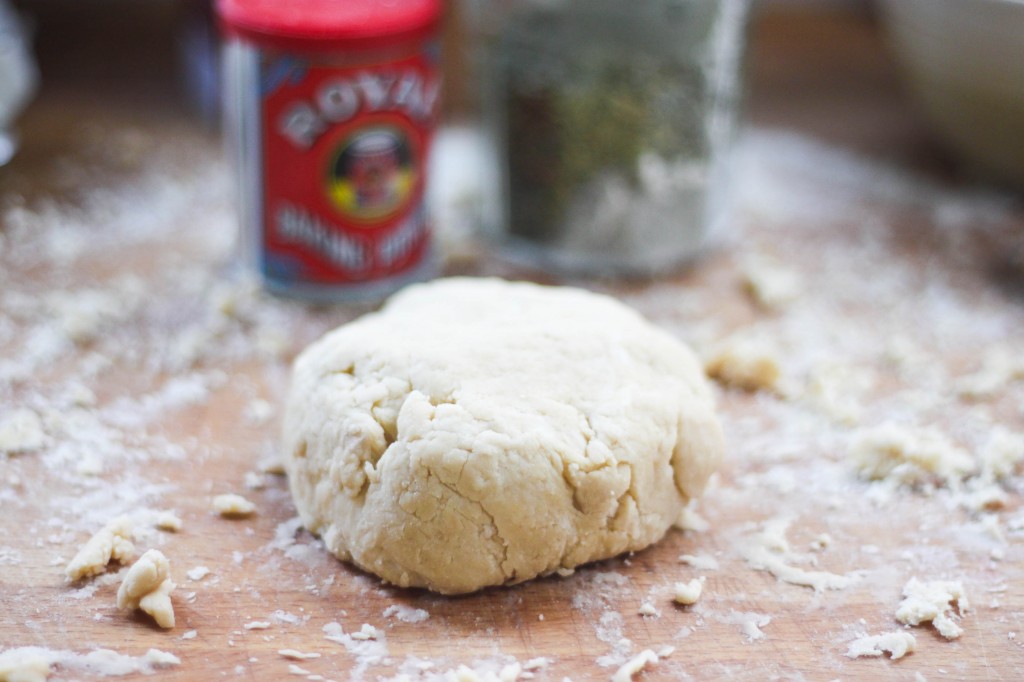 Add another teaspoon of water if it still feels dry. You want a soft but not sticky dough. (Alternatively, put the flour etc into a food processor. Whizz for a minute until the mixture is kind of breadcrumby and the butter is fully mixed with the flour. Add 4 tablespoons of cold water and pulse until the dough comes together.)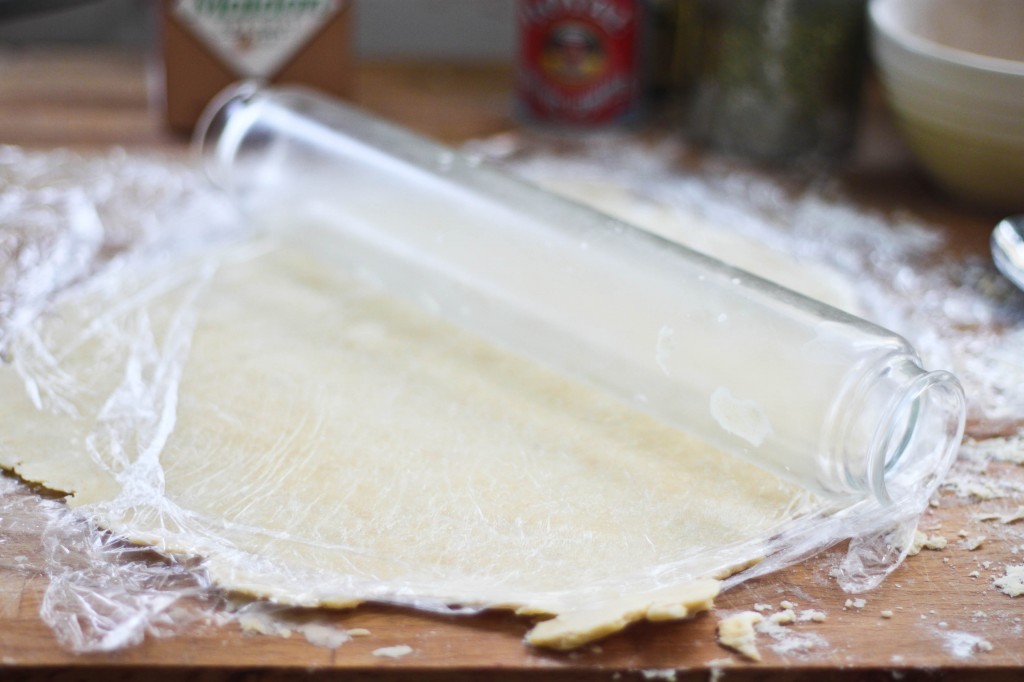 Roll out the dough on a lightly floured surface. You want to roll it out as thin as possible. When you think it's thin, keep rolling so it's thinner. You can see that mine aren't that thin – they were still lovely but next time I will be getting them even thinner.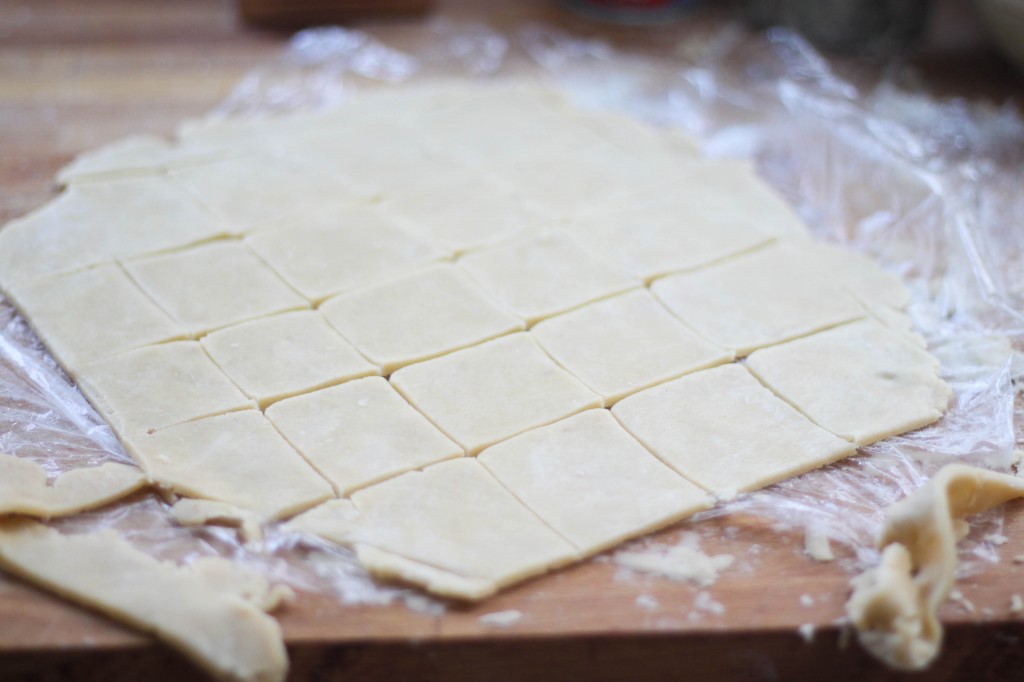 Use a sharp knife to cut the dough into little cracker sized squares and lay them out on the baking sheet (use two baking sheets if needed, you don't want the crackers to be too crowded). Top with a sprinkle of sea salt and fennel seeds, or whatever you're having yourself.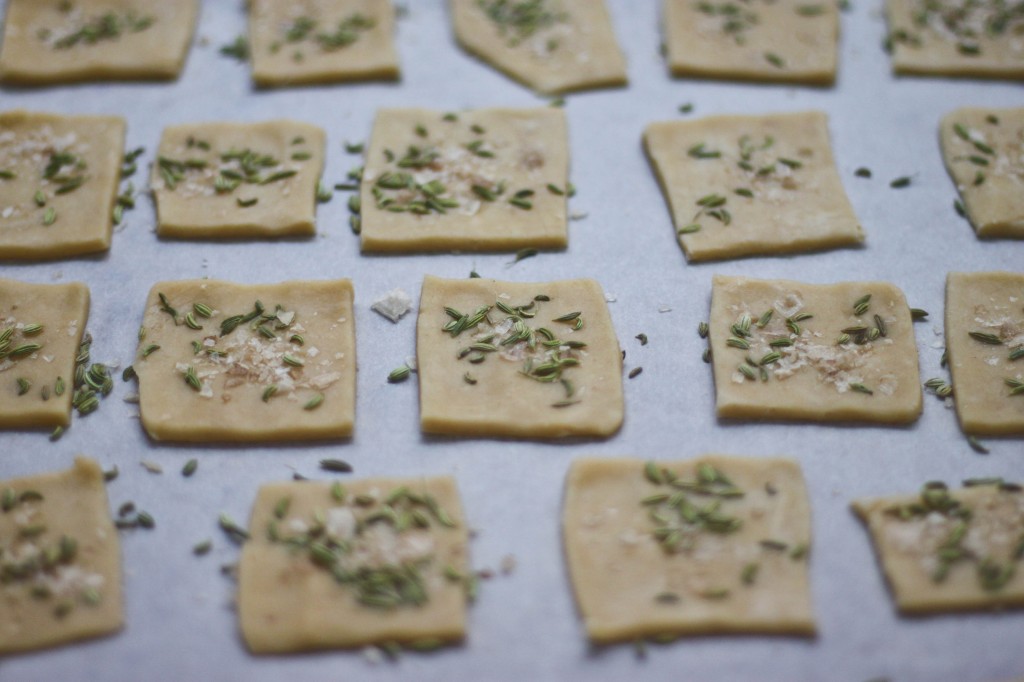 Now bake them in your oven for about 12 to 15 minutes, until they feel dry and have coloured slightly but not much.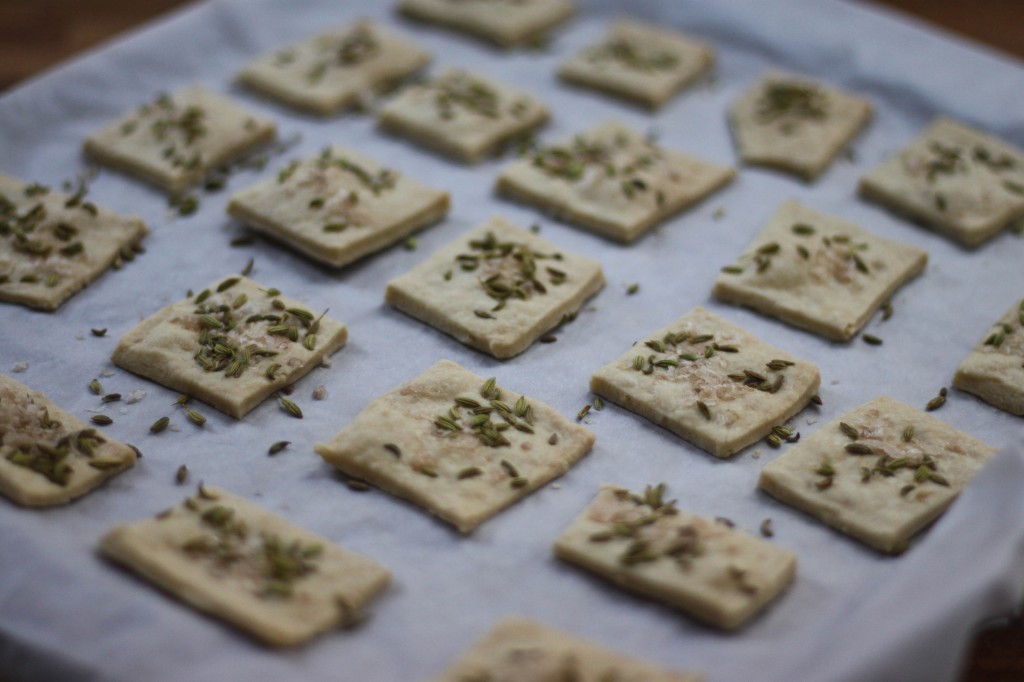 Remove from the oven and transfer from the baking sheet to a wire rack to cool. They might be a little soft when you take them out of the oven – don't worry. They'll firm up when cooled.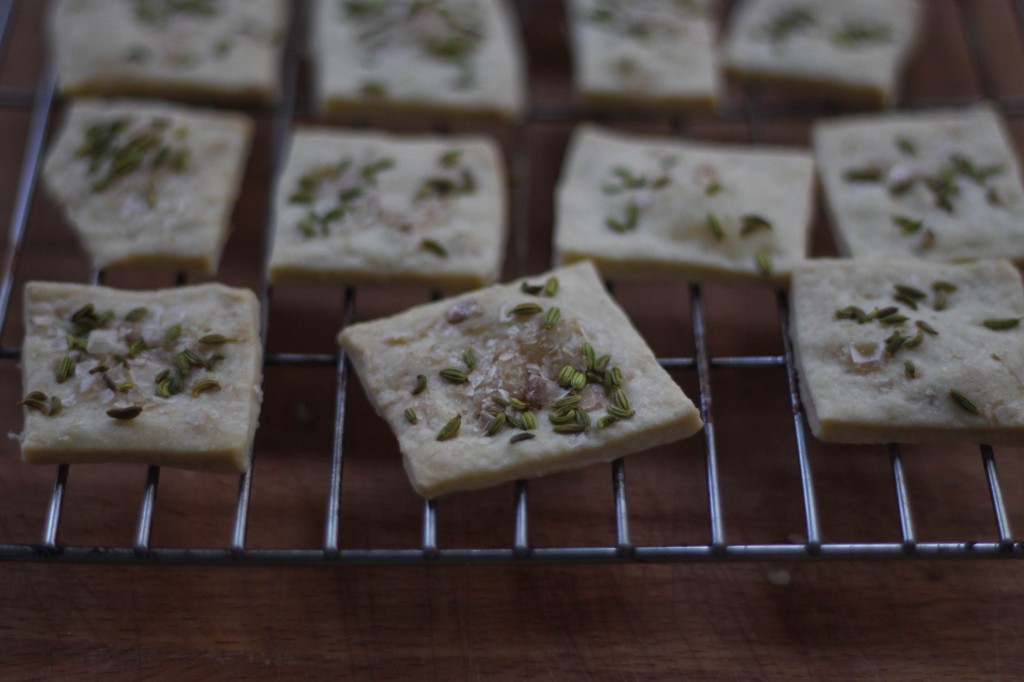 They'll be happy in an airtight container for up to two weeks (as if they'd last that long!). Serve them up with your favourite cheeses and chutneys.