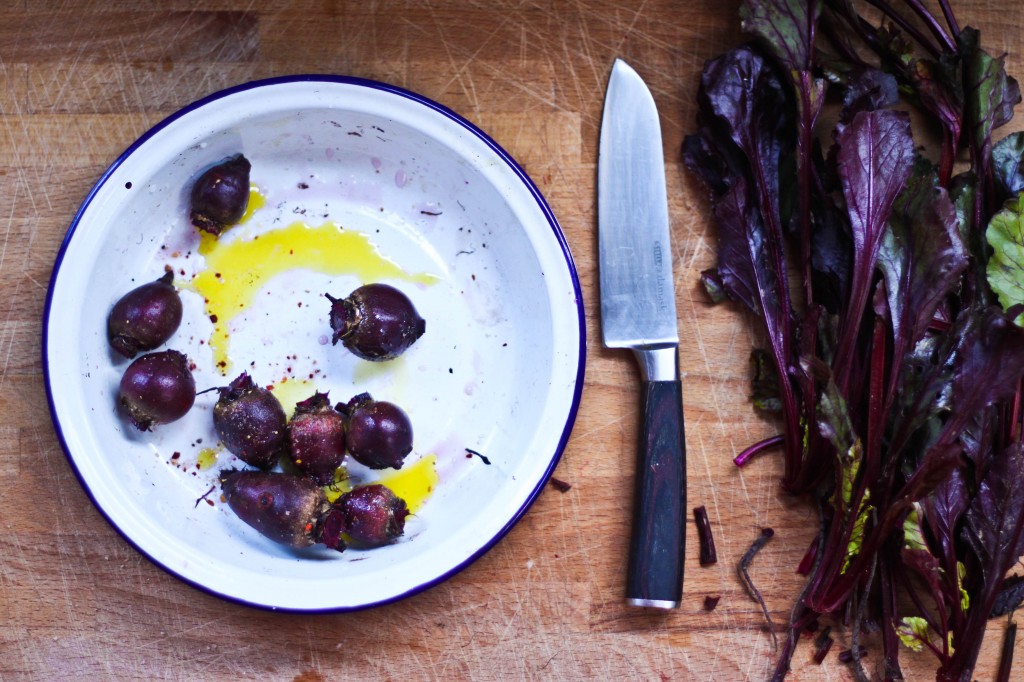 2013 felt to me like the year of the beet. Beetroot hummus was a staple in my house throughout the year, often paired with smoked salmon but sometimes just enjoyed solo on toast. We even made a forkful out of it. One of my most memorable dishes of 2013 was Katie Sanderson's Beet Bourguignon at the winter Living Dinners feast held in a crumblingly decadent old Georgian house on Henrietta Street at the end of November. That Sanderson sure knows what to do with a beet.
There are a few things I would like to leave behind in 2013 (overindulging my fondness for the naughty things in life, my propensity for panic and my inability to organise my finances) but beetroots are definitely something I'm taking with me as I head towards the future.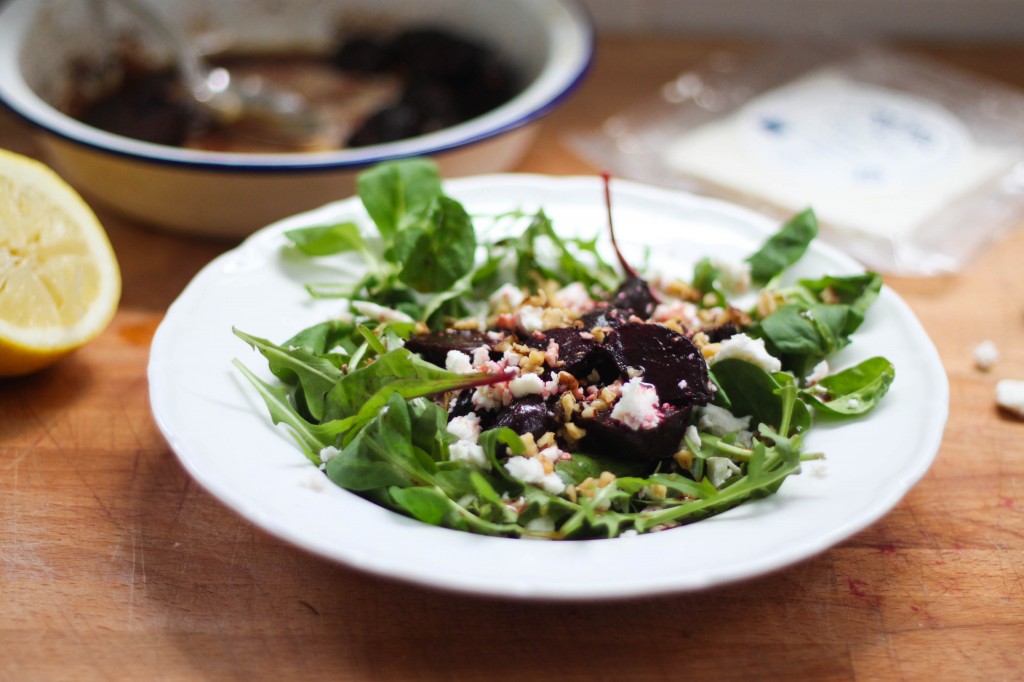 Over the holiday break, I found this Nigel Slater recipe for roast beets and halloumi cheese and served it up for myself and Niall's New Year's Eve dinner. A wonderful way to use beets, I have since substituted the cheese for some delicious St Tola 'feta', added a few walnuts for crunch and a pinch of chilli for heat.
Irish grown beets are wonderfully easy to find. Fallon & Byrne currently have some fantastically sweet baby Irish beets, which are the ones I used for this bracingly wintery salad.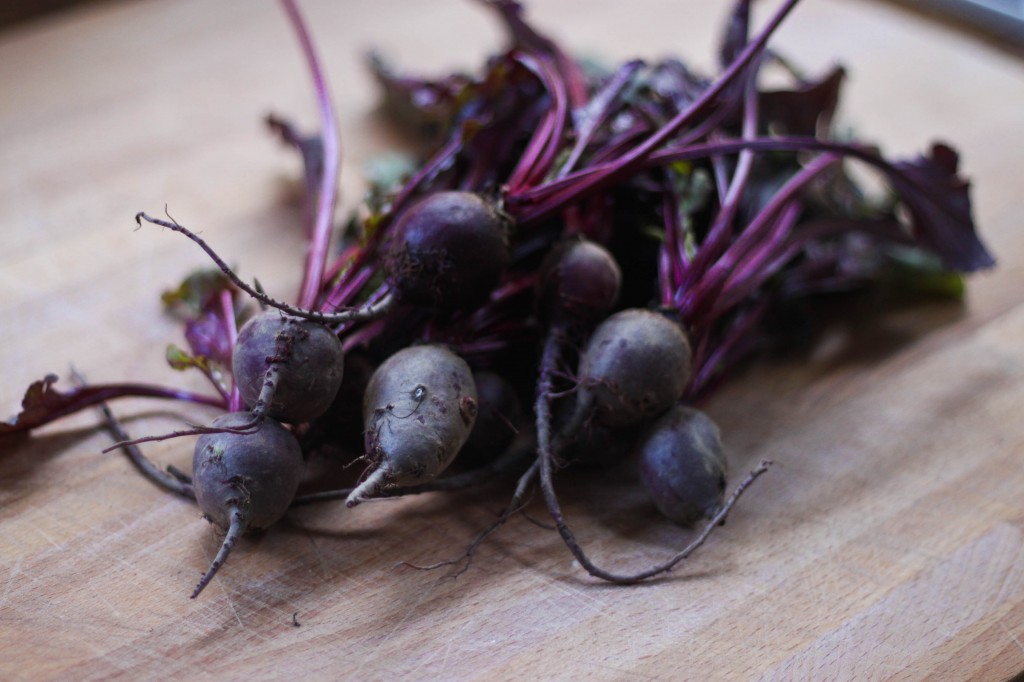 I've read that the leaves from the beetroots make a great addition to a green salad when fried in a little butter – anyone have any other ideas on what to do with the leftover leaves of the beet stalks?
what you need for a beet and cheese salad for 2
8 baby beetroots
Rapeseed or olive oil
Salt and Pepper
Pinch of chilli flakes
For the dressing
Juice of half a lemon
1 tablespoon of balsamic vinegar
2 tablespoons of rapeseed or olive oil
2 tablespoons of hazlenut, walnut or toasted sesame seed oil (walnut oil is easier to find but I happen to have a beautiful bottle of hazlenut oil in my pantry which loves being used for dressings)
1 teaspoon of crushed coriander seeds (so lovely and lemony – available in the Asia Market on Drury Street in Dublin)
To serve
Green salad leaves
A chunk of feta cheese – we used the beautiful St Tola variety (you can of course use crumbly goat cheese or fried strips of halloumi cheese as per the original recipe)
A handful of chopped walnuts, toasted if you like
Pre-heat your oven to 200c/180c/gas mark 6. Chop the stalks from the beetroots and keep for another use (any ideas?!). Scrub the beetroots well and transfer to a small roasting dish. Drizzle with a bit of oil, season with salt and pepper and add a very small pinch of chilli flakes. Cover with tin foil and roast for 45 minutes to 1 hour, or until a knife can pierce the beets very easily.
Make the dressing by mixing the lemon, balsamic, oils and crushed coriander seeds together.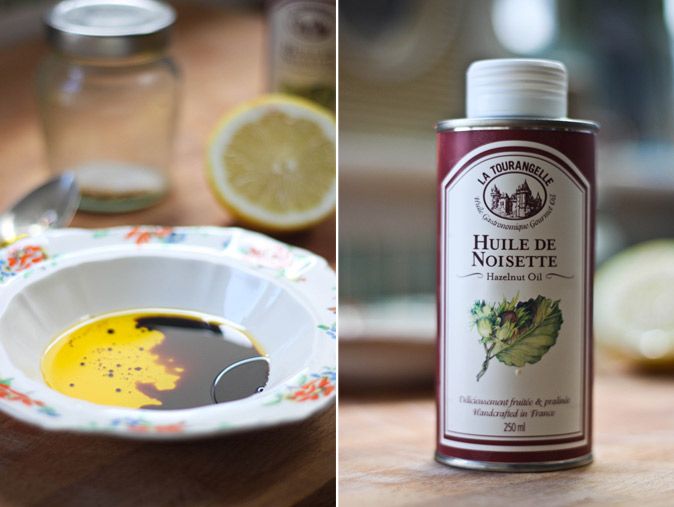 When well roasted, remove the beets from the oven and allow to cool a bit before slicing them in two. Put the beets back into their roasting dish and pour over the dressing. Toss well until the beets are glossy with dressing.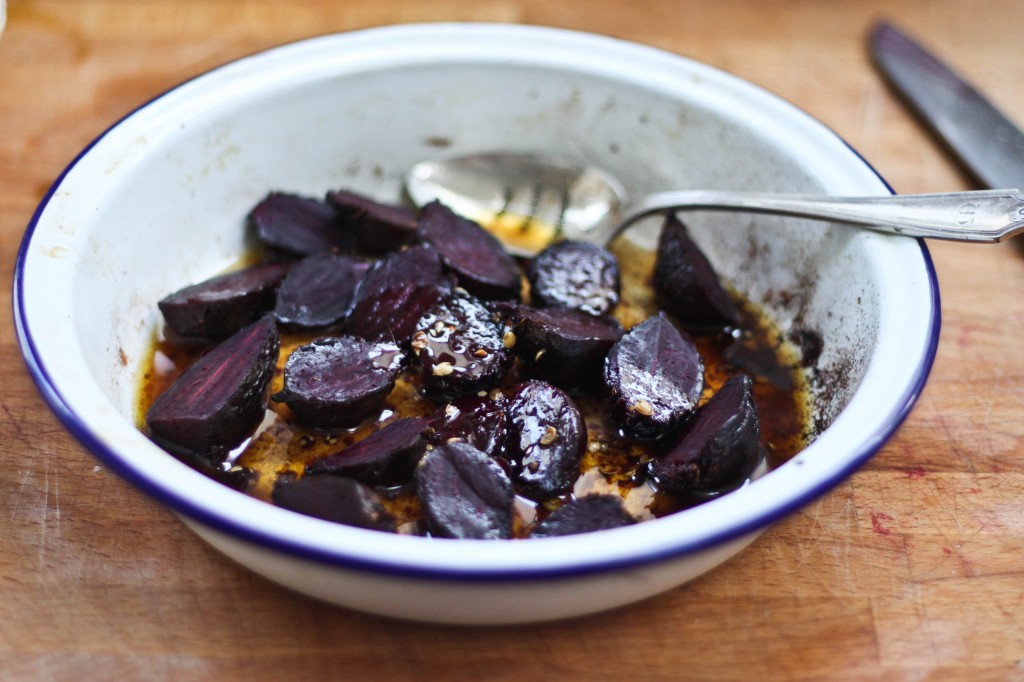 Assemble two plates with a generous handful of salad leaves in each. Crumble over the feta and arrange the beets on top before sprinkling with walnuts. Drizzle over any leftover dressing and enjoy.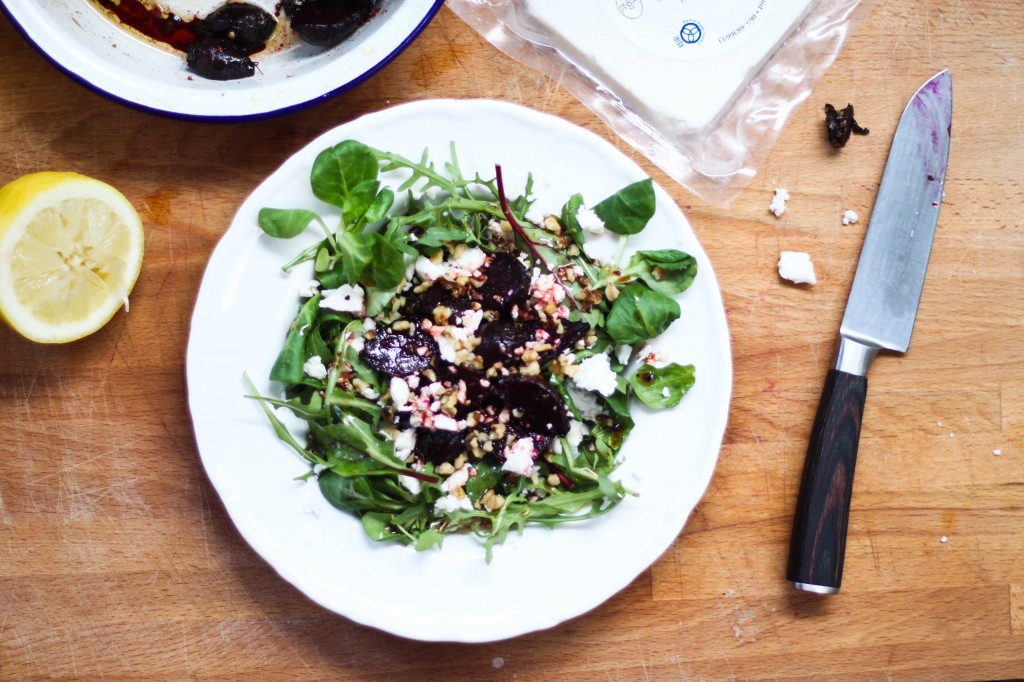 Categories: Lunch