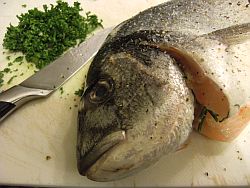 I felt today that enough time had passed for me to lift my self-inflicted ban on the BBC Good Food site.  I had such a hankering for fish today, and I spotted the below recipe.  Man, I'm glad I did.  This was a lovely and easy supper, hugely flavoursome while being light at the same time – a perfect meal after which to head out to a gig.*
I got my Sea Bream at Kish Fish near Smithfield Square, a great city centre fresh fish shop that I am truly delighted to live so close to.  In conversation on twitter today, Catherine @backpedalling told me about the weekly draw they're currently running at Kish Fish.  Every time you buy something, you can enter your name in a draw.  Every Saturday, a name is picked, and that person gets €50 worth of Kish Fish to take home.  WANT!
I was distracted by the size of the lovely Bream that I picked up, and so, alas, I'll have to get there again next week to enter myself in the draw.
I used Barney Desmazery Whole Roast Bream With Potatoes & Olives recipe over on BBC Good Food.  It was totally awesome, very easy and completely delicious.
Here are a few notes from my experience with this recipe:
I used Kalamata olives, which are technically purple rather than black, but mannnn, they were amazing in this.
I used curly parsley and it was perfect.  What is the difference between curly and flat leaf parsley?
On the site, it suggests serving with spinach, and although this would be lovely, it was totally a meal in itself, with the added bonus of only having three items to wash-up.  This means a lot to me. Hate cleaning up.  Of any kind.
I've realsed that I really like a lot of Barney Desmazery's recipes on BGF – they're usually for totally unpretentious and simple food, my total favourite. Have a look through them for yourself!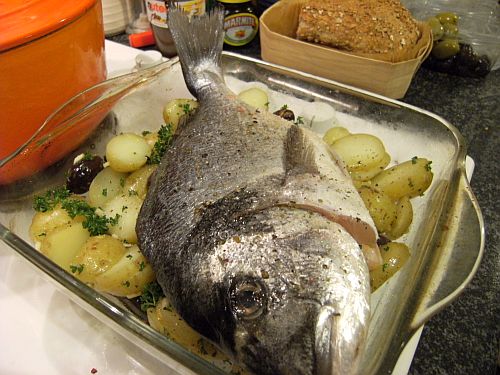 Uncooked fish on partially cooked potatoes.  That fish does not look happy.
I feel like I'm cheating at food blogging linking to other sites but, for realz, I'm not at the stage to be making up recipes, and if I shared some of my own creations, this would not bode well for your tums, seriously.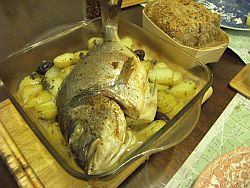 *TUNE!
I mentioned we went out to a gig after dinner tonight.  Twas to Yeasayer in The Academy and it were brill! Follow the link to their track O.N.E. on Hype Machine.
Categories: Dinner Tags: Roast Bream