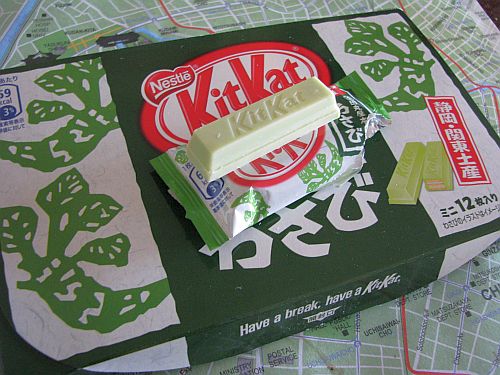 A few months back, a friend of Niall's told him about the Jen Ken's Kit Kat Blog, wherein all of the various mental flavours of Japanese Kit Kats are documented and critiqued by Jen, an American living in Japan.
My sister, who lives in San Francisco, was working in Japan a week or two ago and I sent her a link to the blog to make sure she was fully aware of the Kit Kat possibilities.
And guess what arrived at my doorstep today from herself?
A box of Wasabi Kit Kat bars!!
What the WHAT?!?
They have a fabulously light-green hue, and taste curiously of English Mustard.  I'm not quite sure how I feel about them yet, but the novelty is certainly going to take a while to wear off.
Kakkoi!
Categories: Blog Trips Tags: Wasabi Kit Kat bars