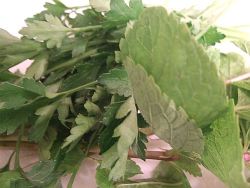 Oh haiii parsley, mint and bulgar wheat!!
That's it.  The good times are over.  Well, temporarily anyway.  We've decided to go on a bit of a loose detox for the next two weeks.  I noticed that the last few posts on the blog have been thoroughly unhealthy and indulgent.  I'm planning on having a Guilty Pleasures Party in two weeks, an idea I got from this blog over here.  Expect more details of that to come!
I thought it would be a good idea to get a bit of a health fix for a couple of weeks leading up to the Guilty Pleasures.  My own mini Lent, if you will.  So we're going to stay off the booze and do our best to get six, if not five a day, and be generally zen-like and healthy and clear-headed.  Hopefully we'll be able to keep it up beyond three days.
I decided to make a kind of tabouleh.  Tabouleh is a delicious salad which is believed to have originated in Lebanon.  My parents are both teachers and I spent most of my childhood in Jeddah, Saudia Arabia, where we enjoyed a lot of Lebanese-influenced types of food.  My love of hummus started at a very early age, indeed.
The following recipe is finally one that I don't have to link to BBC Good Food for!  This isn't exactly tabouleh but is based loosely on a recipe my Mum uses.  Feel free to tweak this as you see fit.
Aoife Mc's Tabouleh…Kinda for around four people
150g bulgar wheat
300ml vegetable stock
a handful of mint, finely chopped
an even bigger handful of parsely, finely chopped
2 large delicious tomatoes, finely chopped (I used cherry tomatoes quartered this time but regular ones are probably better)
1/2 a cucumber, quartered
juice of 1/2 a lemon
splash of olive oil
salt and pepper
Traditional Tabouleh recipes would have a lot of the fresh herbs and no cucumber and perhaps some scallions thrown in as well.  Obviously it's open to interpretation and I felt like having more bulgar wheat in my salad.
Put the bulgar wheat in a bowl and pour over the boiling hot stock.  You may not need all of the stock.  What I did was put in about 200ml to start and let it sit for a good fifteen minutes.  Then, after a bit of a stir and fluffing with the fork, I poured in the other 100ml and let it sit for another 15 minutes.  In truth, that extra 15 minutes was accidental – I got distracted!  But it worked anyway, the bulgar wheat was lovely and softened.  You can decide yourself what kind of texture you want for your bulgar wheat – I was quite happy with the results of the long soaking, I have to say.  On packets it usually only advises you to soak it for five or ten minutes, but I would suggest longer.  But do experiment for yourselves and find out what you like best.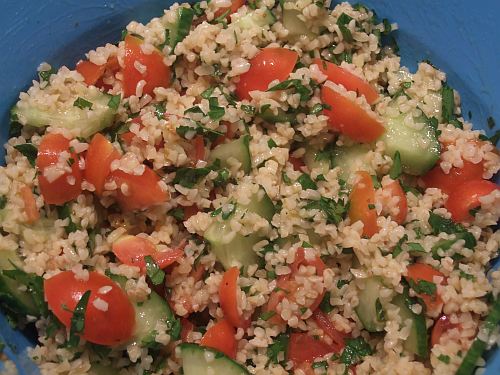 While the bulgar wheat is soaking up the stock, chop up all your herbs and your tomatoes and cucumber.  When the bulgar wheat is ready, throw everything into the bowl along with the lemon juice and a splash of olive oil, if you like.  Season and stir.
You can serve this as a side salad – especially if you're having falafels, yum! – or you can have it as a salad on its own.  We had some Ryvitta and Hummus on the side.  It was a good start to our health kick.  A very refreshing and bright salad which manages to avoid making the prospect of being healthy /shedding a few pounds feel as miserable as waiting for the 75 bus in the pissing rain on your way to the local Dole office.  Huzzah!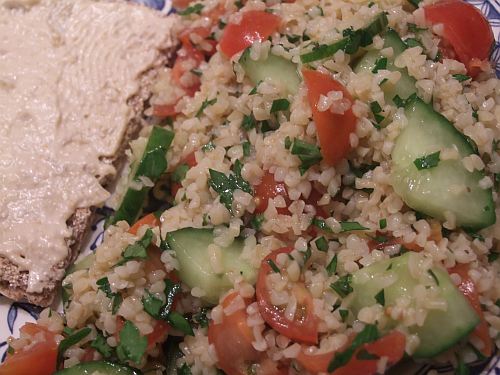 MP3
While preparing the salad, I was listening to Beck's 2008 album Modern Guilt, which kind of passed me by last year but is proving to be a late bloomer.  It's quite good.  Nowhere near the magic of Sea Change, but that is one of my top three favourite albums of all time so…  This is a fairly funky track called Youthless.  I still can't believe Beck's a Scientologist!  Sort it out, Hansen!
Beck – Youthless (Modern Guilt)
Categories: Dinner, Lunch Tags: Let's get healthy