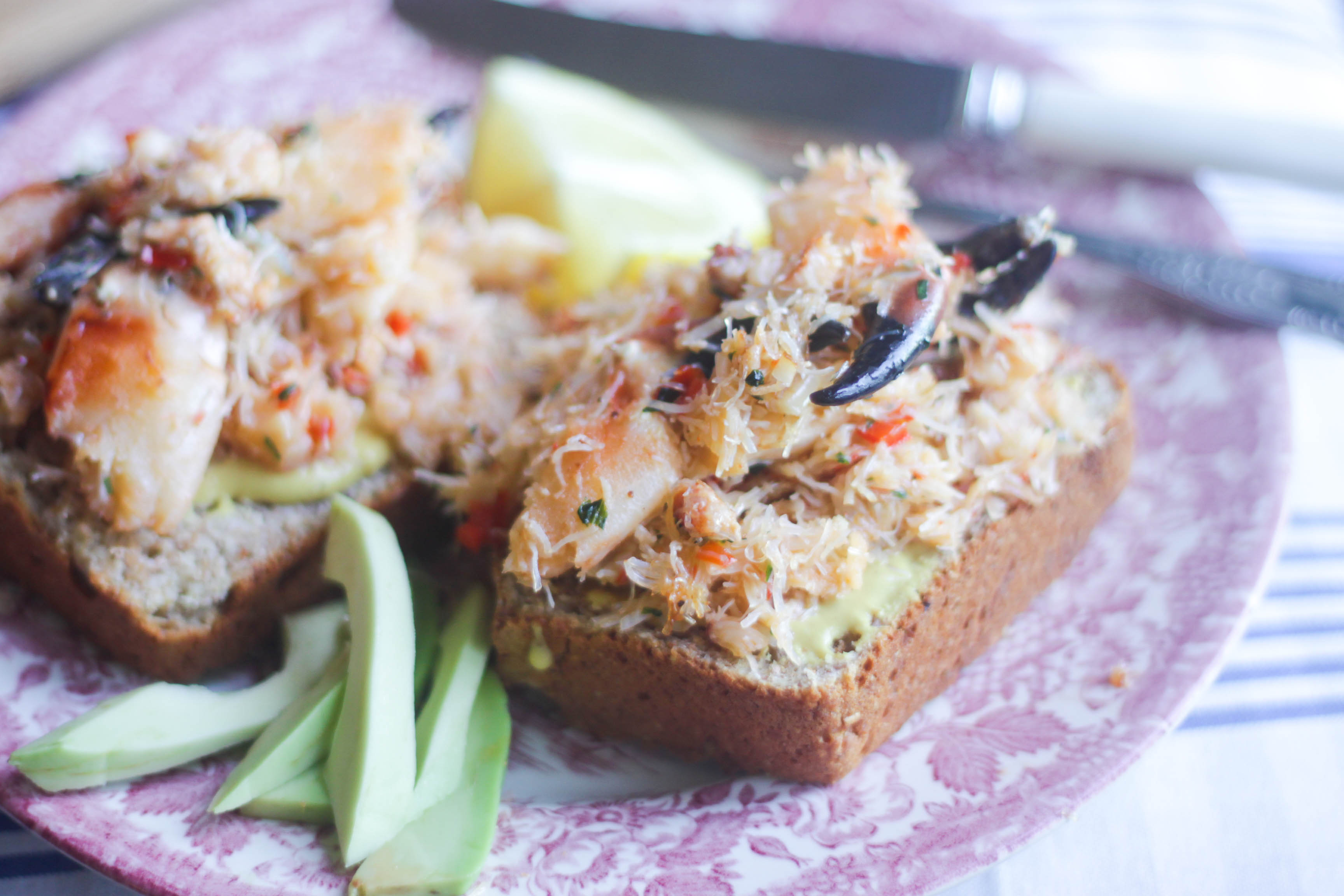 This year in Ireland, we seem to have gotten our autumn in November. Usually October here is full of blue skies and chilly days spent wrapped up in scarves while the leaves change colours in the trees. It's lovely, and has always been my favourite time of year here.
2011, however, has had ideas of its own. October was a rather wet month while this November (with some exceptions) has generally been beautifully mild with a few of those chilly, sunny days scattered about.
(Can't believe I'm talking about the weather. I think I have a point. Bear with me.)
I've decided this is actually a brilliant thing. Long has November been maligned as the worst bloody month of the year. After January, obvs. It's that crappy month between the fun of October and the jolliness of Chrimbo, where you're on a detox and aren't spending any money. So having the weather on its side this year really has a lot to be said for it.
Today was a great day for crab meat. It was beautifully sunny outside but with a nip in the air. Enough of a nip to dust off my favourite bobbly hat and let it stretch its threads upon my crown, having spent a few months at the back of a drawer. After an afternoon walk in the autumn sun, I came home and whipped up a light supper of sweet crab on toast. Which turned out to be super fast and satisfyingly filling.
I received a lovely parcel of brown crab meat and brown crab toes courtesy of Yawl Bay Seafood. They claim this crab meat is special because it retains its freshness even after two weeks in their packets. They're not joking around. I got the parcel on Friday but it was only until today that I got round to cooking with it and it was still deliciously sweet and fresh.
It's essential that you get good quality and the freshest of the fresh crab meat for this recipe. If you're in Dublin, head over to Kish Fish near Smithfield. Or if you can get your hands on some Yawl Bay Seafood crab meat, that'd be ideal. It's lovely stuff.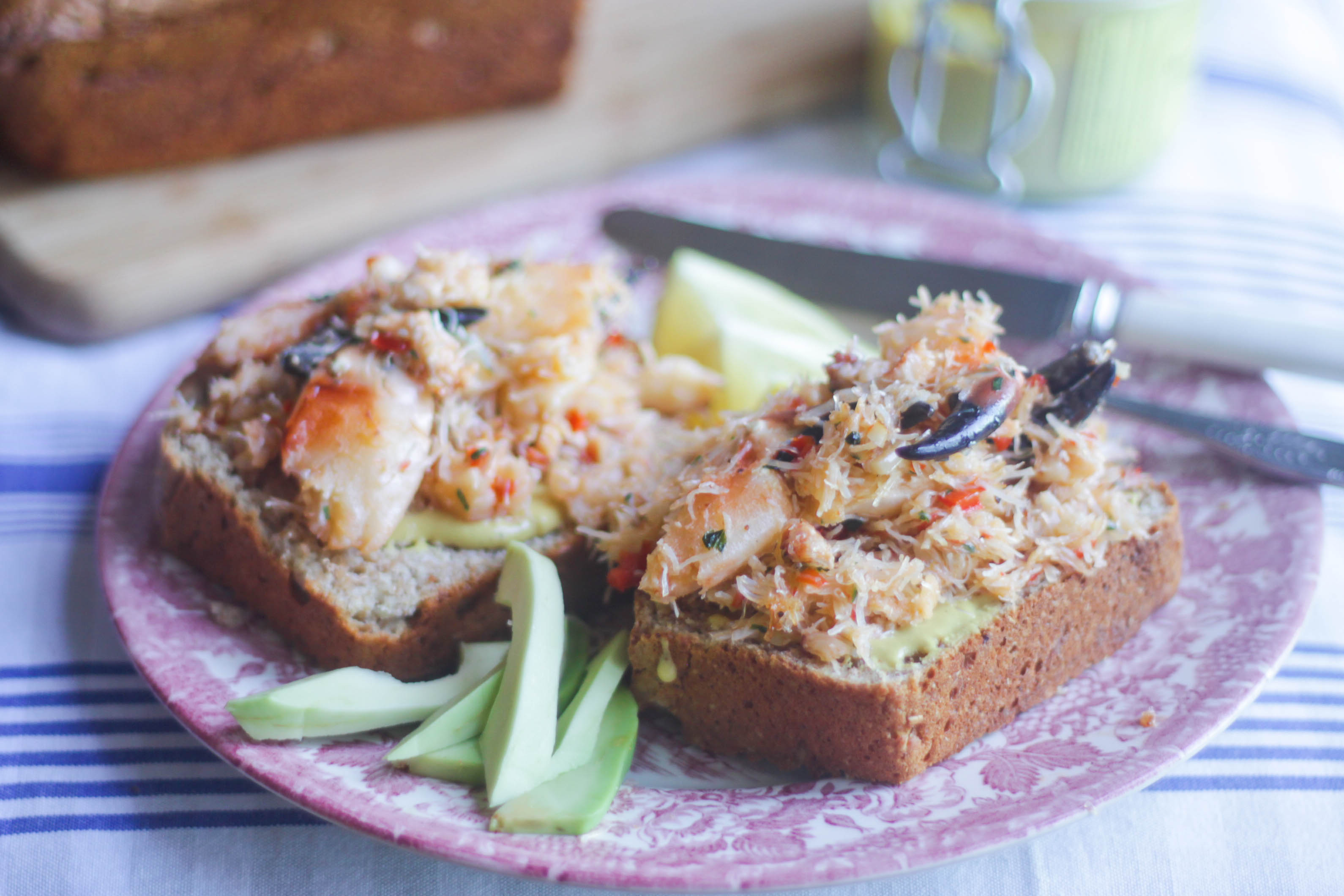 What you need for Sweet Crab Meat on Toast for 2
A generous tablespoon of butter, and then some
2 cloves of garlic
1 red chilli
100g of fresh brown crab meat 
100g of fresh brown crab toes (if you can't find these, just use another 100g of fresh crab meat instead)
A lemon
Salt
Pepper
A few fresh basil leaves
Homemade brown bread or lovely shop bought bread of your choice
Dijon mustard
A ripe avocado 
Start by heating a large frying pan over a medium to high heat. Add the tablespoon of butter to the pan.
As the butter is melting, finely chop your garlic cloves. De-seed and finely chop the chilli.
When the butter has melted and is starting to bubble, add the garlic and chilli to the pan. Cook for one to two minutes.
Now you can add the crab meat (and toes if you have them!) to the pan. Break up the crab meat with a wooden spoon. If you think the mix needs a bit more butter, add another teaspoon or so.
Mix everything well so the garlic and chilli coat the crab meat. Add a squeeze of lemon juice, and a good pinch of salt and pepper. Cook for three minutes.
Finely chop the fresh basil leaves and add to the crab mix. You want about a tablespoon of chopped basil. Cook for another one or two minutes, until the crab meat is warmed through.
Meanwhile, toast four slices of bread. Spread a little bit of Dijon mustard on each side. Go easy as you don't want to overpower the lovely crab. Divide the toast between two plates.
Now you can top each slice of bread with a spoonful of crab meat, being careful to divide the crab toes (if using!) equally among the two plates. You don't want to start a row over who got more crab toes.
Slice your avocado and place them on top of the crab, or on the side of the plate. You might want to leave them on the side so that the full beauty of the crab is on display.
Serve with a slice of lemon on the side. Lush!
P.S. Does anyone else feel uncomfortable saying "crab toes"? Are they the same as crab claws or are crab claws much bigger?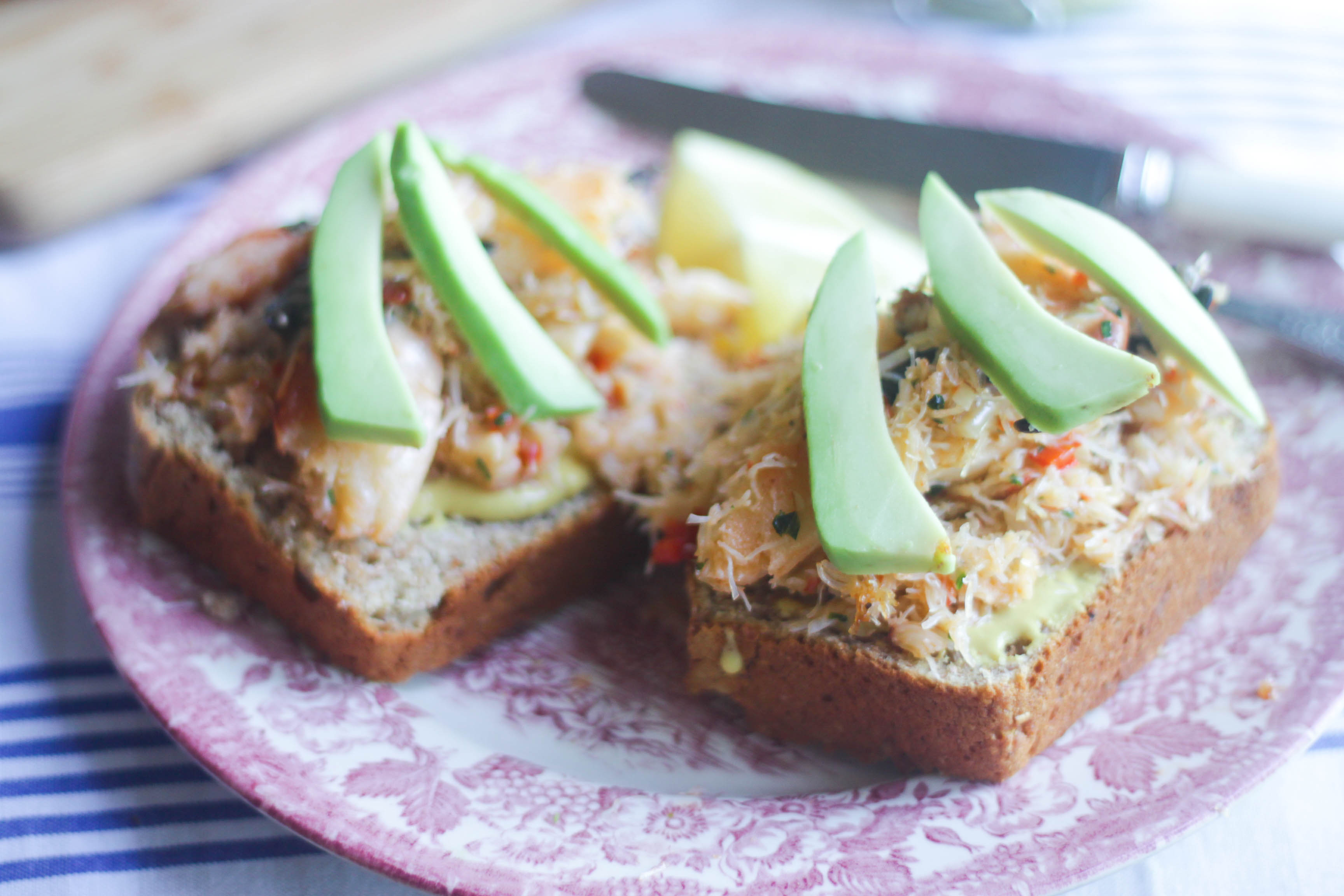 KITCHEN TUNE
My buddy Alan who writes the brilliant Bitzl R music blog recommended Newcastle upon Tyne artist Beth Jean Houghton to me this morning. It turned out to be a perfect antidote for Tuesday Drama. Have a listen to her track Dodecahedron below.
Categories: Dinner, Lunch Tags: Snappy Suppers