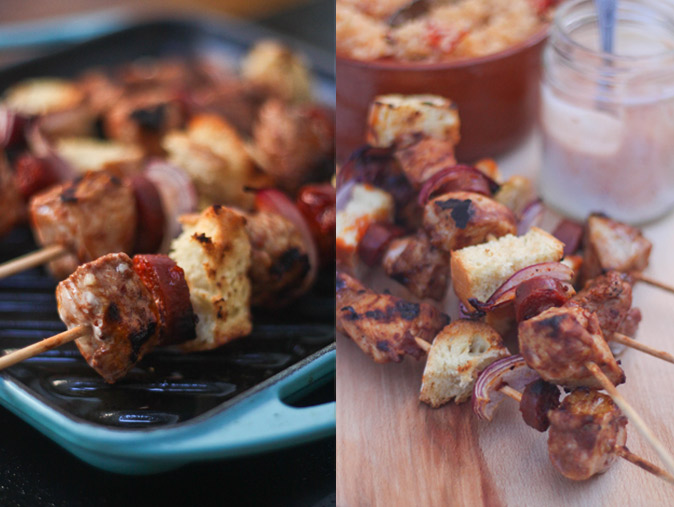 I did kind of a silly thing. Myself and Niall made these super delicious (if we do say so ourselves) chipotle marinated pork kebabs wayyyyyy back in April when we had that great spell of weather here in Dublin. I can feel the warmth at the back of my neck now as I recall us having our first meal in our back garden, sipping a cool beer and enjoying our (indoor) BBQ'ed kebabs. It was quite something.
But, then, the weather turned on us. It hasn't been all bad this summer but we haven't quite had the run of good weather that we had back in those glorious two weeks. Or was it even two weeks? It was probably only three days all together. Since then, we've had a spattering of stunning summer days, all book-ended by the usual misery of the much-maligned Irish summer.
Anyway. I thought I'd hold off on the pork kebab recipe until the weather perked up again. But, I see now, in late August, my folly in thinking there would be any time better than the present for a summery recipe. And, so, without further ado, here is myself and Niall's recipe for Summer Chipotle Pork Kebabs. Just in time for Autumn.
We cheated and used a Chipotle paste that we got in Marks & Spencers way back in April but you could make a similar marinade with freshly chopped chillis, paprika, olive oil, garlic and salt and pepper. Feel free to experiement!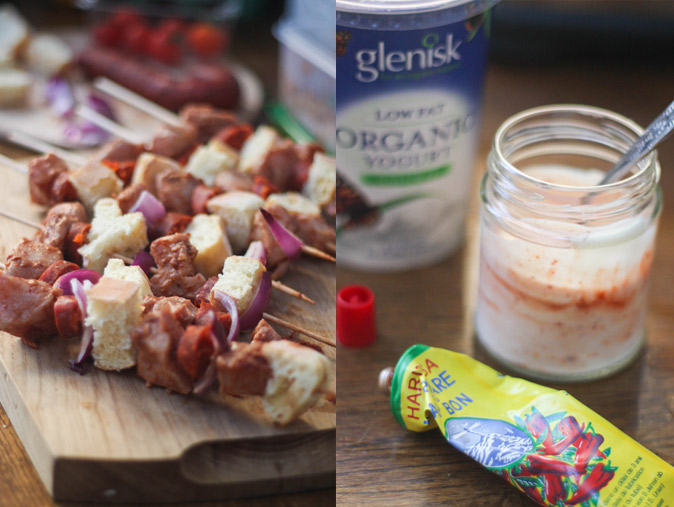 Summer Pork Kebabs for Two (easily doubled)
1 generous tablespoon of chipotle paste 
Olive Oil
250g of pork tenderloin, chopped into chunks
Some stale white bread, cut into cubes
1 red onion, cut into chunky slices
100g of chorizo, sliced (about 2cm thick should do it)
Mix the chipotle paste and a good glug of olive oil together in a large bowl or tupperware. Add the pork chunks, cover and let them marinate in the fridge for a few hours at least. Overnight would be good too. But, then, how can you plan for the weather that far in advance? This isn't Spain, you know. *tsk!*
Heat a little oil on your griddle pan (or, if you're feeling mad, light up your BBQ) over a medium to high heat. If you're using wooden skewers, soak them in a little water so they won't burn when cooking.
Assemble your kebabs by adding a pork chunk, a slice of chorizo, a slice of onion a cube of bread to the skewer, repeating however many times you like. Cook your kebabs on the hot griddle pan for eight to ten minutes, turning every once in a while, until your pork and vegetables are lovely and blackened and cooked through. If you're making a good load of kebabs, pre-heat your oven so you can keep the cooked kebabs warm in the oven.
We served this with some simple tomato couscous, a green salad and some harissa yoghurt (natural yoghurt with half a teaspoon of hariss paste mixed in). The most desirable accompaniment is, of course, the sunshine. Let's hope we get another great spell before we reach October. I have high hopes for you, September!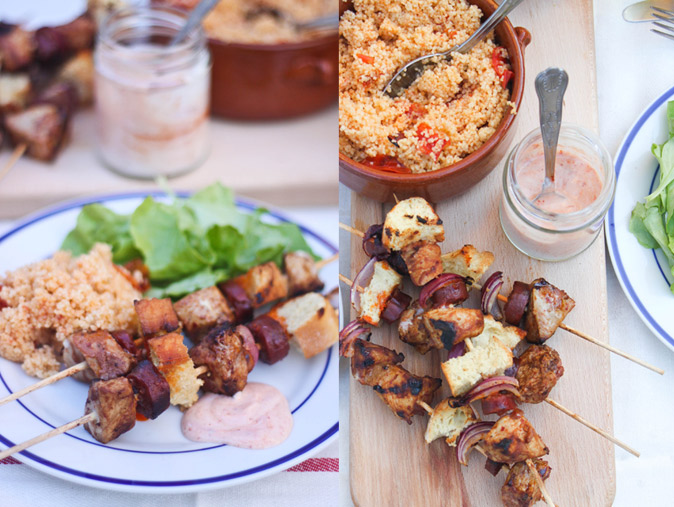 Categories: Dinner