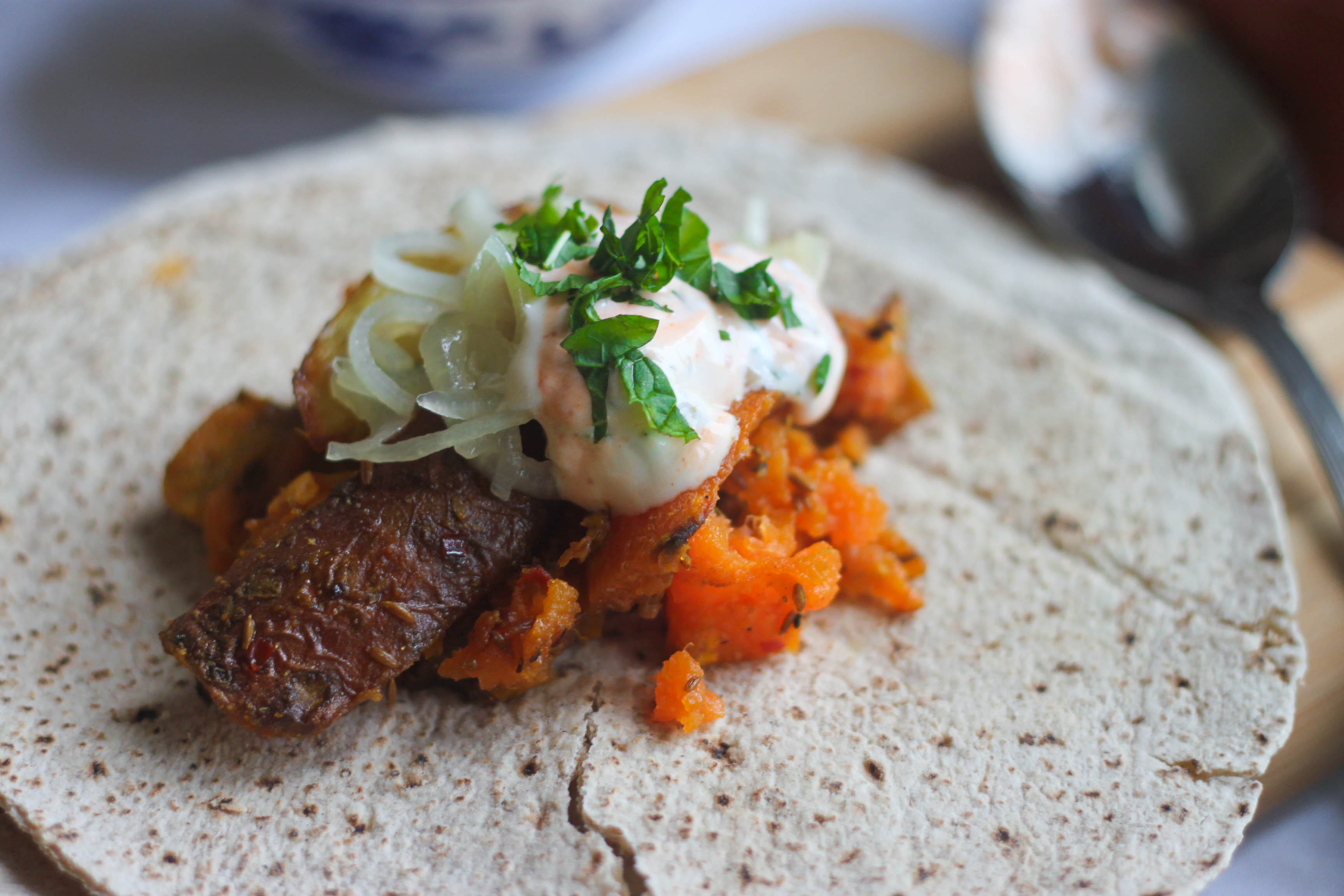 Baking will most probably be forever shrouded in a mystical cloak of reverence for me. As I've gotten more confident with cooking, however, I find myself less amazed when something actually works for me. Don't get me wrong. I'm still thoroughly and completely pleased with my achievements. But the same wide-eyed wonderment that I haven't had a kitchen disaster has, thankfully, been cooked out of me.
In saying that, what still really fills me with glee is when I find a recipe that is so stupendously simple to put together, yet returns so much when put upon the plate. This recipe for Spiced Indian Potato Wraps was one of those recipes. I tweaked it a bit, and added Niall's famous Harissa and Mint Yoghurt Sauce, and ba-da-bing ba-da-boom, I had a flipping gorgeous Wednesday night dinner. And it was totally vegetarian.
Boy, did I feel smug.
Seriously, though. The method of cooking these sweet potatoes is a total winner. It's basically a posh and healthy curry chips recipe. Absolutely gorgeous.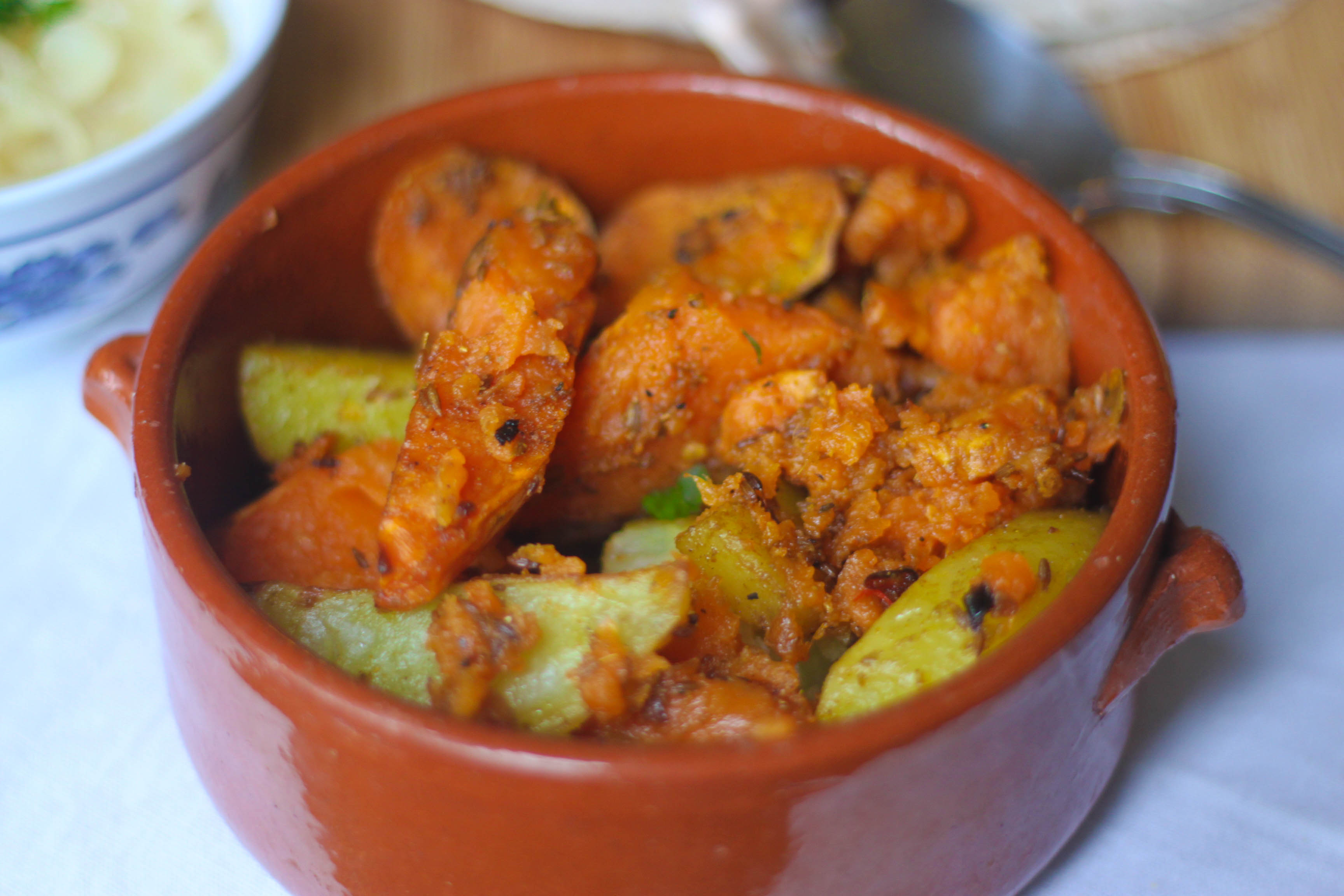 Another good find in this recipe is the lime and sugar onions, a brilliant little method to add to your kitchen repertoire.
I adapted the original recipe by adding some regular potatoes. Although I think sweet potatoes are totally bad ass, I find too much of them overpoweringly sweet. I also added Niall's Harissa and Mint Yoghurt Sauce, which finished the whole thing off with a cleverly delicious bang.
What you need for Spiced Potato Chapatis for 2 lucky so and sos
1 large sweet potato, scrubbed and cut into wedges (I leave the skin on because I think it's delicious but by all means peel them if you prefer)
1 large regular potato – or 2 smaller ones – scrubbed and cut into wedges (again, the same goes for the skin as with the sweet potatoes)
1 red chili, finely chopped
2 teaspoon of cumin seeds
2 tablespoons of mild curry powder (or 1 tablespoon of hot curry powder or garam masala powder)
2 tablespoons of olive oil
1 red or white onion, thinly sliced into half-moon shapes
Juice of 1 lime
2 tablespoons of sugar
4 to 6 chapatis (I got mine in the Asian Food Company on Mary's Street)
150ml of natural yoghurt
1 bunch of mint leaves, finely chopped
1 tablespoon of harissa paste
Heat your oven to 200 C /180 C fan / Gas Mark 6.
Put your chopped potato wedges in a large roasting dish. Sprinkle with chili, cumin seeds, curry powder and cover with the olive oil. Mix really well until all of the spices are evenly coated on the potatoes. Season really well with salt and pepper and mix again. Roast in the oven for 30 to 35 minutes, until golden brown and smelling amazing.
Meanwhile, make the sugar-lime onions. Fry the onions in a frying pan with a little oil until just softened. This will take about 5 minutes on a low heat. You don't want them to brown really, just to go translucent. Now add the lime juice and the sugar. Turn off the heat straight away and allow the onions to sit in the pan on the hob while it cools down. You don't even need to worry about it now until it's time to serve up.
When the potatoes are nearly ready, mix the yoghurt with the chopped mint and harissa paste in a little bowl.
Pop the chapatis in the oven for the last few minutes of cooking to warm them up.
Serve the warm chapatis with a dollop of the spicy potatoes, a spoonful of the onions, a dollop of harissa and mint Yoghurt and a sprinkling of mint. Lovely washed down with some ginger beer.
Or an actual real beer. Naughty!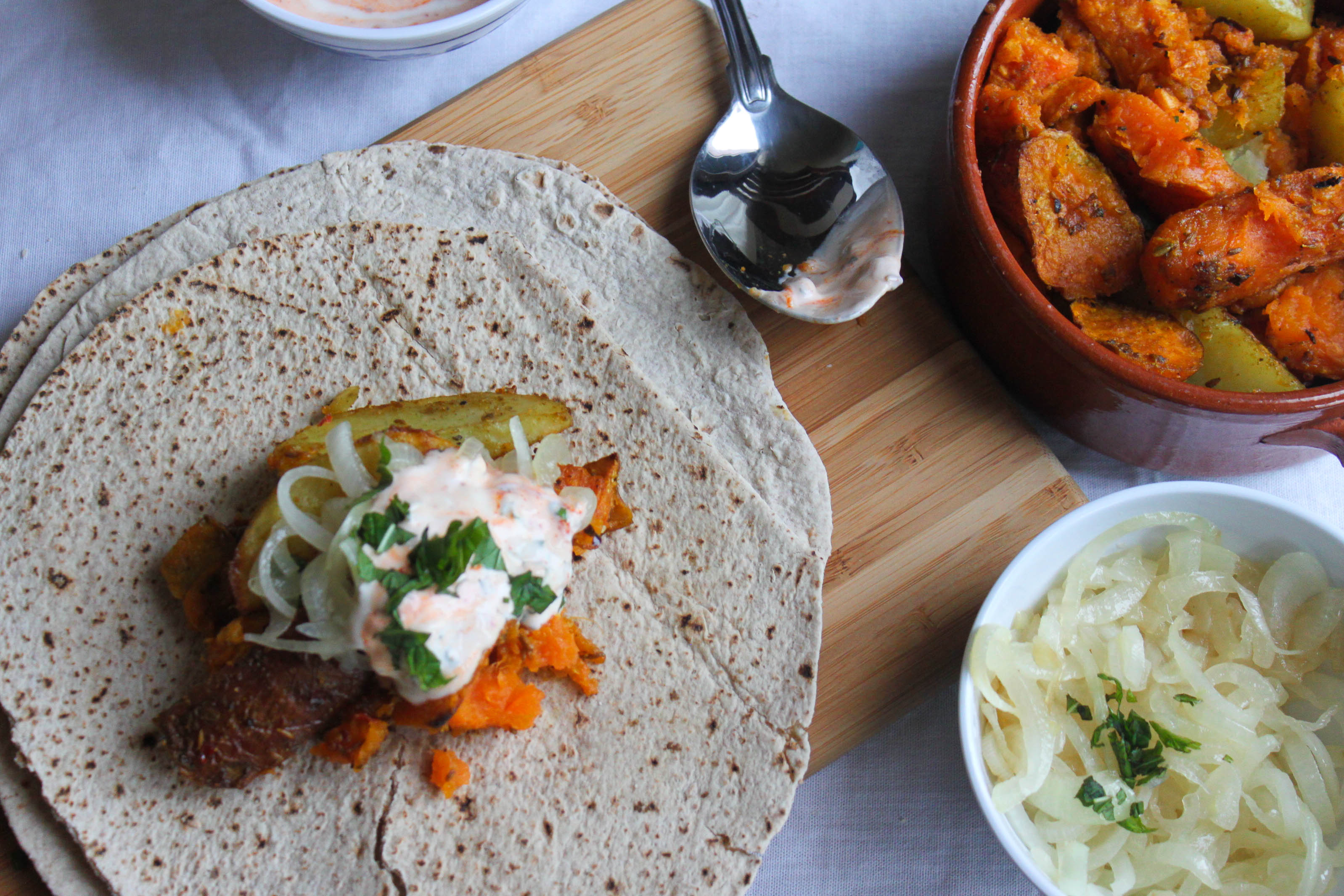 TUNE
It's Electric Picnic time so have a listen to Niall's EP Mixtapes to get you in the mood. Always a winner.
Categories: Dinner