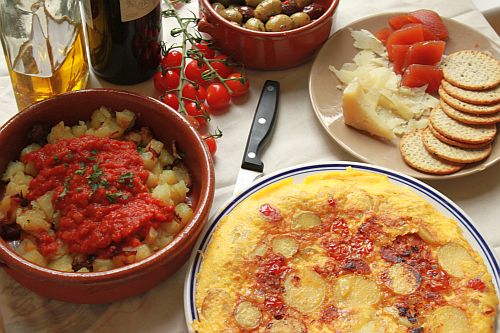 I, with my insightful knowledge of football and the great game, *ahem*, had forecasted that Germany would be in this year's World Cup Final alongside Holland.  I have a World Cup Final meal planned for Sunday before the final game.  My menu before tonight's last semi-final game had two courses confirmed:  Bobotie from South Africa for the main and a Dutch Boterkoek for dessert.
I was quite convinced that my starter was going to be indeed a German dish – perhaps a Spätzle or some kind of savoury Strudel.  Of course, I did think this would be a culinary shame as Spanish food is so awesome.  And so, I decided for this semi-final to make a special Spanish meal.  Little did I know that this would be a practice run for a starter on Sunday.  Poor auld Germany.  They played so well.  Only not in this particular semi-final.  Das gesicht traurig
What you need for a large Cherry Tomato and Chorizo Tortilla for a crowd
This amount could serve six for a good sized dinner and twice as many for a starter.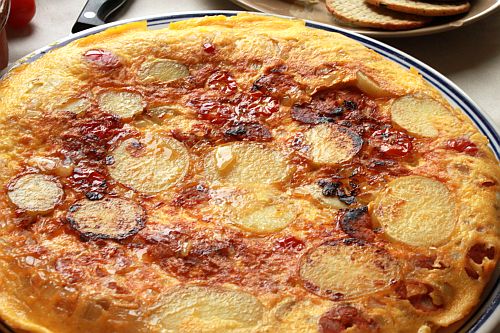 A good handful of nice cherry tomatoes
About 100g of Chorizo – I used the Cork produced Gubbeen Chorizo upon recommendation.  I'd heard it was a bit strong so I held back on over-using it.  It added an amaznigly subtle spiciness to this Tortilla.  Total win.
350g of new potatoes, peeled (if you can be arsed) and sliced quite thinly, about half a centimetre

6 free range eggs
1 onion, chopped
85g of mature cheddar cheese, grated

Olive Oil
Salt and Pepper
In fact, the first two ingredients above (cherry toms and chorizo) are just extras I added to the basic tortilla recipe.  You can add whatever you think would taste amazoballs and just improvise the below recipe to suit.
Start by heating your oil over a medium heat in a large-ish frying pan.  Add your potatoes and cook for a minute or two.  Add your onions now.  Fry for around 5 to 8 minutes, moving everything around from time to time to avoid sticking.  Once they're on their way, you can add your cherry tomatoes and chorizo.  Keep cooking for another 3 minutes, making sure to stir so everything gets coated in that lovely oil the Chorizo releases.
Meanwhile, beat your eggs in a large bowl, season generously with salt and pepper.  Add your grated cheese to the eggs and mix well.
At this point, check one of your potatoes by grabbing one – without burning your fingers – and giving it a munch.  If it's tender, you're on your way.
At this point, you can either remove everything from the pan and mix it into your cheesy eggs bowl.  Or, like me, you can just evenly pour the egg mixture over the pan.  Mixing it in the bowl will stop the bottom bits of the potatoes etc burning, so it's a good idea.  I just forgot.
Over a gentle heat, let your tortilla cook for 8 to 10 minutes, until the bottom has set but the top is still uncooked.  Get a large plate, ideally bigger or the same size as your frying pan.  Flip the tortilla onto your plate, careful mind!  Now you can very gingerly slide your tortilla back into the frying pan, cooked-side up, so you have an evenly cooked tortilla.
Give it another 5 minutes at least, closer to 8 again, and finally flip it back onto your serving plate.  Let it cool slightly before cutting it into however many segments you wish.
You can eat it straight away hot or let it cool and eat it as late as for lunch the following day.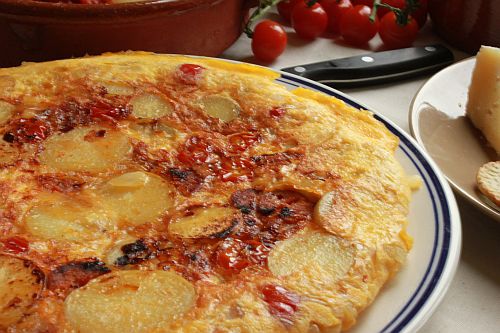 I straight up used this Mary Cadogan recipe for the Patatas Bravas, followed it to the T and it worked out well.  Although, I forgot to pat dry the potatoes before going in to roast and this perhaps led to them falling apart a bit.  Perhaps a few minutes par-boiling could help them stay into nice chunks?  They still tasted great, especially the sauce, which I whizzed up in a blender, keeping it still slightly chunky.
I also got some gorgeous Quince and Manchego Cheese from Fallon & Byrne plus some nice M&S crackers to nibble on pre-dinner.  Will probably do the same on Sunday for my World Cup Final Meal.
I'm absolutely set on Bobotie for my main course but do you have any suggestions for a Spanish starter, or more importantly (as I'm lost for inspiration) a Dutch dessert?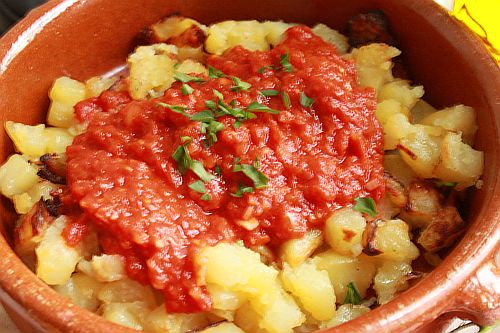 TUNE
A good tune from Basque born but Barcelona based band Delorean, in keeping with the Spanish victory.  Love their name.
Stay Close by Delorean on The Hype Machine
Categories: Dinner