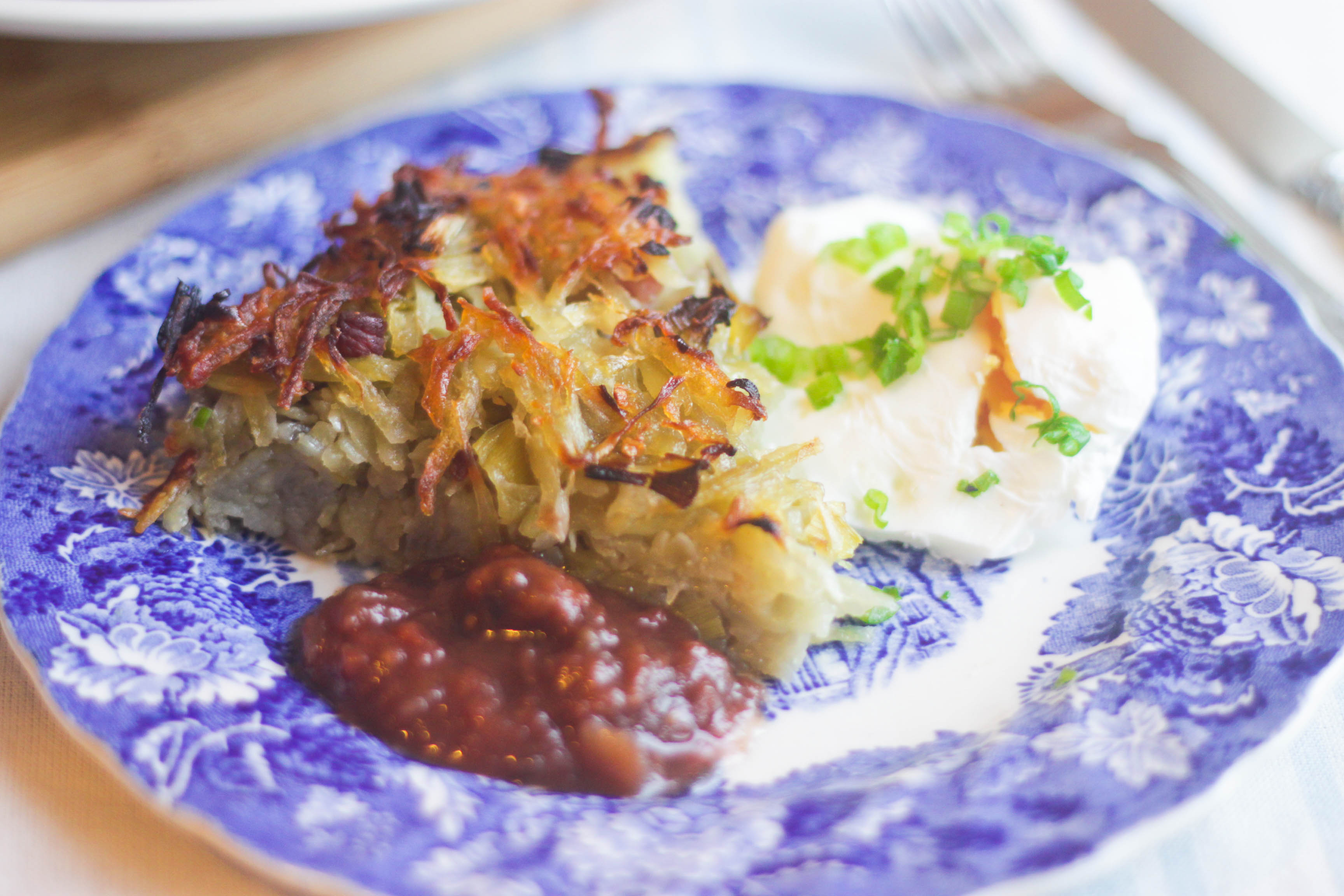 Potato-based cakes and I have a bit of a chequered history. No matter how much advice kindly bestowed upon me by The Daily Spud, my potato cakes never quite stick together.
So it was with some trepidation that I approached this recipe for a Potato Rosti Cake. I erred on the side of caution throughout the whole cooking process and, happily, it was a rosti-good success!
We had this as part of Sunday brunch, with a simple poached egg and some Scullery tomato relish on the side. It would be great with some herby fried wild mushrooms or with some smoked salmon and creamy cheese. Do you think it would work as a side for a lovely curry?
As Catherine would say, rostinomz!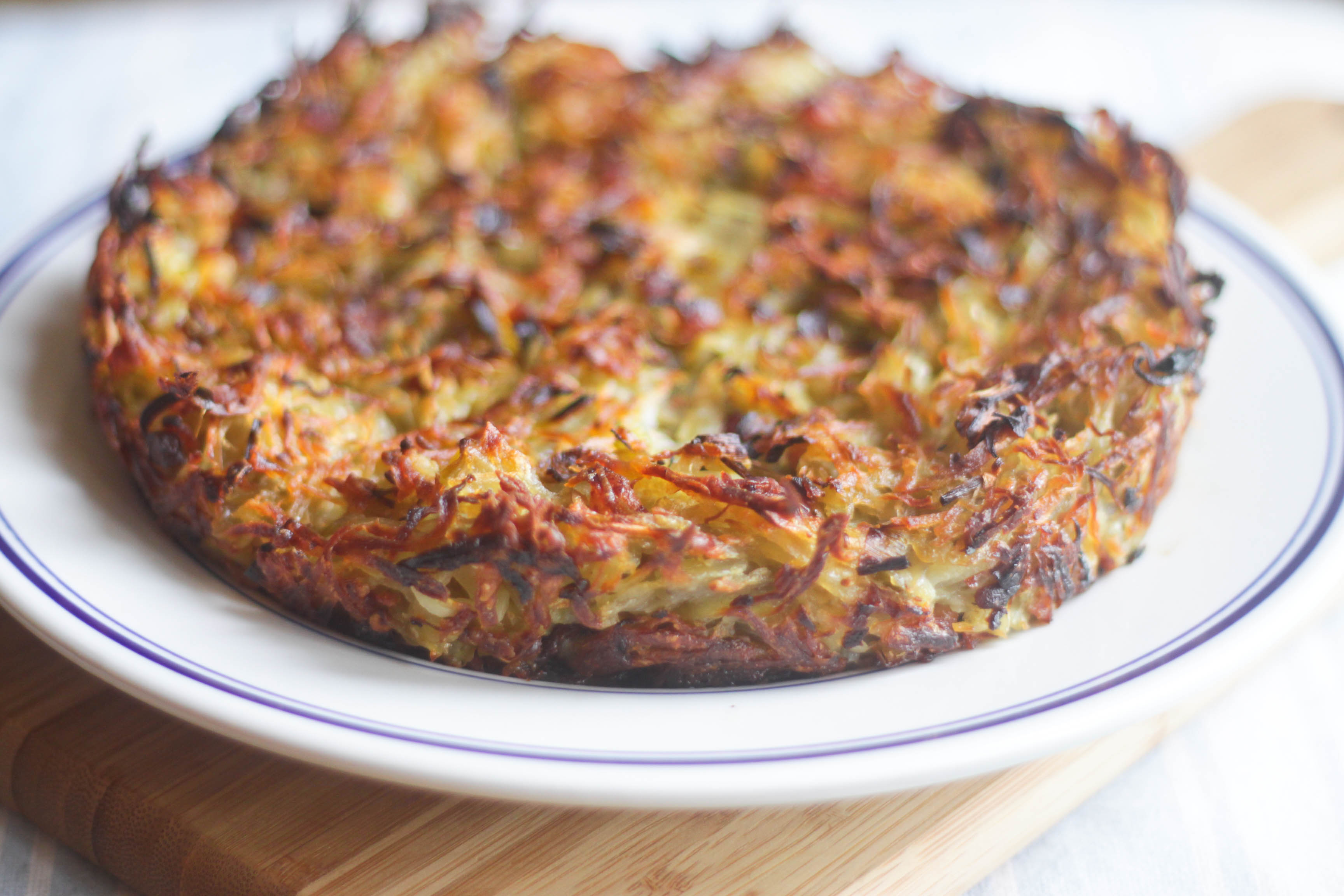 I think where I've failed before in making potato cakes is not using the right type of potatoes. Maris Piper potatoes are suggested for these rosti cakes, as they're not too waxy and not too floury. So if you look for a similar potato-style (somewhere between floury and waxy), that will be the first step in the right direction.
The other thing you need to do, especially when grating potatoes for a cake, is to get the excess moisture away from the potatoes. This is achieved by squeezing the bejeesus out of the potatoes, either just over the sink using your hands or with kitchen towel.
The last thing I did to ensure this beauty of an over-sized potato cake didn't fall apart was I let it cool in the springform tin before removing it. This means that you don't have a piping hot rosti on your plate but it did make sure it kept its shape.
But, as my friend Lucy T suggested over on Instagram, if it falls apart, just fry it for a bit more in a frying pan and top it with an egg and call it a hash
I added some leeks to the original recipe. In future, I will do the same but I will set aside some grated potato to put on the top of the rosti, as the leeks burnt very easily on top.
What you need for a Giant Potato Rosti Cake (adapted slightly from Emma Lewis)
Olive Oil
1kg of Maris Piper potatoes
1 leek
100g of streaky bacon or pancetta lardons 
1 small white onion
Salt 
Pepper
Butter
Pre-heat your oven to 190C/170C fan/Gas Mark 5.
Peel the potatoes. Cook them in a saucepan of boiling water over a high heat for 5 minutes.
Heat a drizzle of olive oil in a frying pan over a medium to high heat. Finely chop your leek and wash it really well. Now fry the leek and bacon in the hot frying pan for 5 minutes, stirring from time to time so nothing burns.
After they've had 5 minutes, remove the potatoes from the heat and put them in a bowl of really cold water.
When cold enough to handle, coarsely grate each potato into a bowl.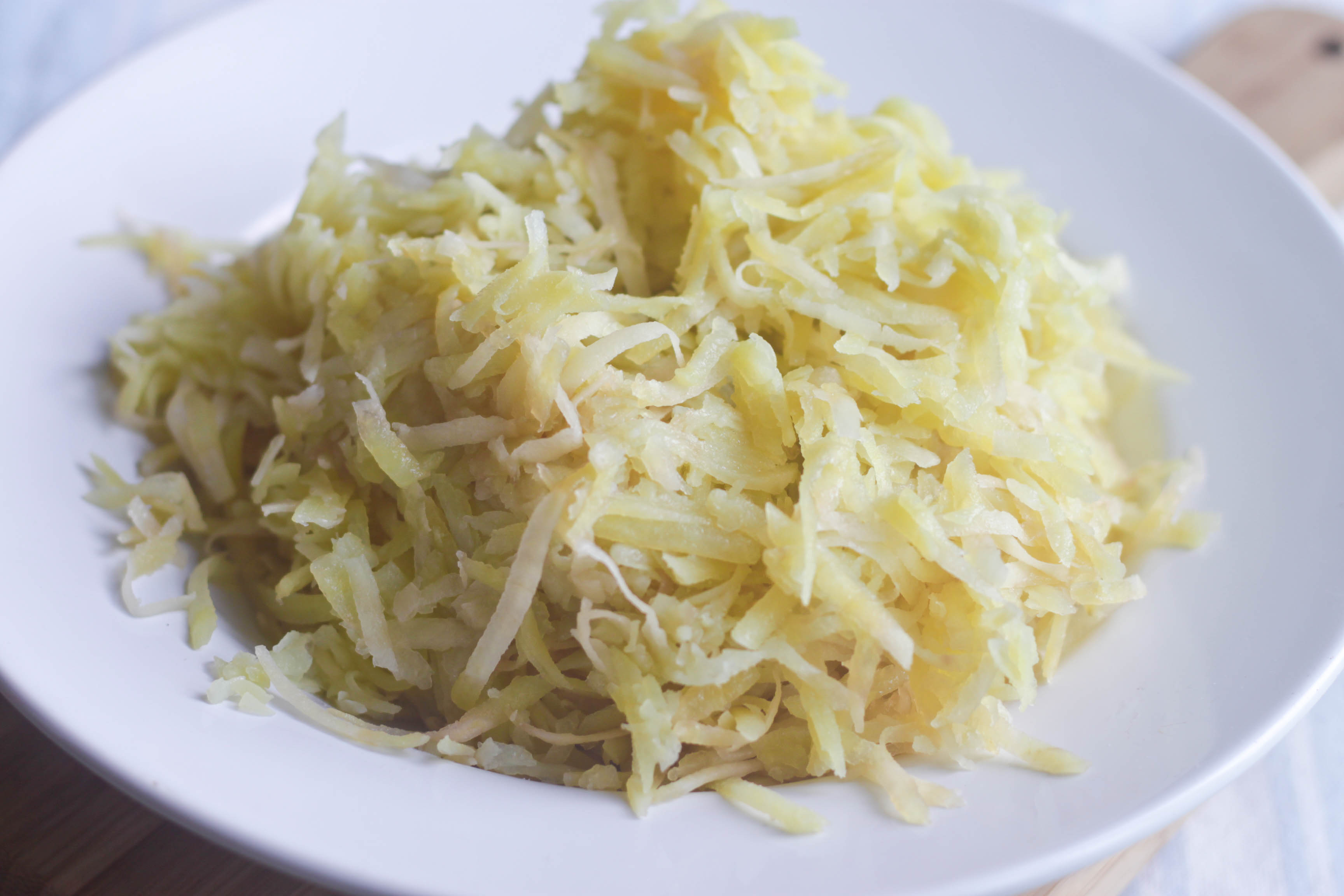 Put on the hot baking sheet and bake in the oven for 1 hour and 20 minutes, until the potatoes are cooked through and crispy on top.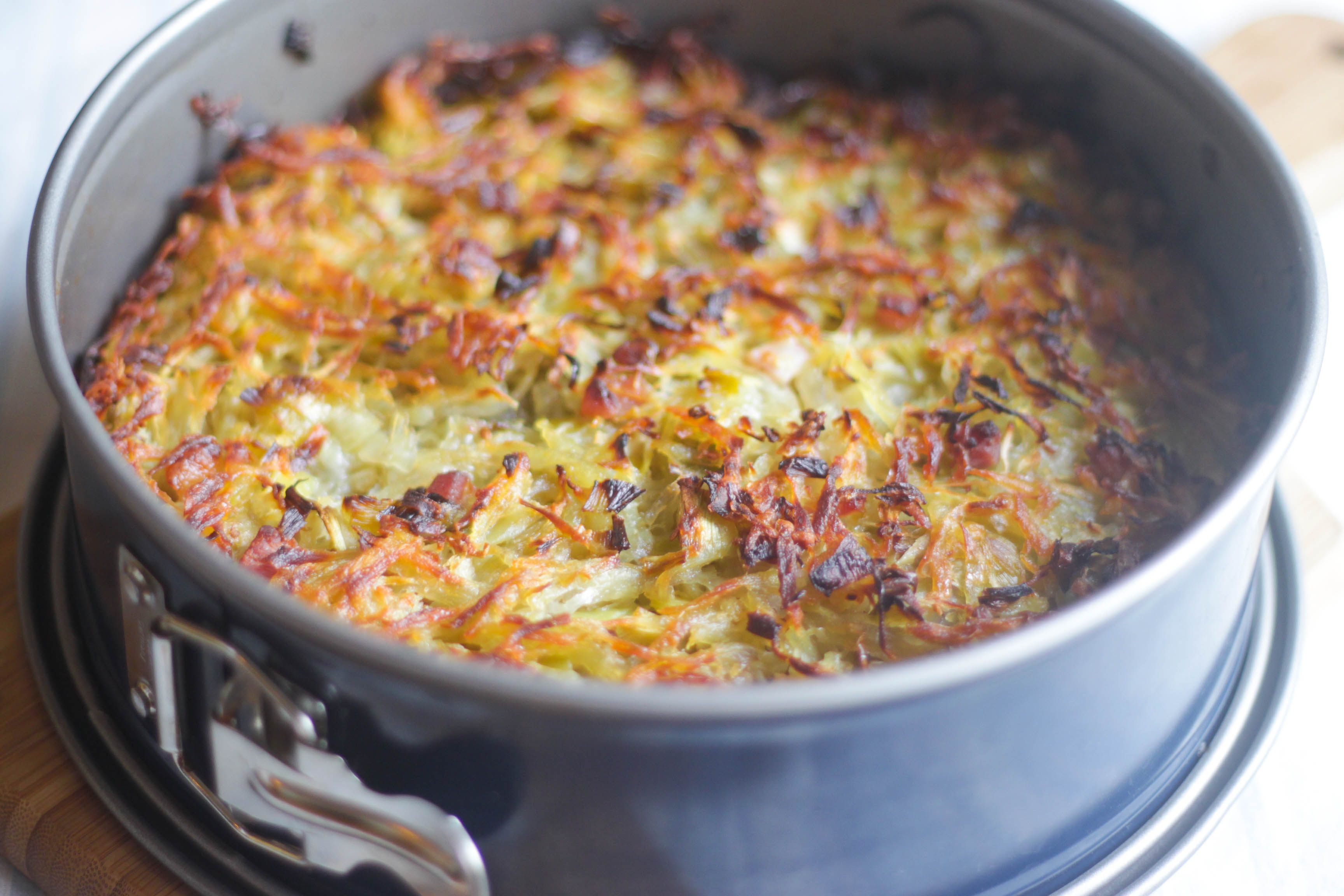 Now allow the rosti cake to cool until it's warm rather than hot. Carefully remove it from the cake tin (FYI cake tins with spring clips on them are brillo) and transfer to plate.
Top with a poached egg and serve with a side of tomato relish. Lush!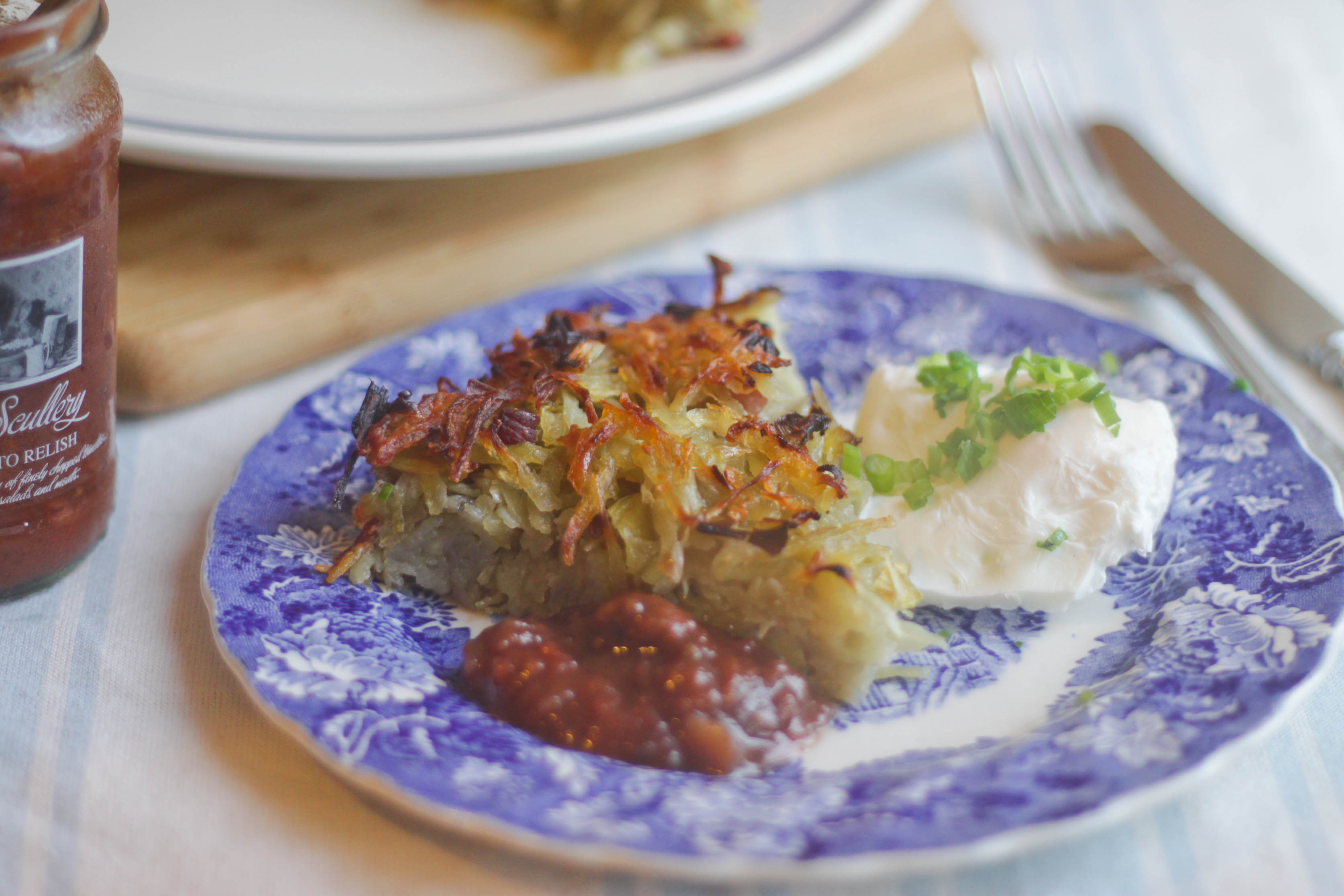 KITCHEN TUNE
Today's Kitchen Tune is from Dublin-based band Little Xs for Eyes who coined the phrase "Rosti Fantastico". Those clever, clever people.