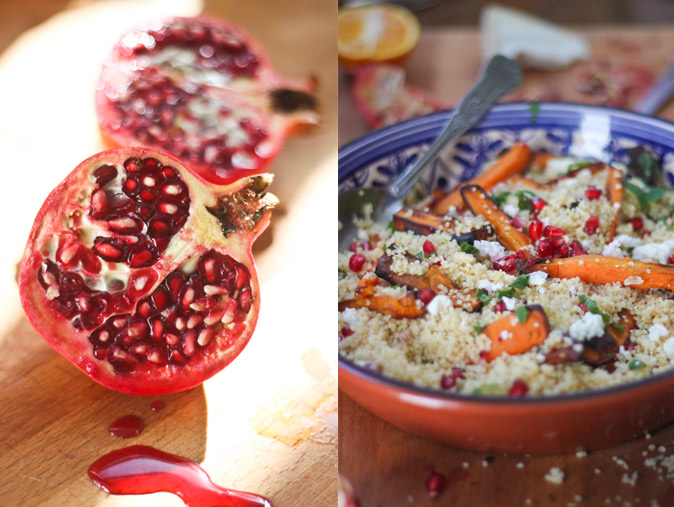 Pomegranate seeds are wonderful little things. Sure, they don't leave the cosy skin of a pomegranate easily and make a frightful mess upon doing so. They can be tricky to find too though I always find them in Fallon & Byrne, where I pay a hefty price for them.
But they are totes worth it. Add them to a plate of cauliflower roasted in spices and you've got a pomegranate party. Throw them in the blandest of couscous combos and you've got a bejewelled side dish with a satisfying little crunch. They're really quite something.
I saw the carrot/goat's cheese/pomegranate combination in a recipe that I've since lost the link for and figured it would make for a great couscous. Turns out it's a great side dish but also stands on its own as a meal in itself. Not least because of those little pods of pomegranate loveliness.
What you need for Roast Carrot and Pomegranate Couscous for 4 
3 to 4 large carrots
Olive Oil
Salt 
Pepper
1 tablespoon of cumin Seeds
300g couscous
300ml vegetable or chicken stock
1 orange
1 pomegranate
50g crumbly goat's cheese
1 handful of fresh mint leaves
Heat your oven to 200C/180C/Gas Mark 6. Peel your carrots and chop them in half and then into quarters. Put them in a roasting dish and drizzle with olive oil. Sprinkle with the salt, pepper and cumin seeds and mix well. Roast for 50 minutes until they are tender and starting to brown around the ages. Or you can *ahem* go for a walk in the park with your dog and completely forget about them so that they *ahem* caramelise, like mine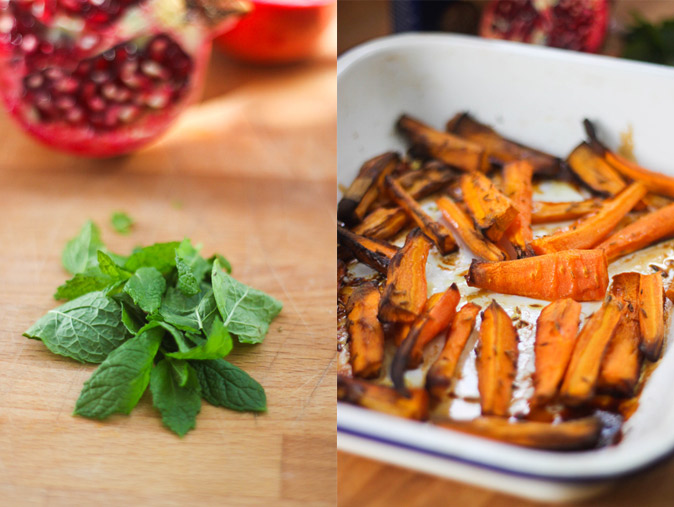 Meanwhile, you can battle with your pomegranate to get the little seeds out (wear an apron!) and set them aside. 
When your carrots are done, put your couscous into a large bowl. Pour in the hot stock so that the couscous is just about covered. Mix it with a fork and then leave it for 10 minutes until the stock has been absorbed, giving it a mix with the fork a few times. 
Squeeze the juice of the orange into the couscous and give it a taste. Add salt and pepper if you like but that will depend on how salty your stock is. 
Add your carrots to the couscous, crumble in the goat's cheese and add the pomegranate seeds. Now finely chop your fresh mint and add that too, mixing everything together until you have a fantastically colourful dinner. Enjoy!