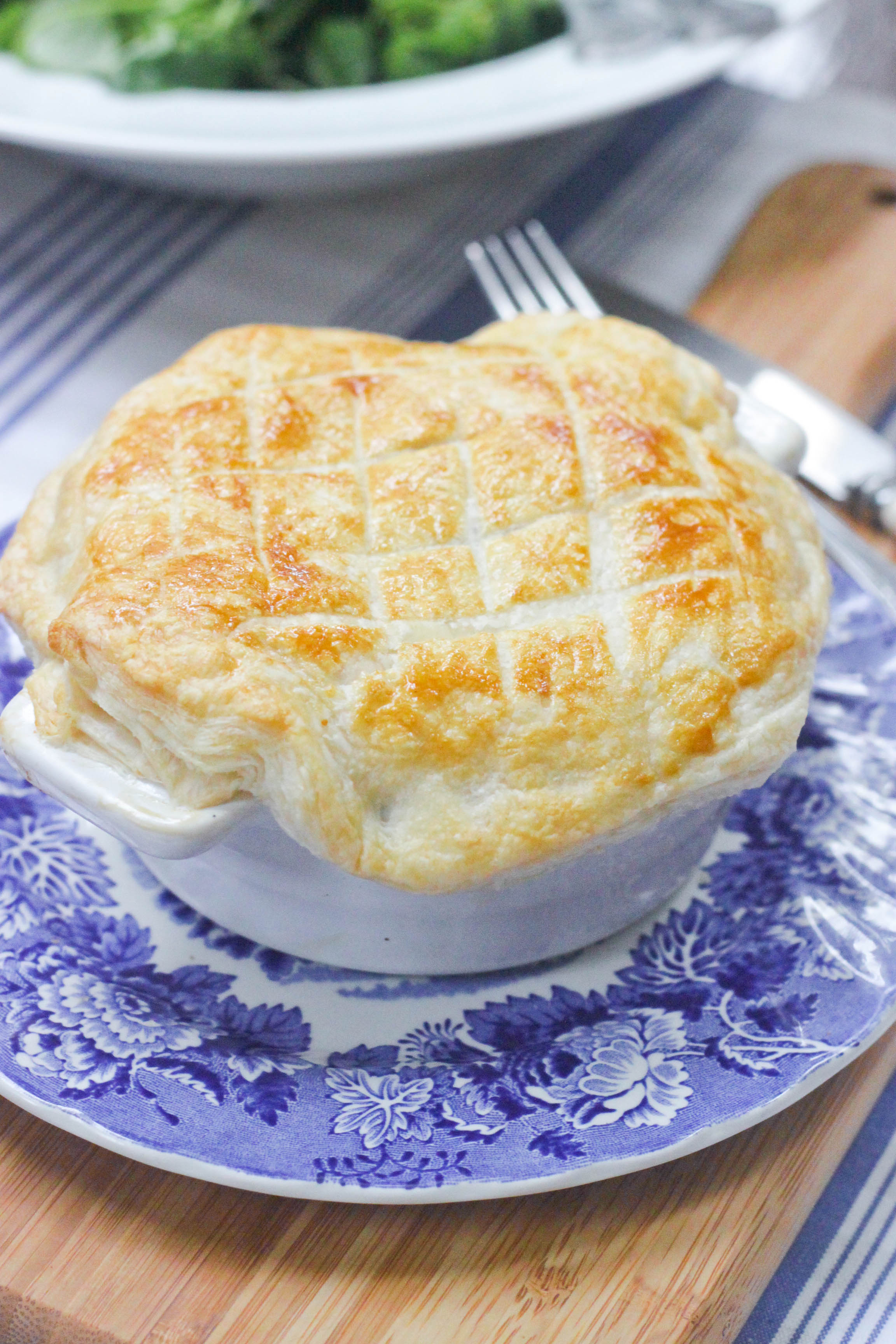 Yeah…sorry about that Thumper. A Sunday ago (before all of that engagement excitement) I had some blogger buddies (namely Lucy, Sharon and Bill, Catherine and Oran) over after the Dublin Flea Market for a spot of Sunday lunch. On the menu was Rabbit Pie. But how, I can hear you ask, did I come to find myself with a rabbit that needed to be turned into a pie?
Well, I'll tell you. The previous Tuesday I'd taken part in an educational and enjoyable butchery course with the totally awesome Pat Whelan (@Pat_Whelan) and his master butcher Liam Bourke (@ButcherIrish) of James Whelan Butchers in Clonmel. It's a course Pat is hoping to make a more regular event, in his Clonmel shop as well as his shop in Avoca Monkstown. We learned about the different cuts of pork and lamb, we talked about free-range and organic and local produce, about abattoirs and the skill of butchery. We were each given a chicken and shown how to joint it, then got a bit of hands on practice by jointing the chicken ourselves, very fun work and a great skill to have.
Then, a skinned rabbit appeared on the butcher's block and was jointed by Liam. Pat highlighted its origins were Italy, where most of the rabbits you'll see in Irish butchers are from. It seems there isn't much of a rabbit farming industry here and although it is possible to buy wild Irish rabbits, they're hard to come by. Pat asked if anyone wanted to take the rabbit home to cook and I hopped (again, sorry Thumper and, indeed, anyone with a sense of humour) at the chance.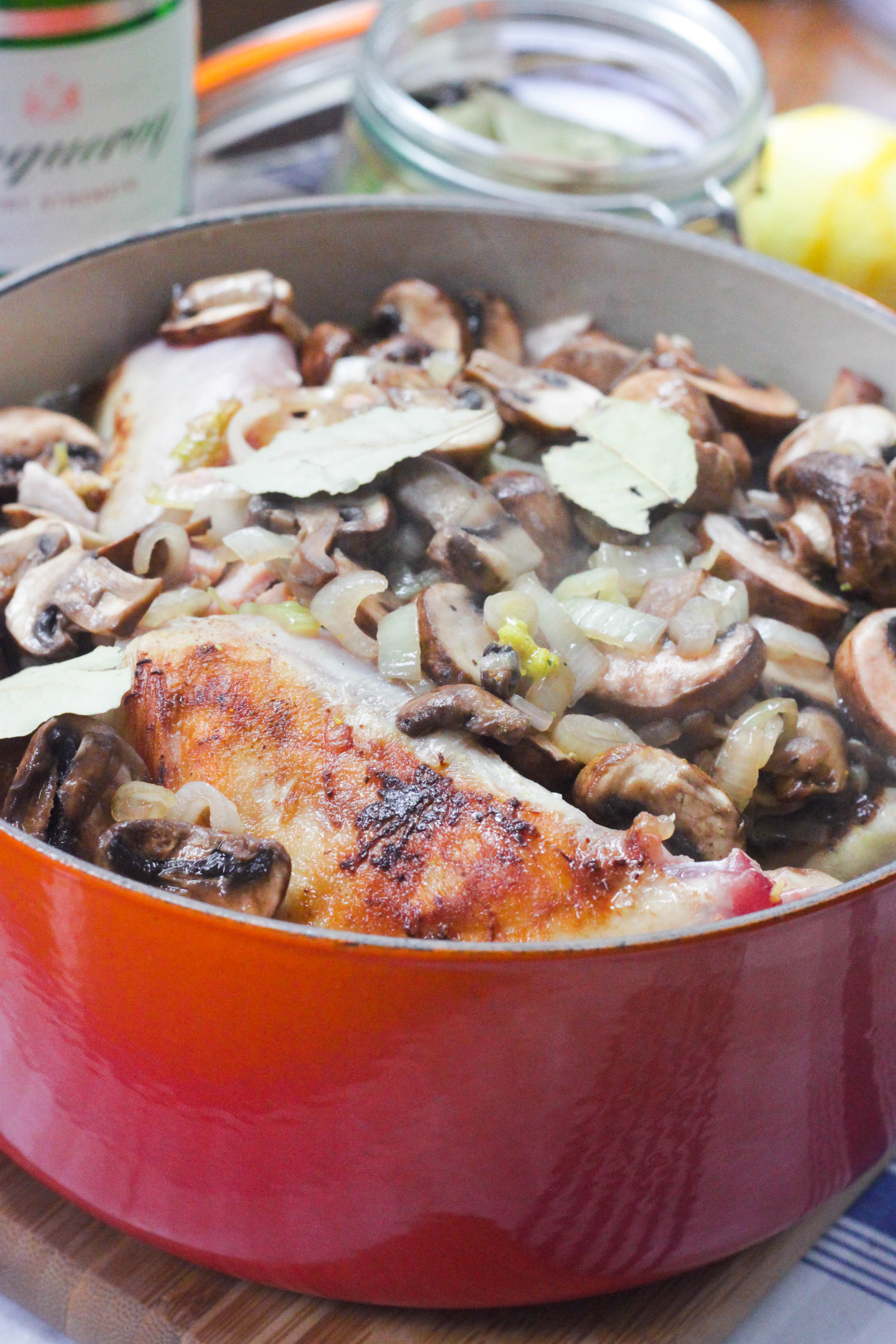 I was thinking of making a ragout or some kind of pasta dish with the rabbit. In the end, this Matt Tebbutt recipe for Rabbit Pie caught my eye and I followed it pretty much to a T. Below is the recipe with a few minor adjustments, most particularly that I cooked my rabbit in the oven as opposed to on the hob.
I found this really simple to make, but don't forget you'll need to marinade the rabbit for 2 hours before cooking, which takes a further hour and a half, so make sure you give yourself enough time.
I made eight mini pies but it depends on what size your ramekin or pie dishes are.
What you need for 4 to 8 Mini Rabbit Pies (depending on the size of your dishes)
1 large rabbit, jointed (you'll need about 2kg in total)
2 juniper berries
2 tablespoons of gin (I used Tanqueray because it's fabulous) 
1 lemon
Olive Oil
150g of smoked bacon or pancetta lardons (or just slice them into cubes if you can't get lardons)
1 handful of shallots
200g of button mushrooms
750ml of chicken stock (try to use free-range if you can)
4 thyme sprigs
2 bay leaves
1/2 teaspoon of peppercorns
300ml of double cream
375g of shop-bought puff pastry, defrosted and at room temperature
1 free-range egg
Put the rabbit pieces in a large bowl. Crush the juniper berries and zest the lemon. Add them to the rabbit along with the gin, and marinade for 2 hours.
Now you can season the rabbit with salt and pepper. Heat a tablespoon or so of olive oil in a large frying pan over a high heat. Fry the rabbit pieces (in batches if you can't fit all of it in at once) until beautifully browned and golden and transfer to a large casserole dish. 
Pre-heat your oven to 170C/150C fan/Gas Mark 2. 
In the same frying pan that you browned the rabbit, cook the smoked bacon/pancetta until lovely and crisp.
Meanwhile, wash and slice the mushrooms and peel and slice the shallots.
Remove the bacon from the pan and put into the casserole with the rabbit. Now fry the mushrooms and shallots for 10 minutes in the frying pan (add more oil if you need to) and add them to the casserole. Pour over the hot chicken stock and add the leaves from the thyme sprigs, the bay leaves and peppercorns.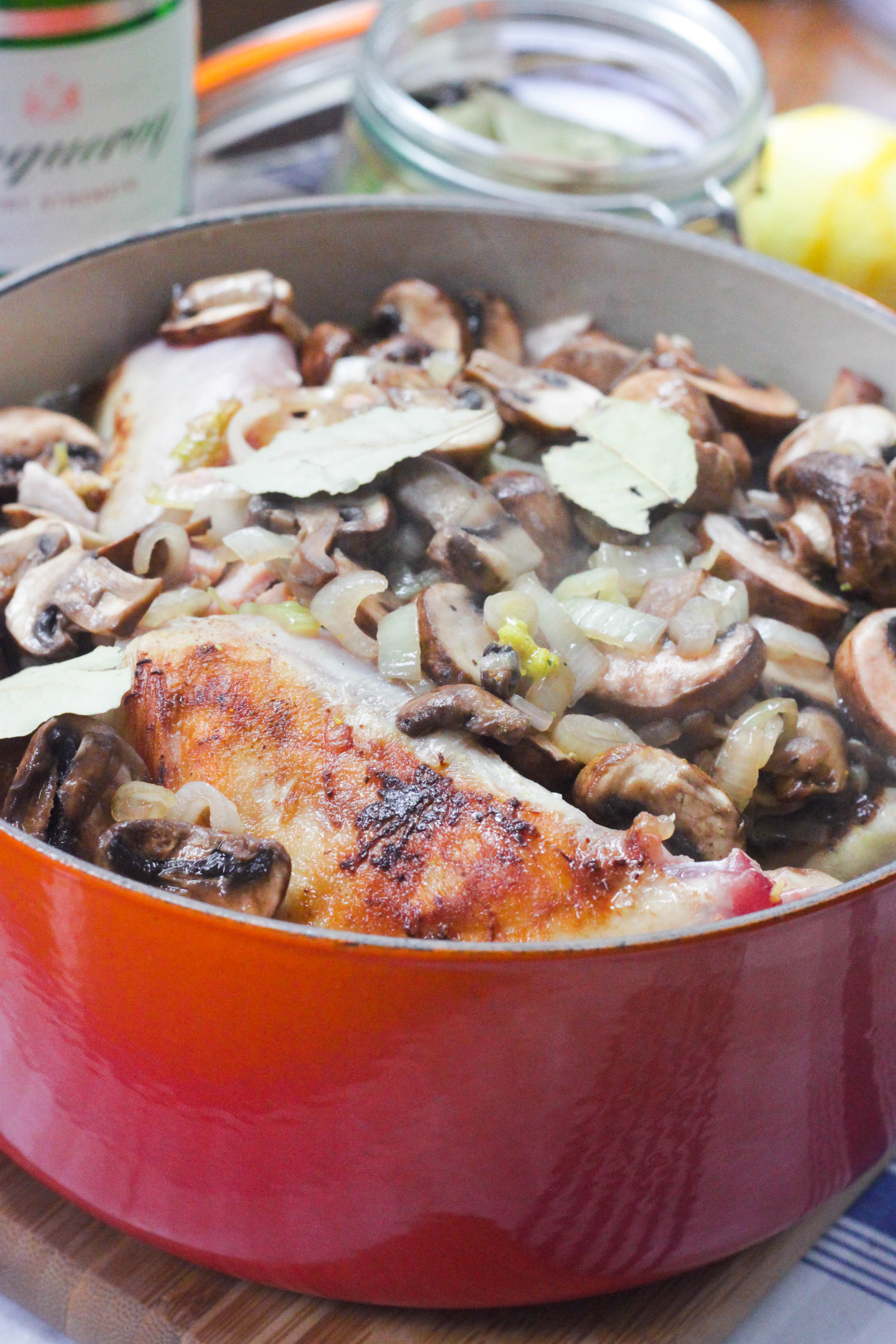 Put into the hot oven and cook for 1 and a half hours (apparently wild rabbit takes about half an hour longer to cook than the farmed variety).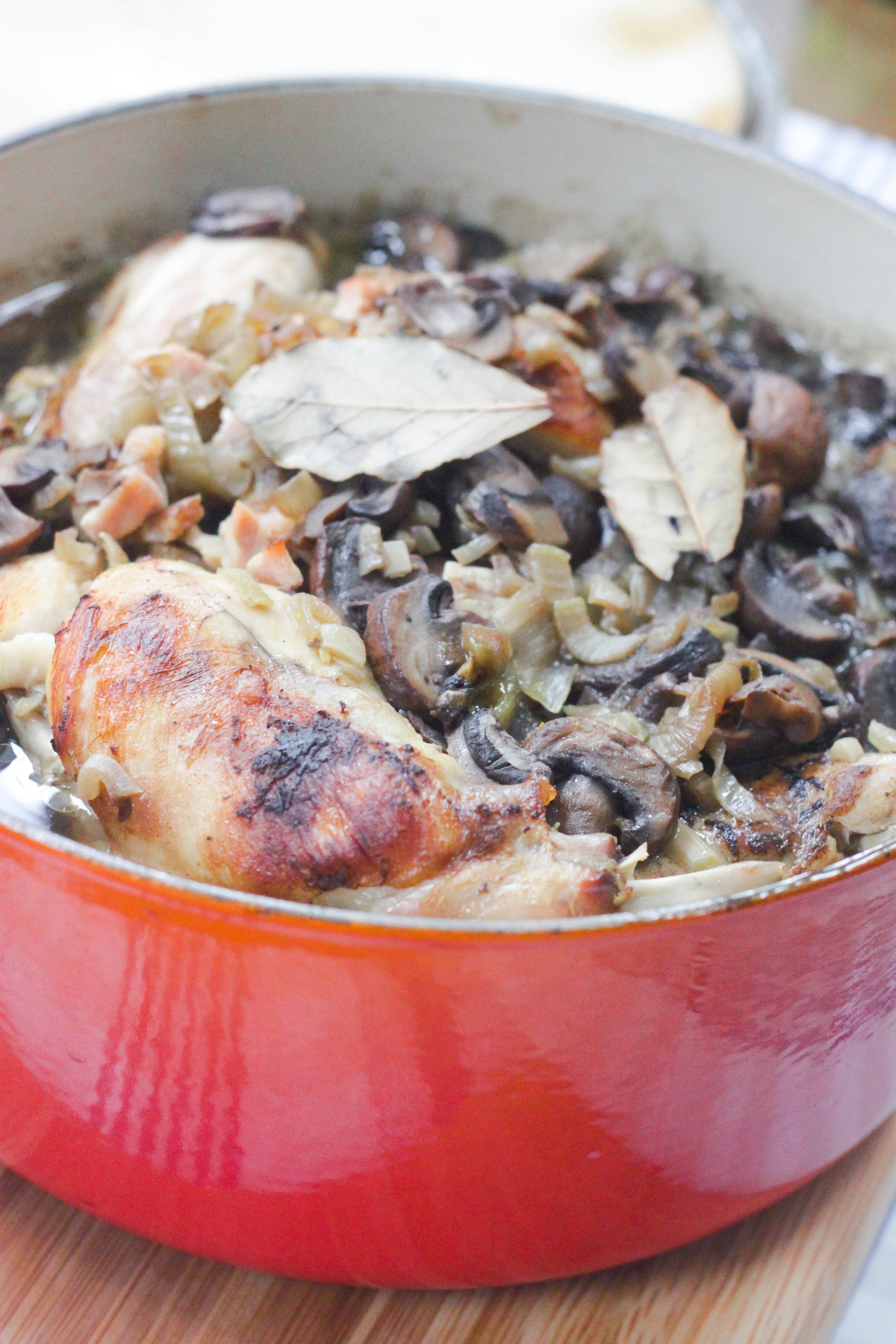 Remove the casserole from the oven and take out the rabbit. Transfer it to a large board or plate and allow to cool a bit. 
Put your oven up to 200C/180C fan/Gas Mark 6.
When the rabbit is cool enough to handle, use your hands to pull the meat from the bones. You'll have loads of it! You can throw away the bones – although I suppose you could make stock with them if you were being really good.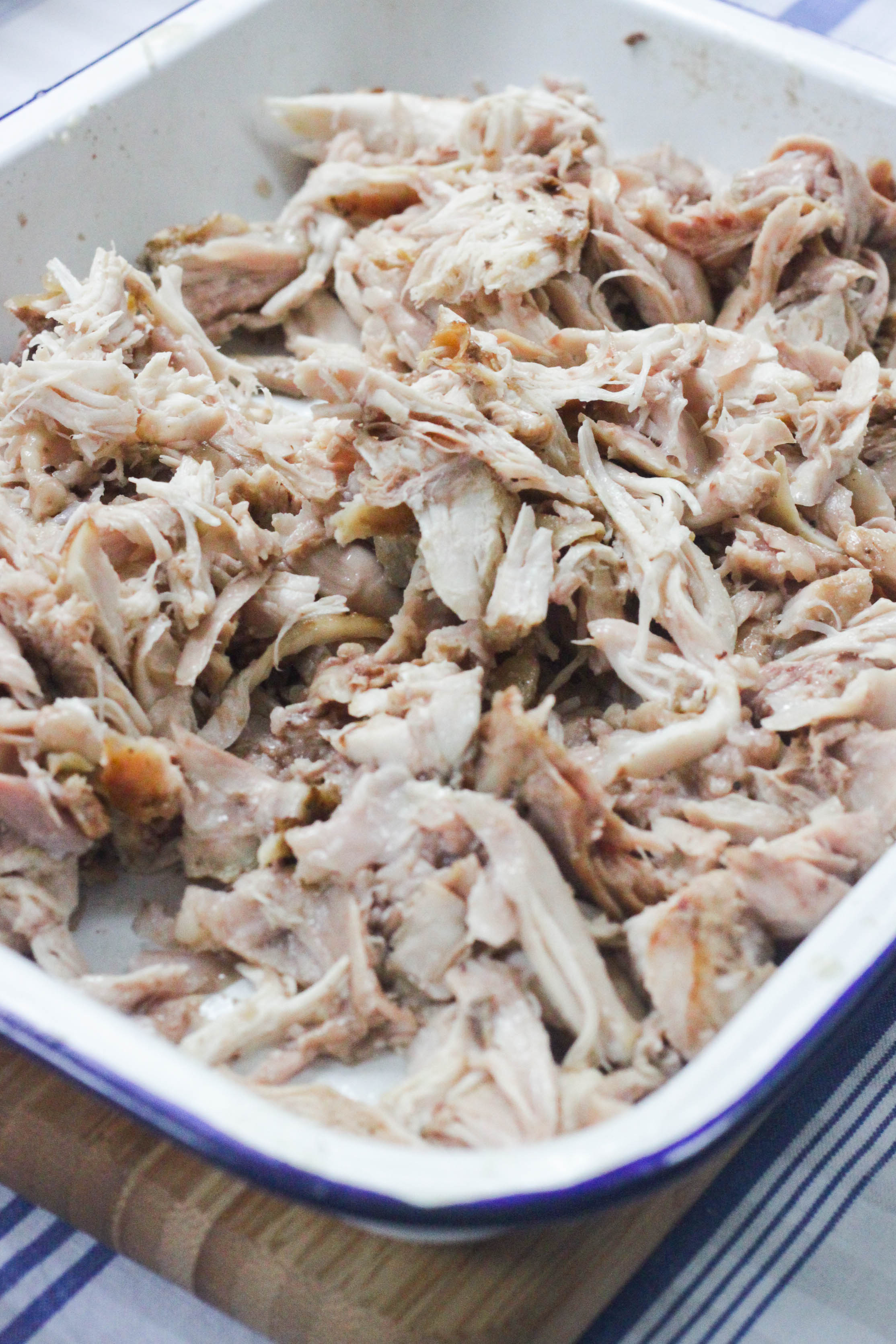 Meanwhile, put the casserole dish on the hob and bring it to a steady simmer, letting the mushroomy liquid in the casserole reduce by half. When it has reduced by half, pour in the cream. Bring it to a boil and let it simmer for 5 minutes. Remove it from the heat. 
Now you can start getting your pies together. Roll out your puff-pastry on a floured surface until it's about 4mm thick. Cut discs out of the pastry, a little larger than your pie dishes, as they will be the pie tops. 
Divide your rabbit meat equally between your pie dishes.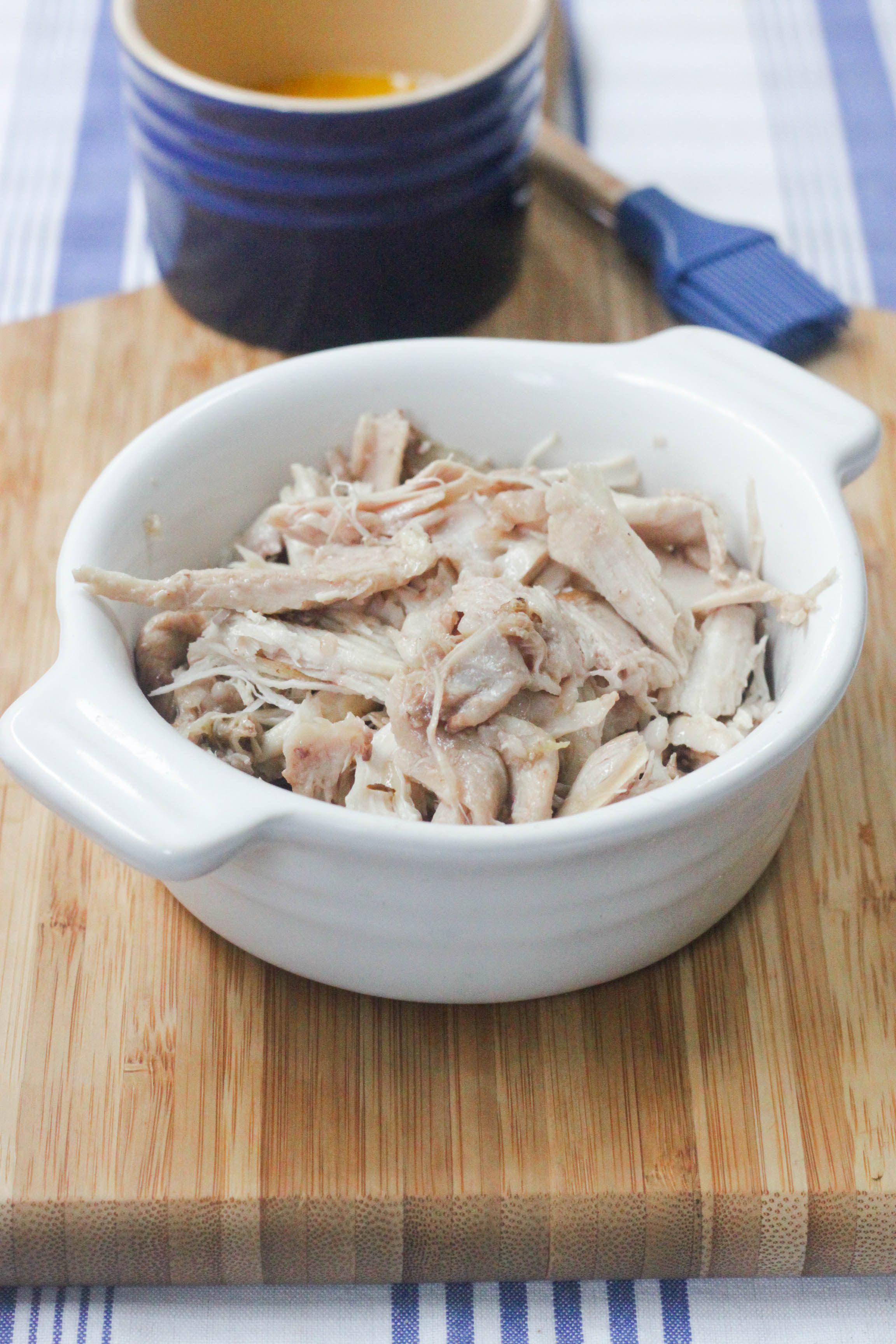 Pour over a generous ladleful or two of the creamy mushroomy sauce.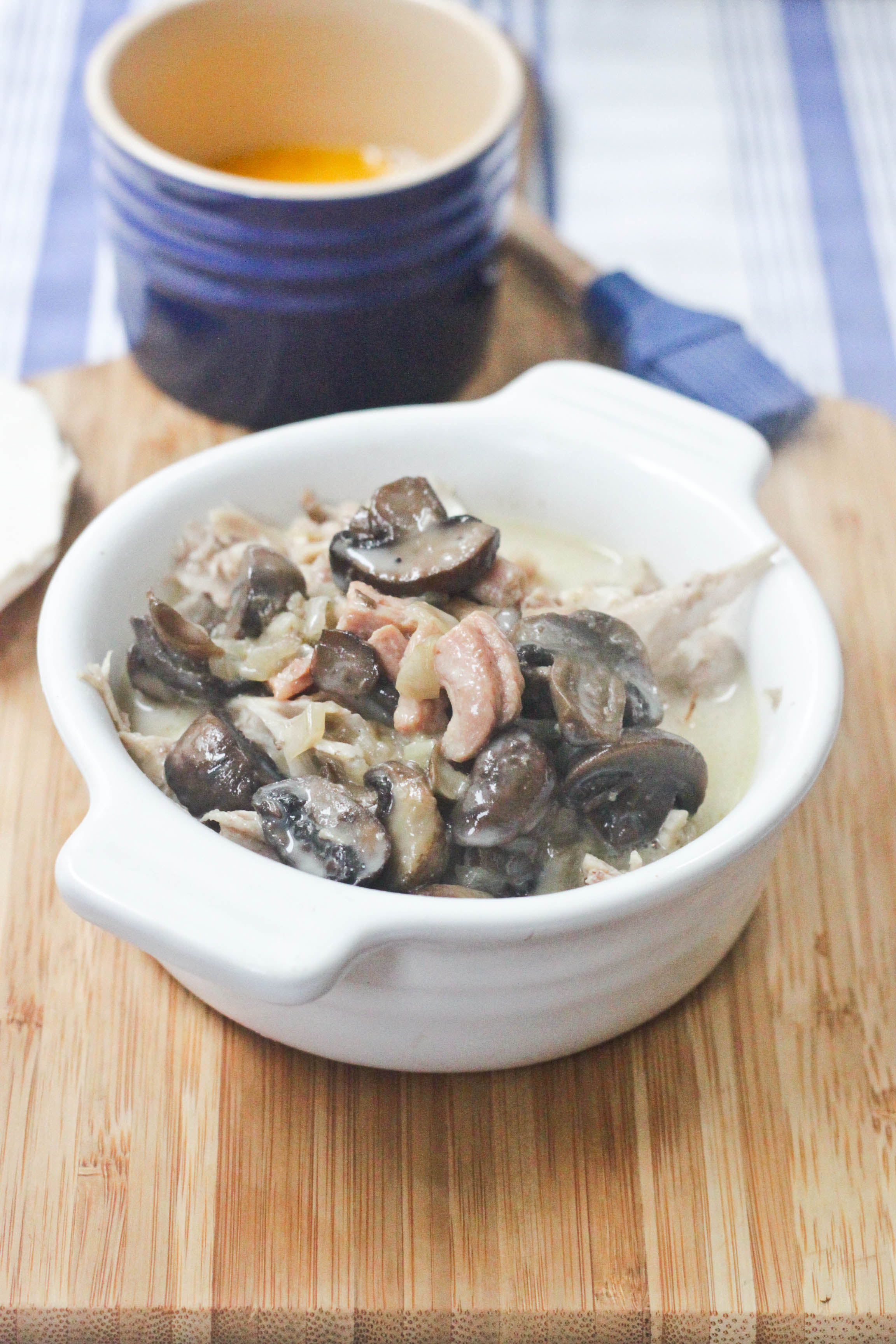 Beat the egg and brush the rims of your pie dish with it, as this will help the pastry seals stick. Top with a pastry disc and seal it using your fingers. Brush the tops of the pastry discs with the remaining egg yolk.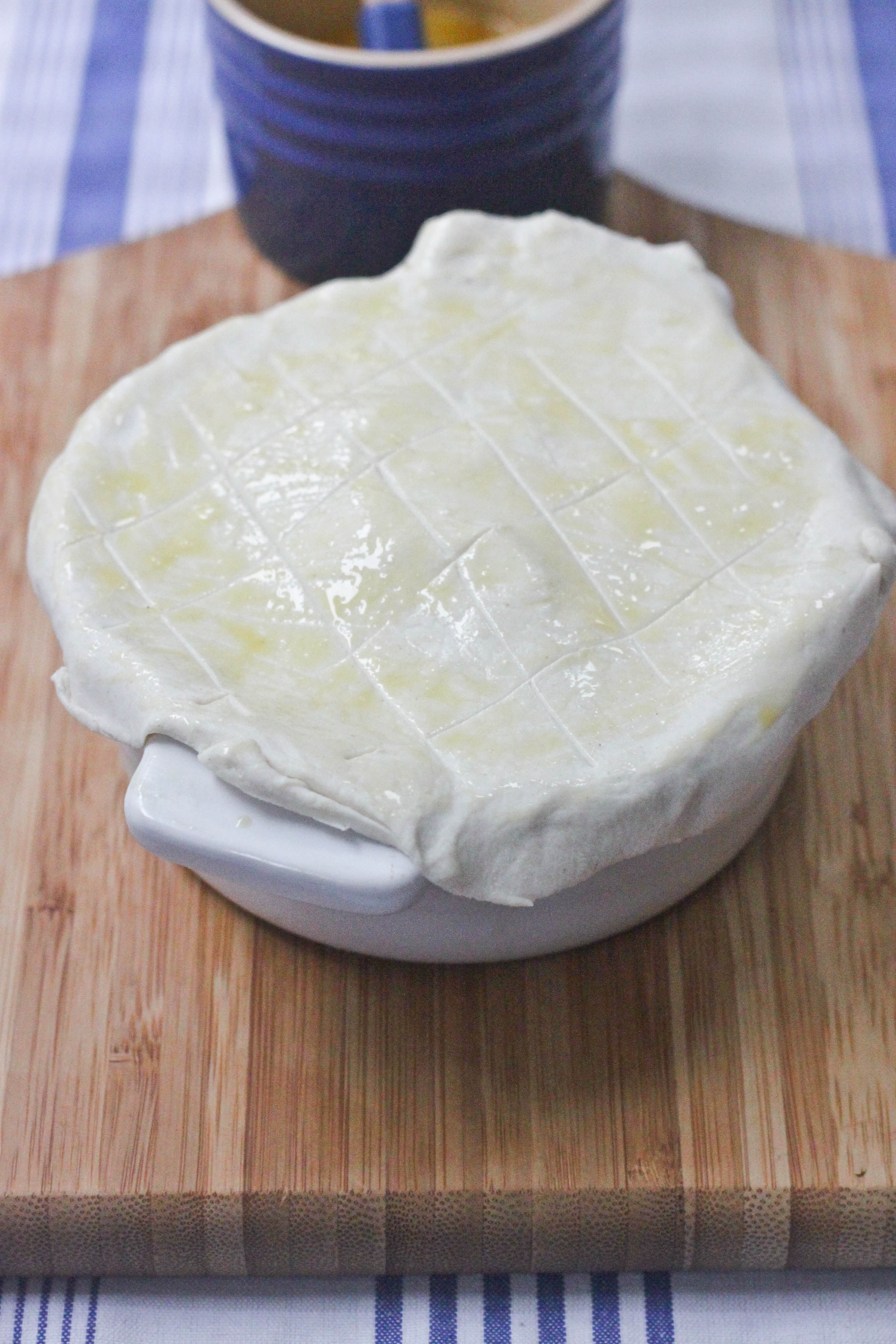 Cook in the hot oven for 20 to 25 minutes, until the the pastry has puffed up and is wonderfully golden. 
Serve with a nice crisp green salad and an equally crisp glass of white wine.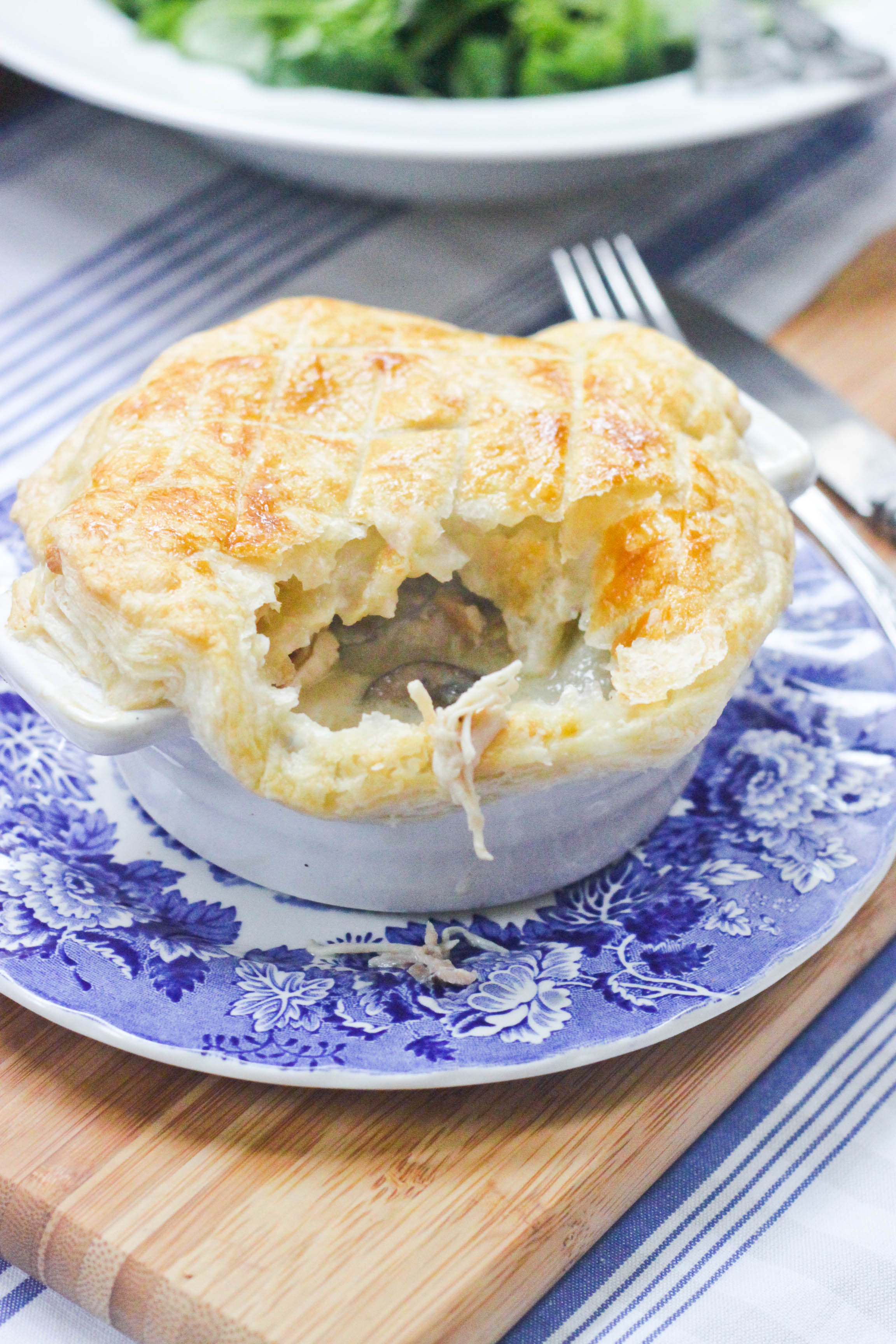 KITCHEN TUNE
Loving this tune BB Bleu from Virginia born artist who goes by the name of Kid A.