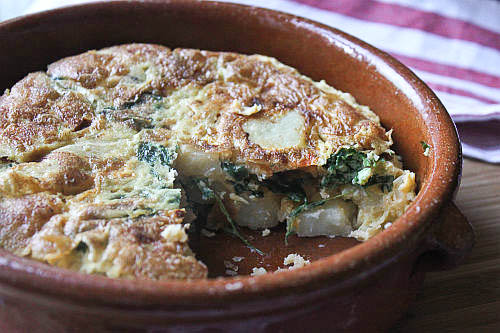 Tuesdays blow!  They do.  Most of the people around you are invariably in a foul mood, which multiplies into skirmishes over communal staffroom milk once it meets your own personal Tuesday Funk.  Argh.  I despise Tuesdays.
Once again, my culinary chum chorizo has come to my Tuesday Night Dinner Rescue.  I love chorizo because it does the work of three ingredients – it adds a depth and intense flavour with, like, NO effort at all.  It's amaze.
I whipped up a super quick tortilla with hardly any fuss after work this evening, and though perhaps high in cholesterol with the eggs for some of your diets, a Spanish omlette/tortilla/frittata/whatevayawannacallit is a great mid-week dinner for Busy Bees and Tuesday Victims.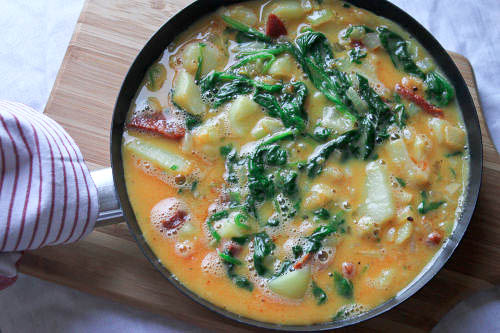 What you need for a chorizo based tortilla for 2 to 3 peeps
Olive oil
1 large potato or 3 small ones, peeled and cooked until tender but not soft/falling apart and left to cool
1 small onion, finely diced
About 50g of good chorizo (try Cork based Gubbeen chorizo for its sheer intensity AMAZE) cut into half moon shapes
About 50g of spinach, baby or full-sized, doesn't matter as long as it's well washed
4 large free-range and/or organic eggs
A small-ish piece of feta cheese (around 25g let's say)
Salt and pepper
Start by heating a bit of olive oil in a good non-stick frying pan.  I like to use my smallest pan, as it means you get a small but thick tortilla.  Using the small pan means you have to keep the heat quite low – at the lowest gas mark or at a number 2 on electric hobs.  If using a regular frying pan, keep your heat at a moderate level as you want to cook the tortilla through and not just burn its bottom!
Take your cooked and cool potatoes and slice them into bite-size chunks.
Add the potatoes to your heated frying pan and cook for about 4 to 5 minutes, until they start to colour a bit.  Now add your diced onion and fry for another 3 minutes, until the onions are translucent.
In another dry pan, wilt your washed spinach over a medium heat.  Keep an eye on it, stirring it to keep it from sticking to the bottom of the pan.
Now add your beautiful chorizo and cook for a further 3 minutes, until the chorizo releases its oil and dyes the potatoes and onions and makes everything smell bleedin' gorgeous.  Stir everything from time to time, so that all the flavours mix and nothing sticks to your pan.
In a large mixing bowl, crack in your four eggs and whisk in a good bit of salt and pepper.
Once your chorizo mix is looking good and ready (i.e. a bit browned and hopefully crispy) add it to your egg mixture, setting the pan you used to fry aside.  Take your wilted spinach and empty into a colander, draining any excess water out into your sink.  Add the spinach to your egg mixture and fold everything in together so the ingredients are evenly placed around the egg.
Now pour the egg mixture back into your frying pan.  Fry the bottom side on the low heat for around ten minutes.  You'll start to see bubbles appear on the top and the sides should begin to looked cooked.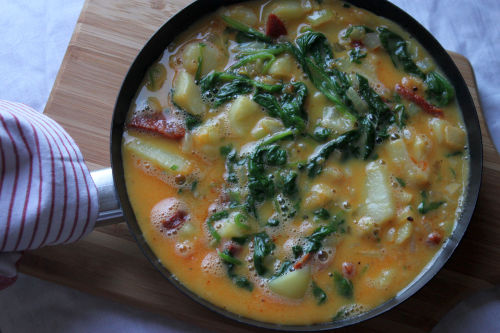 At this point, crumble your feta cheese over the top of your tortilla, letting it sink into the uncooked egg.
Now.  You have a choice.
You can turn on your oven grill and cook the top of the the tortilla that way, which is very reliable and not messy at all.
Or, you can do it the slightly tricky way.  Get a plate larger than the size of the frying pan.  Use a spatula to separate the sides of the tortilla from the pan and then flip the tortilla onto the plate.  Now you can put the tortilla back into the pan, uncooked side down, so that you get a nice evenly cooked tortilla.
I often do the plate thing, but if I'm being honest, the grill version is a lot easier and the results are the same.
It's cooked when you put in a knife and it comes out clean.
You can chow down on this with a lovely green side salad.  And I always have Ballymaloe Country Relish with my tortillas.  'Cause that's how I do.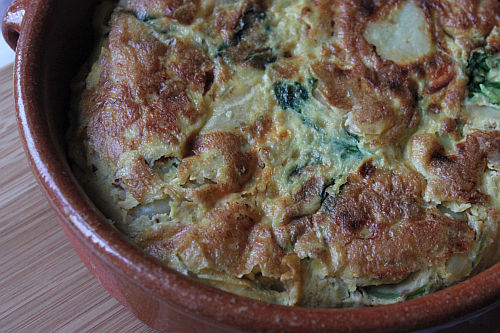 TUNE
I'm still on a Holy Ghost! buzz, never less than an on a bleurgh-some Tuesday.
Do It Again – Holy Ghost! (via The Hype Machine)