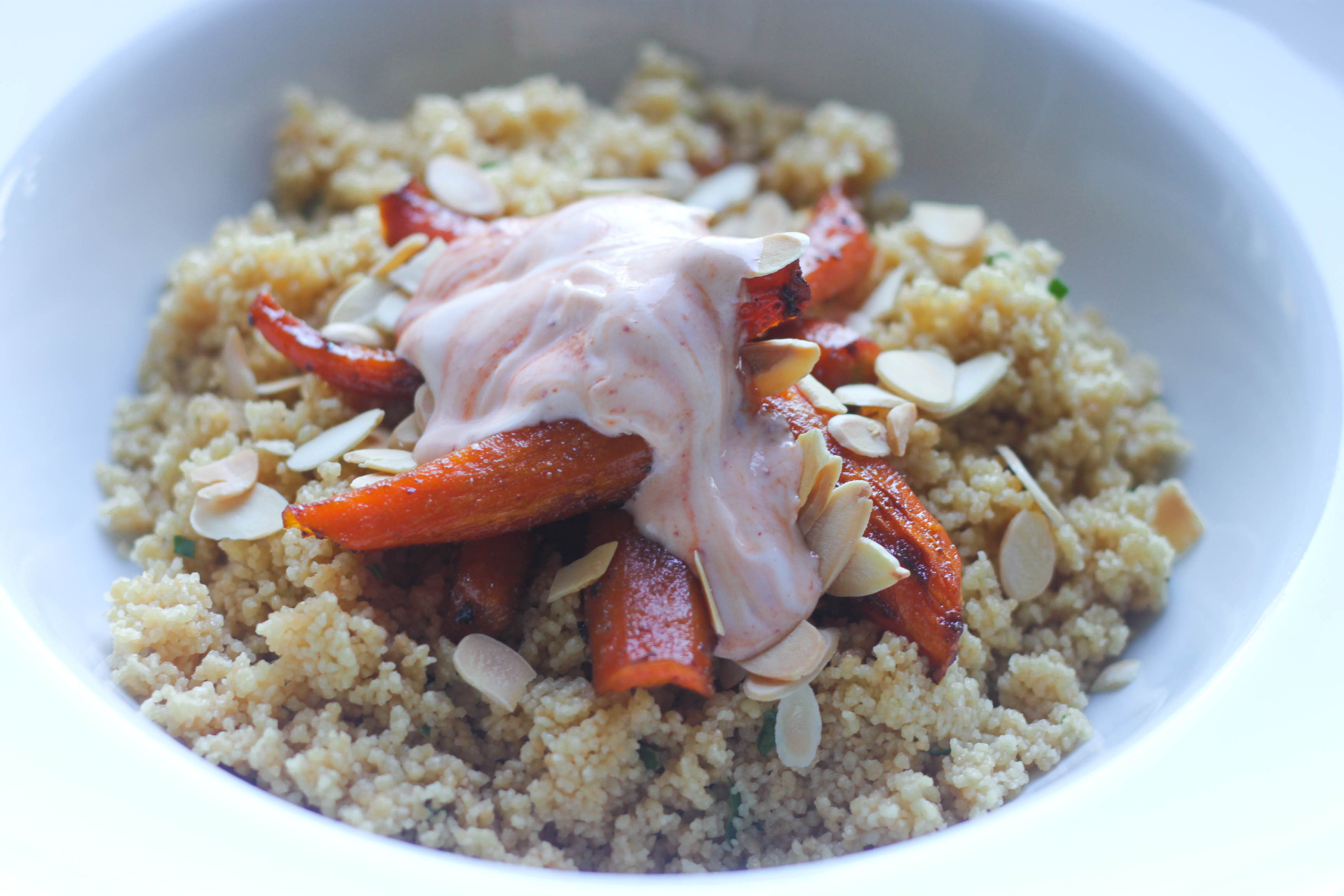 Honey and cumin roasted carrots with toasted couscous and a drizzle of harissa yoghurt. Carrot love! 
I'm an equal opportunities eater. By that, I mean that I like to treat all food as equally delicious morsels to chomp on.
As much as I try not to discriminate, I do, however, have my favourites.
And, I'm afraid to say, there are those vegetables which often find themselves at the back of my store-cupboard, neglected and rather sad.
Carrots are a vegetable which has fallen out of my favour in the past, thanks to a hard-to-shake memory of over-boiled anaemic carrots that I was sloppily served up at boarding school.
I've found ways to chomp on these carotene-mines that doesn't make my Inner Vegetable Bigot go bleurgh.
The obvious way is to use carrots as an implement in which to eat to hummus. That works well.
But you can't be dipping carrots into hummus all the time. Besides, they're really rather versatile vegetables once you get to know them.
I recently put together this quick and very satisfying carrot salad, which made the orange spears an absolute treat to eat.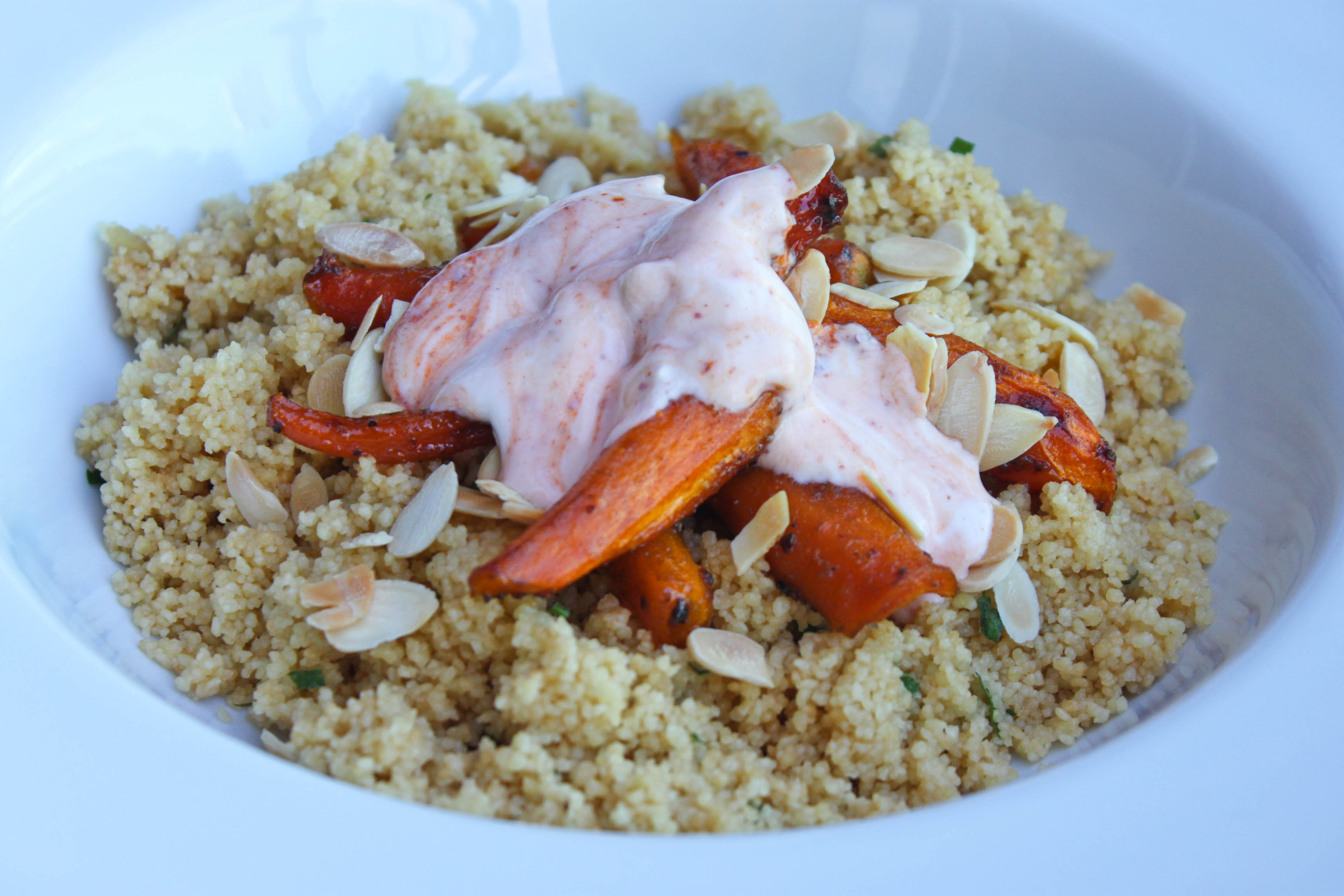 I was inspired by this Jamie Oliver recipe and used a few tips I've picked up on Home Organic's blog over the last few months.
Don't be put off by this rather verbose list of ingredients, this is a piece of cake to put together.
What you need for a Roasted Carrot Couscous Salad for 2
For the carrots
About 500g of the best carrots you can find, peeled and chopped into long thin chunks
1 tablespoon of olive oil
1 teaspoon of ground black pepper
1 teaspoon of ground cumin
1 teaspoon of chilli flakes
1 tablespoon of runny honey
For the couscous
250g of couscous 
400g of hot vegetable stock (you can use chicken stock if you like)
A handful of dried apricots, finely chopped
2 tablespoons of freshly chopped mint
2 tablespoons of almond flakes
For the couscous dressing
3 tablespoon of olive oil
2 tablespoon of pomegranate molasses (available in Asian Food Company on Mary's Street – a very interesting ingredient to have in your cupboard!)
1 teaspoon of red wine vinegar
For the harissa yoghurt
2 tablespoons of natural yoghurt
1 teaspoon of harissa paste (I got mine in Asian Food Company but you can find this North African spice paste in most large supermarkets)
Heat the oven to 220C/fan 200C/gas mark 7. Put the carrot chunks into a roasting dish. Add the olive oil, black pepper, cumin, chilli flakes and runny honey and mix everything well.
Place into the oven and cook for about 30 minutes, until the carrots are cooked through but still a bit firm.
Meanwhile, prepare your couscous. I like Home Organic's method of toasting the couscous and 'cooking' it in a hot pan.
Heat a dry pan over a medium to high heat and add the dry couscous. Toast for about 5 minutes, shaking often, until the couscous turns a golden colour.
Now add the hot stock to the pan and stir immediately and continuously until the stock is absorbed. Remove from the heat and transfer to a large mixing bowl.
In a small bowl, mix the olive oil, pomegranate molasses and red wine vinegar until well blended. Add half of this dressing to the couscous and mix well. Give it a taste. The pomegranate molasses is quite strong stuff so make sure you like it before adding the other half of the dressing!
Now add the dried apricots and chopped mint to the couscous.
In another small bowl, mix the yoghurt and harissa together so that you have a lovely marbled sauce.
Finally, toast the flaked almonds on a dry pan for about 5 minutes until golden brown. Set aside.
Once the carrots are ready, you can start getting everything together. Divide the couscous between two large bowls and top with equal amounts of roasted carrots. Sprinkle with the toasted almonds and finally add a dollop of the harissa yoghurt.
A deliciously quick, healthy and satisfying supper for two, the star of which are carrots.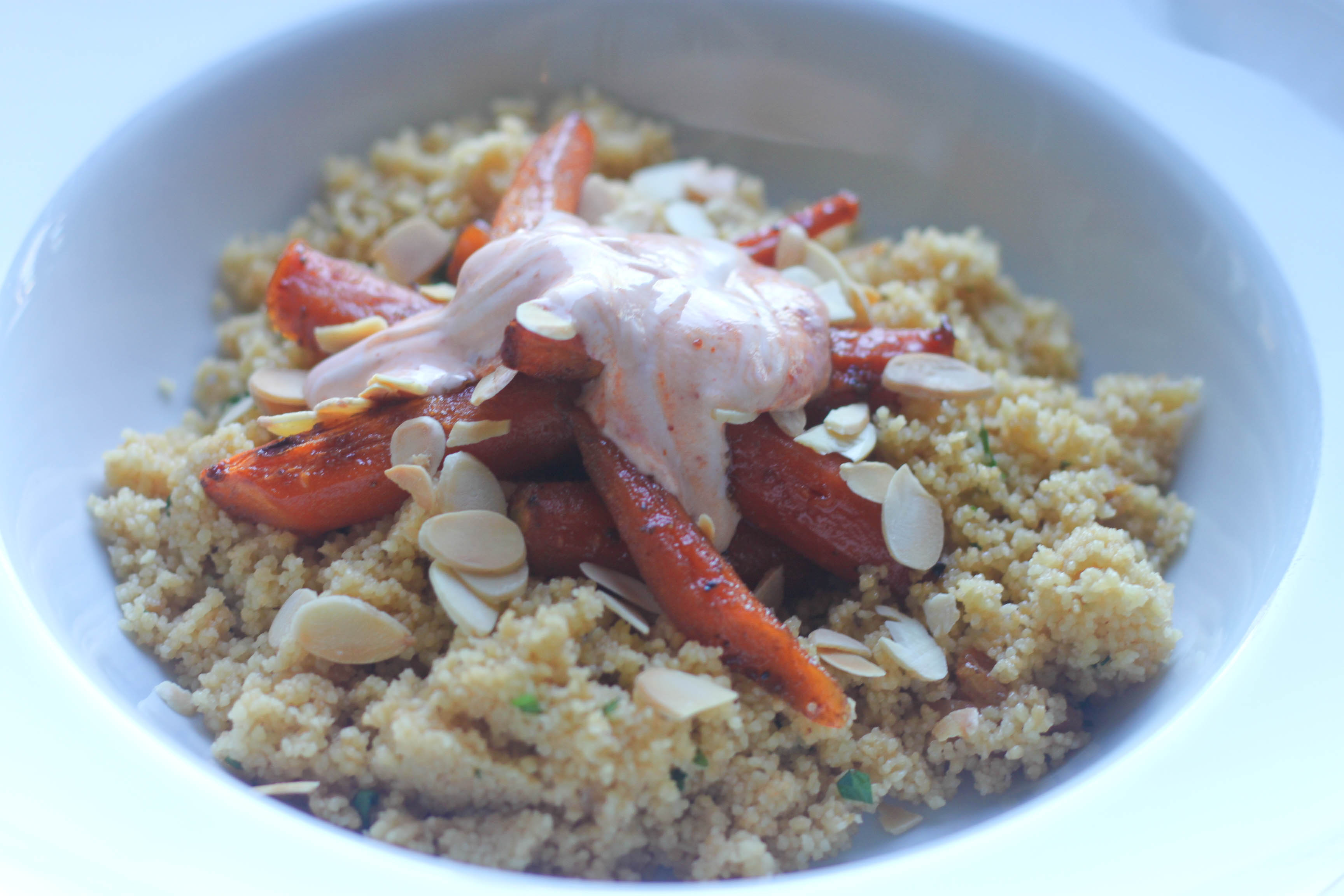 TUNE
Check this tune out for a bit of summer time wonderment.
Midnight City – M83 (via The Hype Machine)
Categories: Dinner