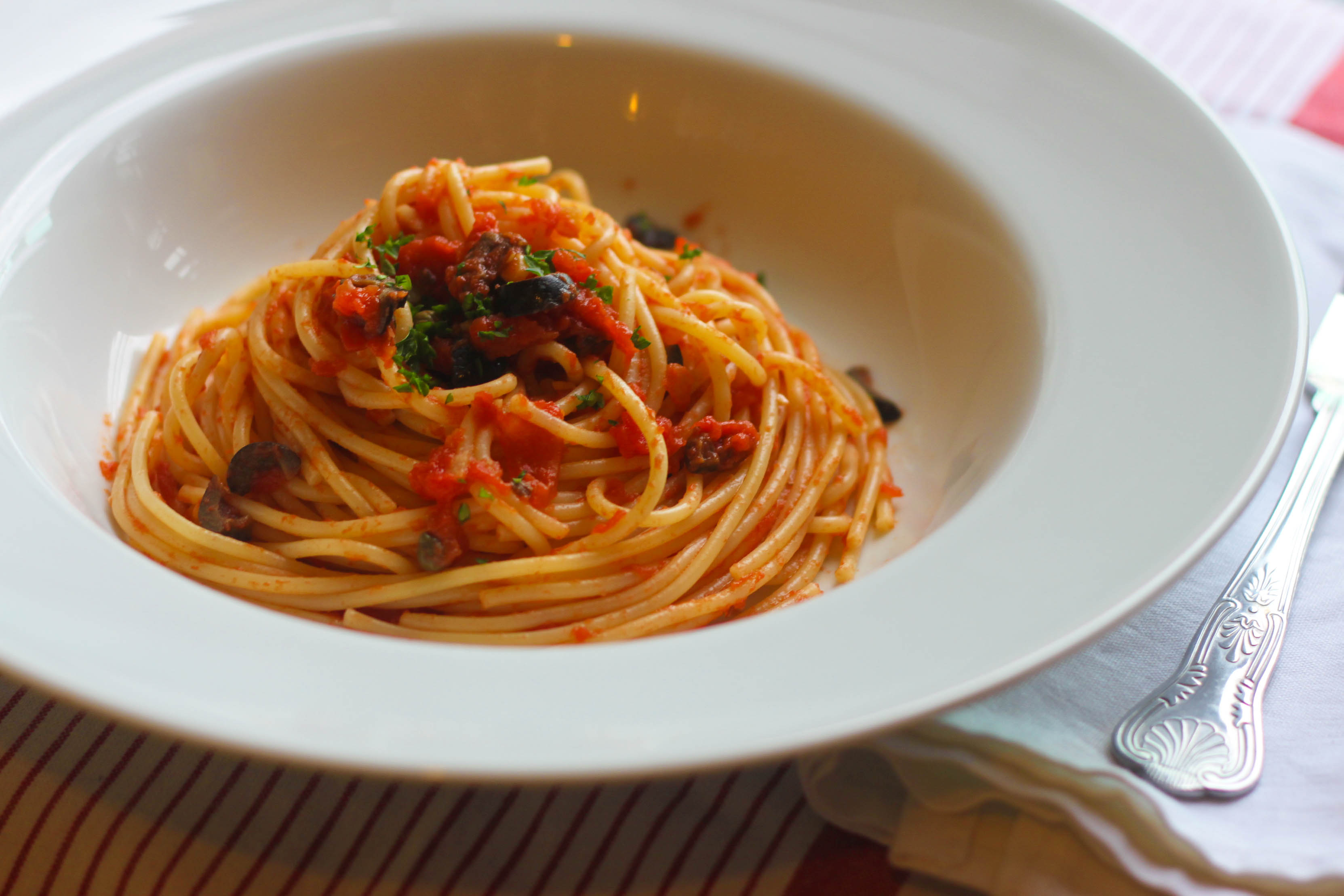 Spaghetti alla Puttanesca
Tuesdays can really be a chore. Few more so than the Tuesday after The Electric Picnic.
I was very sensible this year and rented a cottage about 8 miles away from the festival site. Coming home to a warm cottage with duvets and tea and slippers and an actual shower and a fridge was a joy each night.
What's worrying is that, even with all those creature comforts, I still managed to arrive home in a bit of a heap yesterday afternoon. Nothing a bit of sleep and a Pasta Tuesday couldn't sort out however.
Another brilliant pasta dish for a Tuesday evening is the classic Spaghetti alla Puttanesca.
It was Kristin from Dinner du Jour who first brought my attention to the fact that Spaghetti alla Puttanesca roughly translates as Whore's Style Spaghetti. Charming.
It seems the dish wasn't given its name because it was an instant favourite of ladies of the night when it first appeared in the south of Italy in the 1960s. Instead, the name seems to be more of a statement on the kind of lazy-arse person who would whip up such a simple yet delicious dish without even having to go the market for ingredients.
A store-cupboard dish perfect for Pasta Tuesdays.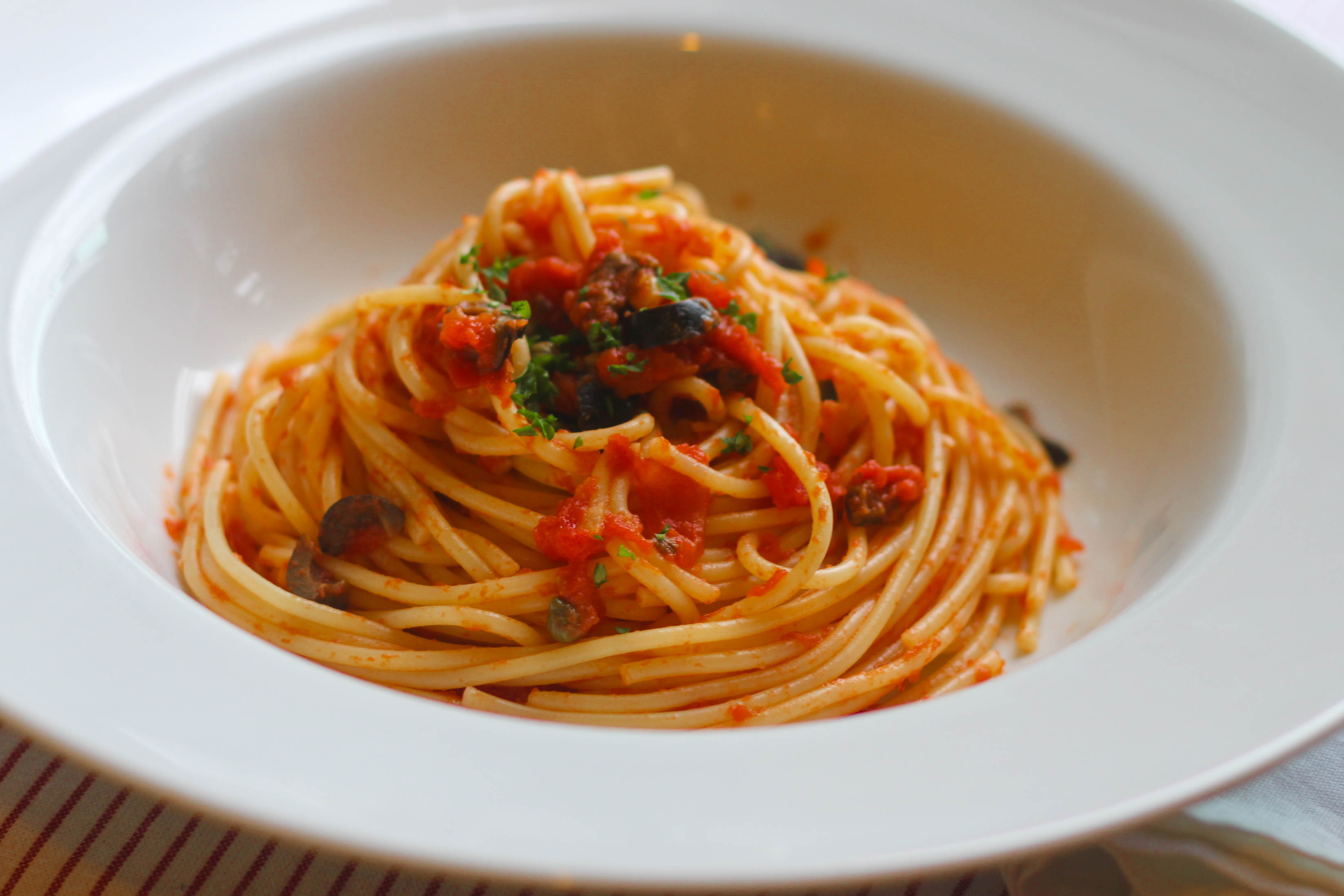 What you need for Spaghetti alla Puttanesca for 2 
The recipe below is for two people but it's very easily doubled.
Olive oil
2 cloves of garlic, finely chopped
1 red chili, de-seeded and finely chopped
2 to 4 anchovy fillets (depending on how fishy you like your pasta), drained from the oil in their tin and finely chopped
1 x 400g tin of chopped tomatoes
Handful of black olives, roughly chopped
1 tablespoon of capers
200g of spaghetti
1 small bunch of parsley, finely chopped, to serve
Heat about 1 tablespoon of olive oil in a large frying pan. Fry the garlic for one minute, stirring constantly. Add the chili and anchovies and fry for one minute.
Add the tomatoes, olives and capers to the frying pan. Stir so everything is well mixed together. Simmer over a medium heat for 10 minutes, until the sauce has thickened.
Meanwhile, cook the spaghetti in a saucepan of salted boiling water according to the pack's instructions.
Once the pasta has cooked, drain and return to the saucepan off the heat. Tip in the tomato sauce and mix well until the spaghetti is coated.
Serve with a sprinkling of parsley and enjoy!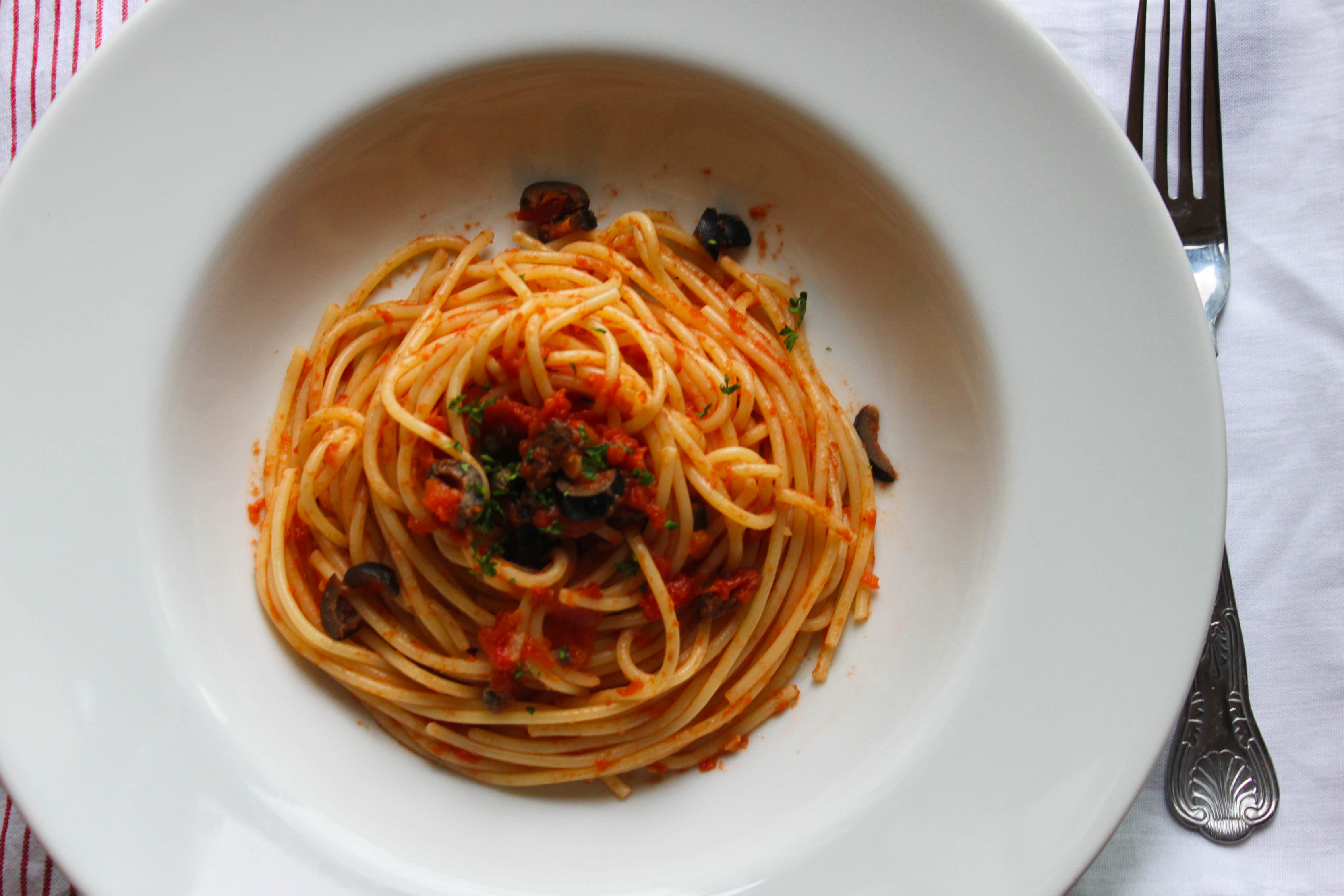 TUNE
An unexpected highlight of this weekend's Electric Picnic was Edward Sharpe and The Magnetic Zeros. Follow the link to have a listen to their track Home which had everyone singing along on Friday night.
Home – Edward Sharpe and The Magnetic Zeros (via The Hype Machine)
Categories: Dinner