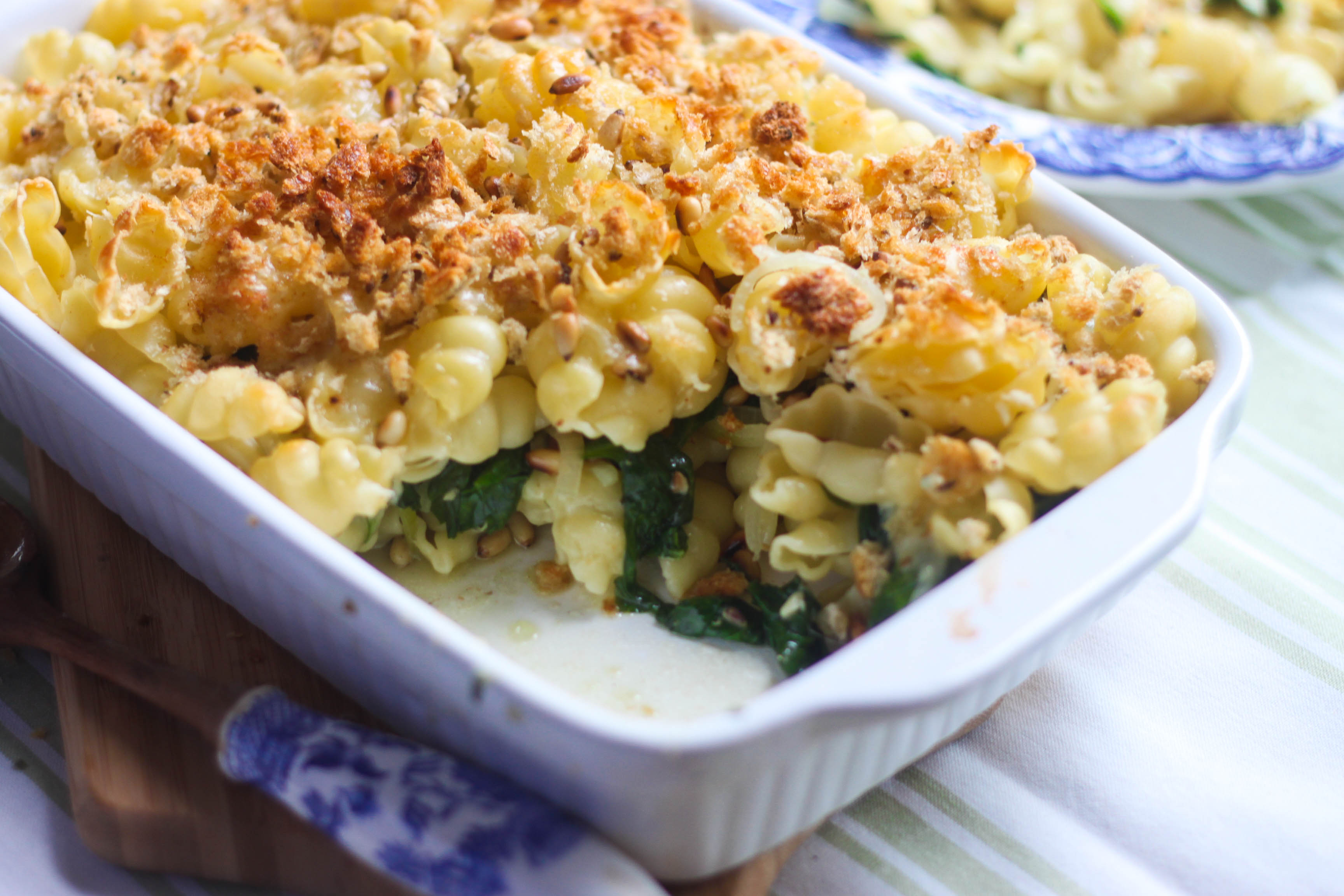 Recently over on the seriously droolsome Edible Ireland, Kristin featured an Irish Farmhouse Mac and Cheese which had me craving this classic.
After a bit of a heavy weekend at the Hard Working Class Heroes festival in Dublin, however, I wasn't sure if I should really  indulge myself in a three-cheese wonder of gooey delight. But I still wanted to eat something yummy and comforting, and, well, just a bit gooey.
I went for a root around one of my favourite blogs 101 Cookbooks, written by veggie and natural food lover Heidi Swanson. I often have a gander at her recipes for inspiration when I'm feeling in need of a little vitamin boost, but don't want to sacrifice flavour in favour of culinary virtuousness.
I found this recipe for a spinach and almond pasta bake and it reminded me of a spinach and pine-nut side dish that I made last year. I thought I'd give it a bash and throw it into a casserole dish with some beautiful St Gall cheese topped with breadcrumbs and see if it hit the spot.
By golly, I wasn't disappointed.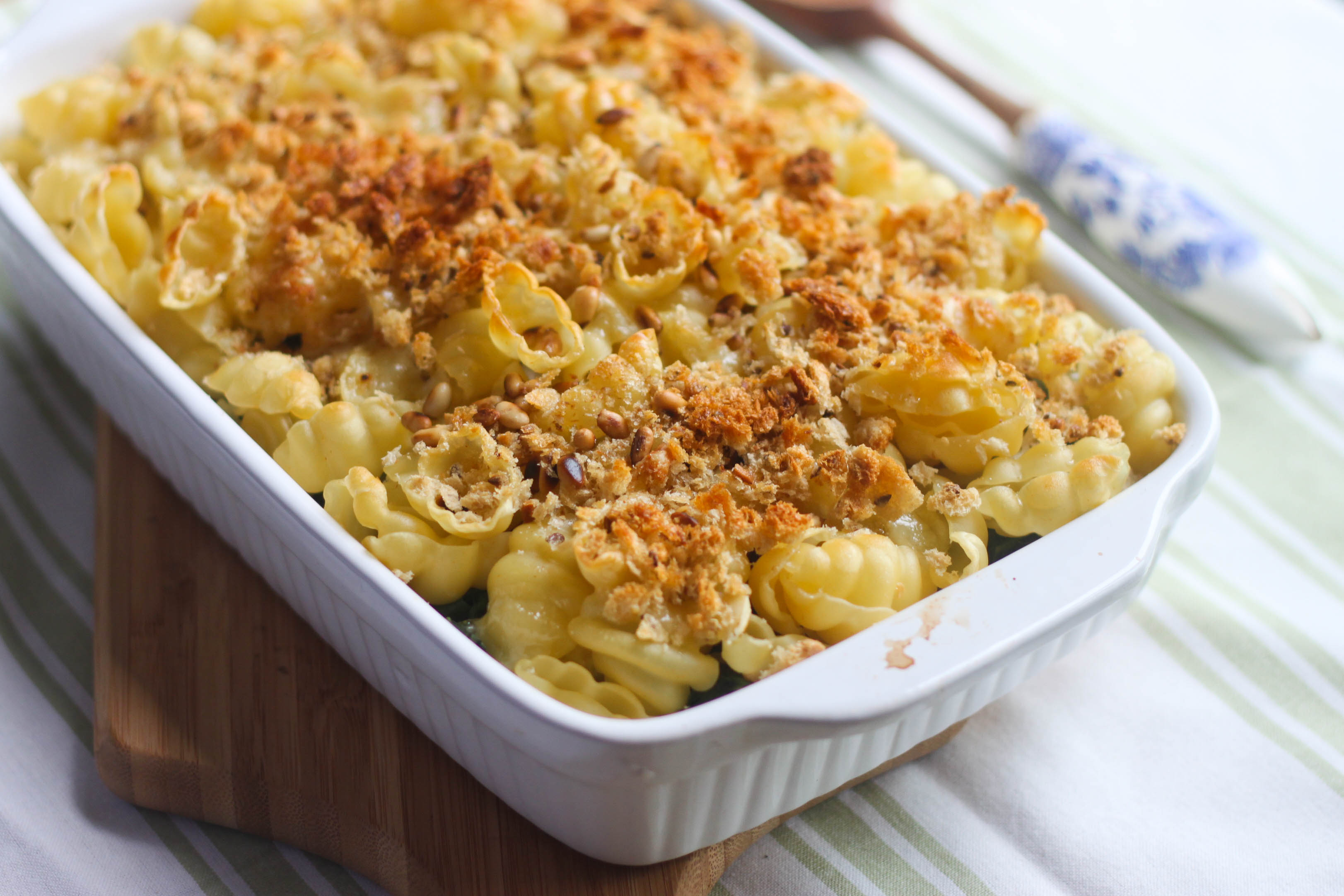 This dish was comforting but still quite light, because of a lack of cream or bechamel-style sauce. It took about 15 minutes to assemble, and even though my recipe below looks a little long, it didn't require much effort at all. I promise!
The St Gall cheese is probably one of our most famous Irish cheeses. It's a gruyère-style cheese and is excellent for cooking because it doesn't lose its strong taste. I got some in Fallon and Byrne but I'm sure you'll find it in Sheridan's or in your local cheesemonger. If you can't, a good old gruyère will do!
What you need for Spinach and St Gall Pasta Bake for 4 to 6 peeps (or 2 with heaps of leftovers)
500g of small pasta (a macaroni-style pasta would be brillo but really any small pasta shape will work fine) 
Salt and Pepper
Olive Oil
1 medium white onion
1 clove of garlic
200g of baby spinach leaves
1/4 of a whole nutmeg
25g of pinenuts
200g of St Gall cheese (or a gruyère or even a lovely strong cheddar if you can't get either)
About 50g of fresh white breadcrumbs
Start by pre-heating your oven to 180C/160C fan/Gas Mark 4.
Boil your kettle and then fill a saucepan with the hot water and put over a high heat. Add a pinch of salt to the water. Once the water is bubbling in the saucepan, add the pasta and cook for 1 minute less than the packet's instructions. Stir from time to time so the pasta doesn't stick.
Meanwhile, heat 1 tablespoon of olive oil in a large, deep frying pan over a medium heat. Peel and slice your onion into half moon slices. Once the oil is hot in the pan, fry the onions for 3 minutes, stirring often.
While they're cooking, wash the baby spinach under cold water. Then, finely chop the garlic clove. Keep an eye on those onions throughout! You don't want them to burn.
Add the garlic clove to the onion after they've had 3 minutes and cook for a further 1 minute. Now add the washed spinach leaves to the pan and grate the 1/4 nutmeg over the top. Cook the lot for 1 to 2 minutes, stirring constantly until the spinach has cooked right down and wilted. Once it's wilted, take it off the heat while you wait for the pasta to be done.
In a small dry frying pan over a medium to high heat, toast your pinenuts until golden brown. This will only take 1 or 2 minutes. Set aside once cooked.
Now chop your St Gall cheese into large chunks or thick slices, it's not too important as long as you have evenly sized chunks.
Get a 30cm by 20cm (or thereabouts) roasting tin or casserole dish. Once the pasta is done, drain it and add half of it into the casserole dish. Scatter the pasta with half of the cheese. Then add all of the spinach mixture and season generously with salt and pepper. Top that with half the pinenuts.
Top this layer with the rest of the pasta and then top that with the rest of the cheese (scattered evenly) and pinenuts. Finally, sprinkle the breadcrumbs on top and drizzle with olive oil, so that your breadcrumbs will go crispy.
Now bake in the oven for 20 to 25 minutes, until golden and bubbling and yummy, yet light!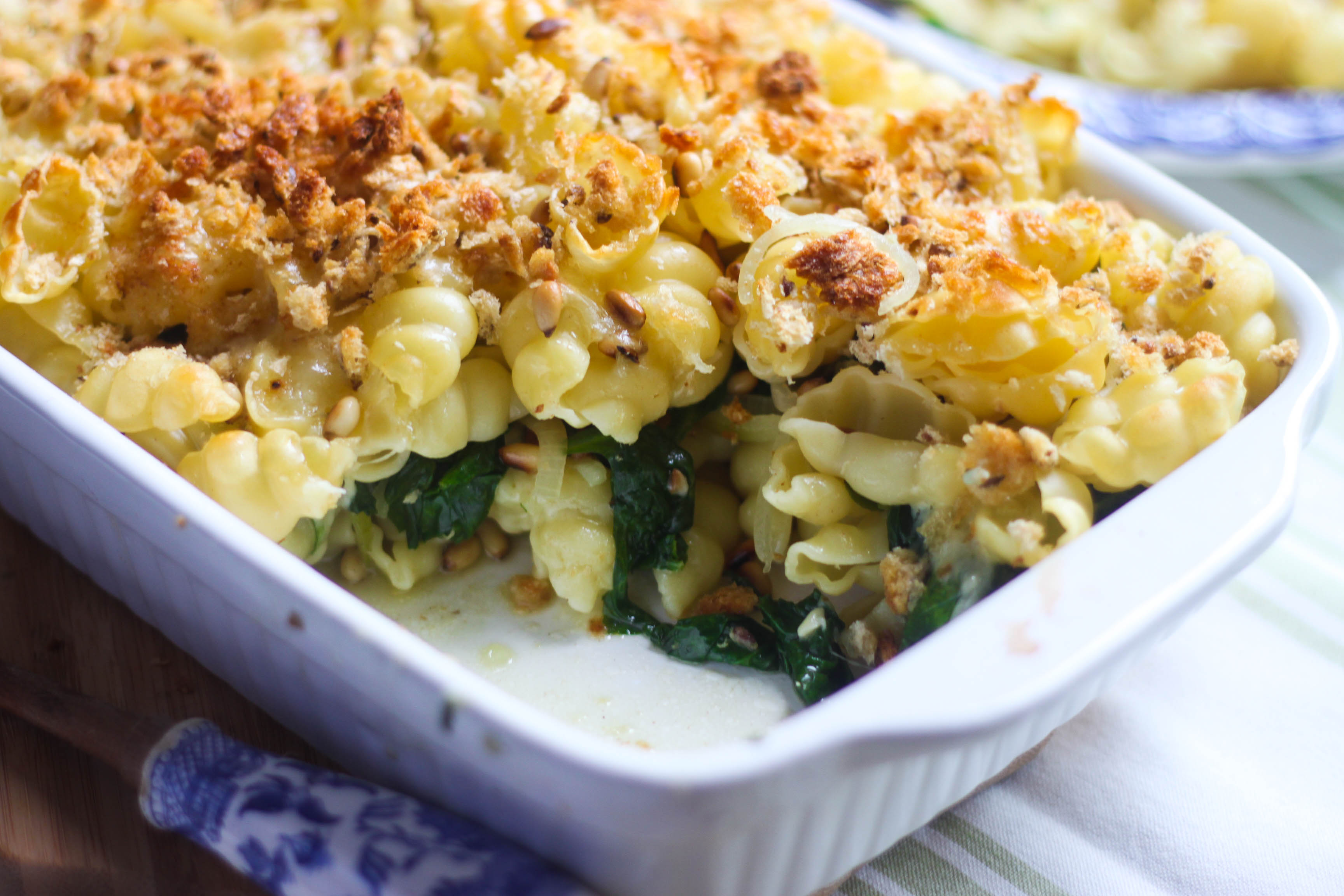 TUNE
Here's a lovely tune for a mellow Tuesday to go along with your pasta bake. It's taken from Elena Tonra's The Wild Youth EP released under her moniker Daughter.
Love – Daughter (via The Hype Machine) 
Categories: Dinner, Lunch Tags: pasta, St Gall Cheese