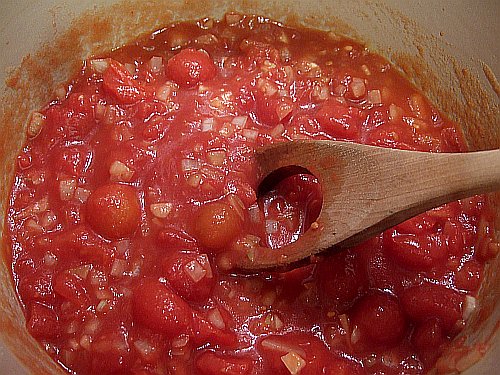 It was two days til payday and things were a little financially tight at icanhascook/nialler9 HQ.  Niall had been to SXSW and I'd been to the Arnott's kitchen department, of which neither of us had any regrets about at all, but it had indeed left us a little short by the end of the month.
This recipe is cheaper than chips and delicious.  Just because you're a bit skint doesn't mean you have to eat shite, am I right?  This recipe is from over at BBC Good Food.  (Hope you guys don't mind that I keep referring to BBC Good Food.)  I would definitely always have the ingredients, bar the sausies, in my cupboard at any given time, so it's great when you're a bit strapped.  Obviously you could leave out the sausages for a veggie and even cheaper version!
What you need for BBC Good Food's Cheap as Chips Pasta with Sausages for 4 people (or 2 with leftovers)
6 pork sausages (whatever your budget allows for!)
1 onion, finely chopped
1 or 2 garlic gloves (depending on whether you're going out later in the evening and want to get lucky)
1 tin chopped tomatoes (I had a tin of cherry tomatoes leftover so that was pretty swish)
1 tsp of chilli powder
300g pasta – I used rigatoni which I think works beautifully.
Parmesan for sprinkling

Fry up the onion and garlic together til they're starting to go a bit soft, about 4 minutes.  Throw in your tin of tomatoes and the chilli powder and let the sauce simmer for 15 minutes so it thickens up nice and good like.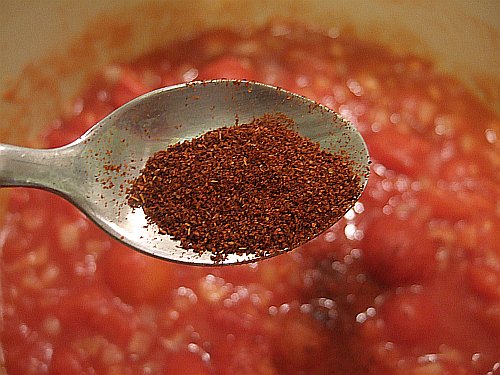 Season your sauce with salt and pepper but you can also add a teaspoon of sugar to your tomato sauce so it isn't too acidicy.  You know what I mean.
In another pan, brown your sausages until they've got a good colour on the outside and are more or less cooked on the inside.  When they're looking edible, chuck them into the tomato sauce.  Let them sit in the sauce while it simmers because it will add a good flavour to the whole thing.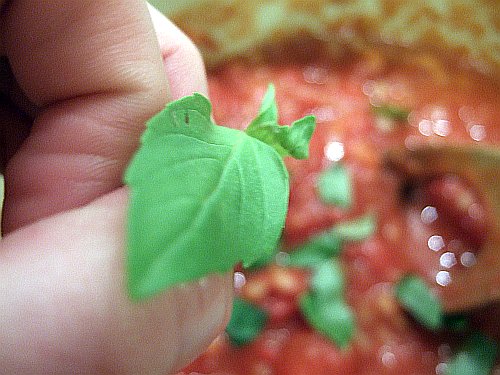 I put in some basil leaves here because I had some in the fridge that needed using.  Help me out, foodie folks – I put the basil in the sauce for about ten minutes, probably more, and it went a bit…meh.  Like the sauce had stolen its soul.  Should you add basil into a sauce towards the end of the cooking process or is it better to let it sit in the sauce so you get the full flavour?  Please advise!
When your sauce is cooking away, put your pasta on for however long it says on the packet.  Drain the pasta and then add to the pot with all the sauce, stir it all around nice and good, then serve it up with a bit of parmesan cheese on top.  Swell!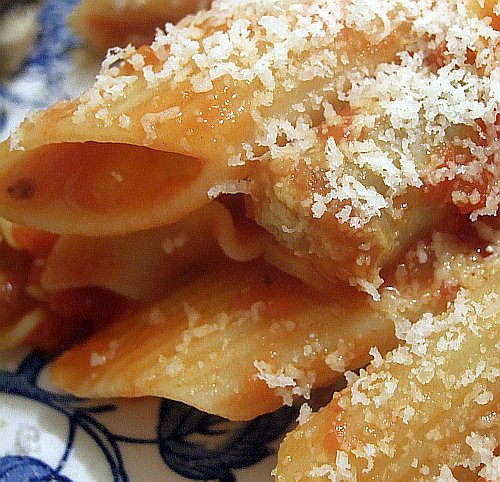 While I was cooking our frugal but fantastic meal, we were listening to Micachu.   Also known as Mica Levi, she's a young lady from London who has recently released a bizarrely fuddled and intrigueingly messy album called Jewellery.  It's mental and all over the place but in a really sweet way.  I likes a lot.
Micachu – Lips (Jewellery)
Categories: Dinner Tags: Cheap as Chips