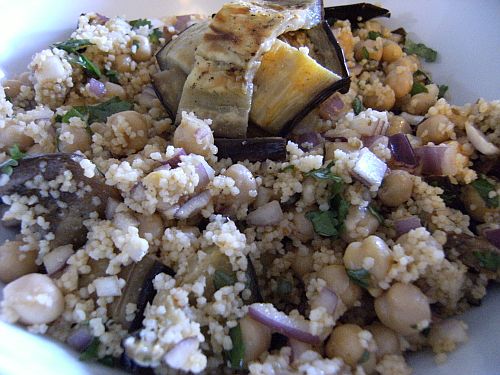 They all come crawling back…to the BBC Good Food website.  Well, I did anyway.
It's been a while since I've had a wander through the zillions of recipes and tips, and tonight I was sure glad I did.  This recipe for Morrocan Aubergine & Chickpea Salad was deliciously light and tasty, seasonal and nutritious.  And stupidly easy to make.
I added couscous to the salad and made a nice little green salad too, and we washed it all down with some nice Reisling.  Rocking.
What you need for BBC Good Food's Morrocan Aubergine Salad for 4

2 Aubergines
1 tin of chickpeas
A bunch of coriander, roughly chopped
1 red onion, finely chopped
For the dressing
1 tsp of paprika
1 tsp of ground cumin

4 tbsp olive oil
Juice of 1 lemon
1 tsp of honey
I don't often look at the comments that are below the recipes of BBC Good Food, but this time I did and someone had used the dressing to brush the aubergines with instead of oil while grilling.  That sounded like a damn good idea to me.
Wash your aubergines and slice them from top to bottom, so you have long strips, around 1 cm thick, or thereabouts.
I mixed all of the dressing in a wee jam jar, and poured about a third of it into a big bowl.  I diluted it with a good glug of oil and then used this to coat the aubergines.
I grilled them for around ten minutes on each side.  Just keep an eye on them, as it'd be awful sad if you burnt them.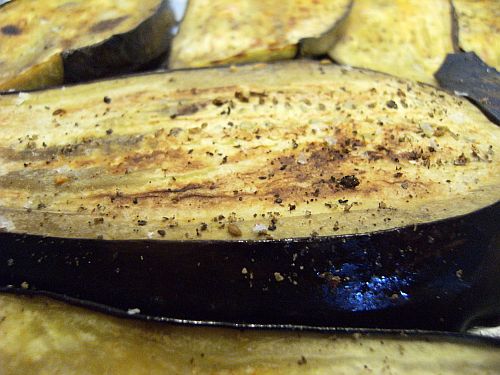 You'd do well to cook them for a bit more than the above aubergines…I was kinda hungry and although they were very tasty in the salad, they may have been nicer if I'd left them blacken up a bit.
While the aubergines are working away, put your couscous (around 100g or so) and cover with boiling water.  I always put a veg stock cube into the boiling water as it gives the couscous a nice flavour.  Leave it sitting there for 20 minutes or so, giving it a fluff with the fork every now and then so it doesn't go clumpy.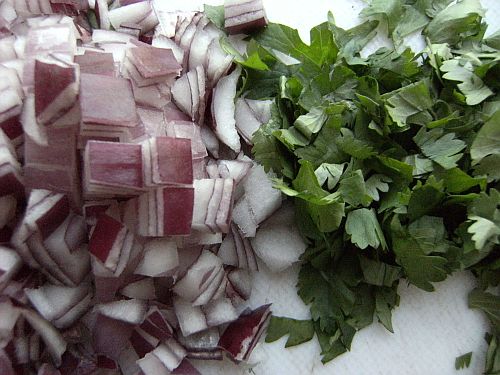 Drain and rinse your chickpeas and put into a big bowl along with your chopped red onion and coriander.  You can add the rest of the dressing now and give it all a good mix.
When your aubergines are ready, take them out of the grill and let them cool slightly before you chop them into strips or quarters.  Fold them into the salad gently so they don't break apart.
I got these cute little guys in M&S today, they're baby red salad onion.  I chopped them up and added them to some leaves and tomatoes for a side salad.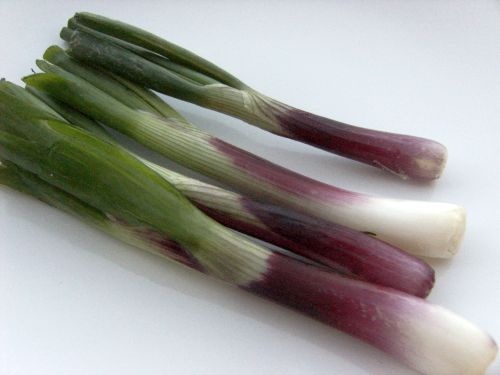 They look enormous in this pic but they're tiny.  About the size of your finger.
I plated up and added a dollop of houmous for good measure.  Go on, ya good thing.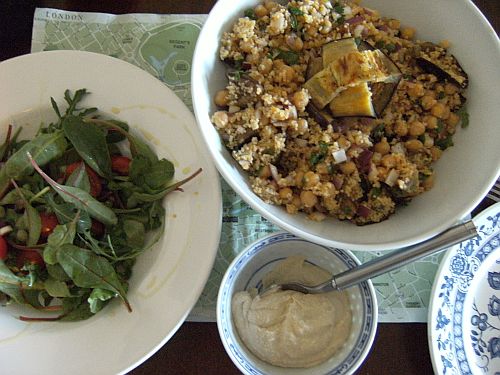 MP3
Niall is DJing at Oxegen next weekend, opening for Fever Ray before she plays in the Dance Arena on Sunday.  While I was cooking, he was working on his set.  One of the tunes he was messing about with was a Jakwob remix of Ellie Goulding's Starry Eyed.  It's fairly kicking.  Enjoy!
Jakwob Remix – Starry Eyed – (Ellie Goulding)