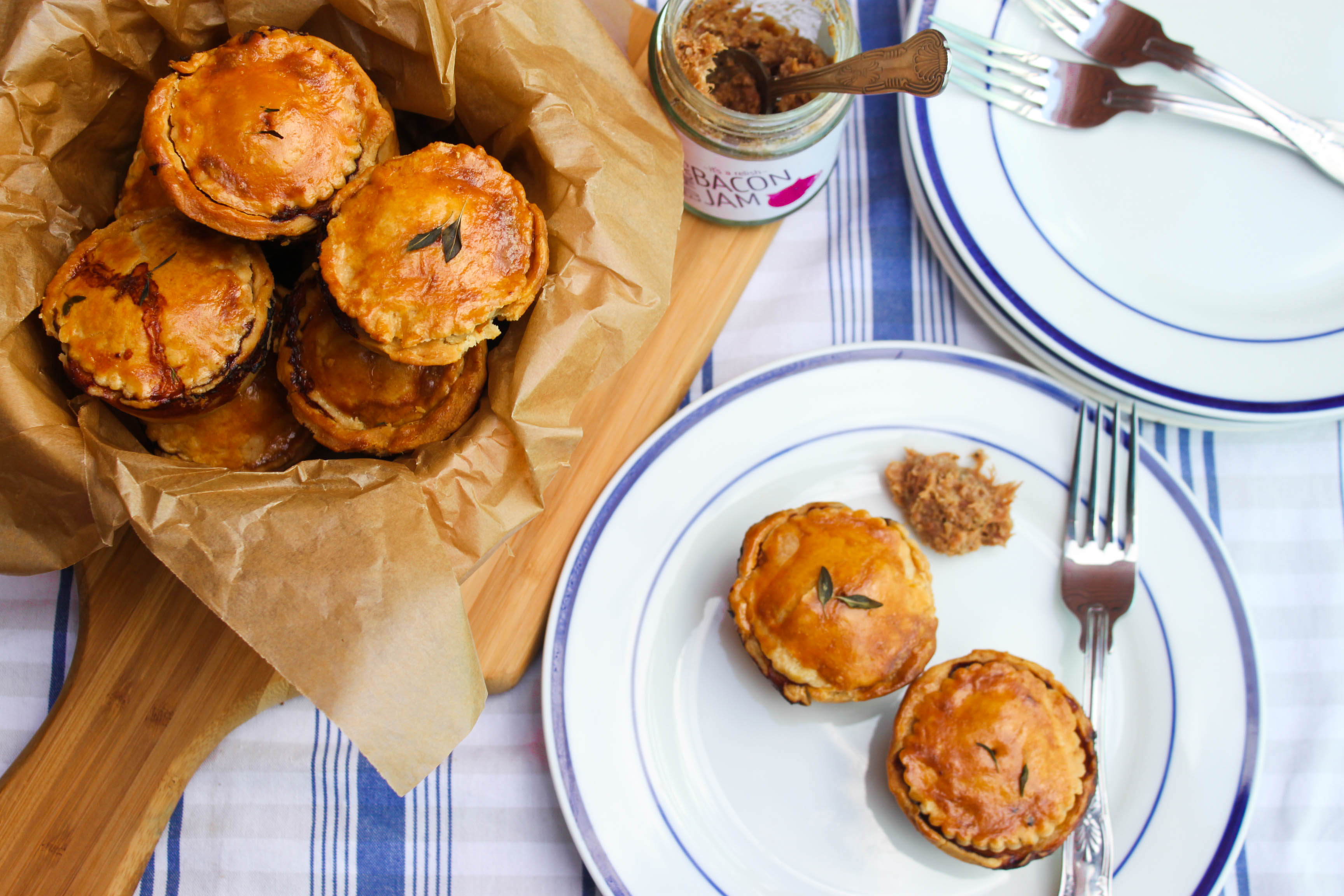 I love it how we get so optimistically hopeful about our summer's weather here in Ireland. At around April, there's a communal crossing of fingers as we dream of picnics in daisy-filled meadows where we'll lay on Avoca rugs and giggle with giddy joy when our ice-creams melt in the hot sun, dripping onto our flip-flopped feet.
Only halfway through, this summer has already given us a handful of delicious days in which a variation of that dream picnic – and all the recipes that come with it – became a reality.
But what about all the other days when the sun isn't quite able to break through the clouds? Well, there's no point in letting the weather stop you from having your summer fun. If worse comes to worst, clear your living room floor, lay out a picnic rug, open a window and eat your favourite picnic food from plastic picnic plates indoors. Win!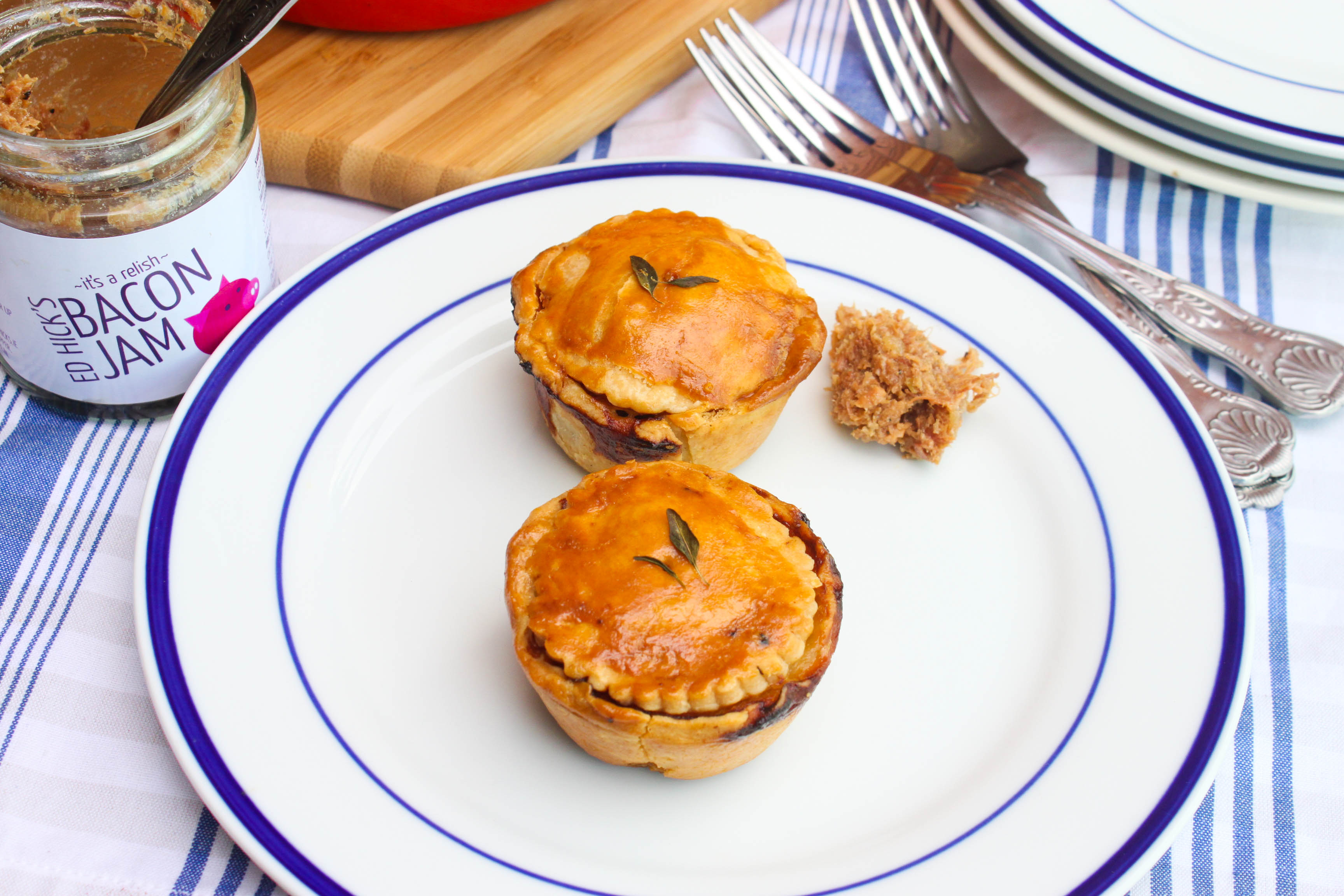 I made these mini-pork pies inspired by a great feature of Picnic Basket Ideas by Donal Skehan in last month's Food and Wine magazine.
I, of course, cheated by using shop-bought shortcrust pastry. I also cut down on my cooking time by using some lovely sausages for the filling and adding a dollop of the ah-mazing Ed Hick's Bacon Jam to each pie for extra nomness. These went down a treat at a (relatively) dry BBQ last Friday evening.
Although there isn't a lot of hands-on time to the below recipe, they do take about an hour to cook. So make sure you give yourself enough time!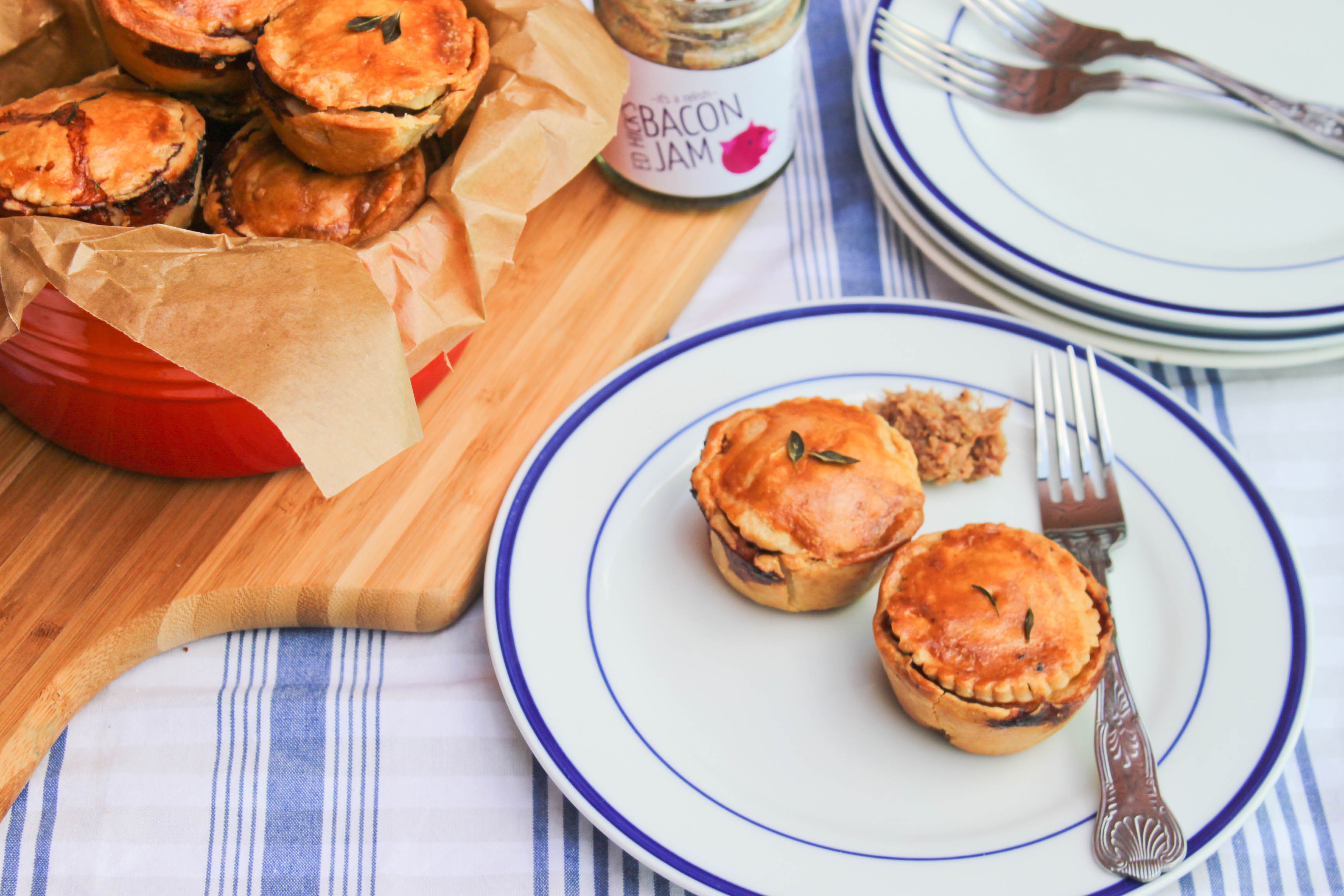 What you need for stress-free Mini Pork Pies with Bacon Jam
Makes 12 pies
3 to 4 sheets of shop-bought shortcrust pastry (or use 2 blocks of ready-to-roll shortcrust pastry. Or by all means make your own if you can!)
6 of the finest, most delicious pork sausages you can get 
12 heaped teaspoons of Ed Hick's Bacon Jam (available in Sheridan's Cheesemongers or from Hick's direct. And yes, it does taste as unflappingly fabulous as you might imagine)
1 free-range egg for brushing the pastry, beaten
Leaves from a few sprigs of thyme, for a garnish
Heat oven to 180C/160C fan/gas 4.
Start by greasing 12 holes of a muffin tin with a bit of olive oil or butter. You can also line with a strip of baking parchment, to ensure your lovely pies don't stick to the tin.
Using two to three sheets of the shop-bought pastry, cut out 12 x 11cm circles with a pastry cutter. Put these into the 12 muffin tin holes, pushing in with your fingers. Leave a little pastry overhanging each hole so that you can pinch it together with the lid once filling is in.
In a large bowl, squeeze the sausage meat from its skins. Add one heaped tablespoon of sausage meat into each of the pastry cases. Now add a generous teaspoon of bacon jam on top of that.
Take the last sheet of shortcrust pastry and cut 12 smaller circles – 8cm would be good – to create lids. Add to the filled cases, pinching together the two pastry circles so the filling can't escape during cooking. Using a skewer, make a little hole at the top of each pie.
(Don't worry if your pies aren't perfect. As you can see from my photos, my pies are decidedly sloppy. It doesn't really matter because the filling is quite solid and it's ok if your pastry cases are a little patchy. Do your best to close the lids completely but don't get frustrated if your pies don't look perfect. They'll still taste amazepiez.)
Brush the edges of the filled mini-pies with some of the beaten egg. Set aside the leftover egg for later.
Put the muffin tin into the oven and bake for 30 minutes.
Remove the tin and carefully remove the pies. Transfer to a baking tray. Brush the sides and top again with the beaten egg. Arrange a couple of thyme leaves on top of each pie. Turn the oven up to 200C/180C fan/Gas Mark 6 and cook the pies for another 15 to 20 minutes, until they're a beautifully golden colour. Remove and cool on a wire rack.
These taste best eaten cold, perhaps with some more Bacon Jam or even some lovely Piccalilli on the side. Yumzers!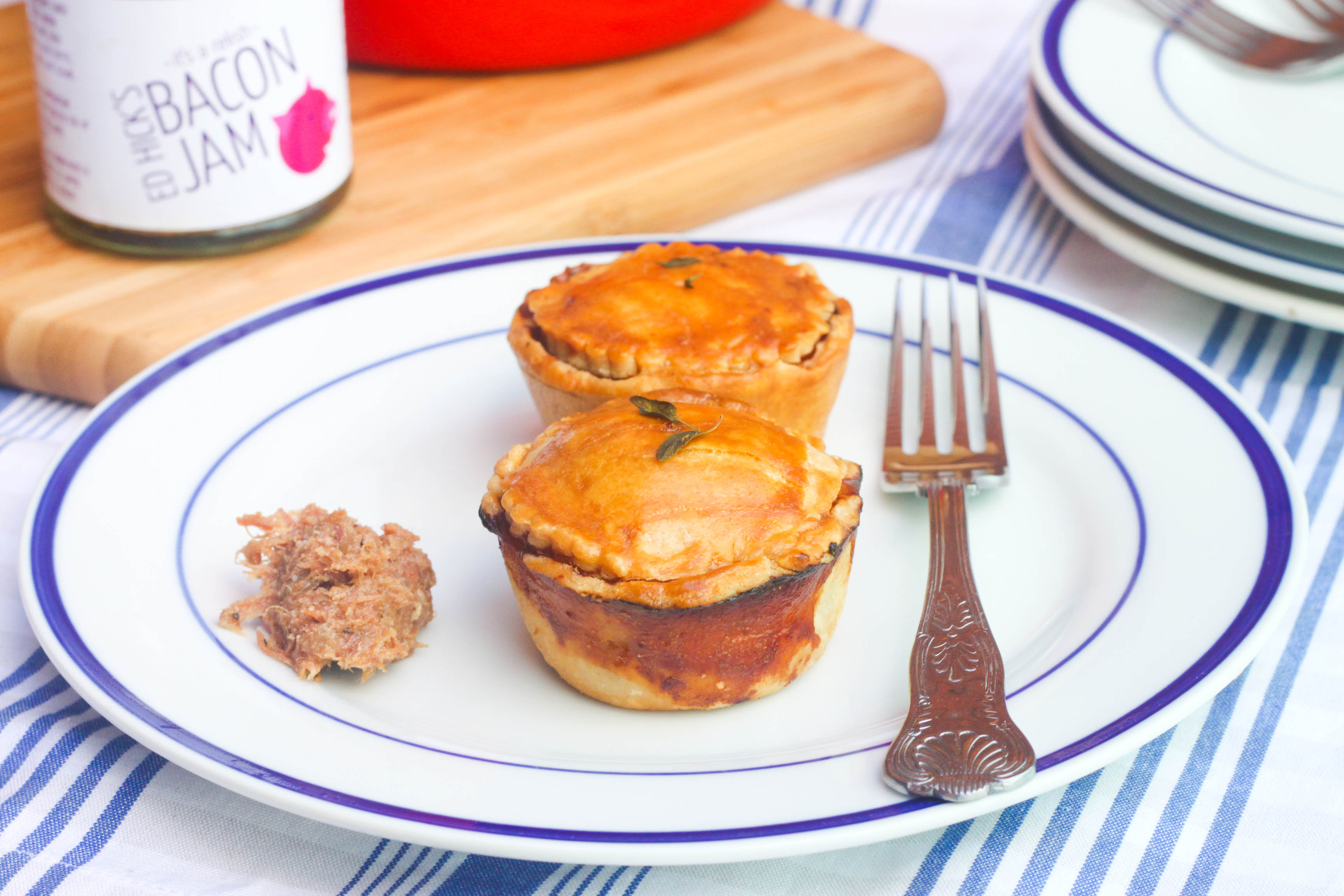 TUNE
If it so tickles your fancy, you can have a listen to my latest RTE 2xm radio show.
Categories: Baking